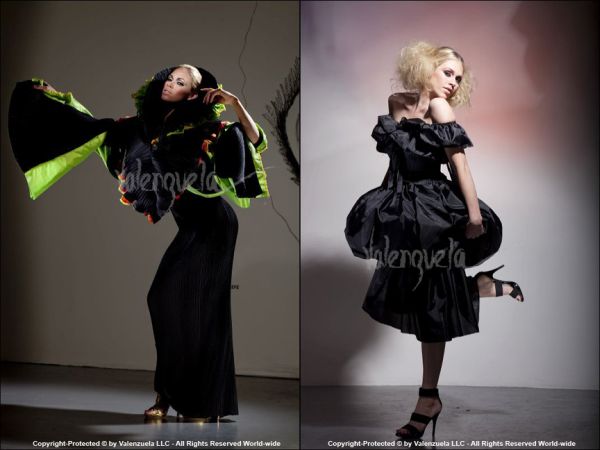 We've seen, loved and appreciated his paintings and art installations, now is the time to see him create magic with eco-friendly clothing. The person I am referring to here is Miami fashion designer and visual artist Luis Valenzuela. His paintings and art installations have always depicted his love for Mother Nature and now his ensemble is here to do the same. Valenzuela's work is scheduled to be exhibited in Miami at Sustainatopia 2011 on April 3. Sustainatopia is one of the largest sustainability/impact investment events in the world. This year it will be held from March 31 to April 6 and will feature two conferences with 300 speakers from 34 countries.
Sustainatopia is giving Valenzuela the opportunity to showcase his gowns, which are made of recycled materials. Inspired by women who have made a powerful impact on world history, the stunning gowns will pave the way for a more promising and sustainable future with recycled and upcycled materials. To add a little spice to this presentation, there will be a scintillating performance by Natasha Tsakos, a conceptual director and motion and visual performance artist from Geneva, Switzerland. Although Sustainatopia's main motive is give entrepreneurs and organizations seeking capital a medium to connect with impact investors, but that not all. All throughout the week, you will see many events taking place to promote sustainability in the form of art expositions, educational seminars, music and film presentations, and book discussions with participating authors.
The idea of recycling came to him from his grandfather, who wrote journal. Apart from his work in fashion, he also excels in art and photography. The interesting thing about his journal was that he recycled old news papers and magazines for the pages. Valenzuela took the same idea and came up with recycled gowns. The creativity and artistic approach is not something he has learnt, instead it runs in his blood. His last four generations have been great artists. Also, the deep impact that the U.S., Latin American and European art scenes left on him can be clearly seen in his work. In order to give the world a place that was a complete guide to art and fashion, Valenzuela created EcoArtFashion (EAF), a group of creatives who aim at generating ideas from art and fashion based on a heightened eco-consciousness, particularly the reuse of materials.
Valenzuela has tried his hand in different fields line marketing, journalism and fashion design and it's this diversity in carrier that he believes allowed him to communicate his way think through art and design. This is how Valenzuela sees an artist's role in saving the environment:
I think that our role in this Global mission of saving the planet is to create awareness of our environment. The artist has a venue to show people that even there discards can become art. We need to make people think about what they use and what they throw away can have a second life! This awareness of the environment will enforce the old saying "One man's garbage is another man's gold" Art is a great way to shock people into thinking about things. The artist has the skill and responsibility to document events of the time and can embellish these events to make a point. My art has made people think about their place and role in this movement to help save the environment.
Via: Ecosalon