A solar-powered land-driven vehicle is the state of the art application of solar energy in the contemporary age. Combining technologies working in aerospace, automotive, and bicycle with the concept of alternative technology, these define a brighter future, quite literally. Using photovoltaic cells to convert solar energy into electricity, the designs of these cars are rapidly reinvented with ground-breaking technology to produce masterpieces in sustainable transport.
Ashiya University's Sky Ace TIGA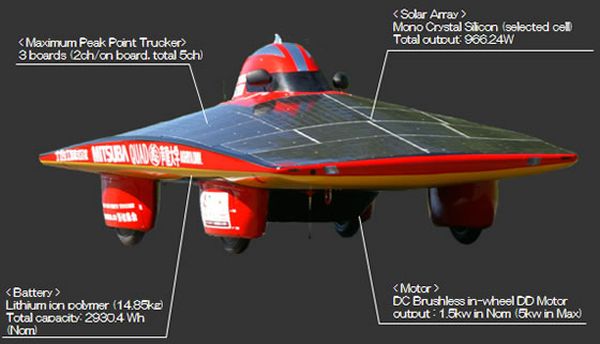 Image Source : Ashiya-U.Ac.Jp
Inspired by the adventure and spirit of the Australian WSC, the team behind Sky Ace TIGA is a 17-member group of students and teachers from Ashiya University. With three wheels and a single passenger seat, this vehicle is made of a carbon fiber body and has a GaAs triple junction of 1900W working for solar panels. The vehicle bagged a Guinness World Record in 2014 when KenjiroShinozuka from Japan achieved a speed of 91.332km/hr driving this vehicle at Shimojishima Airport, Okinawa, Japan.
Sunswift V (eVe)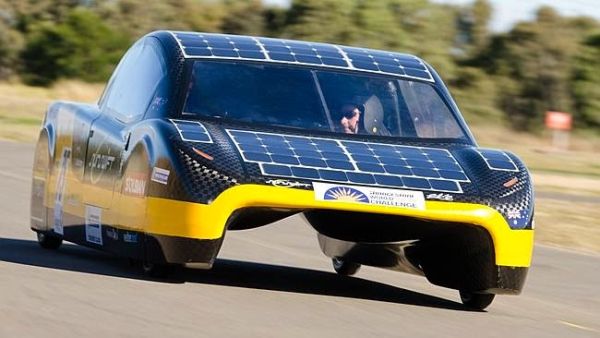 Image Source : 3.Bp.Blogspot.Com/
The first ever road legal solar sports car eVe will hit the streets of Australia in 2016. Meeting the commercial standards of performance, safety, and transport rather than the conventional conceptual solar-powered transport, this car broke the 26-year old record of maximum speed achieved by a solar powered vehicle over 500km. Achieving a maximum speed exceeding 100km/hr over a distance of 500kms, the car has solar panels that can charge a battery of 60kg and run a distance of 800km on a single charge. This green power student built vehicle seats two passengers and is a result of the contribution of more than 100-students from the University of New South Wales spanning over two years.
The university of Michigan's Infinium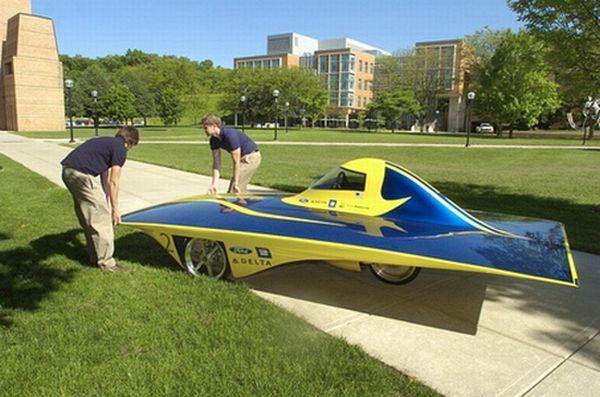 The university of Michigan has been working consistently on solar-powered technological advancement. The Infinium is the University's tenth vehicle built by the University's solarcar team, which bagged them the third position in the 2009 Global Green Challenge. When tested for the 2010 American Solar Challenge, the car clocked a maximum speed of 105 mph for 30 seconds at the Ford Motor Co.'s Michigan Proving Ground.
Eindhoven's Stella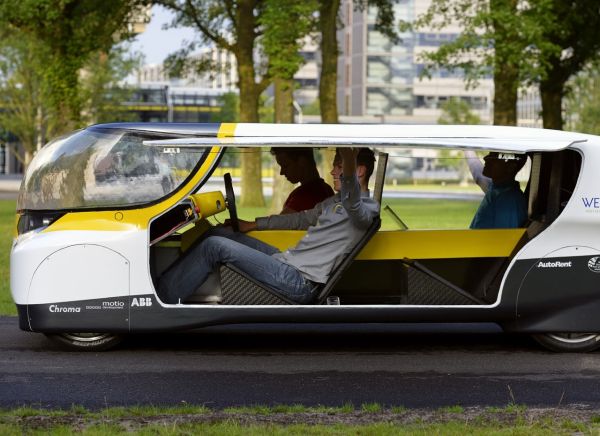 Image Source : Domusweb.It
Racing in 2013 World Solar Challenge, a family-sized solar-powered car, Stella bagged the Michelin Cruiser Class award. Built by a team of 20 students at the Eindhoven University of Technology, Stella has visited four continents after its glorious debut in the World Solar Challenge. This four-passenger vehicle is expected to be released legally for the road in the upcoming years.
University of Michigan's Solar Car Aurum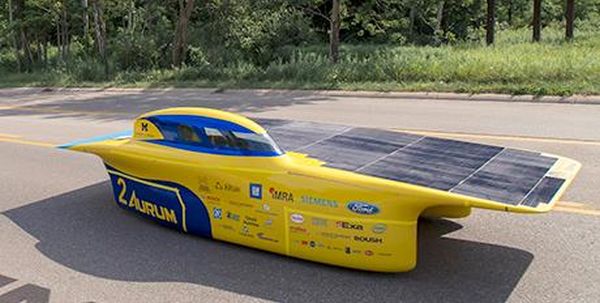 Image Source : Record.Umich.Edu
University of Michigan's Solarcar team has spent 25 years fighting to create a solar vehicle that grabs them the title of the best solar vehicle at the World Solar Challenge. The 13th vehicle by the team is Aurum that boasts best-in-class electrical and mechanical systems with a sleek aerobody. At Bridgestone World Solar Challenge, the car finished 4th in the world ending the race in just 56 minutes. The team has never been so close to success as this record was just shy of the 1st place in Nuon Solar team and 4-minutes short of the 3rd place at Tokai University Solar Car Team.
Stanford team's Luminos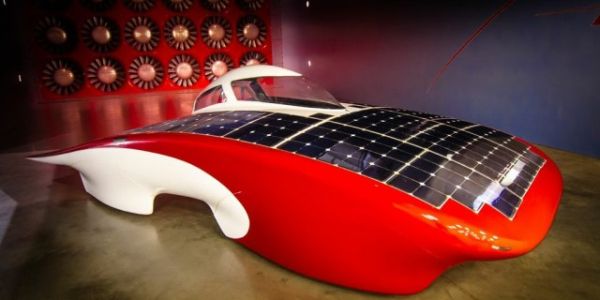 Image Source : SolarPowerToday.Com.Au
Placed fourth in Bridgestone World Solar Challenge, the Australian outback uses an Ecoflex cable with EcoWire hook-up wire. The solar powered vehicle Luminos, has a carbon-fiber composite body and a highly reliable electrical system to sustain all harsh conditions of the Australian terrain. It can attain a maximum speed of 70 mph, and thanks to its innovative use in EcoFlex wiring, it has the advantage of space and weight.
Solar-powered tech gadgets are running the modern day, and in this race towards sustainability, constant work around the globe is undertaken to create a sustainable source-powered vehicle that can serve all the commercial necessities. With solar-powered vehicles, alternative fuel-run transport holds a stronger position in the near future.