Kids today spend most of their time indoors. They are engrossed in cartoons on television as well as videos on iPads or laptops. Most of them have access to their parents' smartphones, on which they can watch their favorite songs, videos and play games. On the subject of games, online games are more attractive rather than going outside and playing in the park. Kids are thus closer to screens rather than nature.
To make nature a part of kids' lives there are some nature-based schools that have come up. A Nature-Based Preschool focuses on reintegrating children with nature, so that they don't feel alienated from nature. These schools help children in understanding why the natural world is important, as well as the importance of conserving nature. 
What is a Nature-Based Preschool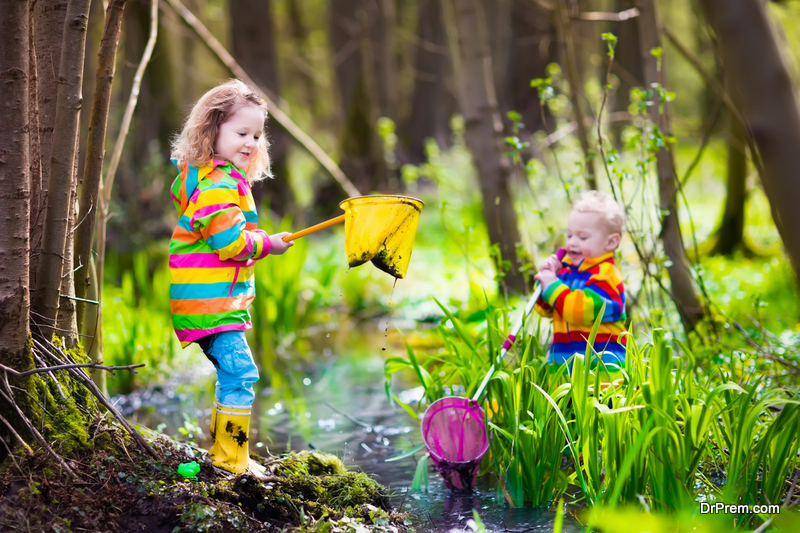 A nature-based school gives children the opportunity to spend a huge amount of time outdoors. According to studies, children who are educated outdoors perform better academically, especially in standardized tests.
In Europe, especially in Scandinavia and Germany, early childhood education in nature-based preschools has existed for decades. These schools are comparatively new in the US, but there are more than 250 such preschools now.
If you live in any of these countries, you can also send your toddler to a school where most of the learning happens in the midst of nature. Children spend time outside, irrespective of the weather, whether it's raining, snowing or the sun is shining brightly. There are indoor areas where children are taught using flashcards, but the time spent inside is much less.
Studies show the nature-connect is vital for children
Nature-based early childhood education has become a welcome trend in education, as parents and educators realize the importance of inculcating a love of nature in little children. Children are taught in open classrooms outdoors, though there is a structured lesson plan, just as in regular schools. Younger children are very impressionable, so when they are taught to appreciate nature at this age, they will retain their experience and would be able to appreciate nature even when they are older.
Looking at the sad state of the planet right now, we have to make our children aware of the need to love nature. Natural resources are becoming scarce every day, and soon it would become a dire necessity to conserve natural resources. Learning to live with nature could be a determining step towards an eco-friendly life.
The best thing about a Nature-Based Preschool is that it turns out children who are healthier, happier and perhaps smarter too. 
Healthy in body, soul, and mind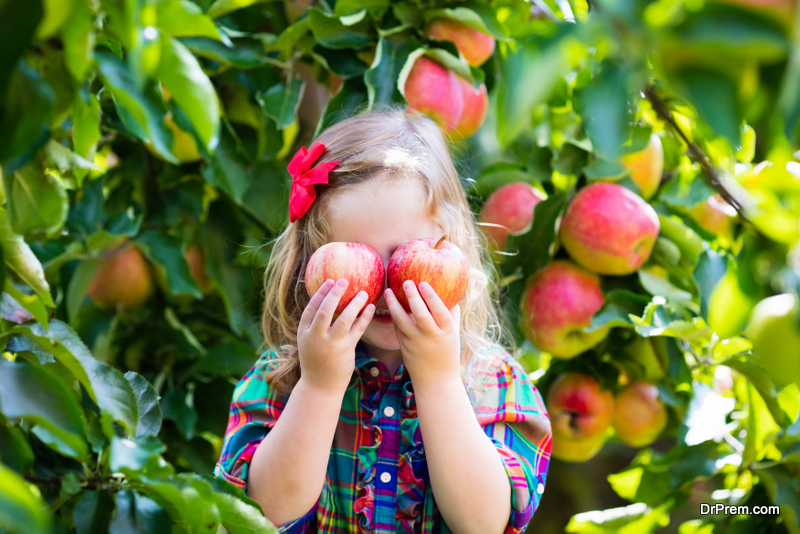 Richard Louv is an advocate by profession, author of nine books exploring the relationship between nature and children, and the founder of the organization 'Children and Nature Network'. He points out that there is a growing body of research which proves that if the connection between children and their natural surroundings are strong, their IQ improves.
Also, it's important to build the all-important connection between the new generation and nature. They might perceive nature as being a threat to them, especially due to climate change effects. If toddlers learn how to love nature, they will be more interested in saving it.
In one of his books, Louv points out that there is a strong relationship between childhood obesity and the time children spend indoors. Not only do they stay at home staring at various screens, and even in their schools, they are sitting in their classrooms most of the time. Though it is well-known that physical activity is stimulating for the brain, still the number of hours devoted to physical activity is decreasing in regular schools.
If you don't have access to such a school, you can take your children out for nature walks, or just spend hours playing in the backyard. Teach them to read books in the sun, look closely at the grass and find the many small creatures that live in the garden. This too would help your toddler understand that they are part of a bigger world. 
Features of a nature-based school
A preschool which is centered around nature-based activities has lesson plans which promote outdoor activities on a daily basis.
Outdoor time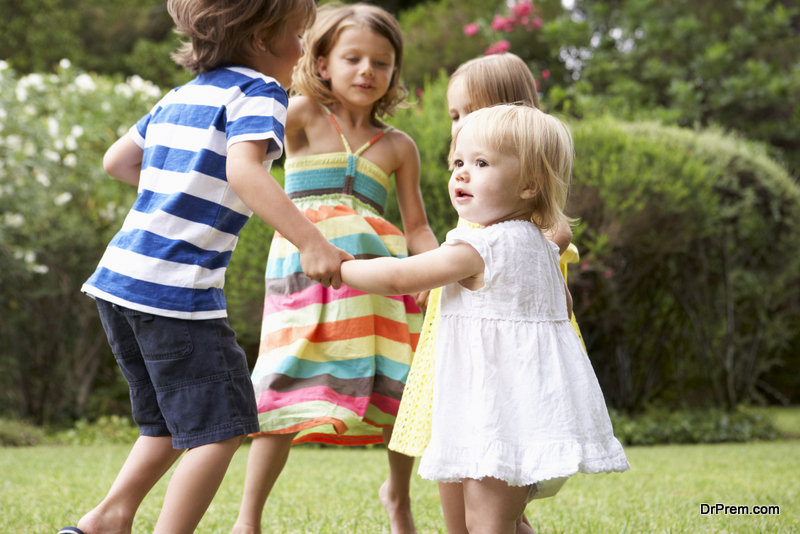 The preschoolers go outdoors every day to explore and play in a natural setting. The teachers facilitate the learning process in a safe manner, and provide the necessary information and guidance so that children can educate themselves. The children are encouraged to follow their own interests, so the lesson plans at these schools are loosely structured.
Rolling in the mud
The daily explorations outdoors get the children wet, hot, dirty and cold. Parents accept these experiences as part of the outdoor school's curriculum. Many Nature Based Preschools have a free-play period within a playground which are more like a forest in design rather than traditional playgrounds. The playgrounds are enclosed by fences for safety. Teachers keep an eye on them but do not interfere with their free-play.
Indoor activities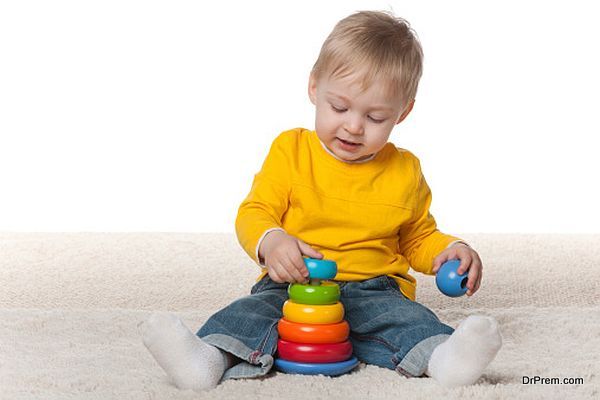 Nature preschools also have indoor activities. This includes music, stories, construction play, dramatic plays, snacks, art etc, but these are usually centered on the theme of nature.
Curriculum
Outdoor schools' curriculum does not emphasize on academics. Rather than heavy academics, their curriculum is balanced and geared towards developing 'whole' children – in other words, cognitive, social, physical, creative and emotional development.
This is done by following themes such as vegetable gardens, seasonal changes etc so that they can experience the continual changes and surprises that is the characteristic of nature. The children experience the beauty of nature, which helps in developing their curiosity and personality.
Benefits of nature-based education approach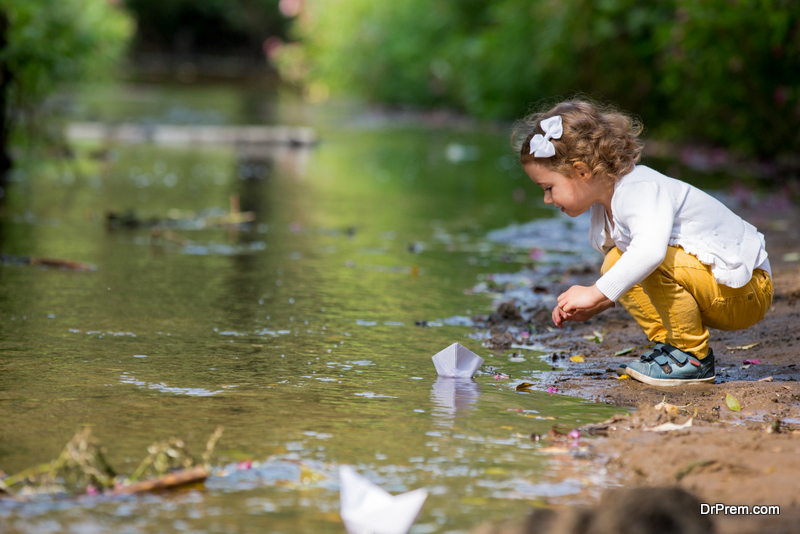 Nature-based schools have manifold benefits. The toddlers spend many hours playing and exploring in nature-like settings. This enables children to develop skills of observation, sorting, experimentation, group sharing, artistic and verbal expression as well as develop a fondness for physical fitness. They are confident children who have less risk of anxiety, ADHD and becoming bullies.
As parents, you want your children to love nature as well as become the best and brightest versions of themselves. Nature-based schools bring out the best in your child in a gentle way, nurturing them, and inculcating a love of environment and others, along the way. They also instill in children that education is a joyful experience, which is a strong foundation for their journey ahead in life.