What could be better than turning plastic from being a 'pirate' in the environment to something 'pleasant' which could beautify our homes? Plastic bottles are non biodegradable and hence, cause a lot of harm to the environment we live in. Why not follow the beautiful principle of 'reduce, recycle and reuse' and make some productive use of plastic.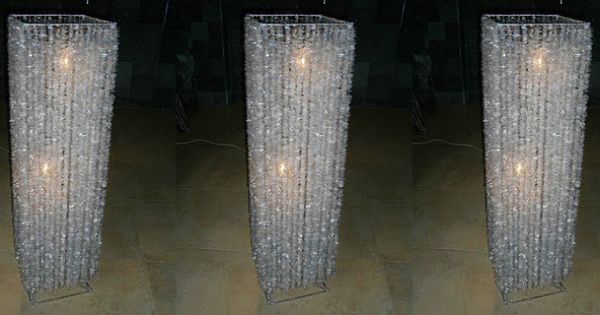 We often decorate our homes with objects of crystals. But they are too expensive. Plastic bottles could serve similar purpose. Let us tell you the gimmicks of the game. What we are talking about now is 'making an alternative crystal lamp – using plastic'. Let us see how we can make this glittering crystal lamp.
Procedure
The first step to make this alternative crystal lamp is to create a stand lamp of steel. This should actually form the base of the lamp you are trying to create. It is very important to keep in mind the dimensions if you want to make a good crystal lamp. The height should be about 120 cm, while the width and length of the body of the lamp should be 30 x 30 cm. We use welded steel to make this frame work or alternatively use plastic wrap waste. After this, it is coated to avoid rusting. This step is followed by preparation of aqua bottles. On an average, 240 plastic bottles are required for creating this crystal lamp. You can easily get them from your scrap dealer or you might have saved them at home – so just have a peep in the godown before you move out – after all we are trying to create something 'best' out of the so-called 'waste'. Make a small cut at the bottom of the bottles and then make the bottles hollow. Heat the bottles lightly to get a curve effect – avoid over heating or else it would cause pollution which would then again not serve our purpose. On the lamp frame that you had just created hang a plastic rope and attach all the aqua bottle molds that you just created. There should be two layers of this to get that glittery effect. Your alternative glittering lamp is ready. Now show off to others and feel good that you have done something for the environment.
Human resources
Minimal human resources are required to make this and, thus, you save a lot of money. The trash collector has the most important role to play here because all we need is trash bottles. Minimal use of technology is involved here. What you just need – is a little bit of perseverance and patience. And, of course, a great willingness to complete this project – which we are sure of because of your interest in reading this article.
Benefit
Following a market-based approach to solving social problems rather than a philanthropic approach is in trend these days. So, you need to find a market place to sell this product. Also, understand the customer's requirement and try experimenting with this – may be different colored bottles and so on and this would help you fetch money. On the other hand, since a lot of rag pickers would be involved in collecting these bottles, they would in turn generate more income for themselves and also help in contributing to make this environment a plastic free zone.
Via: Recyclart/Sensatiocraft