With a rise in technology, some of us keep getting into an existential crisis. 'What now?' many of us are saying. Haven't we seen everything already? However, depending upon how you look at things, there's still a long way to go. Now it is clear that we can't just ignore the environment and evolve on our own. Green urbanism is the new motto. Not only we have to march technologically, we also have to take long strides in sustainability. Eco-friendly building designs like POD Pavilion are prime examples of how to do it right.
POD Pavilion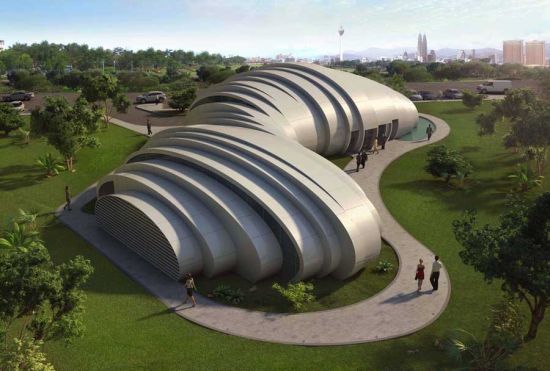 Taking inspiration from the water droplets in nature, the "POD Pavilion" is a new sustainable urban development in Petaling Jaya, Kuala Lumpur. Presently under construction, the structure will shape into an iconic pavilion. It would reflect the spirit of innovation, sustainability, and architectural style. Furthermore, the new urban center will contribute to the Bioclimatic behavior and wellbeing of its inhabitants with the surrounding and a reflective water pool wrapping around its edges.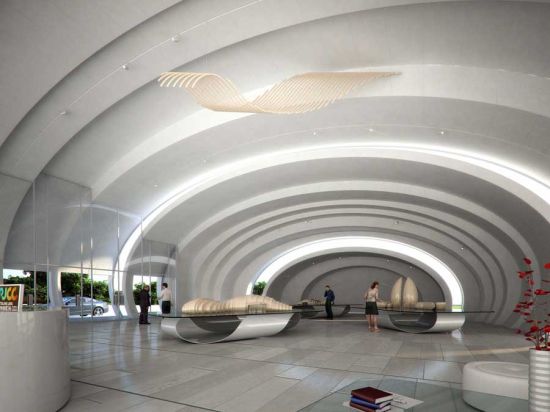 Design by Studio Nicoletti Associati, the POD Pavilion will comprise of its developer MKH Group's on-site offices and sale's showroom. The dynamic spherical building includes a series of elliptical sections of variable widths and heights. The sliding windows bring ample of natural daylight into the spaces below. The structure stands on tubular steel frame with reflective aluminum panels offering a great exterior. It slices diagonally into a series of ribbons. This makes the structure look like a primitive building archetype with a modern twist. It will form a dynamic space once complete in December 2010.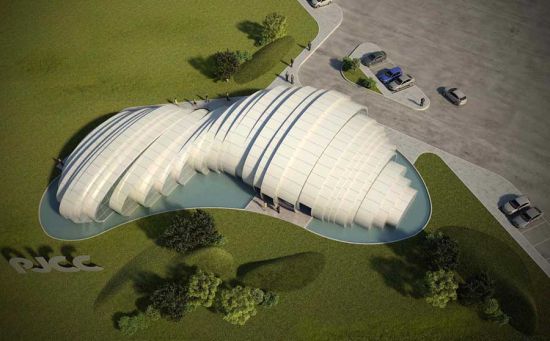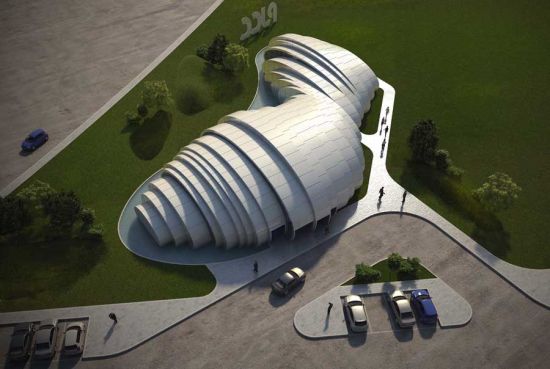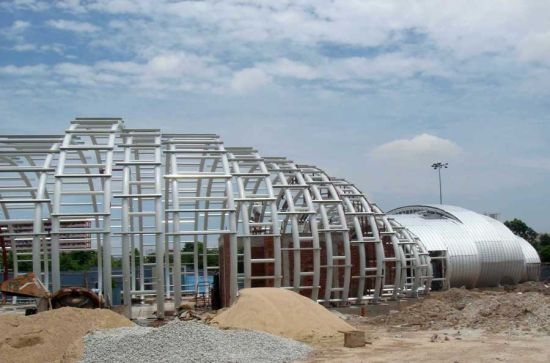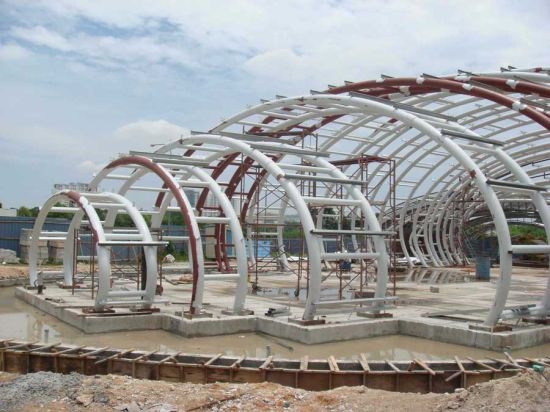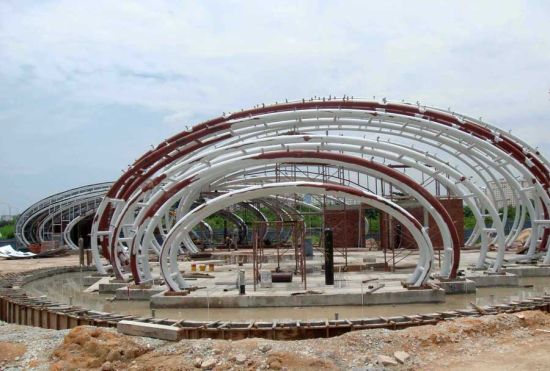 Via: e-architect
More sustainable buildings like POD Pavilion
1. Estadio Nacional de Brasilia Mane Garrincha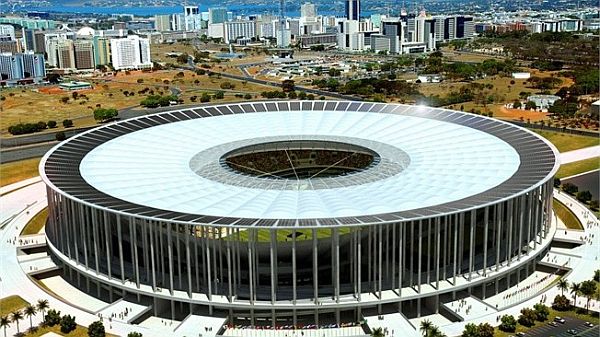 Located in Brazil, Estadio Nacional de Brasilia Mane Garrincha is the first net-zero stadium in the world. It is the stadium that does not consume any energy and has a net-zero carbon footprint. The stadium has solar panels that use the energy of the sun. Moreover, it uses rainwater as a source of water and the photocatalytic membrane that breaks down the level of pollution.
2. Stadium Lofts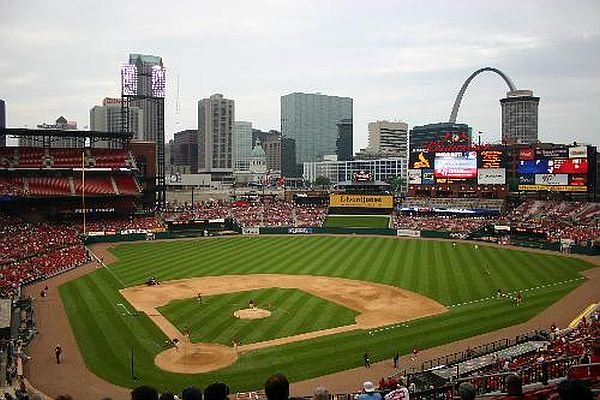 Stadium Lofts is the name of the bush stadium, which was the former baseball stadium in Indianapolis, Indiana. The stadium Lofts rehab project transformed the Art Deco ballpark into several private residences. The field of the park is now a scoreboard. This provides one of a kind selling points and is now a centerpiece of the neighborhood.
3. Highbury Square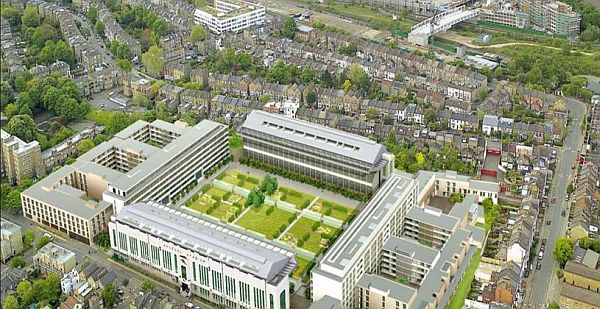 Highbury square was the former premier league stadium in London. Now it serves as a prime example of hallowed football ground that went under destruction as the team left and moved to a bigger stadium. Instead of leaving it as it is, the land now has a series of Art Deco apartments with a beautiful massive garden.
4. Apogee Stadium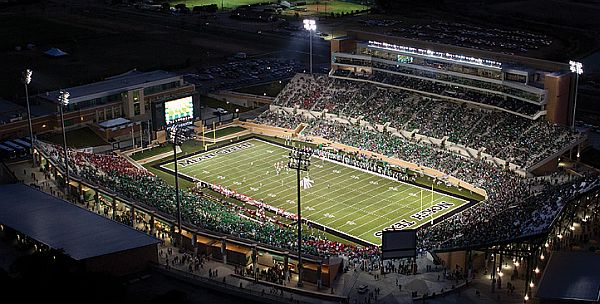 Apogee Stadium is located in the Denton, Texas and is the first platinum certified field in the nation. The stadiums consist of windmills that generate energy, the surfaces are permeable, and the material which they use is available locally.
5. National stadium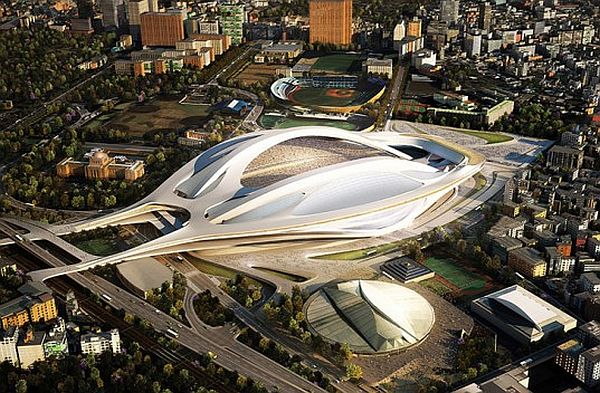 National Stadium has been designed by Japanese architect Toyo Ito's, who used the concept of dragon scales for the installation of solar power panels for scales. About 75% of the building's power needs come from these solar panels that consist of woven grid of pipes wrapped around the crowd.
6. London 2012 Velodrome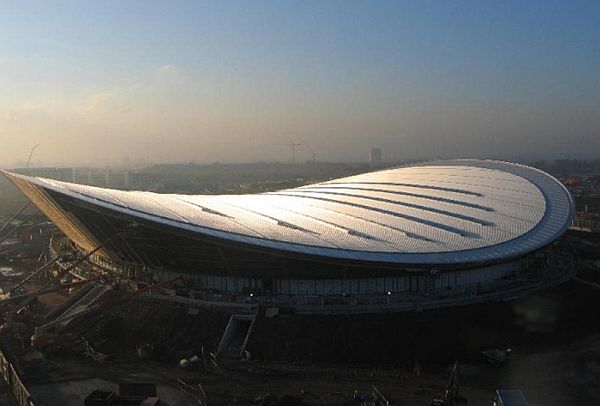 Designed by the Hopkins architects, the London 2012 Veldrome is a record setting track with green concerns. It utilizes the rainwater as a water resource and a canopy that lets in the natural light and consists of a cable supported roof, which reduces the steel usage, still the building is sturdy and sustainable.
7. Grand Parquet Horse Eventing Area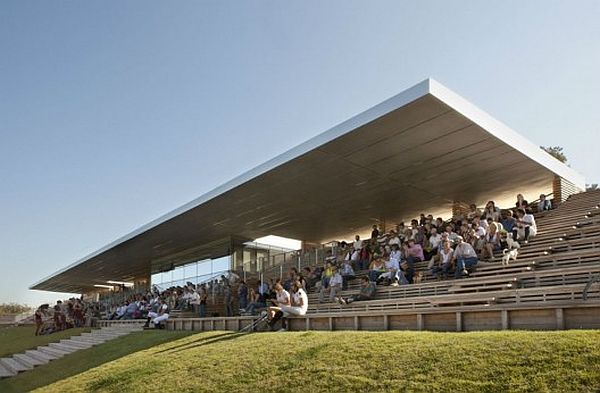 Grand Parquet Horse Eventing Area is horse racing track having the capacity of about 100,000 capacity football stadiums. The track divides the forest area and gives a thrilling experience for the visitors.
8. TFC Bank Stadium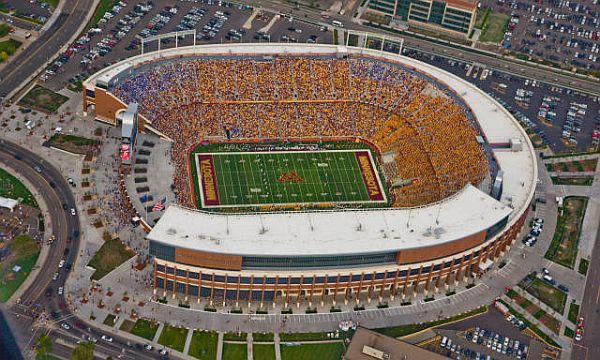 TFC Bank stadium is located in United States and is the one of the most eco friendly stadium of US. The stadium was built with 97% recycled steel and is served by the light transit that connects it with other Minneapolis venues.
9. Stade de Suisse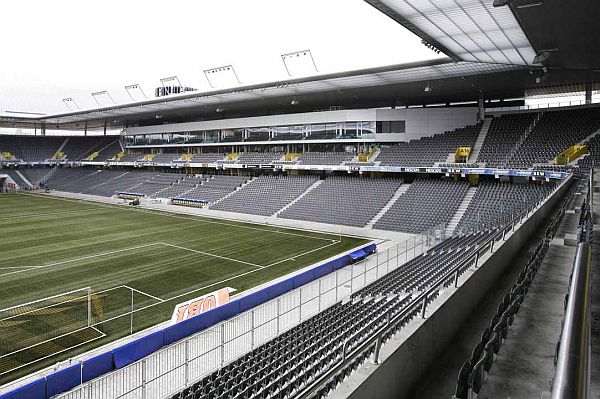 Stade de Suisse is located in Bern and is the second largest soccer stadium. It is powered by solar panels and generates power equal to 350 four-person households.
10. Bentegodi Football stadium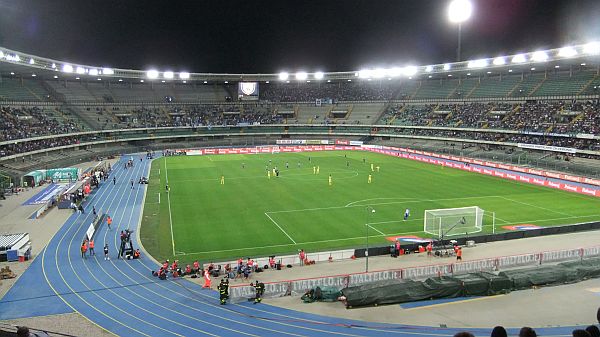 Bentegodi Football stadium is located in Italy and has photovoltaic installation making the dome of the stadium as one of the biggest dome in Italy that helps in reducing carbon emissions. The solar photovoltaic cells on the dome have a capacity of 1MW.
Essentials of eco-friendly buildings like POD Pavilion
1. Metallic paint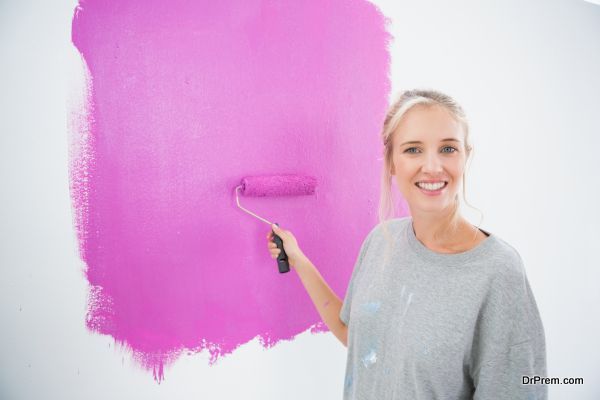 Until reasonably as of late, metallic paint has chiefly been utilized within agrarian and streamlined structures, to give assurance to creased sheeting from breaking down  and debilitating subsequently, in uncovered daylight. Notwithstanding, this simple expansion has been acknowledged as a financially savvy strategy for expanding the lifespan of building materials.
2. Green tops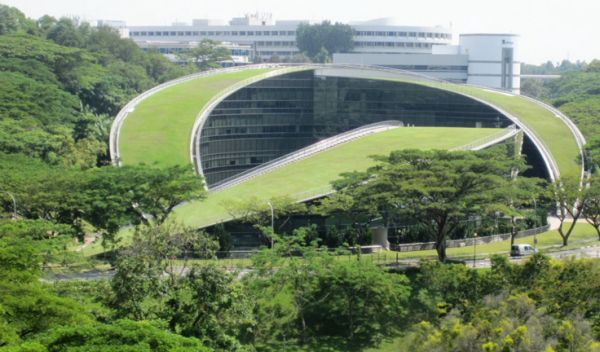 In spite of the fact that most likely moving towards more creative and rarer building options, green tops are likewise getting to be progressively well known, for both protection purposes and the arrangements of making more green space.
In terms of the piece of establishment, green tops likewise dodge the compound emanations connected with bitumen and material felt, which are harming to nature's domain.
3. Splash on protection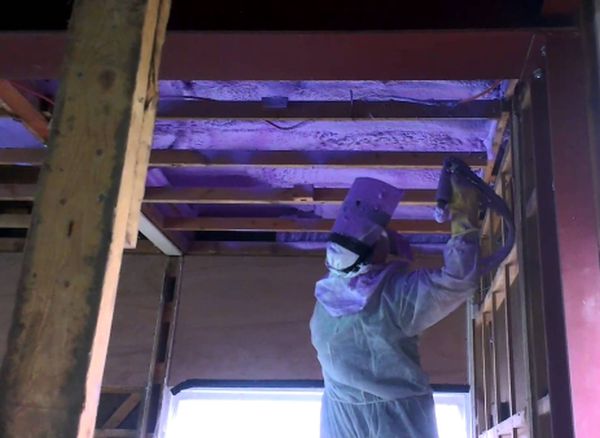 Protection is an extremely paramount a piece of any raise that strives to be as resourceful and as green as could reasonably be expected. While ordinary materials like fiber move protection own successful warm properties, more up to date and more creative strategies, for example, splash on protection offer considerably more profits and productive protection.
WALLTITE is one such case, which uses a shower on the provision to make a hermetically sealed layer outline for inward dividers, floors and tops.
4. Substance regulation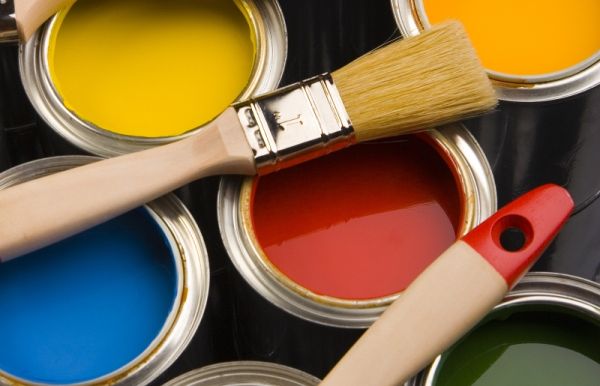 There is no closure to the measure of damaging chemicals introduce on a development site if it is as bitumen, varnish or even paint. When you're working with chemicals that could cause mischief to nature's turf, especially in expansive amounts, it's imperative to produce measures to cut off the results of these substances however much as could reasonably be expected.
An eco spill bed, accessible from mechanical suppliers, for example, A&b Industrial Services, is a similarly basic and sensibly valued bit of gear for a building site, which could have a huge effect on your works to be all the more ecologically neighborly. Use it to store chemicals and drums, and point of confinement spillages and spills with a little object.  
5. Cement options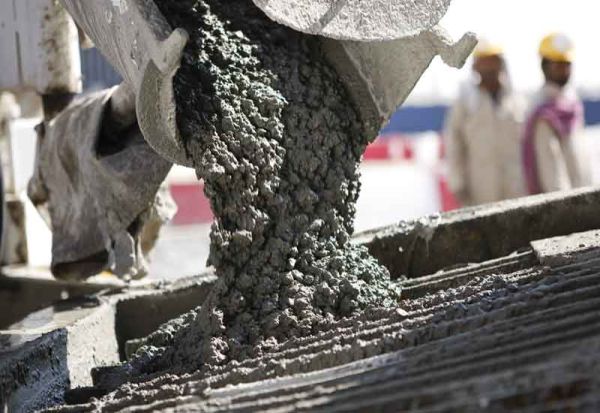 Waste building materials are getting to be substantially more across the board and regular. The development firms are attempting to be all the more naturally neighborly.
Cement preparation sums for around 5% of all carbon discharges. Therefore, it is an essential territory of the center for cutting emanations in the industry. Options, for example, honeycomb squares are progressively getting to be more prevalent, particularly in mainland Europe, and gloat, lightweight, protecting plans, without the partnered carbon yield.