The ever-growing human demand for resources is putting tremendous pressure on biodiversity threatening the continued provision of ecosystem services, health and wellness of human beings. Whether the focus of your company is based around environmentally conscious practices or if you're just trying to show prospective clients that you do what you can to protect the earth, green promo products are excellent ways to create brand awareness focused around your company's excellent ethics. Entrepreneurship is characterized by diverse components like investment, economic sustainability, potential, marketing trends and margins.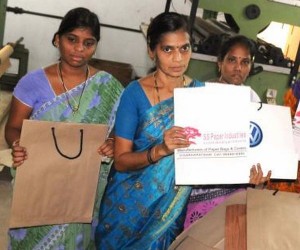 V. Kamakshi is concerned about crafting eco-friendly products while empowering women. Her three-year-old dream of setting up a paper bag manufacturing unit came true last year. After getting technically trained in District Industries Centre, Kamakshi's next step was to empower women. More than providing employment, she is keen to enhance their survival skills. Financial independence and learning the technicalities of the craft go a long way to empower women.
Today she has three women, two housewives and a young woman apart from a male operator, assisting her in designing both handmade and machine made paper bags at the centre established in Muralinagar under the brand name SS Paper Industries. With a bank loan of Rs.20 lakh, she was able to install the unit at a subsidized rate through Association of Lady Entrepreneurs of Andhra Pradesh. To make it successful and keep going she needs to face many challenges.
Though showrooms and East Coast Railway have become her regular clients, the orders are not sufficient to continue the operation for the entire month.
However, with a running cost of Rs.50, 000 per month, Kamakshi is quite confident about her future.  Her son and sister help her with the marketing requirements. They want to improve the dealership in Vizianagaram, Srikakulam, Vijayawada and other places. Their next move is to increase their clientele and reduce running cost by shifting premises to Industrial Estate. And by doing so, they intend to empower more women. And the women working there say that the skill builds their confidence and helps in different ways.
She needs extra money for her higher education and this will help her to learning a skill and pursue her studies simultaneously. For the two housewives supporting their family financially matters a lot and they said that they enjoy learning the art. These ladies are doing well both for their families as well as for our environment.