Pallet generally refers to a flat transport structure which ensures firm support for handling and storage activities. Pallets are a wonderful recycling option, be it solid wood, plastic, steel, metal or even paper. Paper among them is the most versatile and fluid material. We have seen chairs, furniture and variety of tables being made out of used pallets lately, though a very unique piece of home decor is doing the rounds in the market of late. Pallet lamps are the latest rage in the pallet recycling category. Some of the creative and ingenious lamps made out of pallet paper by a highly creative and inspiration industrial designer, Michael Powers of Seizmic Designs, Chattanooga, Tennessee, are showcased below.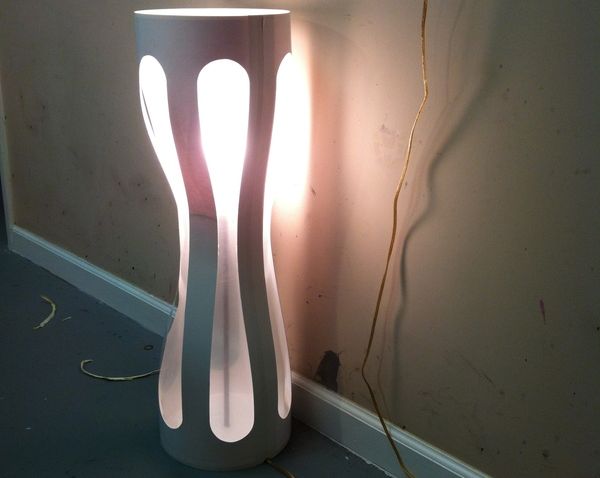 This lamp is made up of simple paper pallet imbibing unusual cuts and tricks into the pallet. Beautifully restoring the original white color, adding gravitational cuts and soft lights, the lamp sits glowing magnificently bright. The crumbled paper pallet of 30 x 30 inches generally dumped is beautifully restored. The lamp is made up of recycled paper, recycled vinyl laminate backing and recycled lamp parts. Offering a series of such lamps from its niche collection of recycled pallets, Seizmic Design has redefined the 'interior design' industry. Not only the paper has been restored and recycled, but also the used lighting parts have been restored and put to use. This design enigma of recycled stuff is a milestone in the reused design category and is expected to draw huge attention. This one can surely adorn your bedroom/living room corners adding a touch of class to the ambiance.
Light up your home's dull and monotonous corner, use it as night lamp or simply gift this exquisite art piece on special occasions such as anniversaries and house warming parties. Touching base on floor and throwing the light upward, it adds an extra dimension to your flooring. It can be as simple and as elaborate as you want it to be. This light goes amazingly well with your white painted walls or any white based wall paper. Just switch it on for your get-together and be the cynosure of all eyes. This will surely hog all the limelight.
Seizmic Design run by Michael Power, an industrial designer having a background in Fine Arts and Graphic Design, has come up with niche projects offering highly creative and distinguished designer pieces of furniture. Having taken the Design industry by storm, the venture is already the topic of hot conversations in design studios, major furniture and home décor merchants and even art galleries for that matter. Not only that, Seizmic Design has a concern for the environment too. Extracting nature's essence and molding them into very contemporary and stylish designs, the Design House strikes a perfect chord with art connoisseurs. They create never seen before art objects which are not only good to look at but useful also. Living by the mantra of 'imagination, possibility, reality', this prodigious venture is sure to go far.
Via: Pallet lamps