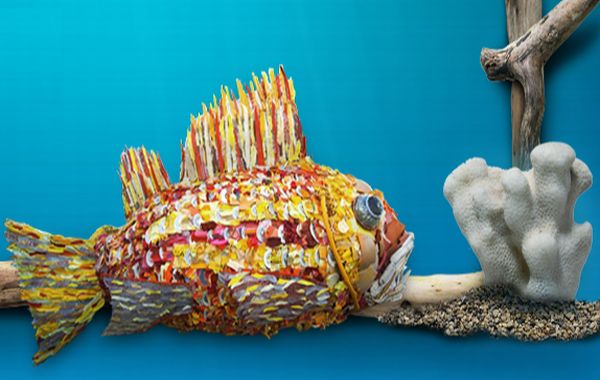 Pollution of any kind can be harmful to not only us, but our surroundings as well. If we consider the animals around us, we would realize the vast amounts of pollution they have to go through, all thanks to the erring ways of humans. Pollutants dropped in the ocean and water bodies affect the marine life in the most irreparable ways.
In an attempt to curb this situation and create awareness about the same, the Washed Ashore Community project kicked up in January 2010 by the Artula Institute. The institute has been setup by Angela Haseltine Pozzi, an artist who is dedicated towards the cause and is out to educate as many people as she can through fancy marine figurines.
The Designer:
Angela Haseltine Pozzi, the designer and founder of Artula Institute is as dedicated towards her passion as she is towards her cause. Seeing the obscene way in which marine life is being destroyed rapidly, she set in motion the Washed Ashore Community project dedicated towards raising awareness for saving the marine life.
As plastics are the most common types of water body pollutants, she has used the same to create figurines of the most affected marine animals. With large animal structures to do her bidding, she hopes to create awareness amongst people to start lending a helping hand in preserving the marine life.
Based out of Bandon, Oregon, Pozzi has been successfully practicing her art and designing from the past 30 years. The Marine Mammal Center, being a nonprofit corporation, has efficiently been able to cater to the betterment of marine life, animals, etc on a daily basis. Being a veterinary hospital, and a research and educational center, they have rescued a number of sea mammals over the years.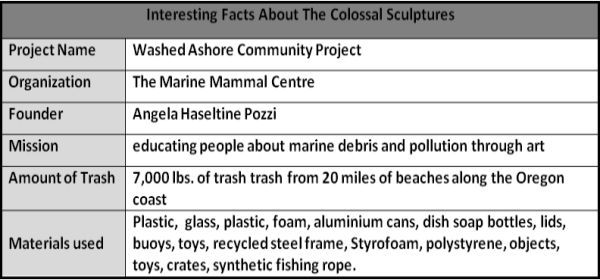 The Creation:
Collecting trash from beaches, Pozzi was able to procure about 7000 lbs of raw material for her creations. Fortunately, yet unfortunately, while the young artist was happy for being able to collect so much of raw material for her sculptures, she was nevertheless saddened at the amount of litter which met her eyes.
As of now, Angela has trained her team to be able to differentiate between usable pieces of plastic which can be recycled and made into her creative sculptures. Not only has she been able to train her volunteers well, she has created beautiful pieces of art out of discarded plastic bottles, strewn pieces of trash etc.
Some of her artworks consists of oceanic gyre replica, a styrofoam coral reef, Henry the fish, a plastic bottle jellyfish, a replica oil-spill, and a musical sea star. Her collection is absolutely amazing and will definitely prove their worth as excellent pieces of art in the future. A quick peek into some of her astounding pieces of art.
Sea Star has been made out of plastic and glass bottles while little bit of trash and foam was also utilized. Henry the Fish has been crafted out of plastics, aluminum cans, plastic soap dish, etc amongst other things. Whale Bones is a combination of a recycled steel frame coupled with plastic bottles and jugs. Bleached Coral Reef has been solely designed out of Styrofoam and polystyrene.
The Aesthetic:
The main purpose behind the cleaning up of Oregon beaches was simply to help save the environment and lead a cleaning drive. By doing so, tonnes of trash was removed from the beaches and converted into meaningful pieces of art. These masterpieces have now been showcased to the public with a motive to encourage and recycle their trash.
Why should I look out for it:
Americans use approximately 1 billion disposable shopping bags, creating 300,000 tons of landfill waste each year. The average American produces about 4.4 lbs. of garbage a day, or a total of 29 lbs. per week and 1,600 lbs. a year. Every year, Americans throw away enough paper and plastic cups, forks, and spoons to circle the equator 300 times.
Angela has created these sculptures simply to reinforce the need to recycle our trash. Amongst these discarded pieces of plastic bottles, soap dishes, etc, she was able to locate all the necessary raw materials to create these magnificent pieces of art. Here's to Angela Haseltine Pozzi, the creative designer and the person heading Artula Institute.