The modern architects are always eager to experiment with the structures, techniques and even materials. As a result there is no dearth of unusual homes made with unconventional materials around the world. Among all the unique homes the one made with the wings of an officially discarded Boeing 747 stands out. David Randall Hertz, a famous American designer and owner of the architecture firm "Studio of Environmental Architecture," has designed this beautiful home.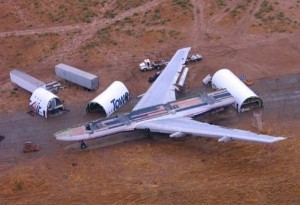 David has always been eco-conscious and believed in recycling used materials and scraps for building livable and comfortable homes. Francie Rehwald hired David Hertz to make a home from a recycled Boeing 747 and they both traveled to the Mojave Desert where discarded aircrafts are kept.
The gorgeous house has been built on top of the Malibu hills in California. Hertz candidly admits that he started the project just after toying a little with the idea of using the 2500 square foot Boeing 747 wings on the different parts of a hill top home. It took lots of paperwork to get permission for using the aircraft which was once the property of PAN AM. After Rehwald bought the Boeing pieces for a net $50,000 in the year 2005 the parts were carried in trucks and helicopters to the building site. The lovely house is officially known as the 747 Wing House. It provides some amazing views of the surrounding to the owner and her guests.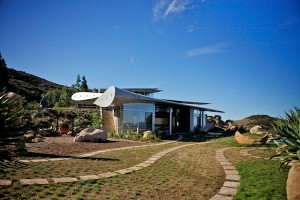 The 747 Wing House has been built on a 55 acre land in the Santa Monica Mountains. The main and important parts of the house were built with the help of the wings and other parts were built with the fuselage of the Boeing 747. David's creativity made this house not just beautiful but also very comfortable. The use of the wings reduced the carbon emissions and turned the construction jobs into eco-friendly tasks. The 50 foot long part of upper fuselage has been turned into the roof of the art studio. The lower fuselage has been used to build the roof of the barn. David has designed the entire house very strategically so that the lovely view of the surrounding is available from all sides.