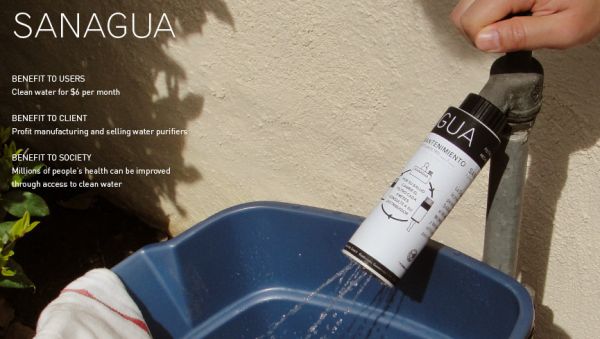 Clean water is precious and there are many parts of the world who crave for even a drop of pure water. There is a sea of water purifiers and filters present in the market that remove all the toxins and harmful particles. But, it is not necessary that everyone can afford an expensive purifier. This may lead to health hazards and also spread various diseases. Matthew Grayson, an industrial designer by profession, understood the water problem faced by people in Guatemala and came up with the Sanagua.
The concept is a spigot-level water purifier, which falls in the affordable range. It can also be purchased by people who merely earn $4 everyday. The project has been successfully completed by joining hands with Universidad Rafael Landivar and Caltech, Art Center College. Rural people are not literate and have a problem understanding complicated products. They need to be provided with things that are easy to use and understand. Sanagua is one such concept that has a plain-looking facade and also carries important instructions. It is important to get the water filters serviced to make sure they function properly. This costs money and the idea of inviting a complete stranger to clean the filters is also not encouraged by people living in the area mentioned. Matthew made sure that the design makes it easy to replace old filters with new ones without any professional help. It won't break even if the user tries to fix something and hence the thought of any kind of contamination takes a backseat.
Sanagua will be made using minimum parts, which makes it easy to clean as well as does not cost much. The design is tamper proof and has been sealed in a way that will not let users take the filter apart. The labels present on the water filter are quite simple and can be easily understood by people who can't read. All the instructions have been presented in a diagram form as well that are self-explanatory. The design consists of a tap adapter, sediment filter, nylon mesh, ion exchange resin, activated carbon, PVC pipe and a final screen. When the production scales up PVC in the design will be swapped by HIPS. Sanagua will make sure that millions of people all around the globe get to drink clean water for as less as $6 per month. This will keep diseases at bay and improve health of many around.
Sanagua concept is an ingenious creation that can be fitted directly on the tap. It will be a perfect fit for rural areas that crave for pure water and can't use complicated gears.
Via: Matthewgrayson