Specially framed from 7 plys of Maplewood wood and coated with polyurethane, these once plain sports equipments are no longer as simple as just that. With electronic skateboards paving their way into the market, each year many riders upgrade their traditional skateboards for the newer versions. If you choose to donate your skateboard wisely, for recycling you may contribute towards an art revolution that uses reclaimed skateboard decks to create pieces of art.
Haroshi's skateboard deck structures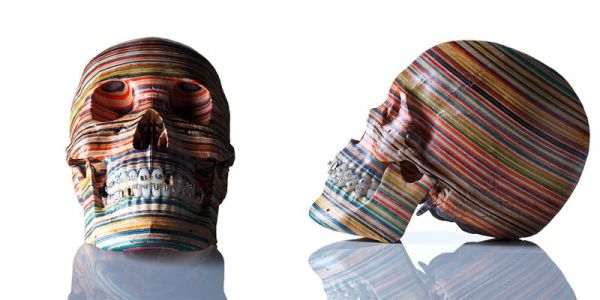 Tokyo based artist Haroshiproduces sculptures created out of reclaimed skateboards. Haroshi is a passionate skateboarder and has been skating since his early teens. To create these painstakingly precise sculptures, he decks and stacks individually selected skateboards. Once glued together, these form a cube of glued recycled wood. The chiseling and carving then begins where the self-taught artist converts the lifeless block into animals, cars, emotions and more. Each sculpture has one of Haroshi's own broken-skateboard piece.
Recycled skateboard wall hooks by Deckstool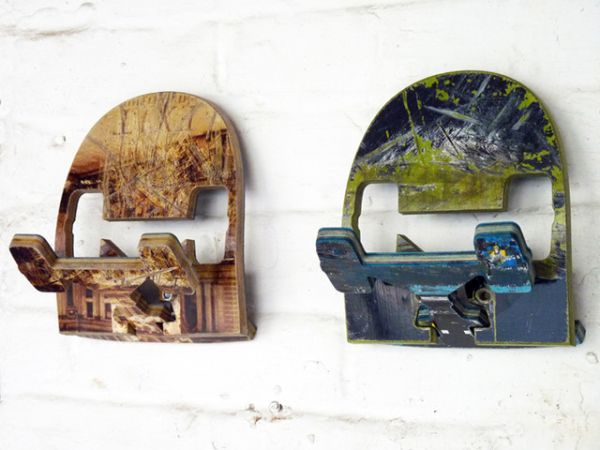 Deckstool manufactures recycled products from a variety of reclaimed material. Derived from wooden decks of disposed skateboards and converted into a functional wall-hook, these are covered in artwork, scrapes and scars. A minor assembly of the mounting template and standard mounting hardware they are approximately 6" x 7.5" in size. These hooks carved and assembled out of recycled boards can be used as a coat-hook or a towel-holder. They are study enough to hold your gear and bags too.
Broken skateboard deck skulls by BetoJanz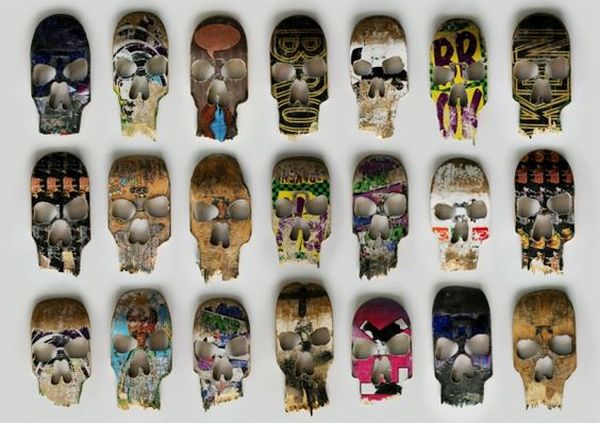 Artistic skull designs created out of broken pieces of reclaimed skateboard decks by Brazilian skate shop Ultra Series are a great attraction. Designed by the company's graphic designer BetoJanz, every broken wooden piece can be reutilized and transformed into skull shapes. These are later covered with artwork to create the final product.
Sk8lamps, Victor Perez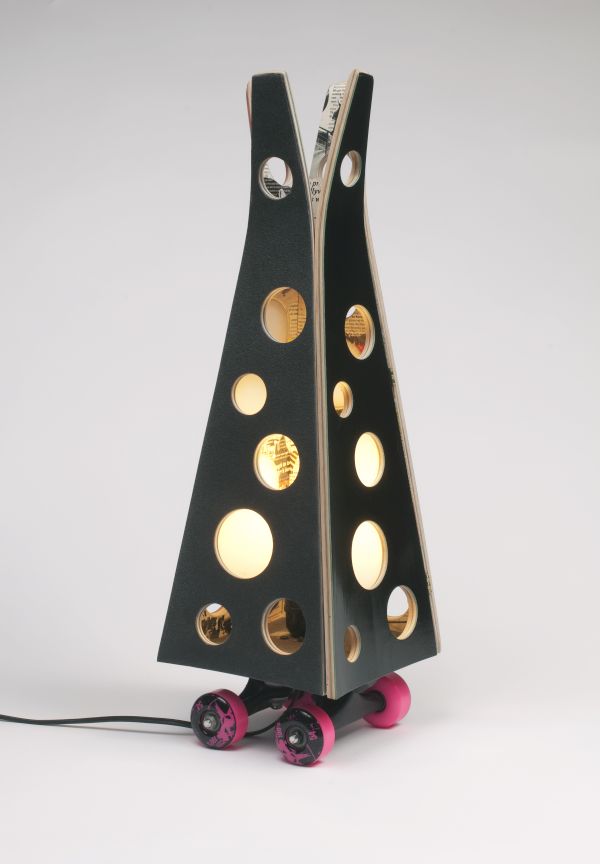 Designer Victor Perez combines all the passions of his life to culminate in art. He combines skateboards, art, recycling and light into upcycled lamps. The designer prefers calling his products as 'upcycled' as the raw reclaimed material has been transformed for a whole new purpose, unlike recycling. These lamps utilize used or rejected skateboard decks, wheels and trucks that have been dismissed to create pieces of art. The electrical pieces from used skateboards are removed and given extended life by reuse.
Scate Sconce, MFEO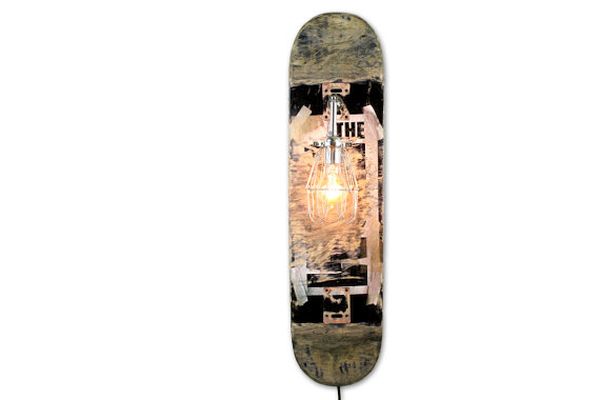 A piece for aficionados of eco-friendly and unique products, this is an absolute delight. A one of its kind recycled skateboard art this lamp grabs eyeballs of every art enthusiast. The lamp has been framed out of recycled skateboard deck fitted with conventional industrial chrome cage light fixture. A vintage style light bulb has been used in the lamp and a rotary cord switch is situated behind the board for control.
Unique Broken Skateboard Clock by Redtail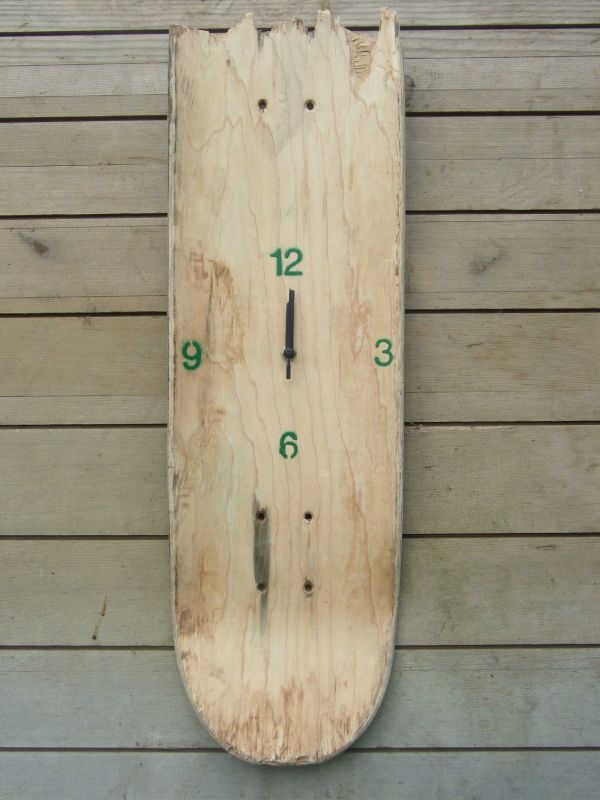 Redtail studios in United Kingdom have come with a quartz clock that has been up-cycled from broken shards of skateboard decks. Promoting sustainability and eco-friendly manufacturing process each clock has been hand-made and is unique. The Maplewood of the decks has been varnished and painted to add finishing. Clock hands and stickers for numbers have been gracefully added over the deck frame. The clock can be mounted on walls and is powered by a single AA battery. The Quartz clock movement is guaranteed to work accurately for 12 months.
Reclaimed skateboards are redesigned and repurposed in a fashionable and artistic way by many designers. These products are an attraction for skateboard enthusiasts as well as art fanatics, with an added advantage of being eco-friendly as they utilize up-cycled material.