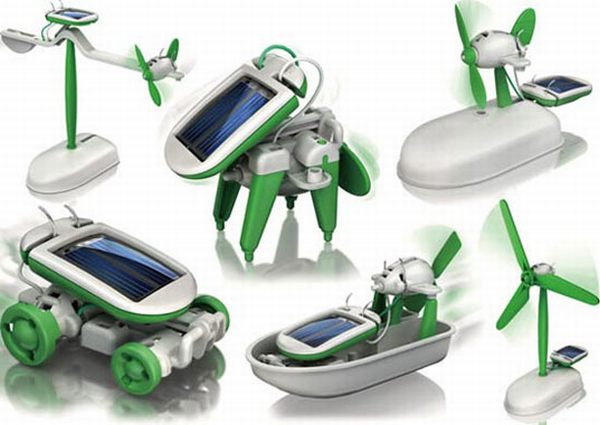 Eco friendly products are becoming popular day by day. The reason behind this rests in the fact that most of us are becoming increasingly eco conscious. Are you looking at energy efficiency and eco friendly toys for your kids? Solar powered toys are becoming a rage among kids as well as parents. The fact that they are energy efficient and also offer a lot of fun and playtime activity gives them full points as eco toys for green kids. Take a look at the seven best solar powered toys for your kids:
1. Solar Powered Flying Butterflies
This beautiful toy is the best way to keep your toddler occupied and running around as you get that much needed respite! A great toy for girls, this very realistic looking butterfly can flutter around your magnificent flowers and roam around your garden in all its splendour and vibrancy. The small solar panel that comes along with the butterfly transforms the daylight that emanates from the sun into energy for the butterfly to flutter around pleasantly. They flying and activity increases with the brightness of the day.
2. OWI Frightened Grasshopper Kit
Another beautiful solar toy that will keep your kids giggling and fluttering around along with the activity of the grasshopper. The mini solar kit again keeps the grasshopper hopping around and depending on the brightness of the day, you can see some frenzied activity around the garden with your kids and the solar toy creating equally exciting activity around. The grasshopper is also an educational robot, teaching the kids about the ways of nature and how solar energy can be transformed to other forms of energy. Build your own grasshopper with what's available at home. Comes for $ 14.99.
3. Six in One Educational Solar Robot Kit
This small robotic instrument helps the kids understand how solar energy can be used for driving motors. The parts of the solar robot can be snapped together to form a mini robot which can draw energy from the sun for its actions. The best thing about this educational kit is that the parts can be fitted in a variety of ways to form six different models like puppy, car, windmill, airboat etc.
4. Solar Rainbow Maker
This brilliant solar powered toy is a joy to look at. It immediately transforms your interiors into a medley of beautiful hues and shades and helps your kids dance with the rays of the sun. The Swarovski crystals that are fitted in the solar rainbow maker rotates in opposite directions, making a dancing rainbow on your walls. All you need to do is to fix it in a place where there is plenty of sunlight which can fall on the crystals. All yours for $ 38.
5. Betterware Solar Powered Radio
The solar radio is a great accessory for those of you who love to listen to music, wherever you are, without the use of scores of batteries or electricity for the purpose. The radio can be charged with solar energy and is capable of picking up FM and AM and also weather channels that can warn you about a possible storm outbreak. The radio has a battery that is built in which charges with the solar light. Available for £18.99.
6. Solar Powered Perspex Helicopter Kit
Created from laser cut Perspex parts, the helicopter does not require glue for fixing it. Once you have successfully assembled the pieces to form a great looking helicopter, you can place it near your desk light for charging and see the wonderful magic it creates by 'vrooming' around. A great educational kit for your kids, a unique desk accessory and wonderful solar powered helicopter, all rolled into one! The kit is all yours for £ 24.99.
7. Solar Powered Windmill
The windmill can be created at home with wooden panels and create a working rota that is powered by the windmill's own solar panel. The windmill is created form plywood that is laser cut to precision and assembled to perfection. As it is laser cut, there is no messy use of glue or any nut and screw for your convenience and also to make it kid friendly. Again a beautiful educational kit that can keep the kids engrossed. The entire kit comes with detailed instructions as to how to be assembled and comes in a snap together model that is easy to assemble and detach. Solar powered windmill comes for £ 12. 99 which is not expensive at all considering its entertainment value and energy efficiency.