Tired of watching your old utensils lose both their shine and utility? Well, why not recycle them. In fact, if you are a fan of 'art with a purpose' then in the form of old useless cutlery, you have the perfect material for the craft. Don't believe us? Take a look at these stunning creations from recycled cutlery. These are absolutely real and keeping in mind the malleability and strength of steel are quite easy to make. So don't look for oils and paints if you want to do something creative, just open your old cardboard boxes and get your cutlery ready for some real metallic art.
Eight pieces of art created from recycled cutlery
1. Recycled fork dragon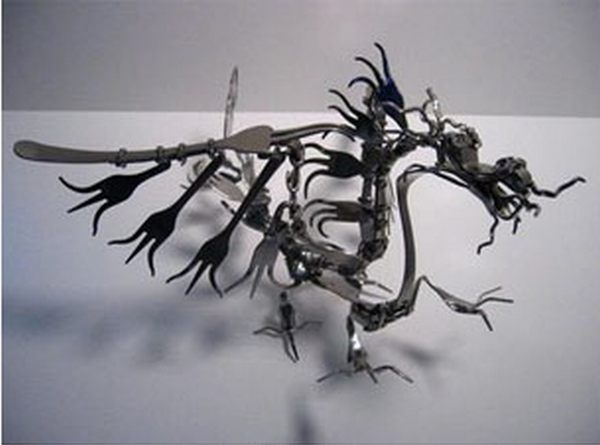 At first glance, they would look like complex metal pieces that are carved out or molded into complex and interesting structures. But look closer and your eyes would widen with amazement! This dragon structure is entirely created from forks of various sizes and shapes and recycled to form this amazing art. Created by Matthew Bartik from old flatware, they are created by twisting, twirling and bending to form intricate critters that transform into a horrific dragon that can scare you with its creativity.
2. Recycled metal folk art car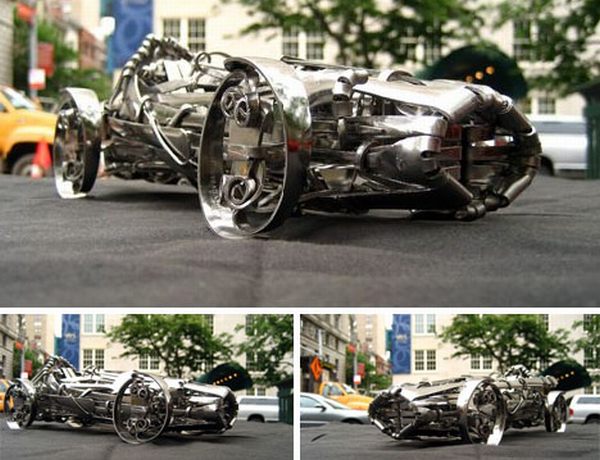 This complex looking car might never strike you as one created with recycled materials. But that exactly is the truth. Created from a medley of forks of various styles and sizes, they look amazingly good and intricate that you wonder at the craftsmanship of the creator. The forks are curved, twisted, interwoven, overlapped, turned and what not! The incredible creation is arranged in several layers to create this complex car. The creator sure deserves a whole round of applause for this one!
3. Recycled metal fork vehicle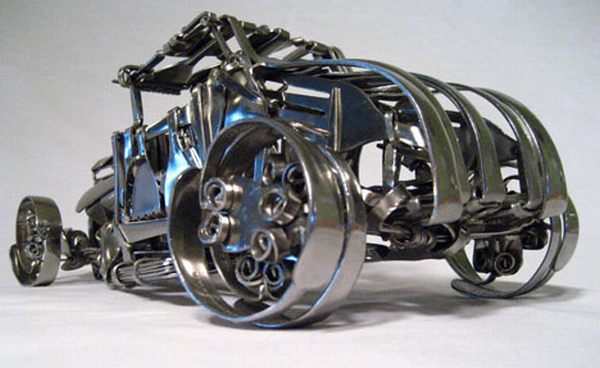 The abstract vehicle with cool fittings and woven metal parts would first look like an engineering prototype that you have seen many a time. It requires several glances and scrutiny to look through the design and see elements of forks and parts woven into the vehicle. Again the forks have been twisted and tattered to perfection to create this amazing vehicle. Only a creative and innovative brain can create such beautiful prototypes that are impossible to the common man.
4. Recycled abstract trash art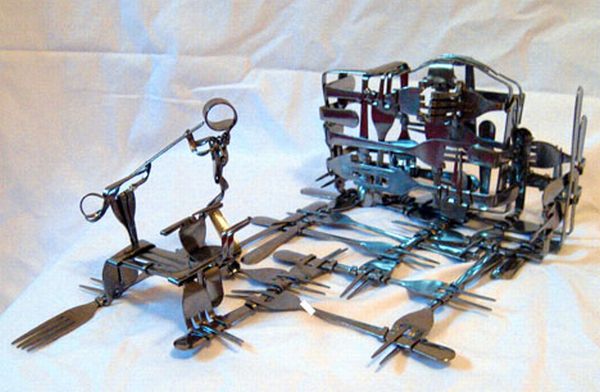 This folk art depicts an interlaced fork platform and some structures that are unidentifiable. There is a human fork form in the process of playing an instrument which is nicely shaped out. The whole structure appears to be perfectly balanced even though one side is heavier than the other. Though this scene is much less intricate as compared to some of the other structures by this artist, it nevertheless bowls you over with its concept, the creative spark and the all round appeal.
5. Recycled fork musicians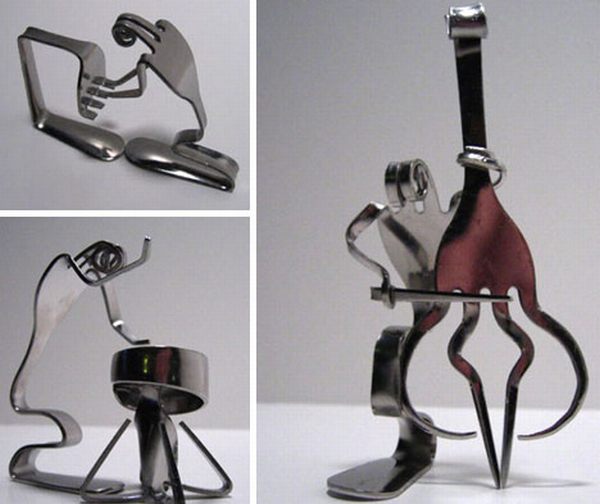 Looking at the simple fork creations, you would wonder at the idea that spurred out of the creator's mind. Though the creations look very simple, unless you have a scheming and creative brain, you would not be able to shape out such structures that look every bit a professional job. The scenes depict human forms with various musical instruments like a guitar, drum and a piano. The expertise and the effort that has gone into these creations make them priceless and one of a kind.
6. Recycled fork motorcycle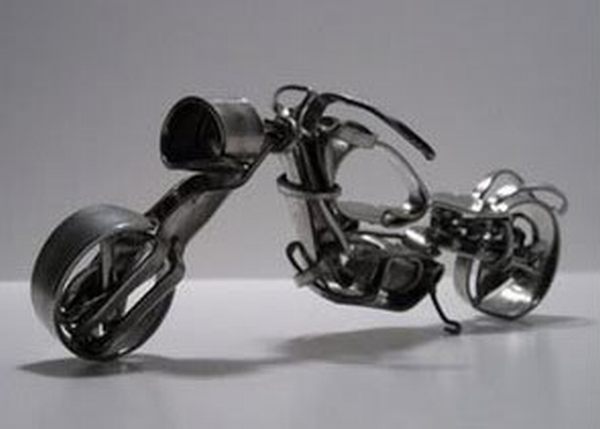 One of the most perfect looking creations by the artist, the recycled fork motorcycle looks every bit like a complex motorcycle which motorcycle geeks would love to possess as a showpiece. Every detail is created with so much precision, using forks of varying sizes and shapes. The forks are twisted in innovative and unimaginable ways that we wonder as to how such precision can be created with recycled forks. The motorcycle comes complete with a twisted stand and gears. It can be made to balance on the stand and look absolutely stunning when seen from a distance.
7. Recycled fork angel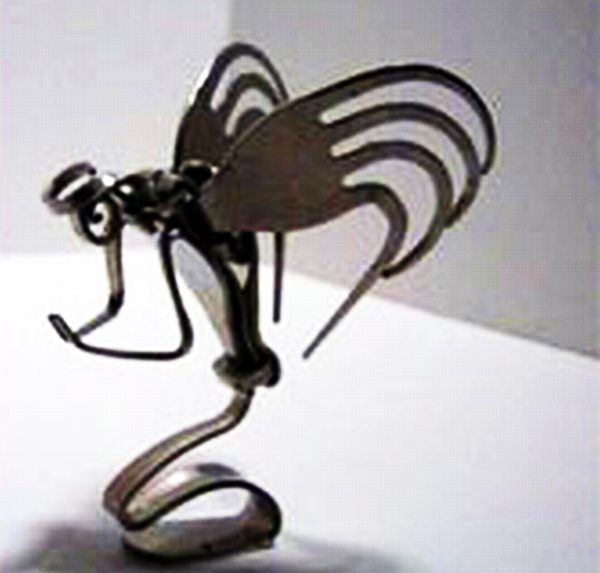 This is an aesthetically pleasing recycled cutlery sculpture created by flattening and twisting forks and joining them to form an angel who is on her knees, in a prayer pose. The wings are absolutely fantastic, created by flattening and curving the teeth of the fork. Resembling a fallen angel who is kneeling to pray for forgiveness, it is also perfectly balanced on its knee and hence can stand without any support. A beautiful piece with minimal use of forks and by creating a few ingenious twists and turns, this too is one of the simpler and best creations by the artist.
8. Old silver cutlery fashioned into elegant jewelry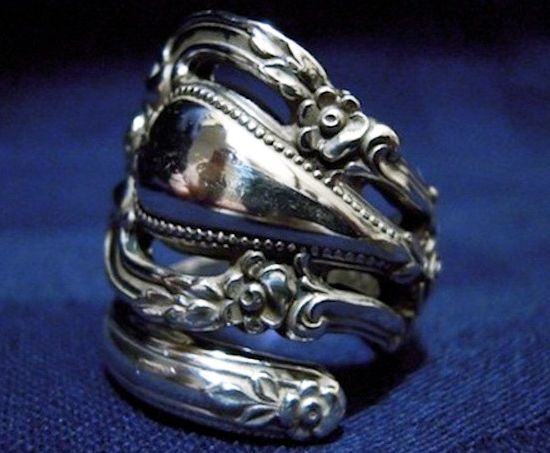 Imagine wearing those silver spoons and forks. No, we are not kidding. Giving an example of recycled cutlery, a creative artist has fashioned old silverwear into lovely jewelry pieces. Ann Arbor-based jeweler John Marchello recycles silver forks and spoons into green accessories to suit any eco-conscious person's style. Each spoon rings and fork bracelets are handcrafted using assorted silver-plated and sterling silver cutlery to perfection. Specializing in transforming ordinary silverware, the artist has designed for fingers and wrists of any size. You could also get your own silverware shaped into elegant designs of your choice.
Say no to plastic cutlery
Plastic cutlery is disposed after a single use and they do not decompose at very quickly, so the people at VegWare have devised a solution for this by designing a range of knives, forks and spoons that are 20% soy oil and 80% potato starch, now you can eat potatoes with potatoes.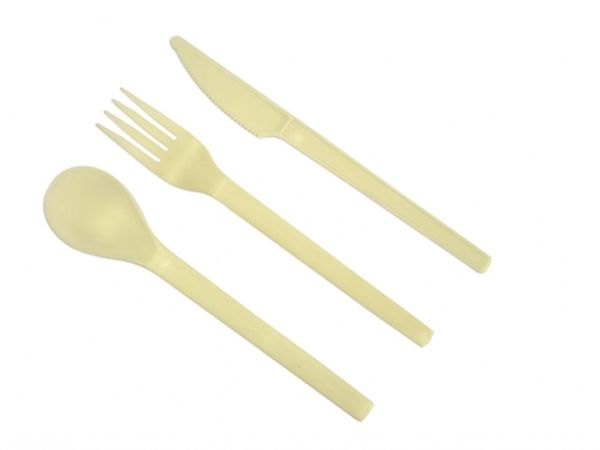 These green utensils are heat resistant and strong just like we have come to expect of the standard plastic ware. They can also be reused and washed and decompose easily once they are discarded in as little as 180 days. Plasticware, on the other hand, contains petroleum that stays intact in dumps and landfills for years.
After dinner, if you still feel hungry, you can take a bite out of the cutlery. The cutlery is currently being sold online in the US under the name of 'Spud ware'. You can buy a pack of fifty pieces for just US $ 6. They will soon be available in the UK, Europe, Australia, and South Africa.
The company also sells other green kitchen products that are crafted out of recycled and renewable materials and can also be added to food waste as well such as a compost bin.
Final Words
Recycled art and craft have gained a lot of popularity in recent years. The importance of saving the earth is kicking into everyone's mind and looking at the stunning designs that recycled products shape out into, the effort is entirely appreciable and the result is incredible. If you have a cabinet full of cutlery that you no longer consider fashionable, try some of these recycled cutlery masterpieces and come out with beautiful creations worthy of admiration and display.