Sustainable floating homes are one of the ideas that have come off of the sustainability combined with creativity cum luxury banter going on around the world. People are looking for options that allow them to live luxuriously on sustainable means and this is definitely one way to go.
Sustainable Floating Home by Giancarlo Zema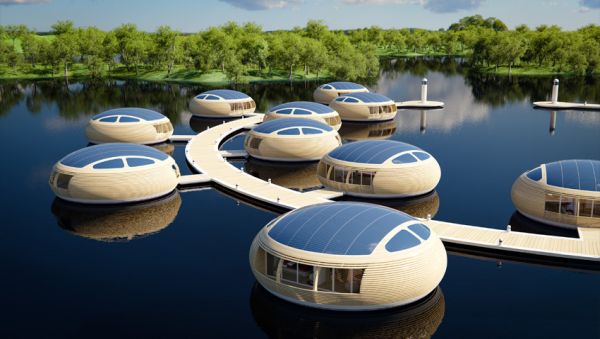 Image Source : Giancarlozema.Com
This creation of architect Giancarlo Zema is an extremely sustainable one. It is one of the greenest floating houses at the moment. The home is made entirely from recycled materials and has a solar powered rooftop as well. Isn't that one heck of a way to live? The house is named as Water Nest 100. It is round and kind of looks like a pod but on the inside, it is a massive 1,076 sq ft.
Marvellous Self Sustaining Floating Home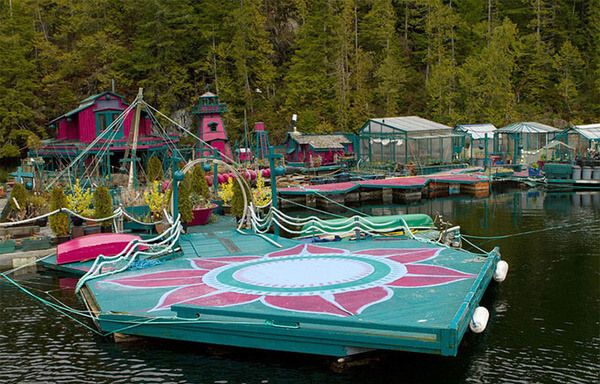 Image Source : Theawesomedaily.Com
This house is definitely one of the best floating homes around and also has a cute sort of story behind it. It was built by a couple over a span of 20 years and it has been beautifully done. You don't see something so awesome on a regular basis.  It is definitely a distinctly resplendent house and will hopefully continue to be so for a long time to come.
Carl Turner's Floating House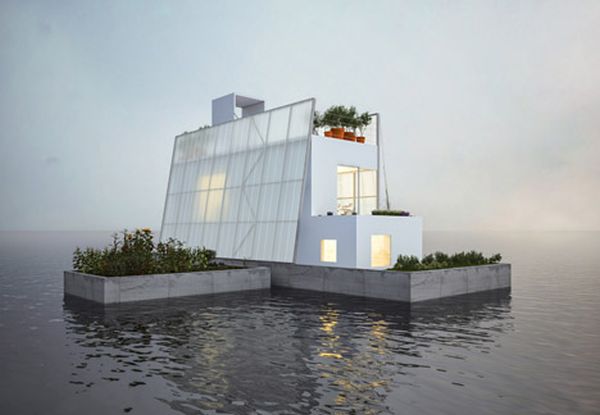 Image Source : Static.Dezeen.Com
It is a great life saver during floods thanks to its beautiful architecture. The house has definitely been built to last. It has amazing interiors with breathtaking design as well as gallery. It is covered in a carousel kind of wall furniture design which gives the house an elegant look.  Surely, the house is something you want to keep coming back to. Everyone who has ever laid eyes upon the house has fallen in love with it.
Ex-bury Egg House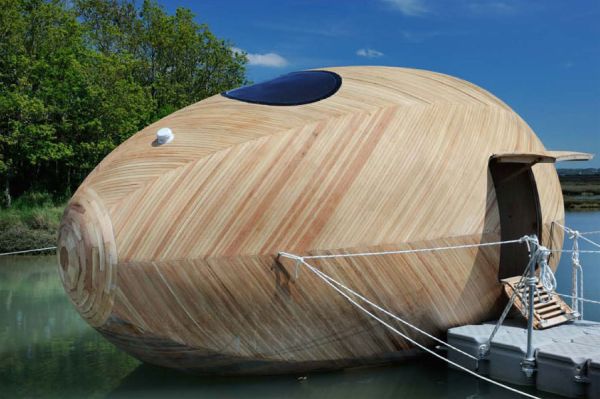 Image Source : E-Architect.Co.Uk
This house has been built by Stephen Turner and is fondly called the Egg House. Stephen often writes about the house on his blog. He has even shown the CAD drawings of the house. The Ex-bury Egg House is a green home located in the estuary of River Beaulieu. Stephen uses this home as his work space. For him it serves multiple purposes of giving him a place to stay, acting as a laboratory and allowing him the opportunity to study aquatic life in the coral creek.
Sustainable Floating House by ARQA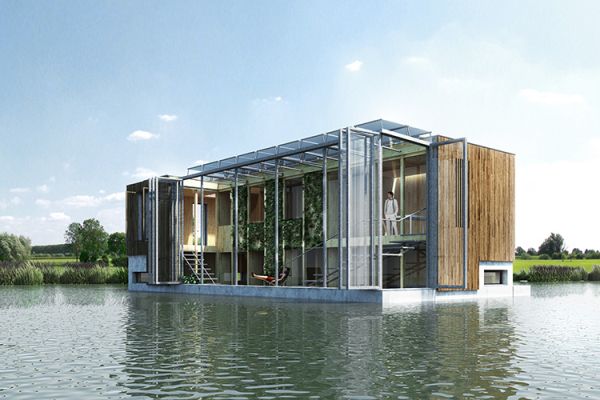 Image Source : S-Media-Cache-Ak0.Pinimg.Com
ARQA comes up with a very interesting concept of floating houses. It is worth living in even if for a while. It is a wonderful experience to say the least. It leaves you feeling vast. The pictures itself of this home are breathtaking. It has been done by Dymitr Malcew and is one of the best floating houses to stay at. It makes you feel relaxed and literally makes you feel like you are getting away from the stressed urban experiences.
Off-Grid UFO Home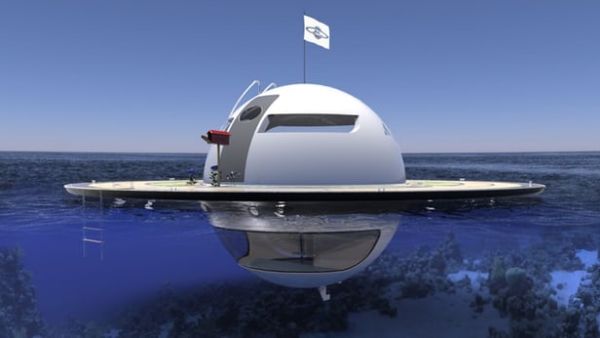 Image Source : Img-2.Newatlas.Com
This is an extremely energy efficient house and is run through resources such as the sun, the wind and the water. It is a one of a kind concept of a home. Its interiors are lovely and it runs on renewable energy; there is absolutely nothing that can go wrong with the place. It is fancy in its own right with all kinds of amenities. It is definitely a delight to look at.
Floating House by University of Coimbra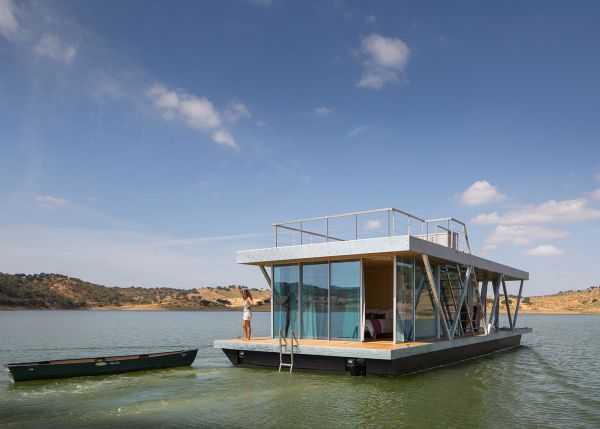 Image Source : Static.Dezeen.Com
Though there are quite a few floating homes already, this one is a tale of its own. It is pre-made and can be used in any of the water bodies across the world. Yes, you read that right; it is indeed portable! It is going to be a delight to stay into this portable floating house for any and everyone. You can have an enjoyable and relaxed stay in this lovely house.
Lake Huron Floating House by MOS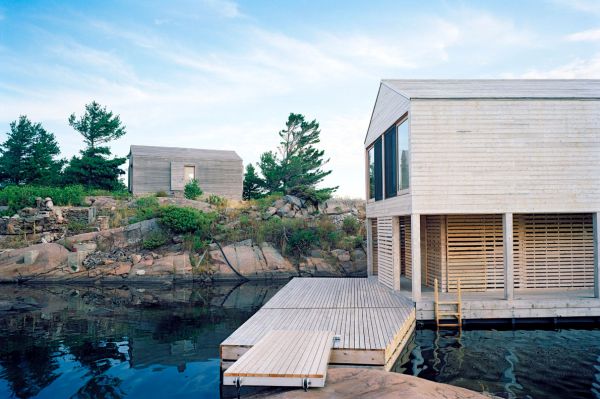 Image Source : Ideasgn.Com
This floating home by MOS architecture is fabulously built. It is not only portable but also sustainable. It can explicitly give you the feel of a lake cabin. It is surely worth its while to experience a full stay in this wonderful and cosy home. Its décor and architecture are flawless to say the least. It is a perfect example of a modern day solar powered home full of lovely experiences.
Amillarah Private Islands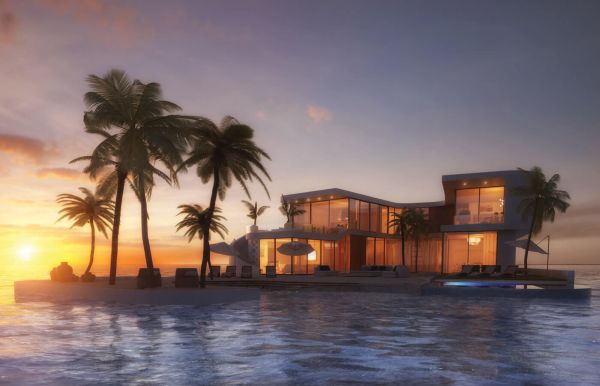 Image Source : Amillarah.Com
Amillarah is as beautiful as its name. It has been finely developed into a classic living space for one and all. It makes you feel completely at home in the oceans. No wonder then, it is named Amillarah. A large number of people visit Maldives for sleeping into these homes. They are the star attraction of the area. They give you complete pleasure and privacy and allow you to experience the feel of staying in a floating home.
Sustainability is slowly becoming the norm and for good reason. It is also giving rise to numerous trends and sustainable floating houses are one such. Some of these floating houses are more than worth living in.