A true artist is someone who understands the pain of other beings and then exposes it to the world through his or her art. From Picasso to Van Gaugh, the greatest artists of their times put on display human suffering. Poverty and despair were their recurring themes. However, although these themes are as relevant today as they once were, right now we have many other pressing themes as well. Our environment is suffering under the burden of human exploitation. In its own silent way, it is venting out its suffering. Trapped in the world of material prosperity, we are ignorant of it. Nevertheless, artists like Takeshi Kawano aren't ignorant like us. With their artworks like melting animal sculptures, these artists are showing us what nature has been trying to convey us for so long.
Melting animal sculptures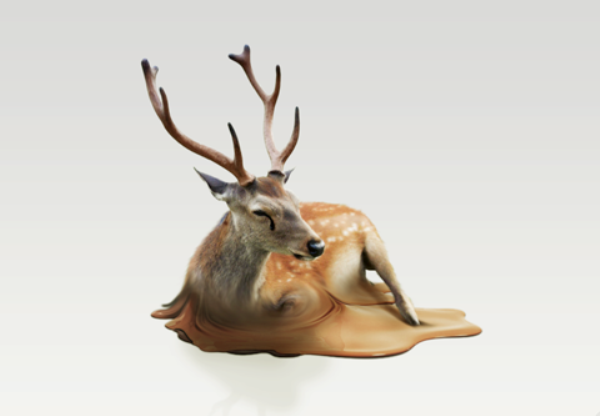 Takeshi Kawano, an artist hailing from Japan has created striking sculptures that depict the major effect of global warming – the increasing global temperatures and meltdown of the ice caps which lead to submersion of low-lying lands/countries, death of animals due to habitat changes and a lot of other inter-related damages. He is portraying all these through three sculptures of a polar bear, a deer and a penguin that face threat as they are apparently melting away. The sculptures are like poetry that describes this calamity so vividly that one cannot help but react positively and acknowledge one's responsibility to contribute towards the safekeeping of our precious earth.
This theme, although familiar and common, is presented in a very unique manner. To see the meek creatures melt away to nothing is absolutely heart-rending and inspires us to contribute towards a better tomorrow. A wonderful idea brilliantly executed summarizes Takeshi's work.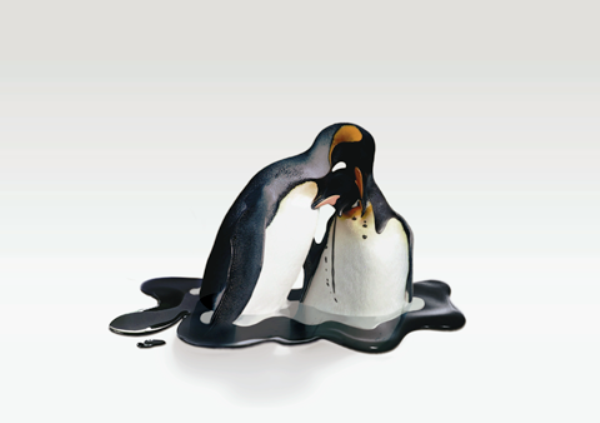 Via: Sweet Station
More eco-friendly art like melting animal sculptures
1. Sculptures from Junk by G.A. Jank
For G.A. Jank, nothing is waste as each waste product can find a place in your homes rather than in the landfills. Jank's passion for creating art pieces out of metallic junk such as a used oil tank is simply awe-inspiring as he works endlessly on each piece of his sculpting to perfection.
Waste bulky oil tanks, wharf nails and other such items are salvaged by Jank and used to create his masterpieces. His recent sculpture of a pair of herring cranes is demonstrative of his sheer hard work and dedication which took him around 120,000 hammer strokes to craft the piece.
Jank's artwork includes natural sculptures like those of cats, birds, flowers and abstract art pieces. His natural flair for creativity stems from the fact that he sees art in all forms.
Our landfills are predominantly filled with metallic junk that is not only voluminous but is also very hard to recycle. It is heartening to have artists put in sincere efforts to transform bulky metal junk into marvelous sculptures.
Janks and his wife also host a private art show in their backyard for budding artists. Janks tries to bring more exposure to new talent and also foots the entire bill which is very much unlike other art exhibitions. Creativity that stems out from the love of our environment and surfaces as an artistic form is an absolute pleasure for all.
2. Sound wave
This masterpiece was created by a Korean artist Jean Shin and was highly appreciated for its unique concept. The artist actually made the real replica of the virtual sound waves. This cool sculpture shows the propagation of sound waves in particular medium and it derives its looks from the basic wave movement. It was made back in year 2007 and since then has become popular for its awesome concept. The best part is that it contains materials like melting vinyl and digital discs.
3. Clifton suspension bridge
Image Source : pbs.twimg.com
This is a cool replica of the original bridge of the same name. This awesome designed bridge was designed by artist Stuart Murdoch. He completely transforms the original suspension bridge into a small scale suspension bridge. The best part of the bridge is that it consists completely out of waste coke cans which add to the beauty of the awesome bridge. This bridge is a small scale bridge and thus there is no possibility of walking over it. This design became highly popular and now is a part of recent art gallery.
4. Sculptures made out of watches and clock
The sculptures made out of electronic gadgets are pretty famous and are highly adorable. One such sculpture is this animal replica. This replica consists mainly of watches and clocks. The watches and clocks have a perfectly arrangement at places which really looks adorable. This sculpture is really beautiful and completely adds to the beauty of the surrounding.
5. Broken family
Image Source : live.staticflickr.com
The Broken family is an awesome concept. It owes its inception to the famous artist Anthony Haywood. In fact, this is a cool replica of the original giant elephant which primarily consists of the recycled materials. This cool and gorgeous elephant consists completely out of recycled items. These mostly include household wastes like TV, radio box, computer screen, etc. The devices are nicely arranged and look pretty adorable. And the best part is that this sculpture is completely handmade and does not consist of any toxic and any such polluting agent. This is one of the best symbols for green change and ways to effectively use recycled products.
6. Zoo recycled sculpture
Now here is something that is really gorgeous and worth of keeping in stock for all those green nature lovers out there. This is a replica of the zoo animals and is what defines creativity and the best alternative use of waste products. This cool sculpture consists of plastic bags. This became part of an exhibition in the famous London's zoo recycled exhibition.
7. Skull sculpture
Image Source : skullappreciationsociety.com
Now this is what you call creativity. There is practically no matching to this stunning masterpiece. This cool sculpture is the brainchild of famous Indian artist Subodh Gupta. The artist collected various household utensils from the garbage and effectively used them to make this masterpiece. The skull utilizes three rods for its support. These are there at various angles to give a stronghold. This giant sculpture is really adorable for its awesome design and stunning looks and will surely grab your attention for a longer period of time.
8. Animal sculptures
These awesome sculptures are designed and made by the famous artist named Robert Bradford who is known for creating exotic designs out of recycled products. These are inspired by the dog and various other animals. Most of them are life-size and larger than life sculptures. Most of these sculptures are made out of plastic items and mostly toys. Some of these sculptures are out in market and are priced at almost $19,000.