We are already tussling hard with the increasing concerns related to the environment. Millions of people have already brought about a huge change in their lifestyles. Millions others are still to discover the ways in which they could possibly contribute to the solution of this universal problem. Several others are yet to discover the problem itself. This piece of informative write-up would serve the purpose of people belonging to all these three categories. Those who have already made themselves available in the green bandwagon, it would serve as an addition to their already compiled books of Eco-knowledge. For those who are looking for ways to get into the bandwagon, it would be a lane introducer and for those who are yet to discover the cause, it would be an eye opener.
1. Plantable shoes
No one could have thought that a product that is generally accused of causing harm to the environment could actually be a boon. OAT shoes have taken the pioneering in the run. The company has rolled out pairs of sneakers that are not just unique in the fact that they have used green raw materials; they can also be used to grow plants at your backyard. But then, if you are in moods to grab a pair, you must seriously hurry up! There would be just 900 pairs available this spring season, and that too, just in Europe.
2. Greenbutts
While cigarette smoke could choke lives to death, cigarette butts are reputed for choking the earth's environment. But Greenbutts has come out with a solution to prevent this choking. It has introduced cigarettes which have Eco-friendly butts made of hemp and cotton. Once the cigarette gets consumed, these butts can be converted to tiny little flower pots or grass growers. So now, to protect your lungs lies in your hands but to protect the environment is a shared responsibility.
3. Google Ad sense Letters
If you are one of the fortunate receivers of the recently started ceremony of Google Ad sense letters, get ready to view something enchanting. Google has started to sprinkle a few seeds of wildflowers inside their Ad sense Letter envelopes for the receivers to plant them. You can give life to these seeds and watch them grow with immense tranquility.
4. Plantable nursery pots
Ball Horticulture would make your eyeballs pop out in amazement. The company has manufactures biodegradable nursery pots that would start degrading as soon as it is filled up with soil. It is bottomless, and the process of degradation quickens only when the pot is planted in the ground. Thereafter, it would degrade completely within a span of a year, leaving back nothing that would pollute the soil in any manner.
5. Vegetable Labels by Ben Huttly
Ben Huttly has done a good job by preparing ecofriendly labels to be put on vegetables. Made of 100 percent biodegradable material, the seeds of the plants whose fruits it represents alphabetically, the labels more than enhance the fruits and vegetables. More worth the cause is the fact that even the ink is not the harmful one. It is a laser jet printed
6. Biodegradable Spud Raincoat
This amazing piece of clothing earns a shine of uniqueness from the fact that it not only protects you from getting drenched, it also allows you to throw it off on bare ground after its shelf life is over, and that too without much of thinking and tussling with yourself in case you are an environment conscious person. The material that has been used to prepare it is absolutely biodegradable and somewhere in it is concealed a ball of clay that accommodates seeds of plants. So an added motivation – throw it off, and see plants vine up in a few days' time.
7. Spruce Trees Sprout from Pangea Organics Boxes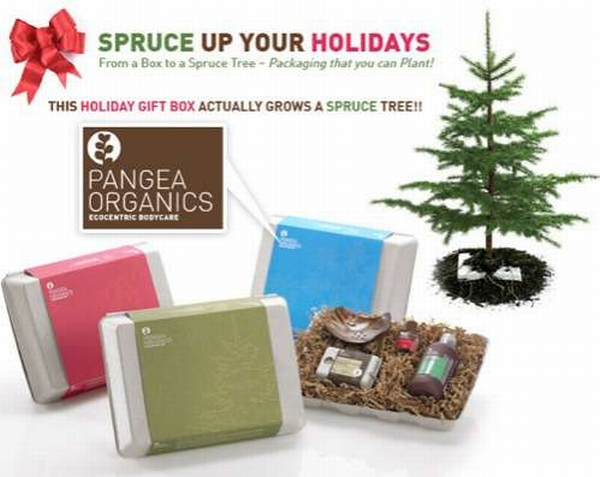 Pangea Organics has started producing gift wrappers that not only sparkle and make people happy! When thrown off, the wrapper grows into Spruce trees. So now, you just don't have to worry about what to do with the packages after returning from your holidays.
8. Plantable Retaining Walls
If you are the core lover of colors, you can now catch them just on your walls, not of course because of the paint that smothers it, but because, now you can have plants growing on your walls with plantable retaining walls. These are special in that their structure permits them to house small plantations and also supports irrigation facilities.
9. Plantable By JAILmake Studio
Liam Healy and Jamie Elliott have come up with this innovative product. Plantable is actually a dining table with an astounding design that accommodates the facility to grow plants and vines in it. The whole idea is to make you realize that the food you eat is a gift from nature to you and hence, you must respect her.
10. Verdura Plantable Concrete Systems
Another concrete system, that allows you to grow your plants on your walls and make your neighbors envy your taste and beauty. It is actually a retention formula, where the walls are porous and can grow plants in them.