Solar power, the natural, free and renewable energy allows you to go camping or live off the grid or travel in an RV without having to think about the power level of your devices. LED camping lights, mini fridge, mobiles and other devices can be powered by solar panels, which means you don't have to pay more if you stay in powered sites for RVs and campers. Also, solar power is quiet and you can enjoy the peace of the great outdoors. There are many different solar panels you can choose from – mono and poly crystalline and amorphous (thin film). Mono crystalline panels may be more expensive but they gather the most power. Amorphous panels need more surface area, but their advantage is the ability to be rolled up or folded and stored. Check out some solar panels you can use for your RV and camping purposes:
Renogy 400W Solar Kit and Wanderer Charge Controller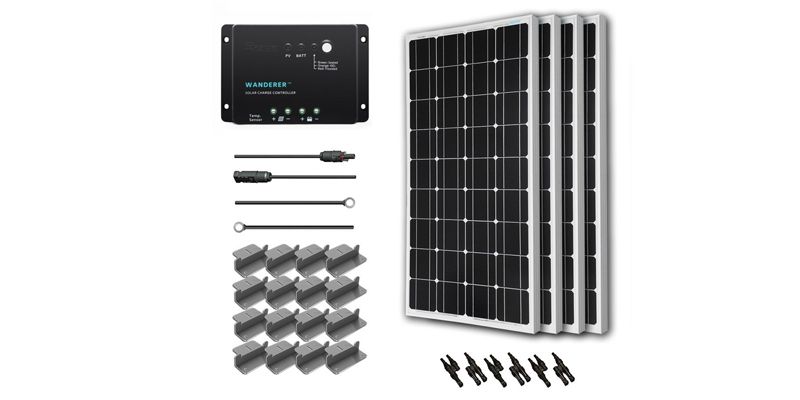 This kit can be mounted on your RV or trailer and has 4 100 W monocrystalline panels that can be interconnected, which enables the transfer of energy to the batteries. It can charge 200Ah battery which can produce 2000W every day, under ideal conditions, i.e. bright sunlight. It has 20 ft 10 AWG MC4 adapter, 8 ft AWG cable and 4 Z brackets. The kit is accompanied by a charge controller as well.
Venture 30 solar recharging kit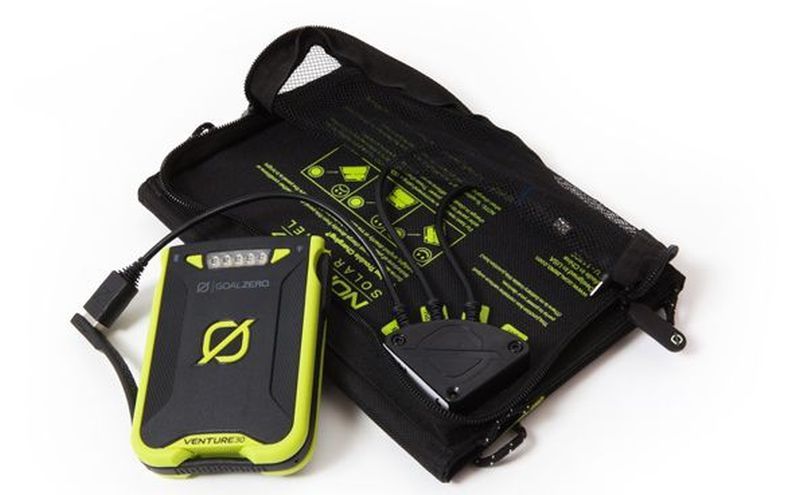 Venture 30 is a durable, rugged and weatherproof tablet and phone recharger. You can charge your devices directly using the USB ports, or with certified cables. You have to charge it in 9 hours of bright sun to derive 4 hours of solar electricity. As it is waterproof, there is no danger of it being damaged due to rain. The 7,800 mAH, 30Wh power pack is compact and lightweight. You can charge two devices simultaneously at the two 4.8A USB ports. The Integrated Flood Charging feature makes sure that your devices are charged quickly.
Go Power 120W Folding Solar Kit (Portable)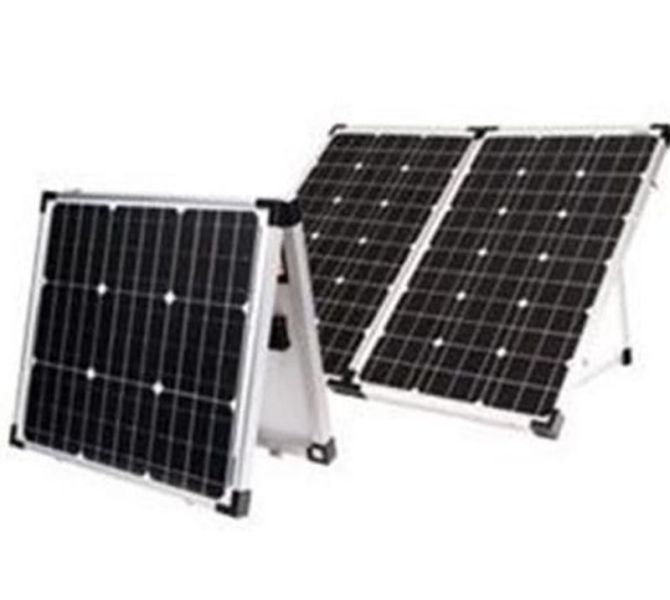 This one consists of a foldable and portable 120W and 10A built-in charge controller. It's a convenient and easy solar solution to charge a 12V battery. The panel can be mounted on top of your RV, cabin, trailer, camping tent and connected to the battery. The kit includes battery and cables to enable you to set up an off-the-grid solar system. The process of setting up the panels is extremely easy and you can charge the battery instantly after setting up.
 Zamp Solar 80P  Charger Kit Portable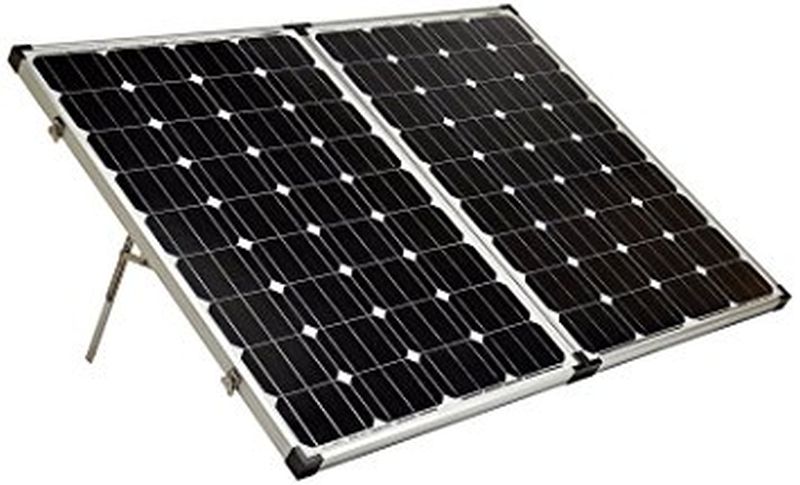 The Zamp is a popular choice for RVs and trailers. It has an in-built charge controller (solar), and is a weatherproof 10A PWM unit. The large display on the controller allows you to see the battery voltage. It can be mounted over your cabin as well, to charge the 12 V batteries, and every unit gives you 4.6 amps/per hour in normal sunlight, and 36 amps/per hour in bright sunlight.
Nomad 28 plus solar panel kit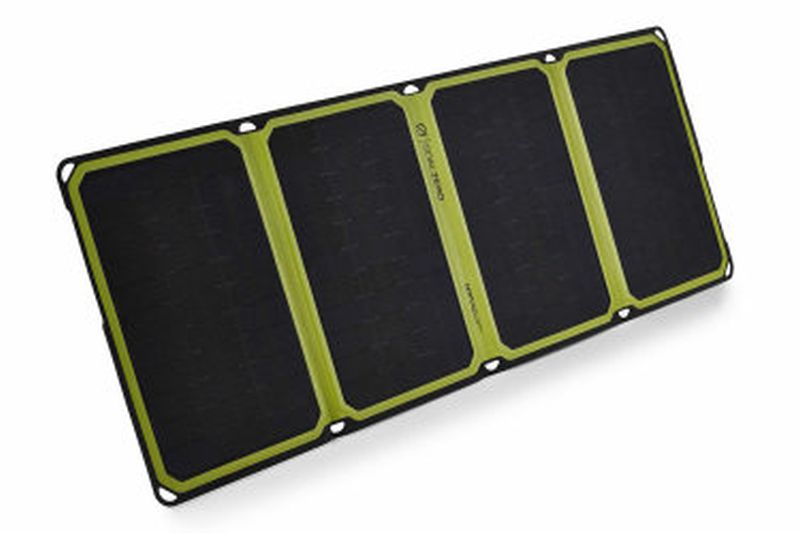 28W solar panels engineered to be smarter and lighter, it has in-built innovation which allows you to charge devices directly in sunlight, through the USB port. Its removable/detachable kickstand allows optimum placement towards sunlight. It has auto-restart feature which can track the power flow history and will reconnect the charging device if it stops due to shadow or lack of light. You don't have to keep checking it! The LED indicators informs you about the speed of charging as well as solar strength, so that you don't have to guess the time it will take to be fully charged. It is compatible with Sherpa and Yeti power packs.
100W Eco-worthy Solar Panels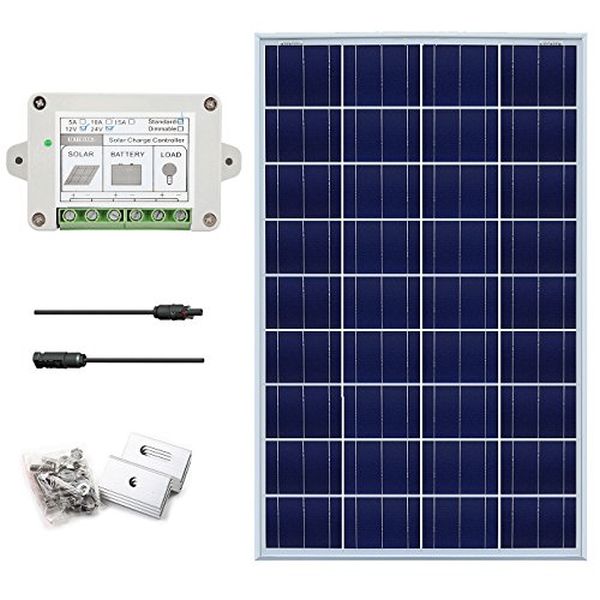 Comprising of monocrystalline panels, it has all the necessary components which are required for an off-the-grid solar energy system wherever you are. You can go camping to the remotest areas and still be able to enjoy the perks of electricity as this panel can be mounted on cabins, boats, RVs and trailers. It has single monocrystalline solar panel of 100W, and 20A PWM solar charge controller, LCD display, 5 ft cable and MC4 connectors, screws and brackets. Under ideal conditions, it has a 500Wh capacity.
With the help of portable solar panels, you can go camping wherever you want to, or enjoy a river cruise, as most of these solar panels can be easily mounted on the roof, giving you all the electricity you need.