Reduce, recycle and reuse, these not only help you save the environment but help you save money too. Furthermore, by doing so, you are not making compromises in any way. In terms of aesthetics and functionality, recycled products look at least as good as normal products, if not better. In addition, just like normal products, these products too have designers versions. To mention a few, here is a cool sustainable wall hanging and other products made of recycled paper.
Wall hanging made using recycled paper
Are you looking for a unique and beautiful wall- hanging for your house and office? If yes, then what about a wall- hanging made of waste paper? Around the planet, there are billions of waste materials that we are endlessly producing. That is why there is a great need for human to know that how to recycle and manage this properly.
Here, we are introducing a sweet little handmade heart shaped wall- hanging made from strips of little thick recycled paper. It is a simple and an attractive hanging made of door handles, cabinet knobs, and waste hooks all around the house.
It measures approximately 4" wide and 4" tall (not including the cord). The sweethearts consist of recycled and left over paper waste. It is a great and unique combination of colors, hues and texture. It is a simple and beautiful green product made from a simple process. Strips of thick recycled paper are cut, folded and twisted into little spirals to form a heart shape. Furthermore, the finished heart-shaped hanging has a light layer of non- toxic glue and sealer for a low luster, natural shine. In addition, natural hemp string is looped through the top coil of the heart and consists of wood beads and paper.
It is a green handmade product consisting of the recycling process to reduce the quantity of waste paper on earth. If you want this unique and beautiful product then you can buy it at Esty for a nominal price. It is a classy product which need no special care and which will increase the show of your living room.
Some more recycled paper creations
1. Crane Origami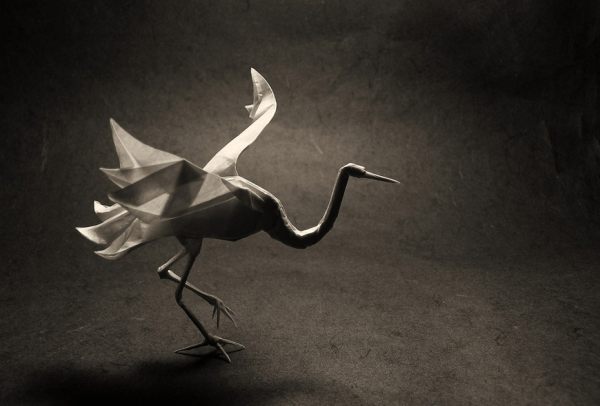 Designed by Roman Diaz and Danieal Naranjo, this 37 cm square paper folding looks amazingly beautiful and realistic against a gray and shadowy backdrop. However, the Crane Origami looks best in twilight and you can shape it in various sizes and styles of feather arrangement.
2. Frog Origami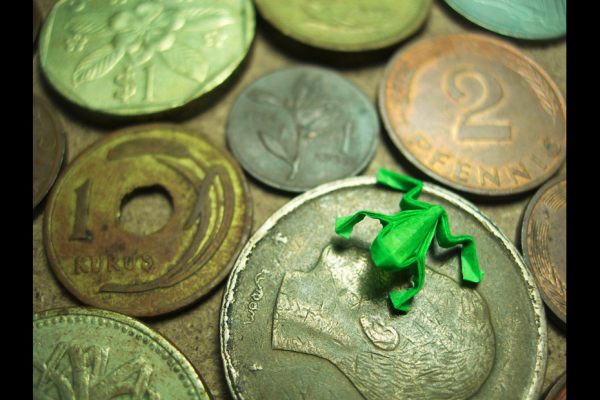 The miniscule green frog looks so vibrant and real that you are amazed to find that it is just a 2×2 cm paper origami art that came from the imagination of Toshikazu Kawasaki.
3. Origami flowers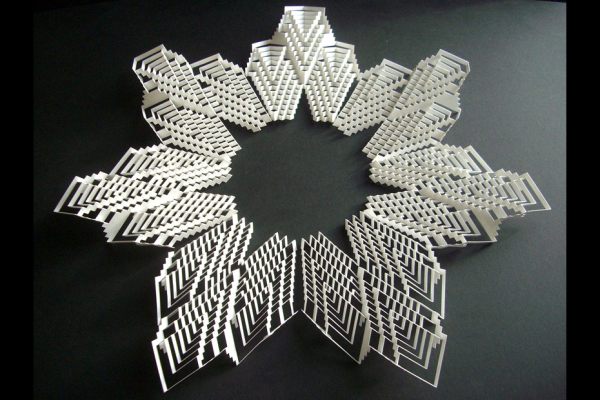 The zig zag pieces of paper arranged into a beautiful flower pattern is amazingly beautiful and beyond imagination. Made by artist Elod Bregszaszi, by arranging seven thing strips of folded paper, they are easy to make and very attractive.
4. Dissected book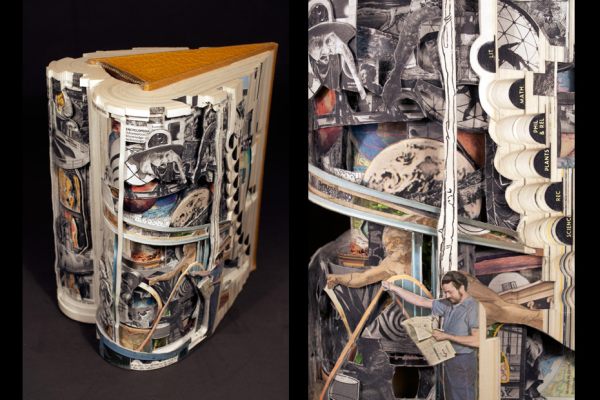 This book with detailed cut-outs looks like an impossible feat. But artist Brian Dettemer achieved this task beautifully by creating wonderful cut-outs around the images, giving them a 3 dimensional feel. Furthermore, the dissection is utilizes surgical tools after sealing the edges of the book.
5. 3 Dimensional paper illustrations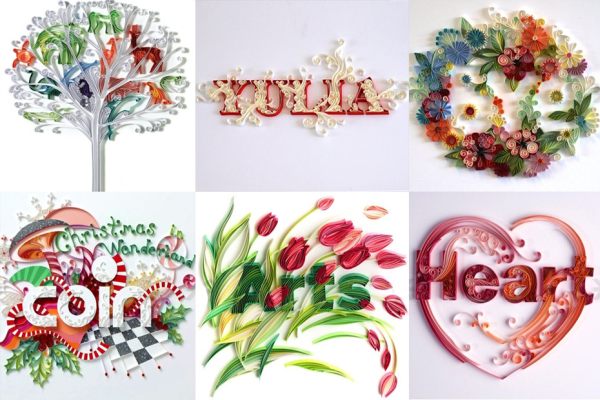 Designed by artist Yulia Brodskaya, these illustrations are created by rolling colored paper. They come in varying styles fixing the edges on to the surface. However, they look very classy and curly with those cute and strategically placed curls twisting and twirling anyway they like.
6. Sagrada Familia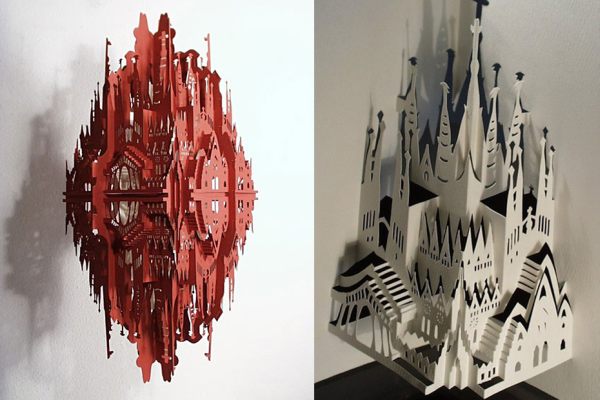 One finds it difficult to believe that these intricate and delicate looking structures consist of paper. Deriving inspiration from Gaudi's Barcelona cathedral, these structures are just out of the world!
7. Icosahedron II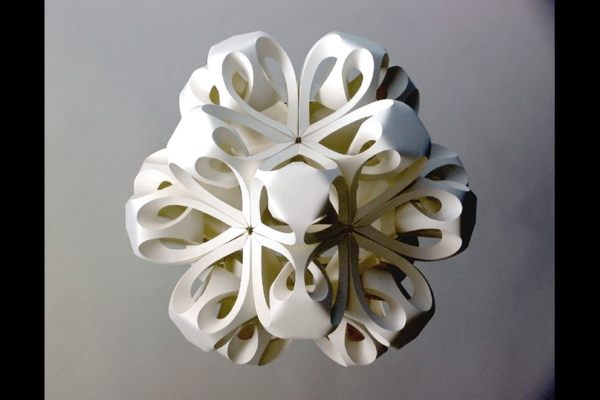 Created by artist Richard Sweeny, this beautiful and three dimensional floral wonder beats all chandeliers that you have seen in beauty as well as intricacy. Add a few crystal hangings tastefully over it and you get a breathtaking accent piece for your living room.
8. Partial shell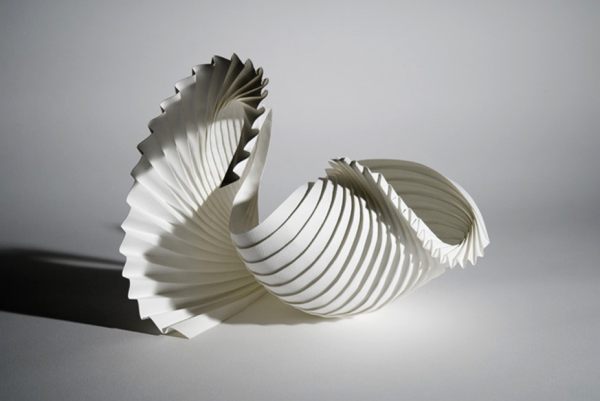 A perfect paper origami created by just a few intelligent folds, the partial shell is the brainchild of Richard Sweeney. The folds arrange so neatly and rhythmically amazing people with their perfection.
9. Paper cut sculptures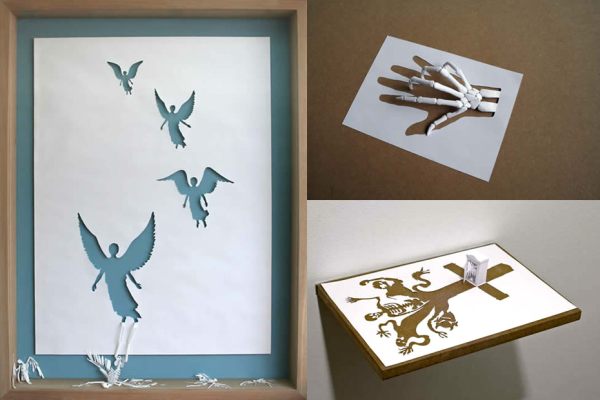 These simple paper cuttings look too easy to achieve. But try your hand at it and you know that it is not a joke. The paper cut sculpture belongs to the artist Peter Callesen. However, what makes it special is the intricate imagery that is shaped out into sculptures after cutting them out of the paper.
10. White shadows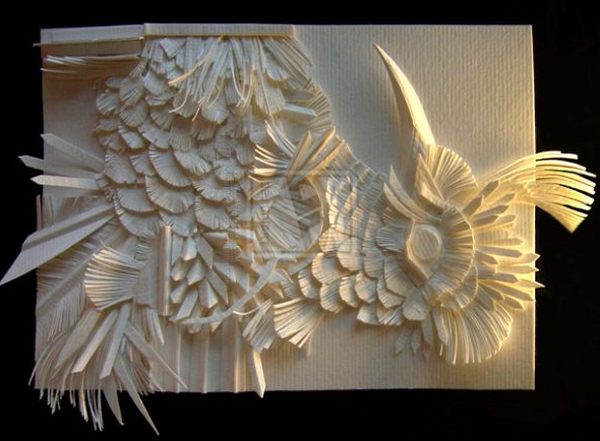 The image of a bird is created from paper cuttings from watercolor paper of varying lengths and sizes and glued on to water color paper. The play of lights and shadows is what makes it special.
11. Architectural paper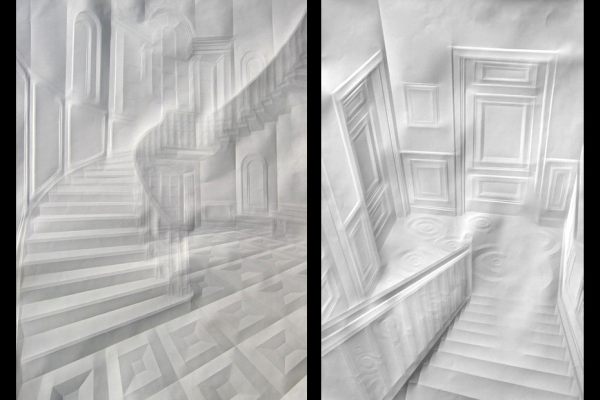 This image is created by just folding and creasing at strategic places of a paper. Created by artist Simon Schubert, they are just unbelievable and perfect!
12. Scored paper art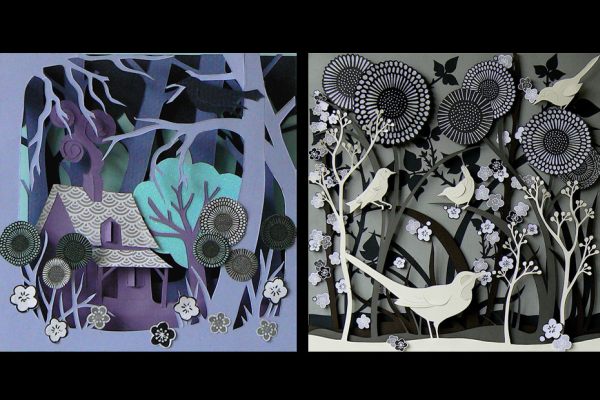 Intricately cut and placed, one on top of the other, all you need for making these multicolored wonders is colored paper of varying hues and some creativity and imagination running in your blood. This wonderful art piece is created by Helen Musselwhite.
13. 3 Dimensional paper sculptures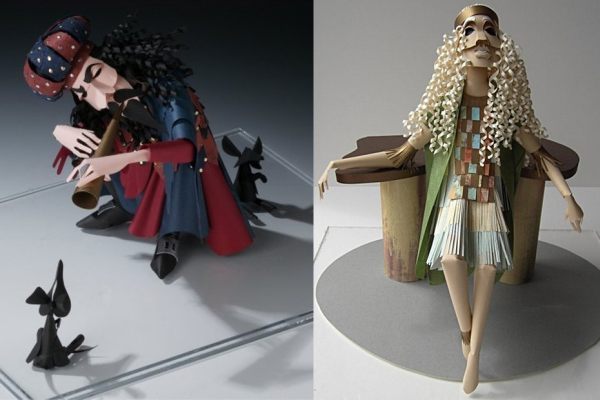 These 3 dimensional paper sculptures are carved out with so much precision that you are immediately bowled over by the detailing, the awesome postures and above all, the overall effect it creates on the onlooker. The perfectly poised lady and the charmer deeply engrossed in his music are masterpieces of Sher Christopher.
14. Paper art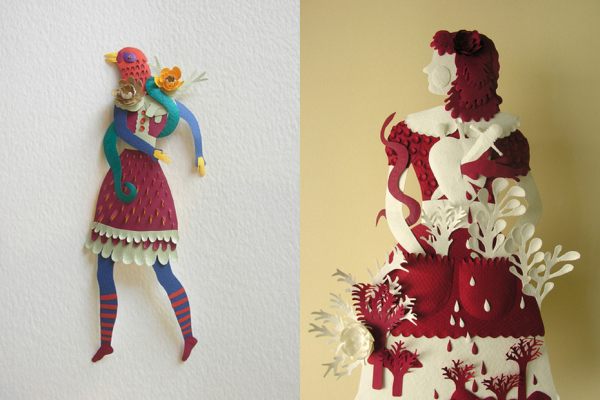 These are easier versions of the 3D sculptures but in no way inferior when it comes to the intricate detailing, the fantastic colors and the raised art that creates varying degrees of shadows are entirely admirable. This is the creation of Elsa Mora.
15. Architectural paper craft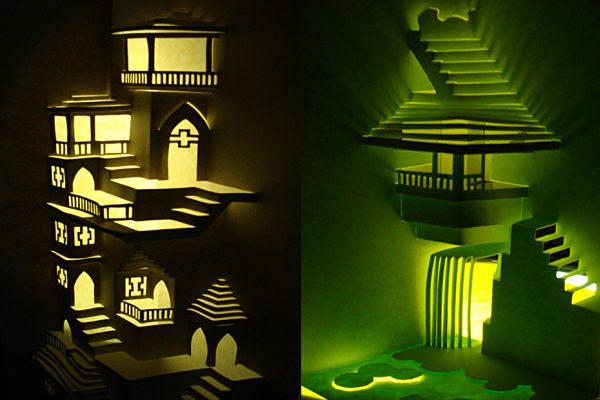 Created by Crackpot Papercraft, architectural paper crafts are paper cuttings of architectural structures which are illuminated from the back with varied lighting to create a realistic silhouette. Various lighting arrangements at the back create a play of shadows and depths that are entirely praiseworthy and beautiful.
Final Words
Recycled art is becoming a rage these days and many have woken up to the benefits and importance of conserving nature. In fact, paper can be used for creating a number of beneficial things and also showpieces that fair surpass the beauty and appeal of expensive and unique pieces. You can transform into wonderful pieces of art and all you need to have is some imagination, lots of recycled paper and abundant patience.