Whether you are riding your bike to work or on an adventurous trip, running out of water is not a good idea. Dehydration is a problem you do not want to have. To deal with such situations, you need something like a self-filling bottle that never runs out of water. If you are thinking it is all impossible, then have a look at Fontus that refills itself when required. Check out the concept behind the design of this unique and eco-friendly water bottle.
Fontus design concept and features
Two types of water bottles are available for use when you are out on your adventures. While Fontus Airo is a standalone unit, Fontus Ryde is designed for bicycles. While these bottles appear to be like regular water bottles with simple designs, they actually have a smart design concept. Fontus is created tocapture moisture in the air using a small fan, and then condense and store it as pure drinking water. Since condensed moisture passes through a special filter before passing on to the condensation chambers, it generates safe water for drinking.
The condensation process takes place with the help of small coolers.Condensed water passes through special surfaces and collects in the main body of the bottle.Here, some small capsules re-mineralize it to give you healthy mineral water. As the bottles make use of solar energy to power coolers, the sunlight is trapped using a flexible solar mat installed in the bottle. You also get a USB port against this mat to charge your devices using solar energy. Each Fontus bottle has a capacity to hold 0.8 liters of water.
Usefulness of Fontus water bottles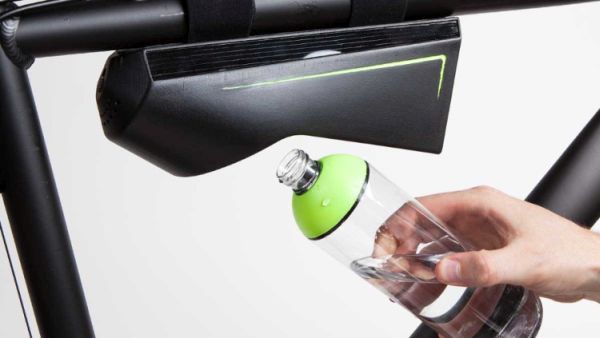 These compact, small, and lightweight water bottles can help you stay hydrated on long tours and dehydrating activities. These may even save your life. Additionally, you will not have to be bothered to carry extra weight with you, as these bottles will refill them anywhere. Whether you want to go hiking, biking, camping, or climbing, you do not need to rely on harmful plastic bottles or wasting resources on several bottles. You will also stay stress free, as you will not have to find a place to get fresh water supply. Fontus water bottles can easily and comfortably be clipped on your backpackor fixed ergonomically on your bike to work even in motion.
Fontus water bottles are a great source of generating water on the go. As these self-filling bottles capture and condense atmospheric moisture, you get safe drinking water anywhere.
Source : CraveOnline.Com