The world's largest solar powered boat MS Turanor PlanetSolar arrives in London on the latest leg of its world tour. London is the final port of call on an epic voyage of scientific discovery along the Gulf Stream. The MS Turanor PlanetSolar cruised along the Thames before docking at Canary Wharf where it will stay for one more day. The eco-friendly vessel has a lightweight carbon structure and 512 square meters of photovoltaic cells. This is the first time the impressive Catamaran has visited the UK, making its grand entrance by floating under an open Tower Bridge.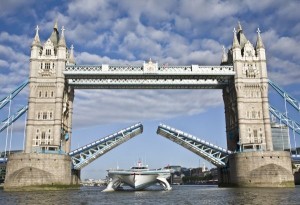 Features of Largest Solar Powered Boat
The Swiss vessel M/S Turanor PlanetSolar has a total of half a square kilometer of solar panels on the top of the boat, makes little noise, and has zero emissions. Its 809 solar panels can generate up to 480 kWh on a sunny day. It is one of the strangest looking boats people here have seen, and it creates a bit of a spectacle wherever it goes. The solar energy collected is stored in the pontoons on either side of the boat, each containing five tones of lithium-ion batteries. This is a very special ship and most of the panel can slide out
The eco-friendly boat's crew of nine is collecting data on the sea and atmosphere between the United States and Norway as part of an investigation into climate change. The impressive vessel crossed the Atlantic in a record breaking 22 days earlier this year when it travelled from Las Palmas, Canary Islands to Saint Martin in the Caribbean.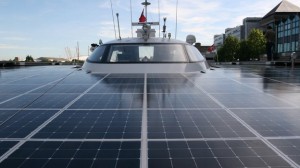 It was launched in Florida and its Deep Water expedition sought to collect a continuous series of physical and biological measurements along the Gulf Stream, both from the water and the atmosphere, using advanced instruments onboard. The vessel is a scientific research platform for the University of Geneva (UNIGE), has a top speed of 14 knots and is home to up to nine crew members at a time, including scientists. It is stuffed with atmospheric instruments, some of which are prototypes developed by the university.
The boat is approximately 35m long and 23m wide. The boat travels at an average speed of five knots and uses a staggering 512 square meters of photovoltaic panels to power six blocks of lithium-ion batteries. Despite this it is is light, durable and completely silent.