Organic beauty is in. You have more than one reasons to opt for it. However, keeping in mind all the greenwashing that is going on, it could be very difficult to make a greener choice nowadays.Especially since so many parts of our bodies require healing. You can make your own green alternative and start using eye creams that are beneficial for you. Staying green during your skincare routine is a worthy goal to consider. Nevertheless, when you create your beauty products on your own, it's extremely easy. All you have to do is to make sure that you don't put anything that contains chemicals and voila! You have a perfectly natural homemade skin cream, moisturizer, etc. As inspiration, you can take a look at some easy DIY organic beauty products that you can make easily at home. These are perfect for the beginners and would surely give you a glowing, soft, and smooth skin:
DIY organic beauty products
1. Whipped extra virgin coconut oil lotion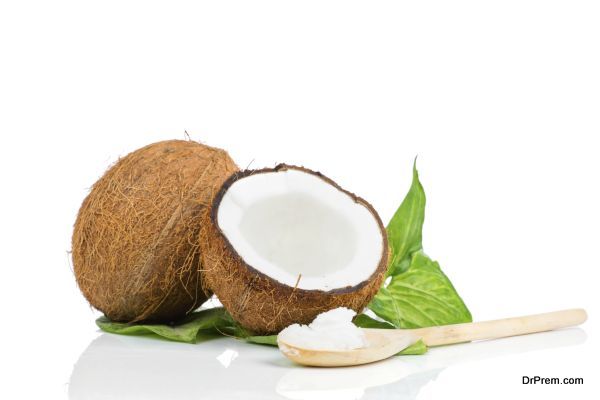 Your skin is the most important part of your body. It performs the vital function of protecting your body from infection and injury apart from regulating your body's temperature. So you should definitely make the effort to take proper care of your skin.
This recipe for a natural lotion is incredibly simple. It just needs extra virgin coconut oil. If you wish, you can add some drops of essential oil for fragrance. Rub this on your body after a bath to get rid of dry skin. You can use it on your face too, but leave it overnight after cleaning your face. It's one of the easiest homemade beauty products with coconut oil.
Ingredients:
1 cup extra virgin coconut oil
Method:
Pour the oil into a blender and whip it for about 6-7 minutes at the highest setting.
Usage:
Pour the whipped oil into a glass or ceramic container and it's ready for use.
2. Homemade organic kajal recipe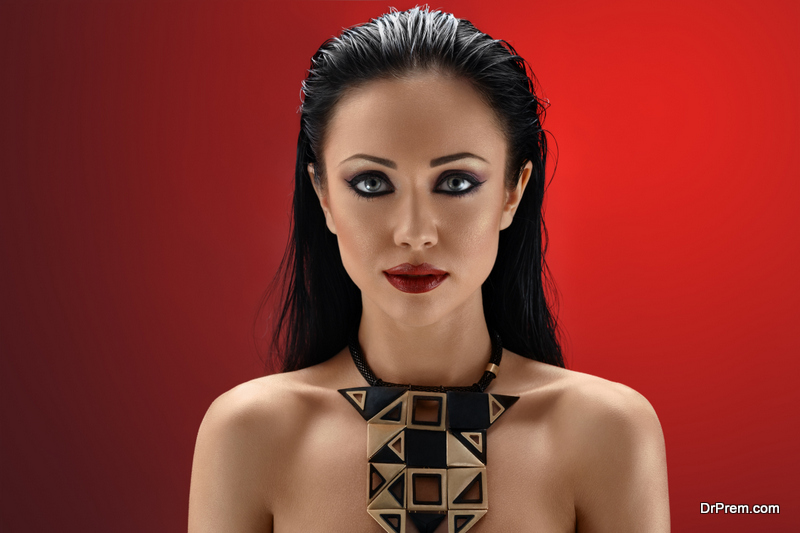 Most of us have to put on some eye makeup before going out of the house. It means that we use eye makeup on a pretty regular basis. Storebought eye kajal or kohl has tons of chemicals. Why not just use DIY organic beauty products such as DIY kajal? Apart from making you look beautiful, DIY kajal has medicinal value for your eyes too. Here is an ayurvedic recipe for kohl you can make at home:
Ingredients:
Castor oil (pure), copper plate which has upward turned edges, silver box, cotton threads made from cotton (ones used to light the clay lamps), spoon, bronze lamp (deepam), camphor (kapur), and clarified butter (ghee). You may have to buy some of the utensils and lamps, but they quite affordable, and you can use them forever. So, it is good investment to experience the goodness of DIY organic kajal recipe:
Method:
Fill pure castor oil in bronze deepam up to 1/4th of its capacity. Put 1-2 cotton threads in the castor oil and light the lamp.
Use two steel glass tumblers as support for the copper plate placed on top of the deepam. There should be a gap between the plate and lamp (deepam), so that it does put off the deepam's light. But it should be close enough for the lamp fire to deposit the black ash on the plate.
Wait for the castor oil to be completely finished. Do not move the lamp or the plate till that time.
The black colored ash which has been collected is your kajal. Collect the ash using a spatula and put it in the small silver box.
Mix a small portion of ghee into the ash you have collected.
Add some small camphor beads. Mix well, then store in a cool place.
Usage:
Apply the kajal/kohl on your eyes. It is usually used to line the lower eyelid. The kajal will make your eyes come alive. This DIY organic kajal recipe will cool and cleanse your eyes too. Become one of the legions of women using homemade kajal recipe for centuries, including Queen Cleopatra.
3. Coconut oil and green tea moisturizer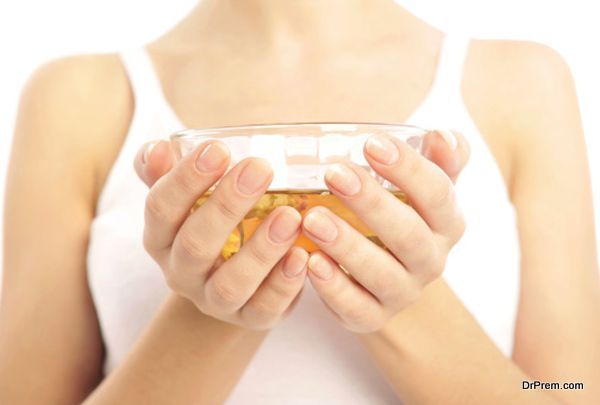 This green lotion is green in color as well as action. This homemade beauty products with coconut oil contains green tea, which can reverse damage to your skin due to sun exposure. Besides, the coconut oil used hydrates your skin without clogging the skin pores. This is a truly amazing DIY organic beauty products.
Ingredients:
One cup of organic/pure coconut oil, 2 tablespoons of green tea powder
Method:
Melt coconutoil on a double boiler at medium heat. Stir green tea powder in with the coconut oil. Cover and let it simmer on low heat for about an hour. After an hour, strain the tea leaves from the oil with cheesecloth. Let this mixture cool till it is almost solid. Whip until it is creamy, for about 3-5 minutes. Use this DIY natural beauty remedies to moisturize you face and heal face problems.
4. Honey mask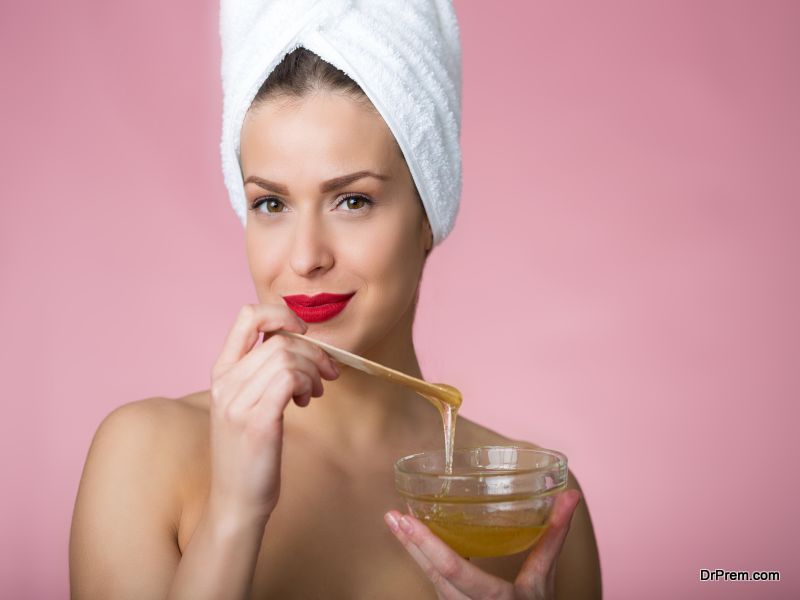 This is one of the simplest DIY organic beauty products. It's a natural mask which does wonders. This organic honey face mask will smoothen out your skin.
Ingredients:
Organic honey
Method:
After taking a shower with warm water, steam your face to open the pores. Rub warm organic honey on your face and leave it for about 30 minutes. Then rinse your face with some warm water and then splash using cool water to close the pores. Honey can be used as a gentle face cleanser on a daily basis.
5. Hair clarifier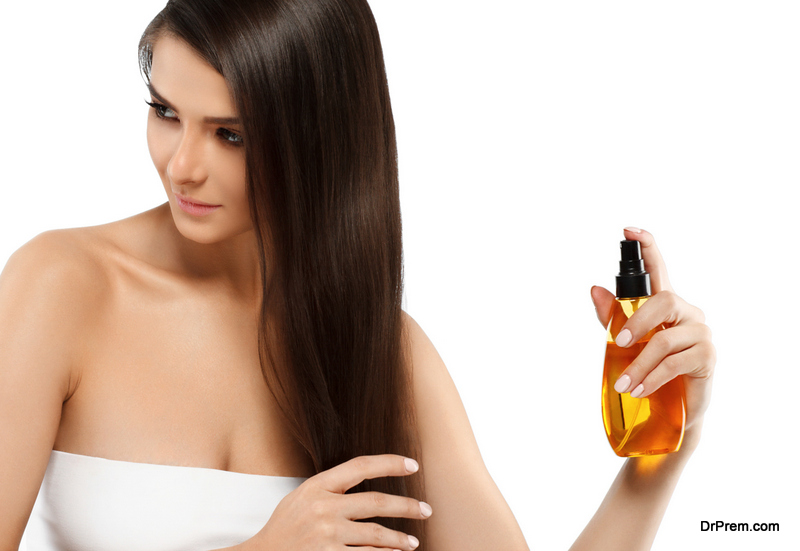 Have you ever applied more conditioner than is required to your hair? Also, if your hair is oily, you can use this excellent hair clarifier.
Ingredients:
5 parts distilled water, 1 part natural vinegar, essential oil (optional, such as lemon, lavender, peppermint, orange)
Method:
Mix the vinegar and distilled water and rinse your hair with this mixture. Another DIY organic beauty products which you can make anytime you want.
6. Coconut oil and sugar scrubs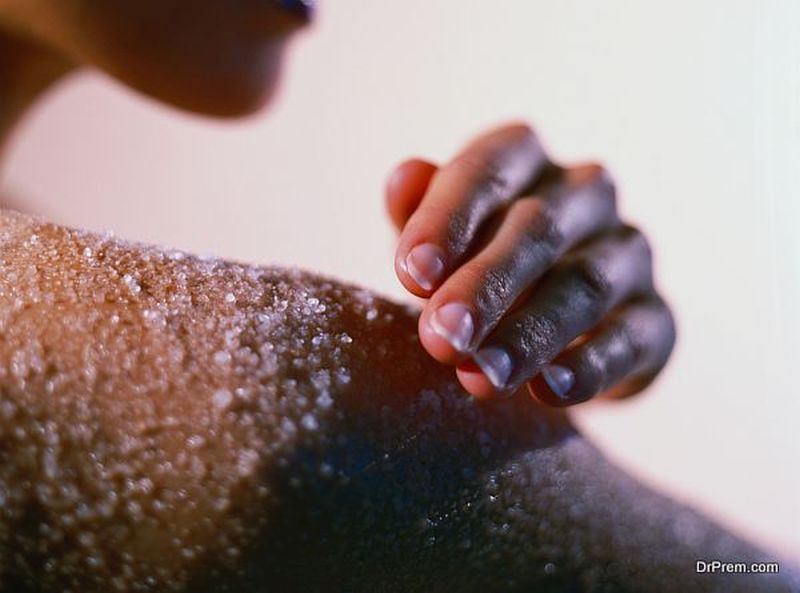 Get lovely and smooth skin with this coconut oil and sugar scrub. You could use citrus oil additionally if you want.
Ingredients:
¼ cup of granulated sugar (use half cup if you want a sand like consistency), ½ cup organic coconut oil, any citrus fruit zest.
Method:
Combine all the ingredients, but do not heat the coconut oil, as this will melt the sugar. Just mix everything together in a bowl. Leave out the citrus oil or fruit zest if you have sensitive skin. Use this on your face and body to scrub all the dead skin off.
Final Words
Organic beauty products are not skin deep. The chemical-free creams and lotions nourish your skin, without causing any kind of harm. You may have stayed away from organic beauty products due to prohibitive expenses. But did you know you can make these products at home, all by yourself? Moisturizers, skincare creams, body scrubs, hair masks, and even toothpaste can be made from fruits, vegetables, oils and other things you have in your home.
These DIY natural beauty remedies are so easy that you don't have an excuse for not pampering your skin with just some good old honey, taken off your kitchen shelf!