Gardening is a good hobby that makes your surrounding greener and cleaner. Spring and summer are the best seasons for gardening but ardent gardeners can pursue their hobby all year round. You can make your very own unique DIY planters for the garden and then raise lovely fruit or flower bearing plants in them. Homemade garden planters have your creative imprint on them and look amazing. In this article, you will find some ideas to make your own garden planters at home.
Book Planters:
Useless old encyclopedias or any old and fat book can be turned into a lovely flowerpot. You can even get yellow pages and other books bound together for this purpose. You have to cut the middle of the book and make a small hole. Then fill the hole with mud and sow a suitable seed. You can put the book planters at the side of the steps. The book planters may not be sturdy but they will hold your baby plant and let it blossom for at least one season.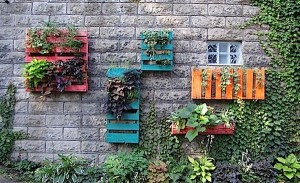 Pallet Planters:
People who have little garden space should try making pallet planters for their home garden. Pallet planters can be used for a small herb garden where you can produce different sorts of herbs like coriander, parsley and basil for making nicely flavored meals. For this purpose, you will need a stack of pallets. Fill each pallet with mud and soil and sow the seeds. Put the pallets on top of each other and make sure that each plant gets sufficient sunlight.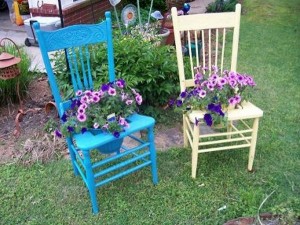 Chair Planter:
Do you have a knack for recycling and at the same time love gardening? You the answer to these is a big 'Yes' then you should definitely try beautifying the old and totally worn chairs by turning them into planters. For this, you will have to cut and remove the seat of the chair and then get an appropriate wicker basket. Tie the wicker basket or any other sort of basket with tiny pores in it in the place of the seat. Fill it with mud and plant flowering plants.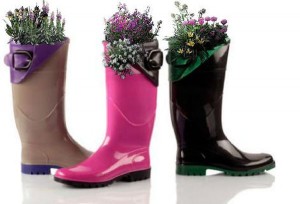 Rain boot planters:
Old and worn rain boots can also be turned into lovely planters. Color old rain boots and fill them with mud. Plant lovely flowers in the boots and hang them from the plank gates of your yard.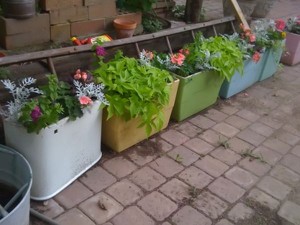 Toilet tank planters:
Old toilet tanks can be turned into planters as well. Doing this is very simple and anyone can undertake this DIY project. Fill the toilet tank with mud and then plant desirable seeds in it.