Looking to spruce up your bathroom? If you're looking to give your bathroom a makeover, you've come to the right place.
In this post, we'll share some ideas for modernizing your bathroom, whether you're looking for a complete overhaul or just a few small changes to make a big difference! 
How to Choose the Right Materials for Your Bathroom Makeover
When you're planning a bathroom makeover, it's important to choose materials that will stand the test of time. If you're planning on doing a complete renovation, you'll want to choose materials that are both durable and stylish. If you're just making a few small changes, you can get away with choosing more stylish materials that may not be as durable.
Some popular materials for bathroom makeovers include:
Tile: Tile is a popular choice for bathroom makeovers because it is durable and easy to clean. You can choose from a variety of colors and styles to find the perfect look for your space.
Stone: Stone is another popular choice for bathroom makeovers. It's a bit more expensive than tile, but it can give your bathroom a luxurious feel.
Wood: Wood is a warm and natural material that can give your bathroom a cozy feeling. Be sure to choose a waterproof variety if you're going to use it in the shower or around the sink.
Metal: Metal accents can give your bathroom a modern look. You can use metal in the fixtures, plumbing, or even in the décor.
Glass: Glass can give your bathroom an open and airy feeling. It's also relatively easy to clean.
How to Pick the Perfect Fixtures for Your Bathroom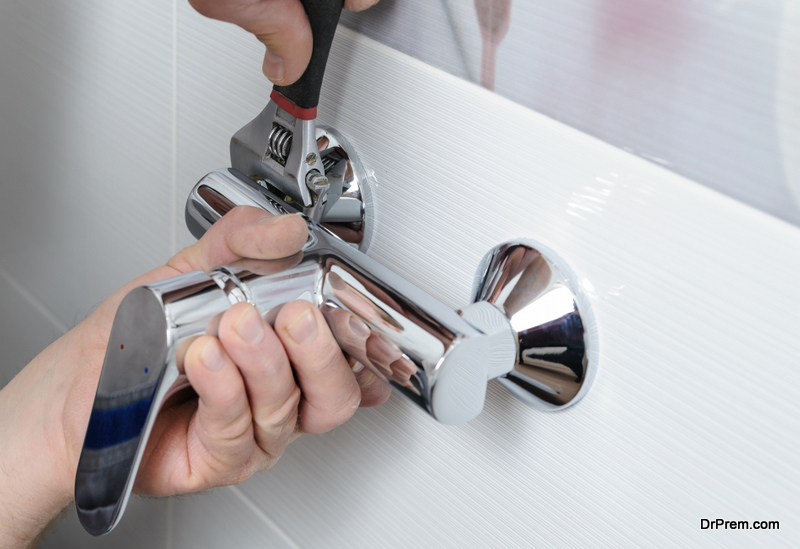 Your bathroom is a space that you use every day. It's where you take care of yourself, relax, and get ready for the day. And whether it's your first time making a major change to your bathroom or you've just done some minor renovations, there are some things you'll want to keep in mind when choosing fixtures for your new space.
When it comes to your bathroom, style is a big deal. Your fixtures, such as a towel rail, can make or break the whole experience.
1. Function
A good rule of thumb is to pick fixtures that are both functional and stylish. For instance, if you're going for a minimalist look, then you might want to choose light fixtures with minimal glass covers that won't obscure the view of your mirror. If you want a more modern or contemporary feel, then go for chrome or brushed nickel fixtures that will add a little pizzazz to your space.
2. Style
The style of the fixture can range from classic to contemporary. If you're looking for a more modern look, think about bright colors and sleek lines. The function of the fixture will determine how easy it is to clean and maintain, as well as how well it works with other components in your bathroom remodel.
For example, if you're replacing your showerheads with sprayers with multiple settings, look for a fixture that allows you to adjust its angle and power level based on what type of sprayer is best for each application (e.g., body wash versus shampoo).
Think about how you would like the space to look. Do you have specific colors in mind? Then consider what kind of functionality is important to you: do you want a shower with high-end fixtures but no tub? Or do you want a tub with lots of storage space, but not much room for a sink?
3. Carry Out your Research
Once you've identified the look and functionality of your dream bathroom, take some time to research which products are available on the market today. Make sure that any new pieces will work with your existing décor and plumbing system so that they won't clash with what's already there.
The small details, like the finish of your fixtures, can make a big difference in the overall look of your bathroom. Choose fixtures that are made of high-quality materials like stainless steel or ceramic. Not only will they last longer than cheaper metals, but they will also be easy to clean and maintain.
You can also choose fixtures with interesting shapes and designs that will help to create a unique look for your bathroom. This is especially true if you have older fixtures in your home that don't match up with new ones well—you may want to replace just one piece of hardware so that it looks more unified with everything else in the room.
4. Call in The Professionals
If you're not handy, you'll want to choose fixtures that are easy to put in place. You can also hire a professional to install your fixtures for you or even design the room from floor up. When you're planning a bathroom makeover, there are a lot of things to consider. But with a little planning, you can create the perfect space for your needs.
Tips for Modernizing on a Budget
First, let's start with the basics: painting. A fresh coat of paint can do wonders for any space, and the bathroom is no exception. If you're looking for a more modern look, opt for a light blue or green. These colors will help give the illusion of more space and make the room feel airier. If you're going for a more traditional look, you can't go wrong with white.
Next, let's move on to the fixtures. If your bathroom is in need of an update, consider switching out your old fixtures for new ones. This is a quick and easy way to give your bathroom a new look without breaking the bank. you can find new fixtures at any home improvement store.
Finally, let's talk about accessories. Small changes like new towels, a new shower curtain, or even just some new soap can make a big difference in the look and feel of your bathroom. So don't be afraid to experiment and mix things up until you find the perfect combination for you. With these tips, you're sure to have a bathroom you'll love for years to come.
Conclusion
The benefits of modernizing your bathroom are many. Not only will it make the space look more attractive, but it will also keep you from having to spend a lot of money on repairs and maintenance. If you want to make sure your bathroom looks as good as possible, then it's important that you keep it updated and functional.
Article Submitted By Community Writer