'Go Green' is en vogue today. Millennials from around the world are realizing that it is now or never. Earlier, we used to think that it is our future generation that is going to suffer most of the environmental issues. However, now it is turning out that this is not the case. Therefore, to tackle this, all the popular automobile companies are coming up with eco-friendly cars. Nevertheless, since the technology is expensive, these companies can't enter mass production until there is significant demand. To counter all this, designers from around the world are bringing their talents to the fore. They are coming up with DIY electric cars that aren't just eco-friendly, but pocket-friendly as well. Check them out.
15 – Most amazing DIY electric cars
Although the first electric car was designed in the last decade of the 19th century, by the turn of the century, vehicles powered by fossil fuel became the sole mode of transportation. However, mounting pollution and rising fuel price have prompted automobile manufacturers to search for sustainable energy sources. Here are fifteen DIY electric cars that had been converted into electric vehicles.
1. Mercedes Benz ML 350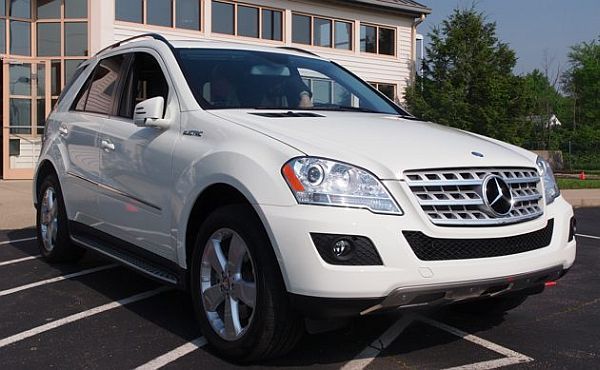 SUVs are frequently blamed for polluting the environment owing to their low mileage. A Mercedes-Benz car propelled by an electric engine could be a befitting answer to the allegations lodged against the luxury vehicles by environmentalists. Therefore, to prove that even the Mercedes-Benz vehicles could be powered by renewable energy, AMP, the renowned electric vehicle conversion company, has converted Mercedes-Benz ML350 into an all-electric vehicle. Furthermore, one thousand electric versions of ML350 will be supplied to the Icelandic company, Northern Lights Energy.
2. Audi TT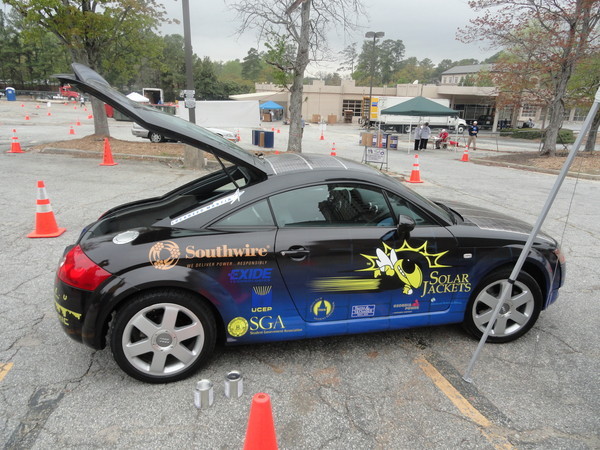 A group of Georgia Tech students has converted the popular Audi TT into a solar-assisted electric car. The Audi powertrain is powered by two batteries. However, to stay in tune with the eco-friendly objective of the electric car, the batteries will be powered by built-in solar panels.
3. 1987 Porsche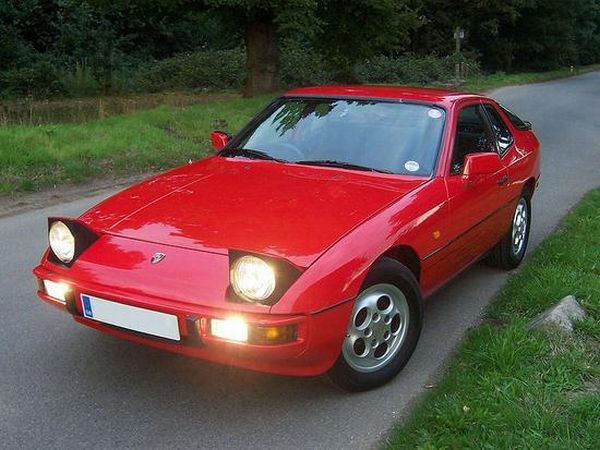 For Purdue University students, a 1987 Porsche 924S with engine seemed to be the appropriate vehicle for designing an electric car. Jim Danielson and Sean Kleinschmidt, first year engineering students, replaced the original motor of the Porsche with a forklift motor powered by a deep-cycle lead acid marine battery. Moreover, the converted 1987 electric Porsche could attain a top speed of 55 mph. A fully charged battery could propel the vehicle for about 50 miles.
4. 1994 Saturn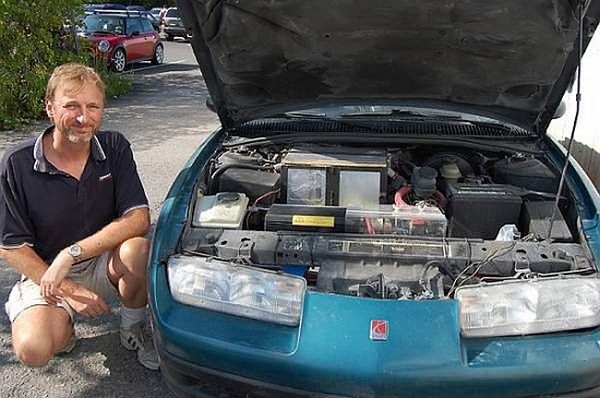 With their expertise in automobile engineering, volunteers at Burlington's Good News Garage have proved that even a discarded 1994 Saturn could function as a zero-emission electric car. After spending $10,000 for fine-tuning the vehicle, the volunteers created an electric Saturn that covered 35 miles on battery power at 65 miles per hour peak speed. Furthermore, it takes six hours to recharge the car battery from a domestic power source.
5. 1996 Corvette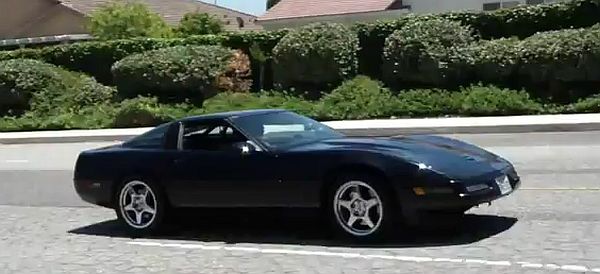 A Chevrolet Corvette that showcased its elegant profile while running on the road in the last decade had jumped on the electric car bandwagon. Wayne Bickley from California discarded the outdated powertrain of his 1996 Chevrolet Corvette and placed a DC electric motor and 18XS Power XP1000 batteries under the hood. Paired with clutchless six-speed gearbox, the electric Corvette could sprint at 85mph top speed and cover 20 miles on a single charge.
6. 1988 Mazda pickup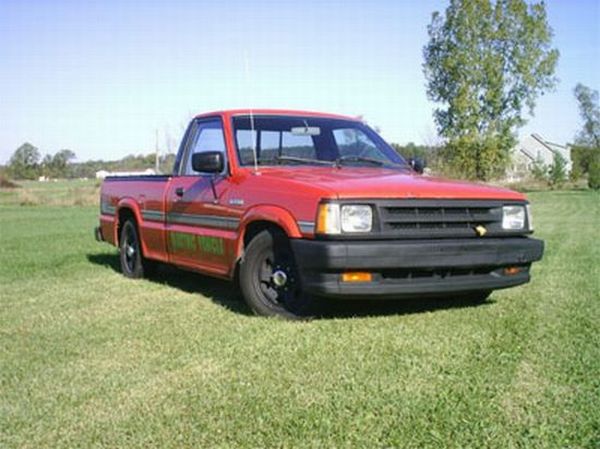 Andrew Angelotti, a 16-year old, invested $6000 he earned as a part-time lifeguard to covert a 1988 Mazda pickup truck into an electric vehicle. The 9-inch, 60HP electric motor of the electric pickup truck is powered by 120 volts lead acid batteries. Although the vehicle might not boast of impressive performance, nonetheless, it is capable of attaining 55 miles per hour maximum speed and an average range of 40 miles on a single charge.
7. 1965 Shelby Daytona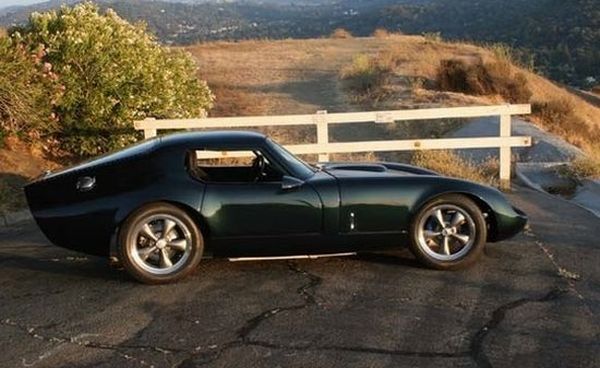 By blending the classic with the modern, Raul Atkinson, a software engineer has chartered into the territory of eco friendly cars with an electric 1965 Shelby Daytona. 290 nickel-hydrogen batteries power the 3-phase AC induction motor. The electric car offers impressive specifications. From standstill, it can sprint at 60mph in 8 seconds. With a maximum range of 80 miles, the 1965 Shelby Daytona could run at a top speed of 100mph. In just 3 hours, the rundown battery could be fully recharged.
8. 1997 Geo Metro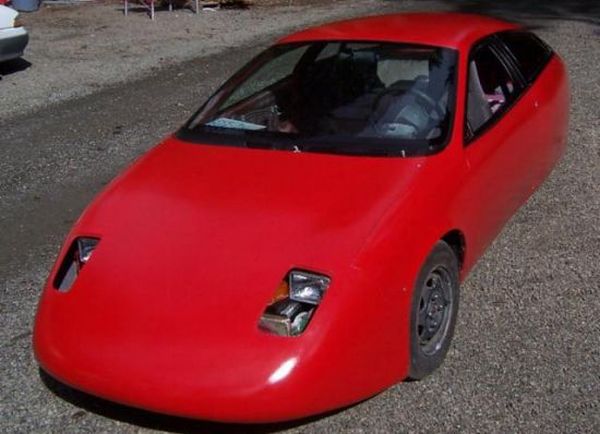 To enable his 1997 Geo Metro to run on electric power, David Cloud has integrated 8-inch ADC motors to each rear wheel of the vehicle. The motor is powered by 12-volt lead acid batteries. The modifications in the Geo Metro power train have helped the car to attain a maximum range of 200 miles, which is significantly high in the electric car segment. It could attain 60 miles per hour speed from nil in 18 seconds and a maximum speed of 72 miles per hour.
9. 1960 Beetle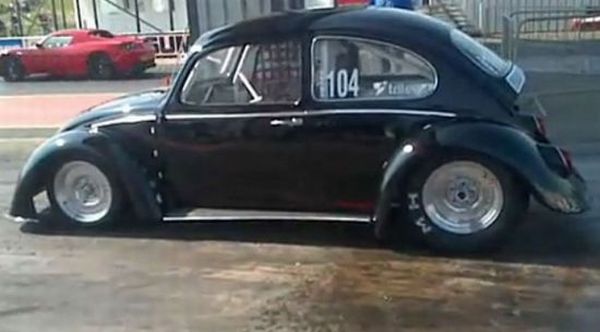 It took Olly and Sam Young six years to convert the 1960s Beetle into an electric car. The result was a classic Beetle propelled by two forlift truck motors powered by 60 12-volt batteries. The Beetle electric car created by the Young brothers could generate 1200lb ft of peak torque. After activating the engine, in just 3 seconds, the car could run at a speed of 60 miles per hour.
10. Dingy petrol van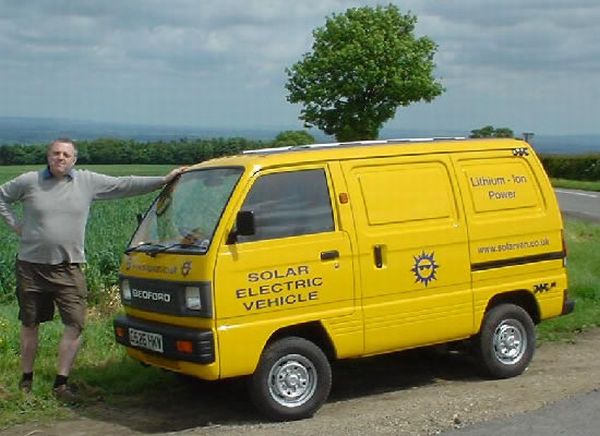 Peter Perkins Bedford Rascal van runs on electric engine powered by solar radiation. The 200w solar panels mounted on the exterior of the vehicle charge the batteries throughout the day. The batteries could also be charged from conventional power sources. In addition, a 400w small wind turbine is present to power the van in the absence of other energy sources.
11. Dirigo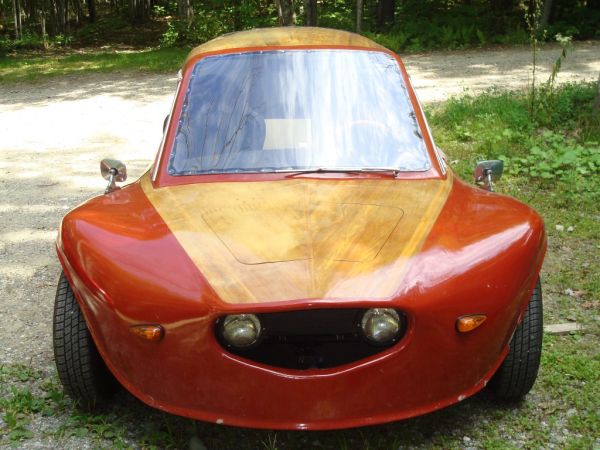 Leading the way (that is what 'Dirigo' means in Latin) for the DIY cars, this three wheeled, two-seater is a beauty to behold. With its artistic and aerodynamic curves, the Dirigo is shaped more like a boat and less like a car. It took about 72 working days for three people to construct it. Powered by a 28 hp, 3-cylinder Daihatsu diesel engine, Dirigo debuted with 99 miles per gallon and was a strong contender for the $10 million Automotive X prize. Made of Western Red Cedar and fiberglass, the body is only 120 pounds! The other parts have been stripped away from a 1985 Kawasaki Mule bought on eBay. Equipped with cruise control, the Dirigo reaches speeds up to 75 mph. Variants which can run on bio diesel can be contemplated upon. Anyone game for the challenge?
12. Ben Nelson's DIY electric car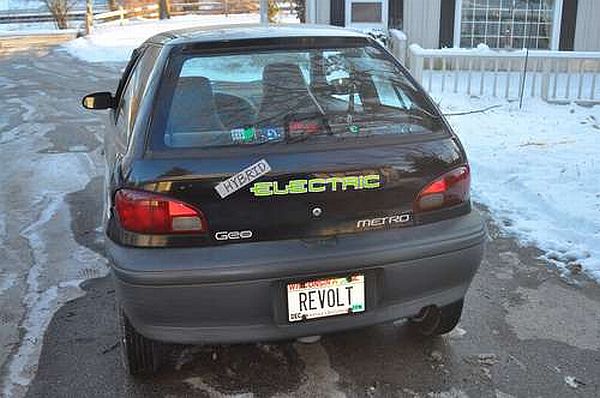 In 'electrifying' fashion, a self-employed video producer, Ben Nelson, has fashioned electricity as the driving force behind his newly transformed gasoline car! This DIY car has a few simple steps. $50 for the electric motors, $50 for brushes to conduct the electricity between the motor and wires, six $12 batteries to generate power and propane generators cover most of the requirements' list. You can as well earn that by selling away the engine, radiator, gas tank and the exhaust system of the car! Cost effective propane generators have exhausts which are odorless and non toxic and they make this electric car more green. The braking system adopted is based on vacuum. Nelson's car can do a neat 45 mph and yield a mileage of 20 miles per recharge.
13. XR3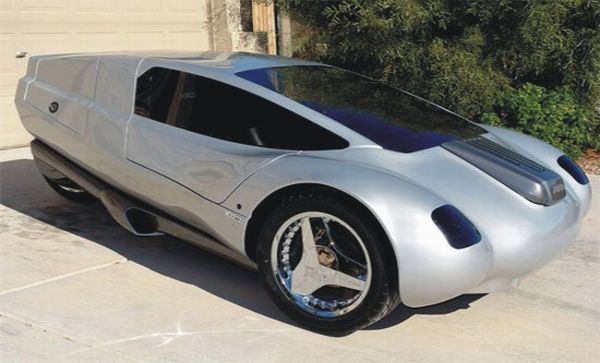 For those with an aptitude to learn, the XR3 is the best way to hone their automobile designing skills and build a cool car for themselves in the process! The XR3 impresses with a top speed of 80 mph and a fuel economy of above 200 miles per gallon! The best part of this plug-in hybrid is that it is available as a build-it-yourself kit with the plans which are worth about $200 themselves! The diesel only hybrid is available for as low as $5000 and the remaining electric powertrain module can be added later.
Apart from being modular in construction, the car comes with all safety features like a roll bar, seat belts, side foam and a horizontal steering column which moves to prevent harm to the driver in case of any mishap. The building requires some expertise no doubt, but that is where the joy of learning is embedded right? Imagine one of the DIY electric cars that have been all assembled by yourself!
14. Joseph Rush's DIY Car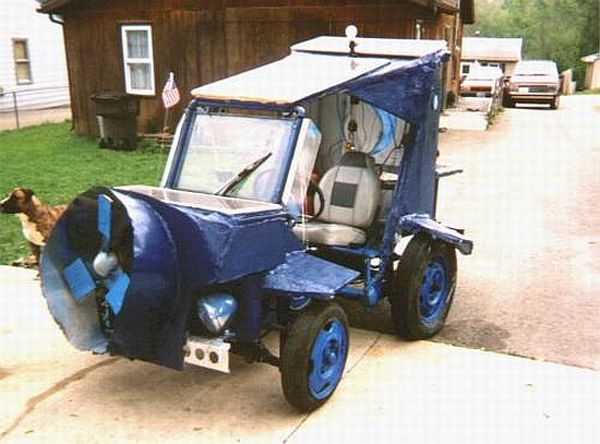 Here is a car for those who care more about economy, ecology and utility over looks, style and speed. Joseph Rush has designed this car to ease around the crowded streets in complete green fashion. The car has mounted solar panels on the roof and a mounted wind turbine in front. Rush plans to add another wind turbine also to generate about 800W of green power totally. The energy generated is stored in 6V batteries and they amp up a 300 A, 24V DC motor. Beauty lies in the eyes of the beholder. This car may not exactly catch your eye but it is sure to warm your heart with the joy that it is your baby! It has a surprising top speed of 50mph.
15. Electric sail car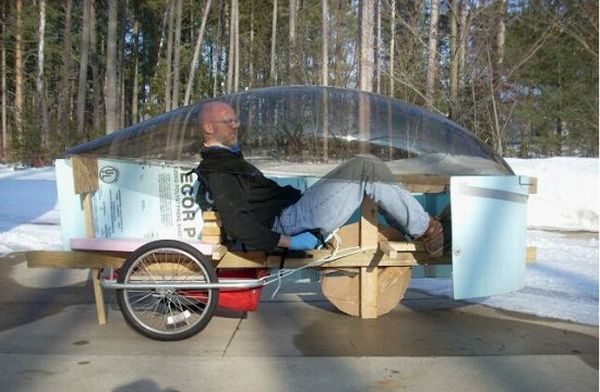 The ultimate solution for all our energy needs will be the perfection of the hydrogen-powered fuel cell. But till that dream becomes a reality, the best that we can do is to make a hybrid running on different green sources of energy. Put together muscles, wind and electricity to make this electric sail car on your own. It will definitely be more difficult than making your own toy guns or a LED light torch but the end result will also definitely be much grander! Add solar panels on the dome to enhance the power and range of your sail car. Exercise yourself and store energy in batteries. Again, this is not a car for those who care about looks. But who would bother for looks when Mother Earth looks up to these DIY electric cars in gratitude?