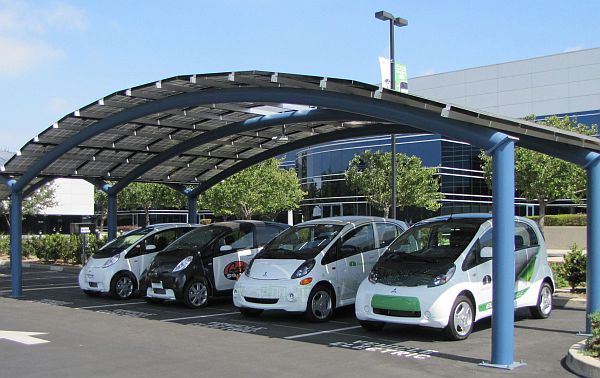 Environment consciousness is setting in at a great pace. This is clearly evident with the maximum conversion of transport vehicles into electricity based models. As every coin has two sides, even converting all transport utilities to electric powered models would not be too feasible. In order to overcome this situation, companies have brought about the use of solar energy. By creating electric vehicle charging units, and in turn powering them with solar energy, the companies have played their smart cards right into the hands of the consumers. The use of solar energy would not only energize the car batteries, but also ensure emission free commuting. Here is a list of the 10 such charging stations which will juice up your vehicles in a clean and green manner.
Mitsubishi solar powered EV charging station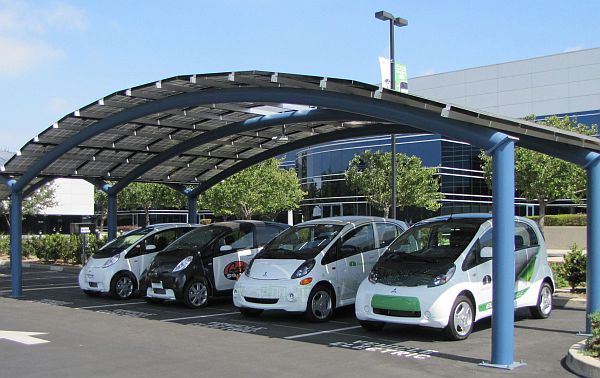 Mitsubishi Group co-joined two of its divisions, Mitsubishi Electric and Mitsubishi Motors North America, Inc. (MMNA) to bring into force the first solar powered charging station in Cypress, California. The station has two charging outlets that can charge four cars at the same time. These units follow the CHAdeMO technology, allowing the cars to be charged at a faster pace than the other normal chargers. The charging units can be categorized into the 110V, 220V and the Quick charger varieties, which further power up the vehicular batteries in varying time frames.
General electric solar-powered charging station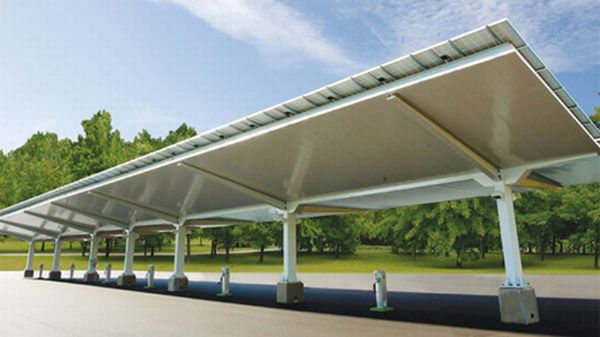 Being a General Electric employee has its own advantages, especially, if you are the proud owner of an electric vehicle. It's time to give up all those fuel churning vehicles and switch to the green way of commuting. GE is constantly elevating their company's status by coming up with unique ideas to save the environment. Encouraging their employees to park their electric vehicles in the solar powered charging shed, the company has absolutely turned around their energy saving motto.
The EV charging shed consists of multiple solar panels and four hook up joints to charge the parked vehicles simultaneously. In an endeavor to carry forth this initiative, the conglomerate is laying the blueprints of multiple charging units across the country.
Toyota solar-powered EV charging station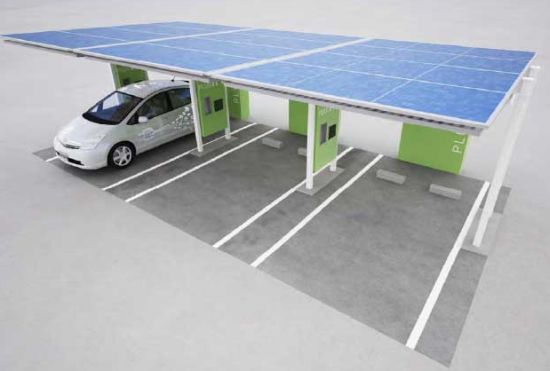 One of the other charging units run by renewable source of energy has been established by the car giant Toyota. The Industrial Corporation has rolled out the plans for setting up 21 stations and that too at 11 places. The station is capable of harnessing almost 1.9 KW of solar power which can readily be converted and stored into an 8.4 KWH battery pack. To make use of this stored energy, the electric vehicles need to be parked inside the charging station.
Geotectura's solar-powered EV charging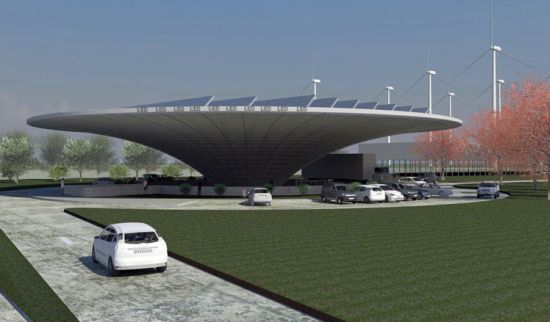 Car manufactures are coming up with electric driven rides, which have made it necessary to equip EV charging stations. These will let EV owners to juice up their vehicle on the go and not get stranded if the charging is consumed. Geotectura has come up with the Green Gasoline, which is a stylish gasoline station with all the required eco-friendly traits. The design will incorporate recharge poles and will also harvest renewable energy (solar and wind), in turn saving precious resources and the environment.
Earth Group solar-powered EV charging station in New York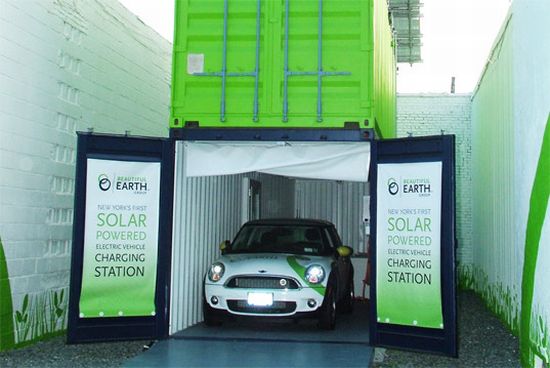 Created by New York based agency, Beautiful Earth Group has pulled the sheets off their charging station in Red Hook, Brooklyn. Deriving its power by a 235W photovoltaic system, the station has been hooked up to power cars like BMW Mini etc. This is not all, for this station has enough power to even light up one's home. Considering the fact that the station derives its power from solar energy, the point worth noting is that the whole outlay has been constructed using recycled shipping containers.
Romag power park to ease EV charging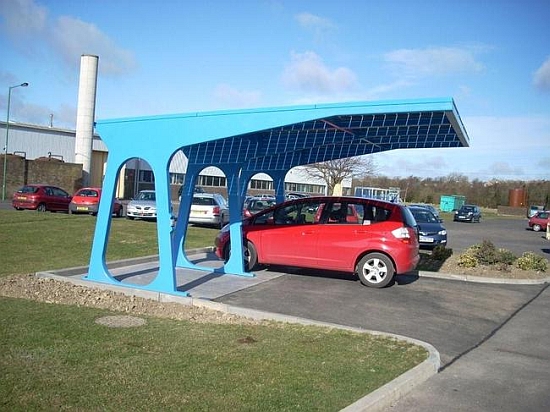 Let your cars experience the power of green, thanks to the Romag Power Park. Created in the shape of an overhead roof, the Power Park has the capacity to generate a massive amount of solar energy, measuring up to 1100 KWh per year. Simply park your electrically motored vehicles below the roof and let the Car Park unleash its green magic. The best part of the charging station is that none of the stored energy goes waste. In case, you don't wish to use the stored energy, it would conveniently be sold to the nearby grid to power homes and other electrical gadgets.
Yana solar charging station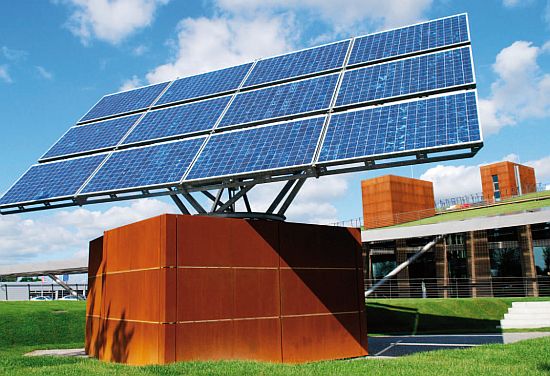 Realizing the fact that conventional sources of energy are only adding to the CO2 content of the atmosphere, it has become a must for us to come up with more unconventional sources of energy. Keeping this fact in mind, solar energy has proven to be a blessing in disguise. Harnessing this free source of unlimited energy, the Yana solar charging unit made up of 12 photovoltaic panels. These panels channel the solar energy and feed it into a Redox battery. By storing this energy in the battery, one can avail this freely generated electricity at night and during bad weathers. The battery further has a capacity to store 100 KWh and provides 10 KWh of power at one time.
SunPods solar-powered EV charging station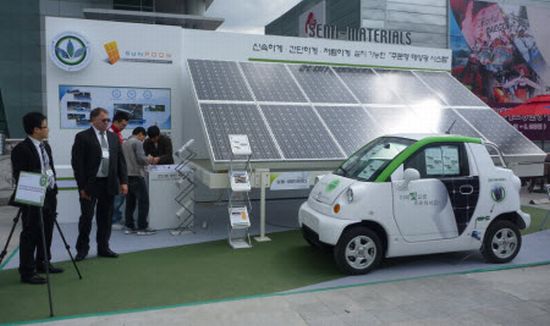 Sun Pods Inc, a company based out of California, has unveiled the first inbuilt solar power vehicle charging unit at Cleantech Open located in San Jose. Based on pretty much the same lines, the unit has the ability to charge two cars at the same time. Being a collection of 12 solar panels, each panel set shall cater to a 2.4 kilowatt module. Sun Pods hopes to bring about 5000 SP-300's annually. The charging unit has been priced at a whopping $17000 which includes the charger as well.
Evergreen solar fuel station in Germany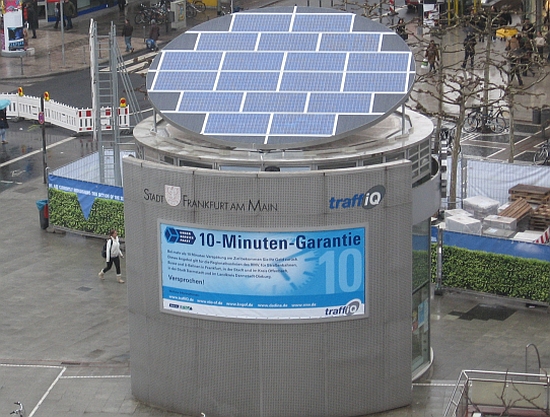 As you shop, just park your e-vehicles in the charging station built in the high traffic area in Frankfurt, Germany. The evergreen panels placed on top of the roof harness solar energy and convert it into a charge which is delivered within the charging units. Encompassing a set of six charging units within them, the shopping complex has become a major success, all thanks to the unit's contribution. On any normal bright day, you can expect around 21 KWh of power to be generated. This model is a true inspiration for all those who know the value of a good 'charge'.
E-Move charging station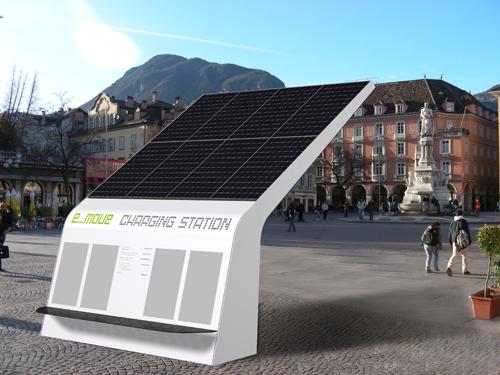 Bozen entrepreneur, Valentin Runggaldier has converted his dream project into reality. With a capacity to charge absolutely anything from your vehicles to even your iPod, the charging station is a multi-faceted unit. Designed by Michael Scherer from Brixen, the solar unit has been fitted with a set of 8 mono-crystalline photovoltaic modules. These modules can together generate 1.76 KWp. Though one thing is for sure, the product is going to ravage the market due to its ability to charge multiple units.