The artists with their creation have the ability to get the attention of the viewers. However, it depends upon the artists where they want to take this attention. Right now, the world is buckling under the pressure of environmental issues like climate change leading to loss of animal habitat and extinction of wildlife species. Therefore, many eco-conscious artists from around the world are creating thought-provoking animal sculptures using recycled materials to promote both art and sustainability at the same time.
11 stunning animal sculptures made from recycled materials
Products made from recycled material have always caught the attention of people. They have the property of influencing people. They always stand out different in one way or the other. The big and gigantic structures not only impress the people but also leave them awestruck. Some of the most beautiful and mesmerizing structure are listed below:
1. Animal sculptures made from rotten river wood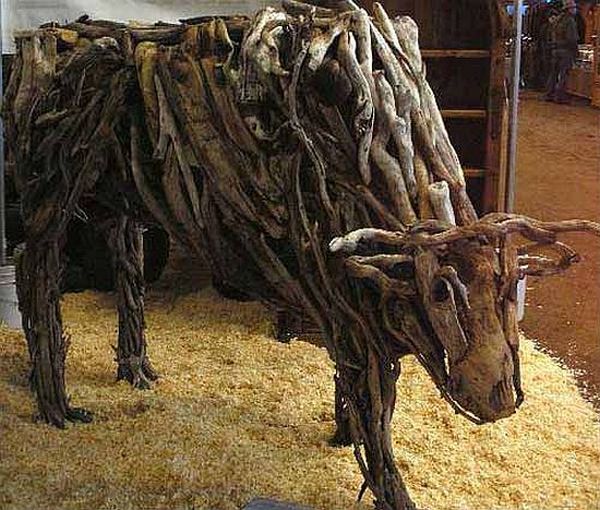 These structures are made by American designer Matt Torrens. The most important fact about these structures is that they are made of rotten woods collected from different rivers. The designer has made beautiful animal structures made of wood. These structures are far beyond imagination. It has added a new definition to the art of recycling.
2. Animal sculptures from old newspapers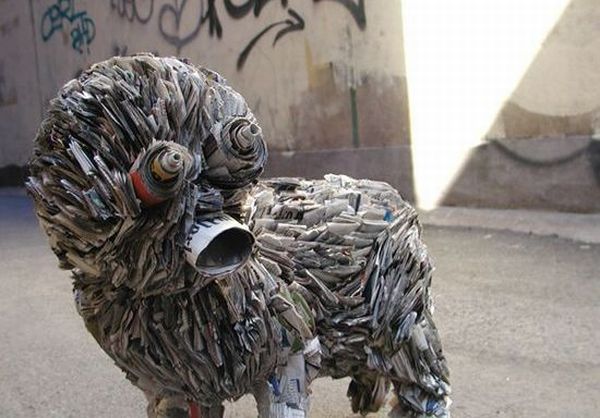 If you think that newspapers are only for reading purposes then you are wrong. American artist Nick Georgiou has created sculptures made from old newspapers. According to the designer books and newspapers have become outdated in the 21st century and are replaced by digital screens and pads. The sculptures are made from old newspapers that are collected from different parts. Some of the newspapers and papers are even donated. Different sculptures are made from newspapers that are mostly inspired by the death of traditional press and paper media.
3. Cow sculpture made from recycled watches and clocks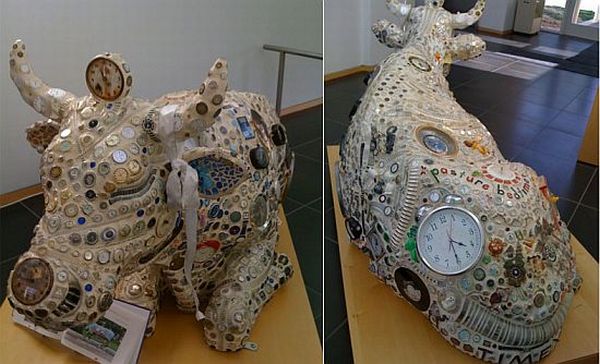 These structures are made from old watches and clocks. The designers name is Michael Roberts and he is the person who place with old watches and clocks and turns them into artifacts. He creates sculptures made of old watches and clocks that are far beyond imagination and have very high cost of production. It is a perfect sculpture for cattle lovers and don't want a messy real cattle. One of the sculptures is pasture bedtime and is created with about 2000 watches. A part of the sold money is even donated for some noble cause.
4. Wood and wire bird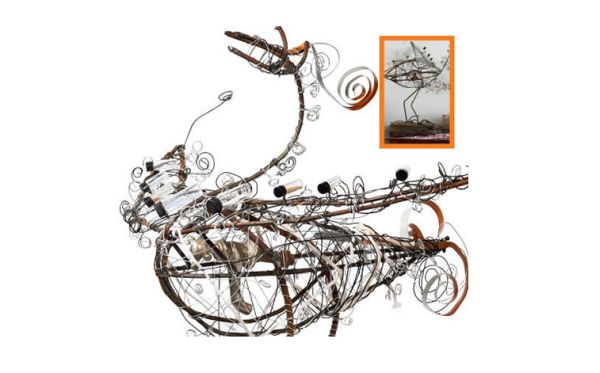 A lot of recycled products are thronging the market. The latest addition to the market is wood and wire bird. It is made of scraps of iron, cotton stripping, shoestrings, wood, aluminum, glass, and paper. It is the sculpture produced by designer Albama Chanin. He is the person behind these products and he also hires people to develop sculptures made from new, organic and recycled things.
5. Animal sculptures made from recycled tire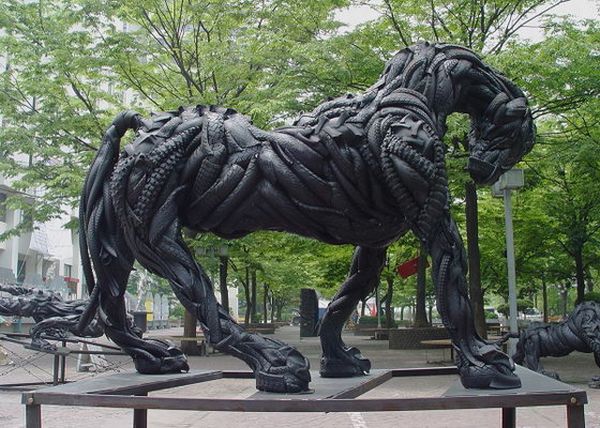 These structures are made by Korean artist Yong Ho Ji. These sculptures are developed by binding together layers of waste tire strips by means of synthetic resins on the supporting frames made of steel and wood. It is a cumbersome process and involves about three months. Iron bars are welded to form bones around which wood planks and soil is potted and after that tires are applied. Then dead animals are casted.
6. Electronic waste animal sculptures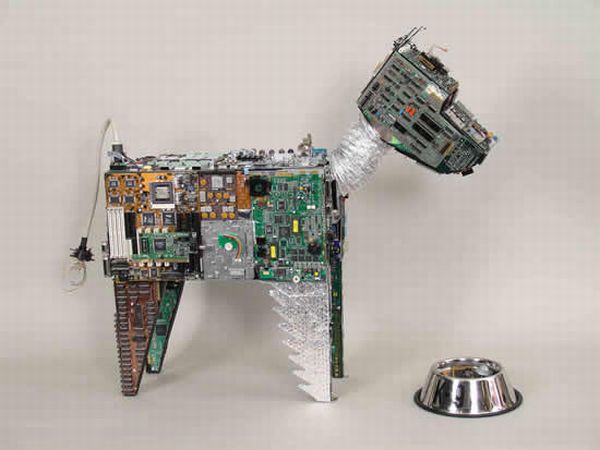 Brenda Guyton is the designer who uses old electronic items and develops them into mesmerizing sculptures. Computer parts are used to develop wild animals. You will be amazed to see that old desktops and electronics are beautifully used to develop lizards and insects. These sculptures are worth seeing. Biological life and machine life is ingeniously fused together and questions are raised about our future. Sculptures are made of monitor coils and hard disks and floppies.
7. Recycled plastic sculptures
Sayaka Ganz a Japanese artist; uses waste plastic utensils, toys, and tidbits. Beautiful animals are created out of waste material. Some of these pieces contain about 500 pieces of waste material and can measure about 18 inches to over 8 feet long. Material is collected from charity shops and dustbins and some of the waste is even donated. The sculptures are even moving objects. The sculptures are even highly-priced.
8. Andrew chase's kinetic animal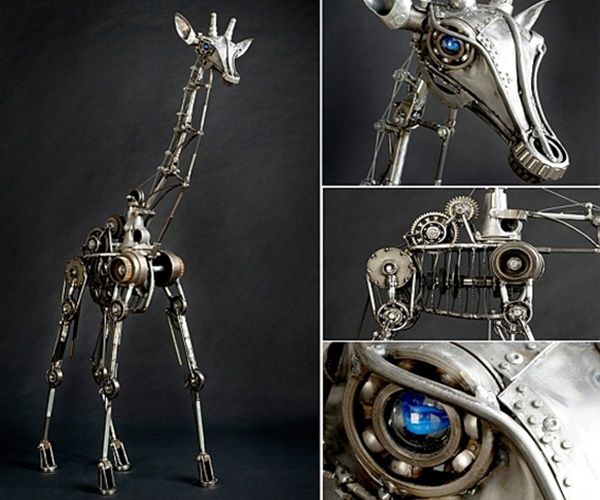 These artifacts are made by Andrew Chase. He is a self-employed photographer. Each sculpture takes about 80 – 120 hour to complete. He names his products after what they actually represent. He keeps it simple yet complicated. Old automobile parts and plumbing parts are used to develop sculptures that actually move. Like the elephants, the trunk can be lowered and ears can also move.
9. Animals sculptures by Chris Cole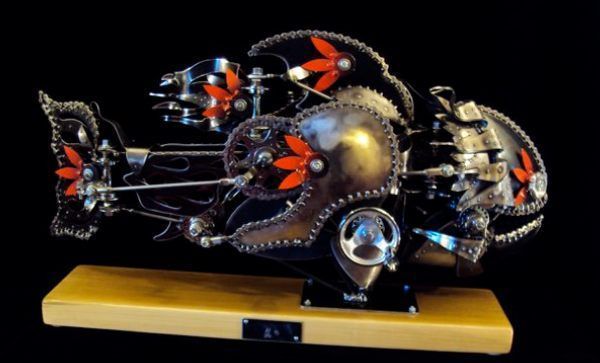 These sculptures are made by Chris Cole. He has developed kinetic sculptures by employing old bike parts. He collected all the trash parts and made them into beautiful kinetic sculptures. All kinds of bottom brackets, old greasy chains and scavenged head tubes are locked and welded together with the help of nuts and bolts to create these amazing, moving and motorized artifacts. The figures he makes can actually move. Simple and small motors or hand cranks are used to move these small creatures. Metal pieces are collected to develop birds and other kinetic sculptures.
10. Giant squid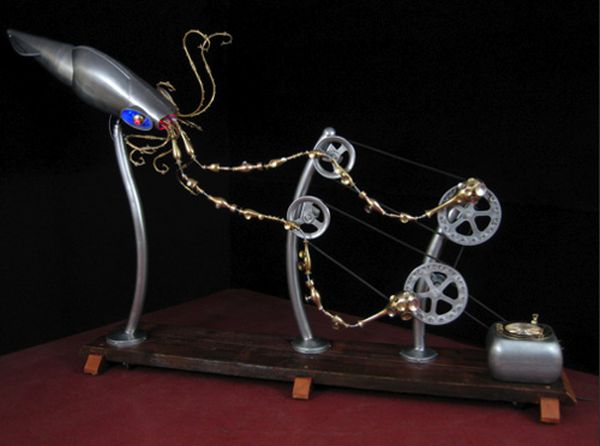 This is developed by designer NEMO. He works mostly with found material and likes to develop things like classic robots. Furthermore, he has used a different type of material to develop this giant squid. In addition, he had to find a large number of the object very big in size and has used aluminum and brass to build this giant squid.
11. Grazing Doe by New York artist Wendy Klemperer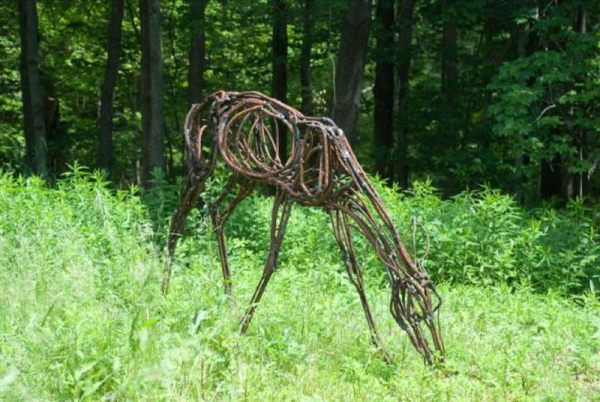 Pictured above is the Grazing Doe, an amazing animal metal sculpture by New York artist Wendy Klemperer. Other than the said deer sculpture, Klemperer's collection of wild animals include Lumbering Stag, Scratching Doe, a porcupine, a wolf, and three other deer. All these metal sculptures will be showcased near Portland International Jetport. Currently, these sculptures are standing still at. Maine Audubon's Gilsland Farm in Falmouth. Klemperer has used recycled steel to create these animal sculptures.
These sculptures will come to Portland International Jetport within one month as an art lover in Falmouth, William D. Hamill, has purchased the herd of deer in order to beautify the jet port. The metal sculptures will be placed along the road which connects the Congress Street and the terminal. Airport officials want to give a natural look to the whole thing and that's why they have planned to plant trees at the entrance to the terminal. Metal deers between real trees! This is something unique. Hamill is a board member of the Portland Museum of Art.