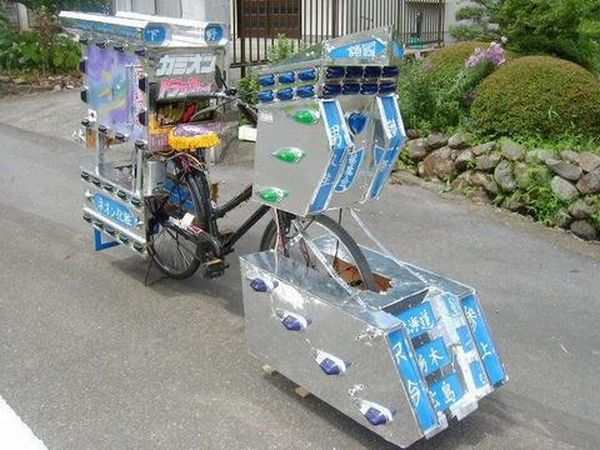 Bicycles, through the years, have been more than two wheels with a handlebar attached to a framework that gets a rider from one place to the next. They have become object of creativity for many designers who have pushed the limits of physics and creative art and put together machines that would make passers by look twice even as they continue to be perfectly balanced and give the rider a perfect trip.
But, what defines an art bike? To be termed an art bike, the bicycle that has been modified for creative reasons, should still be road-worthy and ridable. This trend of artistically modifying bicycles resulted in several festivals in countries across the world dedicated to art bikers who come out year after year with their works of art. The Burning Man festival of Nevada attracts the most spectators and participants who display some artistic and radically modified bicycles. Here are a few of the bicycles you can't pass by and not notice.
1. Hayabusa cycle
For those who know the Hyabusa superbike and what it's worth, this bicycle may never come close to matching its good looks or speed. But this might just be the closest its owner got to owning the real thing, when he decided to make his own DIY Hyabusa. A few modifications, a coat of paint and he's ready to cruise along.
2. Dragon Bike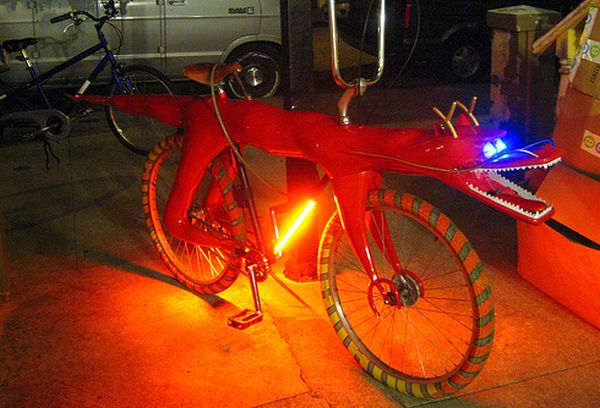 The Dragon bike is a modified bicycle that is quite simple, yet has a few interesting features that will make you stop and look. The creator, Jay Broemmel, threw all rules out of the window when he set about making this mean-looking bike. The red body of the dragon spells trouble, and the green and yellow striped tyres that have little rubber hairs gives the Dragon Bike its fierce look. What's more, the dragon's eyes which are blue LED lights, turn when the rider turns the handlebars; and the jaw snaps when the left brake lever is squeezed. This modified bicycle will without doubt get onlookers to look on more keenly.
3. One-of-a-kind wooden bicycle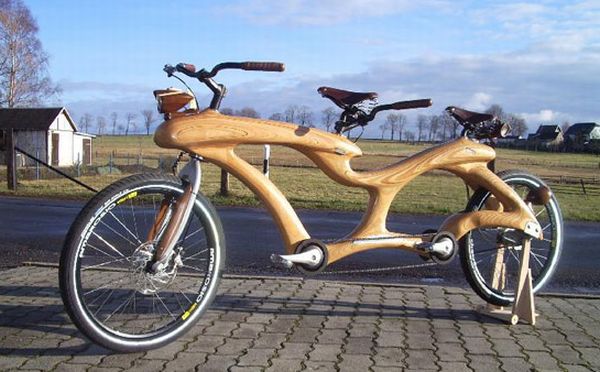 Bicycle frames have traditionally been made of aluminium, carbon fiber or any other tough, yet light metal. But this German student of timber technology showed that he could keep his modified bicycle light and sturdy with beech tree wood.
In 2006, Jens Eichler sat down, and after a few weeks of turning the concept around in his head and trying different designs, finally came out with a tandem bicycle that he christened Renovatia.
4. Didi Senft largest bike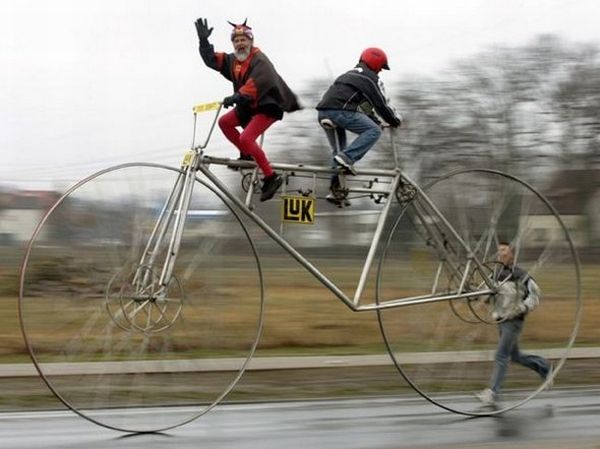 With cycles one could go fast, but this modified bicycle took one high. Cycle enthusiast Didi Senft from Germany, credited for building over a hundred unusual bicycles, taking part in several television shows and festivals, built the largest bicycle that measured 7.8 meters in length and 3.7 metres in height.
5. Chris Beech's Art Bike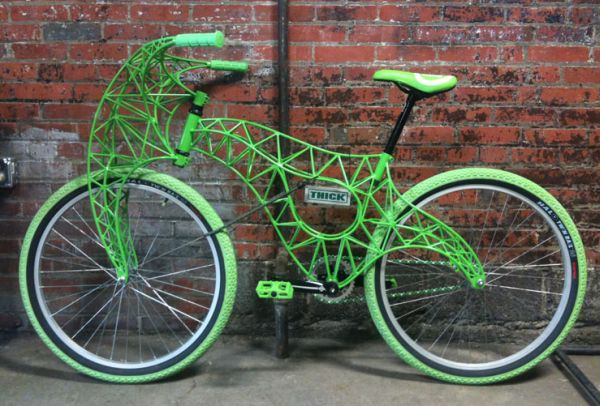 Here's a wireframe bike that would remind you of the Eifel Tower or a bridge. The creator, Chris Beech is a custom bike maker and furniture maker. He decided to mix up his two skills to make this fantastic powder-coated green bike. The bicycle frame is made entirely from steel rods. It took him about 7 to 8 whole days of welding work, but the design time was much longer. Chris conceived the bike design but had to let the idea brew in his head for some time before he actually got down to making it. The bike uses diamond back tyres and a vintage chain. Aside from the looks, the bike rides perfectly – it's rigid and compliant, but a little heavy at the front.