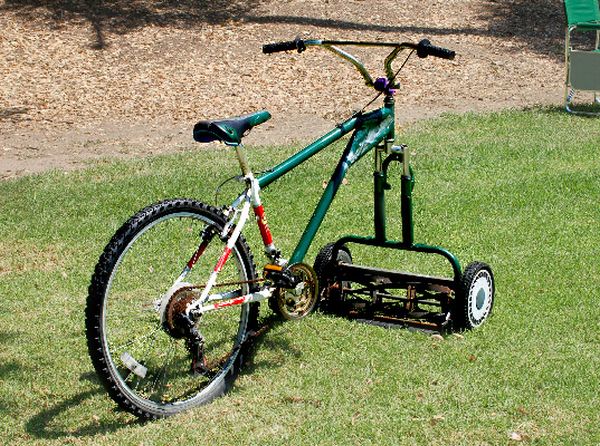 Green technology has taken over all aspects of our lives including living, homes, food, cars and now our gardening equipment too. And why not hop on the 'green' train? It's a right move towards a pollution-less future and better and alternative sources of fuel. Researchers have estimated that a standard gas-powered lawnmower running for around half an hour will emit same amount of emission as that of a car driving for 200 kilometers. An eco-friendly lawnmower not only offers a zero emission guarantee but also cuts down on the noise produced by the gas-powered lawnmower.
Let's have a look at ten such eco-friendly lawnmowers designed for greener lawns.
1. Black & Decker cordless electric mowers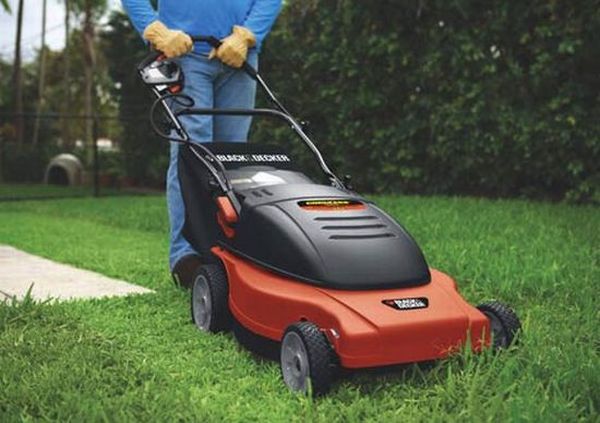 This is for the ones who hate making their Sundays noisy and messy with their lawnmowers. The company, Black and Decker, has been making noiseless electric mowers for over years now and they have just completed their first redesign of the entire lineup. The company has launched three different models of lawnmowers – a 19″36V cordless mowers including a removable battery, an 18″38V model and an 18″12A corded model. These noise-free models will clean up a standard 1/3 acre lawn with a single charge. They are also supplied with chargers that will supplement the onboard battery. You can also purchase additional batteries if you have a bigger lawn and need more power.
2. Hybrid-Powered Remote Control lawnmower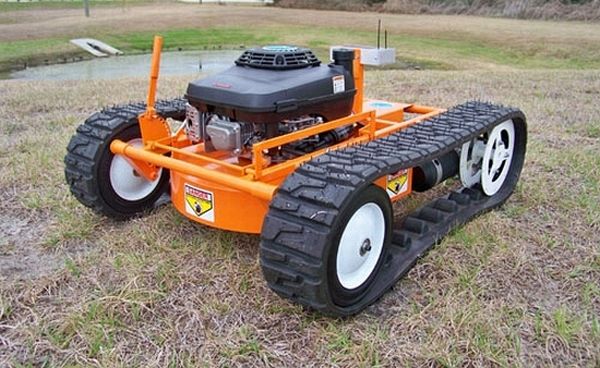 This cool model consists of the grass cutting unit set on two tanker wheels which help it overcome any kind of terrain including steep landscapes. The unit is completely operated by a remote control featuring an easy joystick to manoeuvre it instead of the typical acceleration and handle bar. The best thing about this is that it is a self-charging hybrid lawnmower that uses about 40% less fuel than your standard gas-lawnmower by using a DC electric motor.
3. Pedal-Powered lawnmower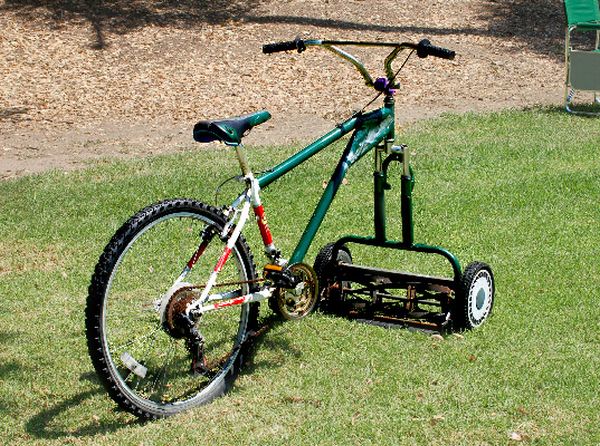 This awesome DIY design is a cool pedal-driven lawnmower also know as the Mowercycle. This was apparently fashioned by an anonymous suburban lawnmower who fashioned his bicycle into this ingenious lawnmower. A testament to the spirit of human creativity, this awesome lawnmower is an inspiration to DIY and sustainable design fans.
4. Husqvarna automatic electric solar powered hybrid lawnmower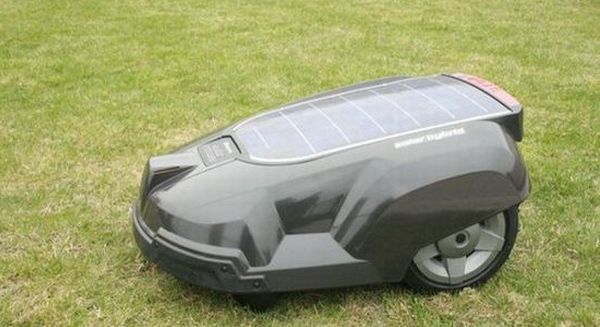 This is the first automatic electric solar powered hybrid android lawnmower launched by Husqvarna. It is designed for people who are always on the run and busy but would like to have their lawns professionally done while not having to spend too much time on it. Working on its own, the lawnmower can cut up to 2300 square meters of grass. What more? It has a friggin' sensor that avoids garden furniture and it can also be programmed to come on at certain times or days of the week. Tell me that's not like having an android in your garden that does all your gardening. To avoid the problem of collecting grass, it cuts the grass short enough to be evenly scattered back on the lawn itself. After cutting for around forty minutes, it charges itself for another forty minutes. It is awesome because it conserves a lot of energy.
5. Solar-powered lawnmower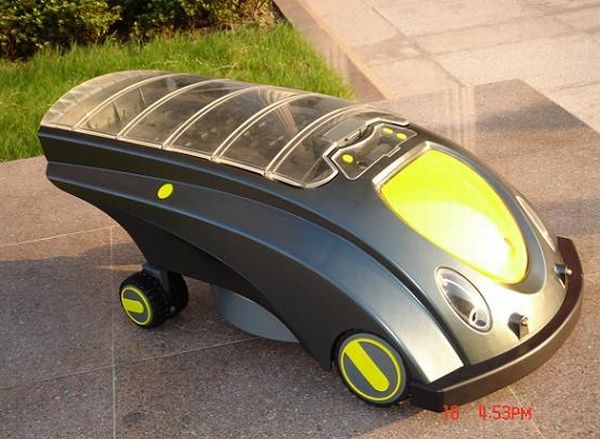 This one is a smooth criminal! Operating in complete silence, this one runs on solar energy and is designed for both home and commercial use. The solar and network technology makes it a green and a high-tech way of mowing your gardens. There is more! It comes with more intelligence that enables it to identify the route, hence avoiding obstacles on the way. Other features are image identification and video inspection. It can also spray and collect scrapes while working at specific locations. What it does is completely cut down on the manual operation. Paranoid android!
6. Recharge Mower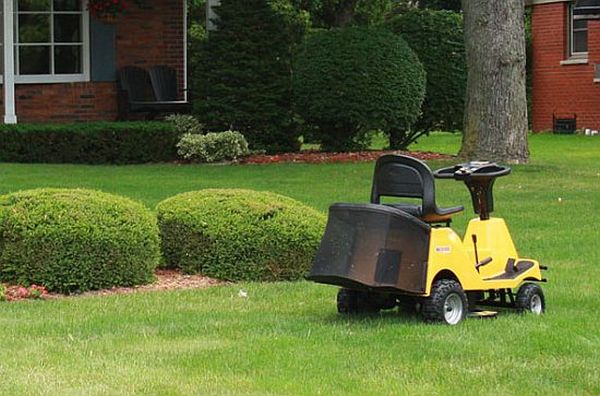 This one here is a cool noiseless, eco-friendly rechargeable lawn mower that cuts down the air pollution. It runs for over 3 hours with an overnight charge and will intuitively stop charging after being fully done. It uses three electric motors and is half as quieter than your standard gas-mowers. Three sealed batteries placed along the center of the unit gives the stability to its weight. Each of its two blade motors offers around 900 watts of power.
7. Solar-electric lawnmower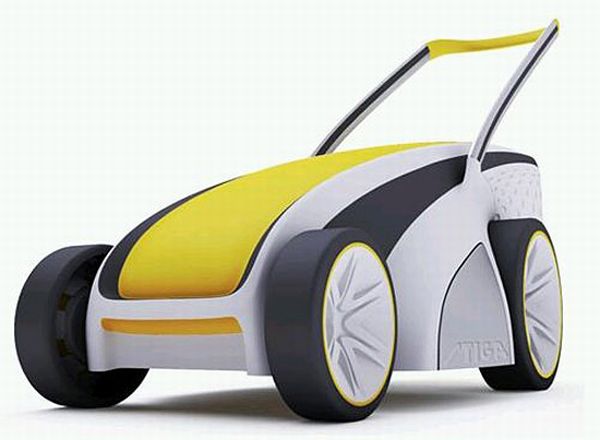 This one's a solar-electric lawnmower to harness all the sun beams on a Sunday morning into energy. You just have to charge its polymer-ion batteries and leave it while you're working and it will gather even more energy and keeps going. This design won a Red Dot Design Award. None of the android bit, but this one's definitely built for the smaller lawns of the future. It also contains an easily changeable bag to carry all the clippings.
8. All-electric lawnmower scooter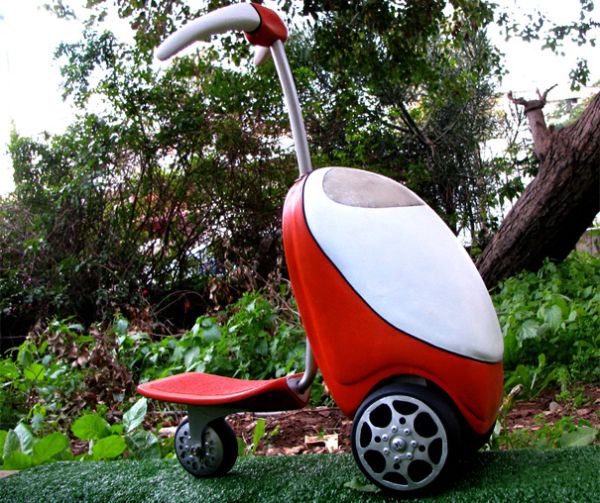 This cool lawnmower makes the tedious, back-breaking task of mowing lawns just a bit more fun. This scooty is ideal for smaller yards. The electric motor drives both the scooter and the blades. All the cuttings will be saved nicely in a transparent bin positioned in the front. This one will make for a nice productive ride on a Sunday morning.
9. Manual-solar hybrid lawnmower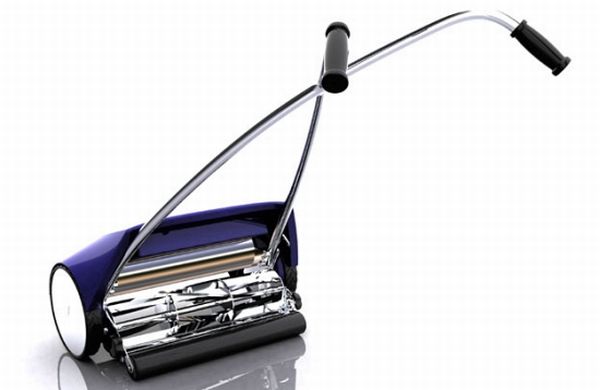 A standard gas lawnmower emits the same amount of emissions as a car driving for 200 kilometers or so. Designed by Frank Deveson, this lawnmower stays true to the green mission and without a sound! It is actually based on the standard reel mower with an electric backup. The manual effort is nicely enhanced by the use of high power batteries which are charged with a photovoltaic panel mounted on top of the lawnmower.
10. Flymo: Automated Solar-Powered lawnmower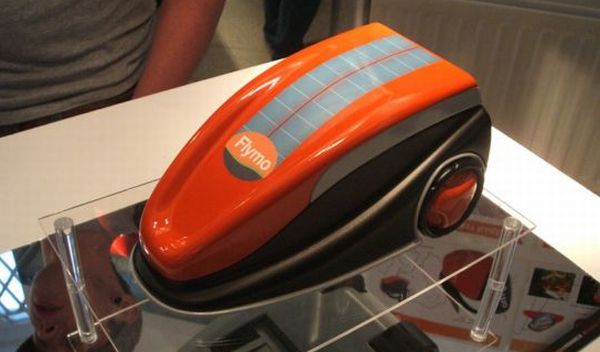 Designed by a first year university student, this little contraption allows you to mow your lawns without really being worried about anything. It is a fully automated solar lawnmower that works autonomously. The best thing about it is its size and its little turtle-like design that makes it an appealing one. Although, fraught with some inherent flaws, this cool little lawnmower is a commendable effort.