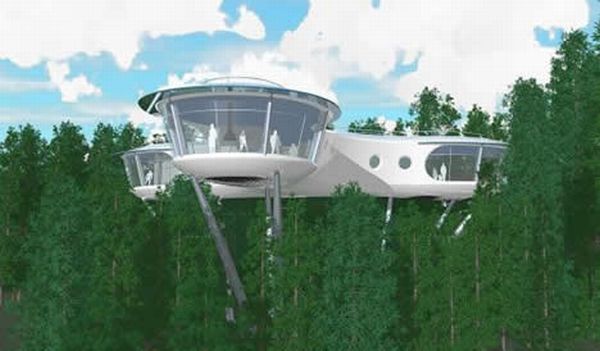 Treehouses have never been associated with a gigantic size. These playful constructions are usually made on the branches of one or more trees. They are erected for recreational purposes and children can do just anything to become proud owners of one such abode. But, the era of skyscrapers has infected the existence of tree forts, which has resulted in a larger size. Below is a list of 5 of the biggest tree houses in the world that will unfurl an unexplainable experience.
1. World's largest Tree House created for $7 million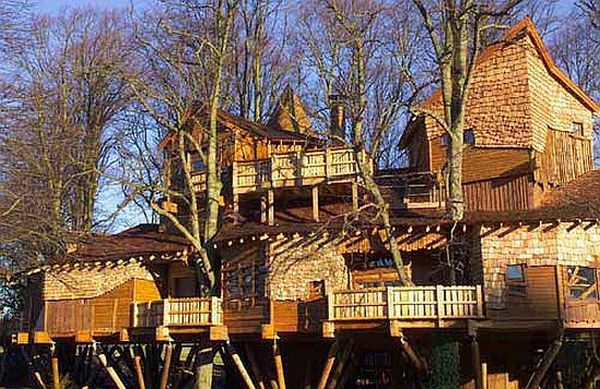 Who said only children liked to own a tree house? Here, is a tree house worth $7 million that will force you to slip in a state awe. It is nothing less than a fairytale and decorates the Alnwick Gardens with its unending grace. The 6000 square-feet tree house dictates opulence and is connected with the help of suspended walkways that measure a good 4000 square-feet. Lord Northumberland of Scotland's gigantic structure has a restaurant that can seat 120 people at a time. It features turrets, classrooms for children and wobble bridges. The world's largest tree house has been crafted using Scandinavian Redwood, Canadian Cedar plus Scots and English Pine. This makes it appearance all the more rich and sprinkles a magical aura. The restaurant can be rented for parties and get-togethers, but be ready to pay a heavy cost for it. The tree house will soon get another addition that will boost a hotel with a capacity to accommodate 1000 people. Wow! It will also have platforms, aerial walkways (with wheelchair entrance) and a play area for kids that will have a maze of rope bridges.
2. World's tallest treehouse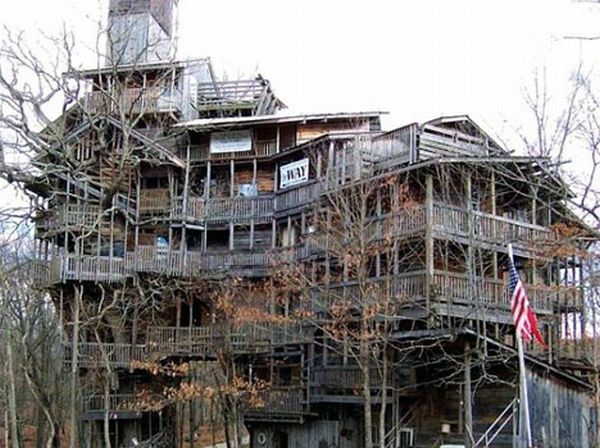 Now, this is worth calling a Tree Mansion instead of a Tree House keeping in mind that the creation by Horrace Burges is 10 stories tall. Stop blinking your eyes in surprise and read ahead! The tallest tree house in the world, situated in Crossville, Tennessee, is spread over an area of 10000 square-feet approximately and makes eyes do a somersault in surprise. The enormous structure is supported by a single large tree that acts as a strong base and makes it go up a good 100 feet in the air. You will be surprised to know that the whole structure has been crafted using salvaged lumber that has either been donated or came from construction sites. Horrace, a landscape architect by profession, just shelled $12000 for the project out of which a major part was spent on nails to put the structure together. A spiral staircase will take you inside the tallest tree house that is nothing but bewitching. The tree house attracts a lot of people and makes their jaws drop till the floor.
3. 4TREEHOUSE by Lukasz Kos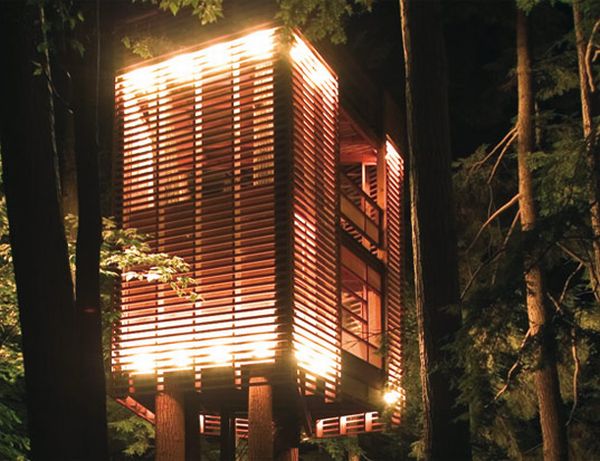 4TREEHOUSE is a square-shaped creation by Lukasz Kos that stands with utmost panache. The tree house looks like a delicate lamp through which light mischievously plays hide and seek. The awe-inspiring creation looks like a delicate work of art and rest on the Fir Trees situated on Lake Muskoka present in Ontario, Canada. The slate-like construction is an instant attraction and has been erected using the base of four trees. The spectacular tree house has three levels (with different transparency) that let light in and out.
4. Yellow Tree House Restaurant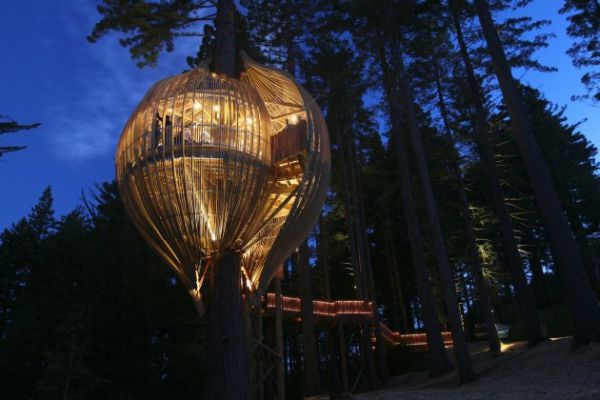 Want to dine while sitting on the branches of a tree? Surprised! Pacific Environments Architects have built a restaurant not on ground but on a tree. Christened the Yellow Treehouse Restaurant, it has been shaped like a pod. The 10 meter high structure has is located north of Auckland in New Zealand. The eye-catching restaurant hangs on a Redwood tree with poise. It has a seating capacity of 30 people, while if the guests stand instead it can accommodate 50 people at a time. Walkway gives an access to the tasteful structure, part of which has been crafted from Redwood milled there. On the other hand, Poplar and Pine has been used to craft its vertical fins and slats. The restaurant only operated between December 2008 and February 2009. But, talks are going on to use the architectural marvel as a place for holding events and corporate/private functions.
5. Sybarite's Modular Tree Dwelling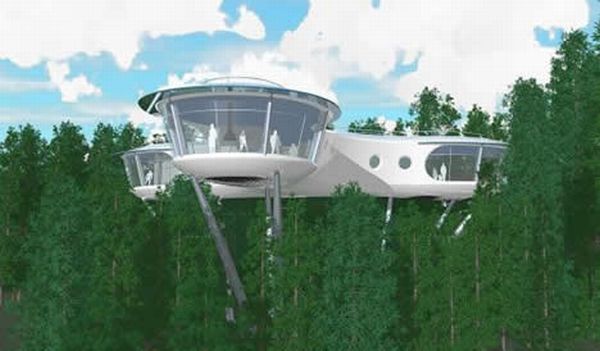 Modular Tree Dwelling by Sybarite sure looks futuristic and comes draped in a dazzling appeal. It is a great blend of modern and traditional aura, which will attract a lot attention because of its uniqueness. The belly-shaped structure of this tree house has been injected with kinetic baffles that make good use of the energy from wind to produce electricity. The designer has joined hands with property developers and Regional Planning Authorities from Gloucestershire and Wiltshire to make this construction truly class apart. The flexible structure will give an all new meaning to country living. The Modular Tree Dwelling can have one to five bedrooms, as per a user's whims and fancies. The tree house is light in weight and has been made using recycled parts. The easy to install prefabricated design can be erected at the desired site in just two weeks.