If you thought that newspapers are just meant for reading, then you are absolutely wrong. You can use old newspaper for gazzilion other things once you have read them. They are perfect glass cleaners, natural pest killers, packing material, etc. However, nowadays eco-conscious individuals are also using them creatively. They are using old newspapers to create furniture, lamps, houses and whatnot.  Take a look at these products made using old newspapers. We are sure they would amaze you.
12 – Products made using old newspapers
1. PulpLamps Recycle Old Newspapers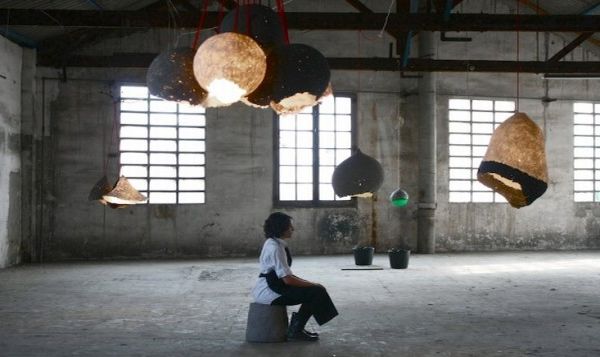 PulpLamps have been designed by Enrique Romero. The lamps look like a cocoon and have been crafted using 100 percent recycled newspapers. They are available in various shapes and sizes. A user can hang a group of lamps together that will make them look like a chandelier or make a solo creation dangle from the roof. Thrown away newspapers are shredded and then converted into a pulp to which glue is added. After this, the mixture is poured into various molds, which are later dipped in various colors. PulpLamps are organic in nature and will glow the natural way when hung from a roof.
2. Purses from Old Newspapers by Ex-Con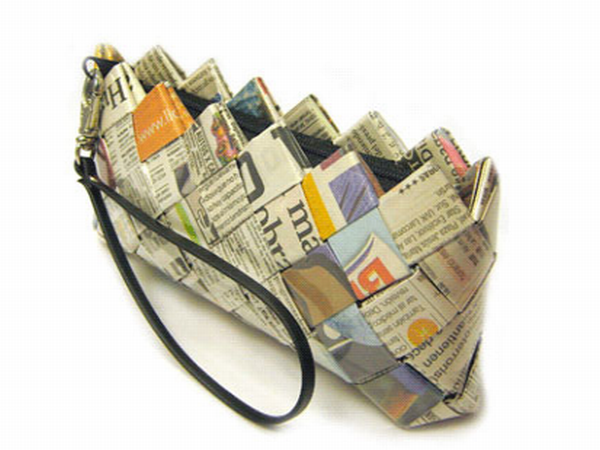 A great handbag accentuates the overall personality of a female. Adding a touch of Eco-friendliness to the feminine persona is an ex-con who makes purse using old newspapers. The women's purse comes complete with a zipper and is very elegant to look at. The ex-con learnt the art of paper folding from his fellow inmates and used it to make such amazing purses. Folding newspapers is a skill and the final product is quite neat and putting together various pieces is nothing less than a jigsaw puzzle.
3. Flip-flops upcycled from old newspapers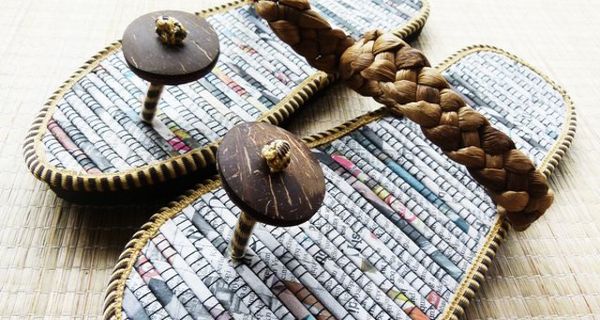 PaperFlops, an Indonesian company, has come up with eye-catching flip flops that have been crafted using biodegradable materials that include discarded newspapers, palm tree roots, natural rubber and coconut shells. Each upcycled flip flop needs approximately 1 kg newspaper and comes tagged with a price tag of EUR 31. They are made waterproof and long-lasting by using natural sealant. These flip-flops are available in a variety of colors, sizes and models that will be liked by almost everybody around.
4. Animal sculptures from old newspapers
Sculptures are great way to ornament homes and also put forward the artistic skills of a designer. Giving the sculptures an all new existence is Nick Georgiou who has come up with marvelous creations made from old newspapers. He collected newspapers and stitches them together after tearing papers into folds. The printed pages are stitched together and given various forms that resemble different creatures. The animal sculptures are a great example of Eco-friendly art that manages to leave an everlasting impression.
5. Bag made of newspapers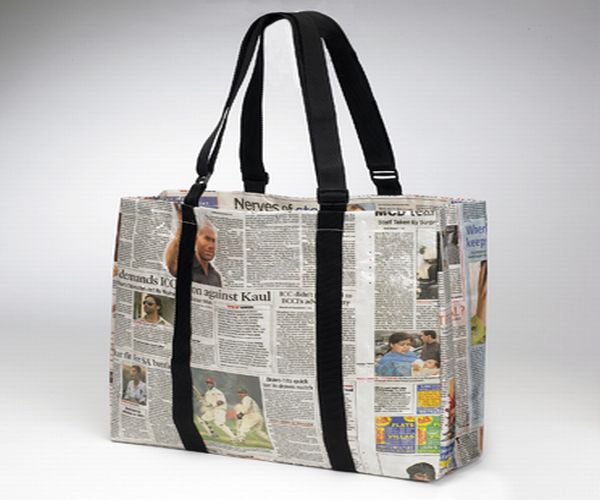 If you want your wardrobe section to get a touch of Eco-friendliness, then this tote made from newspapers will be a perfect pick. These handmade bags are tough and have been laminated well to make sure they don't tear or get spoilt soon. Each bag is unique as no two newspapers are same, which gives it a delightful appeal. The environmentally friendly bag won't burn a hole in your pocket as it costs just £12.
6. Recycled Newspaper Chairs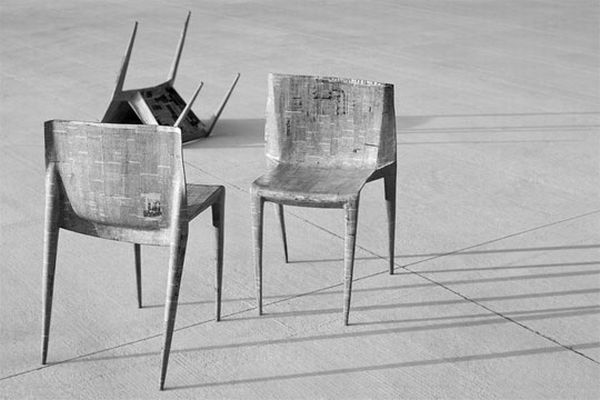 Stefan Gougherty has taken recycling to an all new level with chairs made from discarded newspapers. The stackable seats have been brought to life by placing paper layers measuring quarter inch using glue. These clean and green chairs get a final finishing as they are dipped in resin. They are not only light in weight but also make very strong furniture pieces that will decorate spaces the recycled way.
7. Recycled Newspaper Bench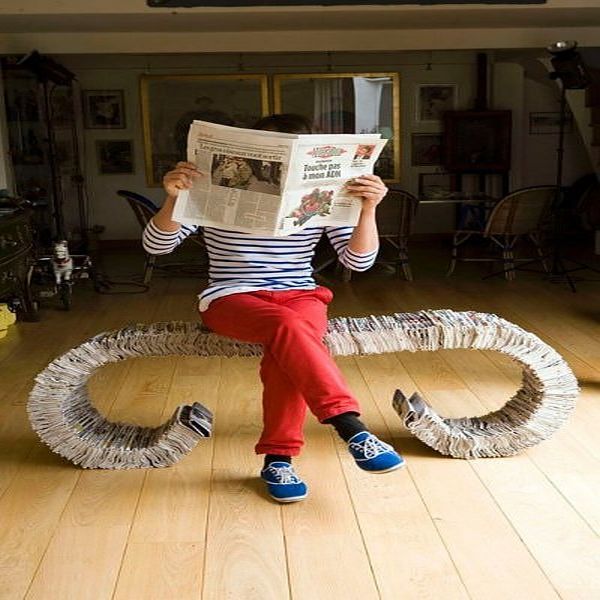 Recycled Newspaper Bench has been made by a French furniture designer named Oscar Lhermitte and looks very fashionable. The first creation has been named 334, which is the number of newspapers used to make the bench. The awe-amazing creation is very strong and can easily support five people. Apart from being one of the products using old newspapers, the bench also uses three pieces of metal.
8. Chesterfield chairs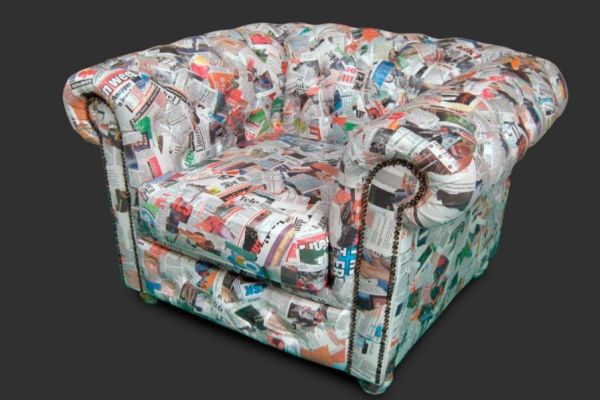 'Newspapers around the world by Chesterfield' is an art collection that includes chairs covered in thrown away newspapers. Fifty different chairs have been created that will come draped in fifty different newspapers from across the globe. Each chair will come with a price tag of €9800, which will be a heavy amount that you will have to pay, in case you want to own a unique piece of furniture.
9. House-made of newspaper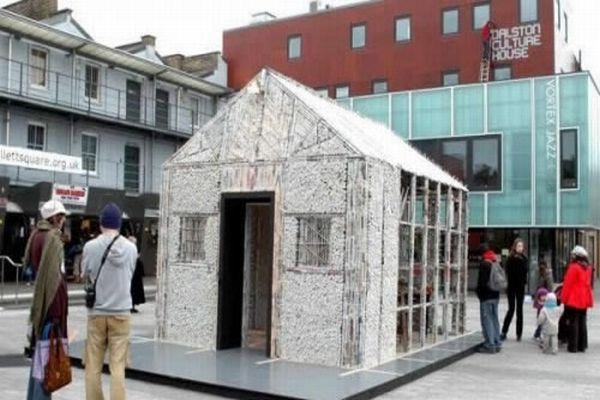 Gone are the days when houses where made using bricks as Summer Erek has made one making thrown away newspapers. The house consists of walls and a roof made from rolled newspapers that otherwise keep piling up day after day. The overall structure is quite strong but is definitely away from practicality.
10. Dress made from newspaper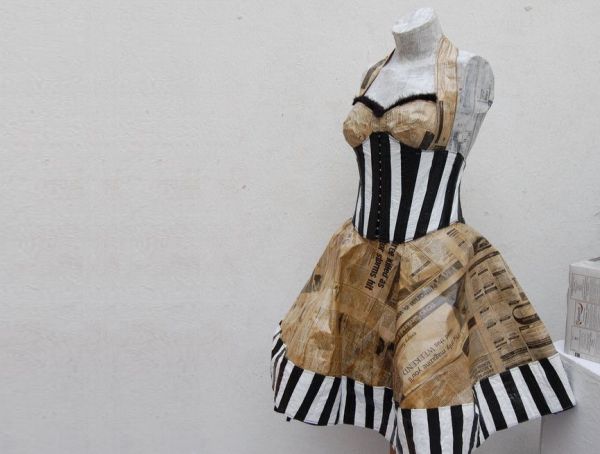 If you are an eco-warrior and are looking for a perfect dress that matches your personality then this corset and skirt made from newspapers will grab your attention. The newspaper dress is wearable and looks very elegant. It also features materials like bin liners, plastic bags and old curtains as well.
11. Newspaper ballet flats:
There are times like all-important company party or dinner with your partner's parents that you must put your best foot forward. Luckily for you, the newspaper ballet flats are the best idea to be topped up with accessories. Since everyone wants the best and the latest, Colin Lin has come up with the Newspaper ballet flat which provides you more choices of styles. It is crafted from recycled Chinese language newspapers that are woven into a lattice pattern. Having said that you might wonder about its durability but all has been taken care of already. It is then dipped in plastic which also provides weather protection. There are several ideas and ways of incorporating the crazy fun into your fashion with a new range of footwear made out of newspaper.
12. Newspaper Furniture: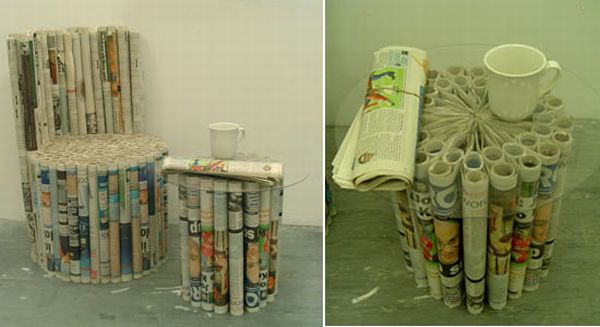 Good quality furniture can also be made out of Newspaper as Yasmin did. It is one of the few ideas that has stood the test of time and has been an exclusive work for the interior decorators. Newspapers also offer a comprehensive range of crafted patterns which can be bought at prices to suit all pockets. She crafted a chair with backrest prepared out of tightly rolled newspapers that have been bound together. The table is another example of products using old newspapers it has been made by folding the sheets to make a petal shape.
Final Words
Newspapers are considered waste after a few hours of its arrival. They keep piling up in our storerooms with each passing and we hardly make any good use of this stack. But there are many who are making good use of this Eco-friendly material and make products using old newspapers. Here art provides you a stand where you can also start to turn your creativity into action. You can always have a large selection of tables and chairs, sideboards, bookcases and wall units. If there is an item you are looking for, keep in mind that what you make is perfect for the utilization of resources.