Eco-friendly swimwear is a must for people who are aware of the impact we have on the environment. It's not just about sustainable shirts or U.S.A. made jeans. A truly eco-friendly wardrobe includes every piece you wear any time of the year.
Feel secure that you're doing your very best to live Earth-conscious while you're soaking up the sun. Here are 15 brands making eco-friendly swimwear to check out right now!
1. Gala Maar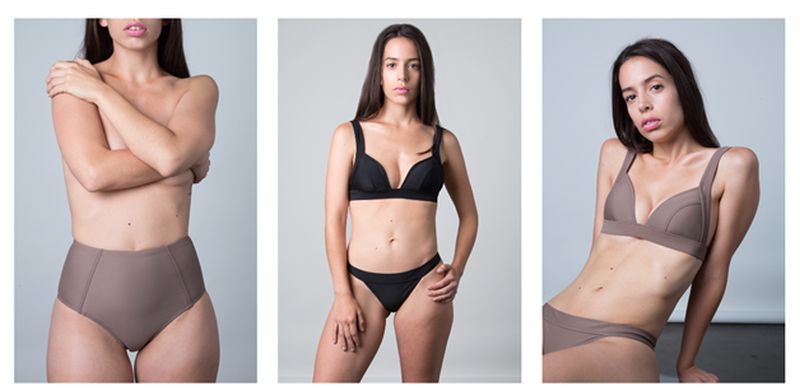 First up on the list is Gala Maar, a sustainable eco-friendly swimsuit company that makes swimsuits out of "environmentally sound fabrics." You can feel good while wearing a suit from Gala Maar not only because of the Earth-friendly benefits, but also because you'll be comfortable.
Made in the U.S.A., these suits are quality made and built to last a long time. The brand also supports feminism and often brings up political discussion.
2. Koru

Get the bold looks of Koru while feeling confident you're doing your part in sustaining the environment.
Koru makes swimsuits that stand out from the crowd, but in a different way. This brand uses sustainable materials from Italy and uses 100% regenerated polyamide that comes from fish nets.
3. Manakai

Manakai is a swimwear company that creates elegant swimsuits that are made from sustainable techno-fabric produced with regenerated nylon. This means the materials they use aren't going to waste!
Their designs are manufactured in the U.S.A. and they pay their workers "livable wages and treated with integrity." They want to attract customers that know that the Earth's materials are finite.
4. Fauna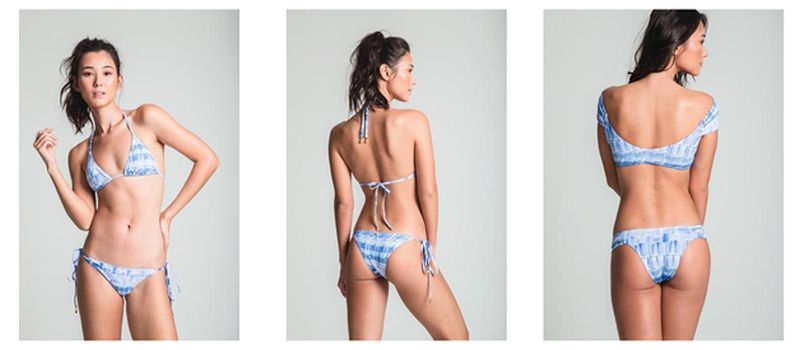 Another brand making waves in the sustainable swimsuit industry is Fauna. They recognize the impact that fashion has on the world due to the production of so much material over time.
Fauna runs on values and believes in using organic and biodegradable materials in non-chemical processes. No fake dye or toxic stuff.
They also take a stance on pesticides used in the U.S.A. It's known that the pesticides used in the U.S.A. contain cancer causing chemicals, which is why Fauna aims to avoid using these chemicals.
5. Hackwith Design House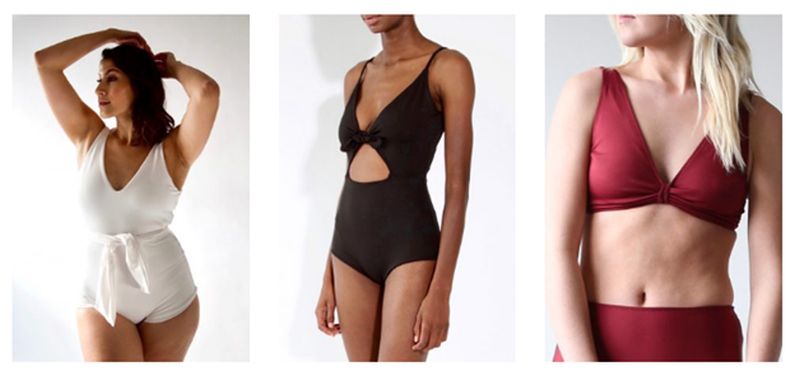 Another brand made in the U.S.A (Minnesota to be exact) is Hackwith Design House (promo codes here). They offer sweaters, dresses, gowns, and so many other things including swimsuits.
Their styles are created to look chic while reducing waste. Many of the swimsuits aren't even made until they're ordered, eliminating the possibility of waste. The looks are modern yet timeless enough to wear year after year.
6. Riz

Boardshorts can be eco-friendly, too. For every pair of boardshorts they sell, Riz will donate a dollar to help fund marine life. They work with the Marine Conservation society to help take care of the planet.
Not only do they care about marine life, from the start they make their shorts from 100% recycled and recyclable materials used from plastic bottles. They offer to repair old board shorts instead of having them be tossed in the trash to be wasted.
7. Azura Bay
For a more cheery look, Azura Bay creates some upbeat and fun swimsuits (they're offering a 20% off discount right now).
Made with a relaxing beach resort in mind, this brand offers really cute pieces. Not only do they make beautiful swimsuits, but they also donate a portion of the proceeds they make to help "restore and protect our environment and wildlife, and support health and human rights programs for women and girls around the world."
When you checkout your cart online, you actually have the opportunity to choose from three organizations to give the proceeds to. You'll choose between Because I am a Girl (a plan to end gender inequality), WWF, or the Nature Conservancy of Canada.
8. Bikini Empire

Another swimsuit company with great intentions towards a better world is Bikini Empire (codes here). They pay their workers 50 times more than their competitors and produce everything in Vancouver, Canada. They believe in supporting the local economy instead of contracting jobs overseas where factory workers make very little.
Bikini Empire sources all their materials from ethical sources. Their "Eco Luxe" fabric has a "buttery soft feel" and is made in a factory that is solar powered. The company that produces their fabric supports the WWF and wildlife habitation.
9. Mara Hoffman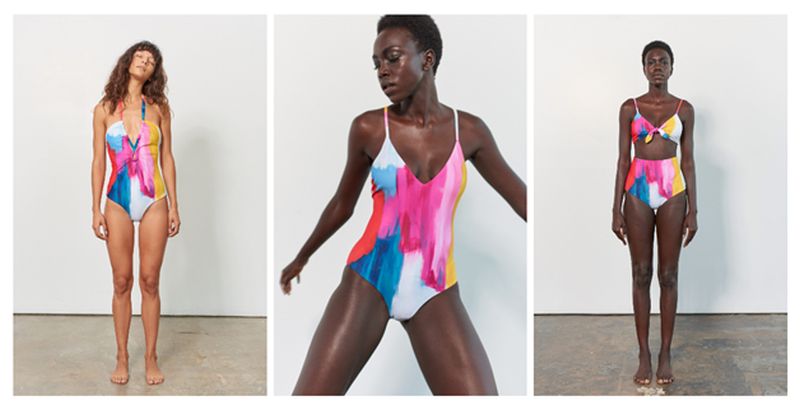 This next brand is one of the companies taking eco-friendly swimwear to the max. Mara Hoffman brand (codes here) believes that the importance of Earth-conscious products start at the materials.
Mara Hoffman uses natural materials that are recycled polyester or recycled nylon. They don't use fur or any other animal products.
The cotton used is certified organic. They don't use herbicides or pesticides for their linen products. They even use hemp.
10. RE-SWIM CLUB

RE-SWIM CLUB has a mission and that is to "reuse and eliminate."
This extremely trendy company uses fabrics that were previously thrown away and "destined for landfill." They make use out of these materials and produce a whole new creation out of them.
Every swimsuit is carefully crafted to use all of the material they're working for to avoid waste. Like other brands on the list, RE-SWIM CLUB uses econyl, a sustainable nylon yarn manufacturer.
11. Underprotection

Sometimes frilly and often simple, Underprotection makes swimwear that looks posh. Underprotection designs their suits with limited yet eye-catching detail that look good for the woman who wants a subdued look.
All styles are made in New Delhi, India in a small factory. This factory is owned by a young woman named Charita. Underprotection and Charita have been working together since 2010.
The factory is called Fashion Forte, and it makes pieces in a way that offers an "honest and transparent work environment."
The factory employs seven women and 13 men, most of whom have been with the company since the beginning.
12. Patagonia

Here's a name you probably recognize but didn't think of. Patagonia makes fair trade certified swimsuits (with coupon codes here, here).
Fair trade means that factory workers have more opportunity than if they weren't covered under fair trade. They have over 15,700 workers in the fair trade program.
Along with fair trade, Patagonia donates millions every year to environmental work as well as to environmentally and socially responsible companies through their venture capital fund. They also fight against mega-dams and have helped block 5 of them from being built on Chile's Baker and Pascua rivers.
13. Volcom – Simply Solid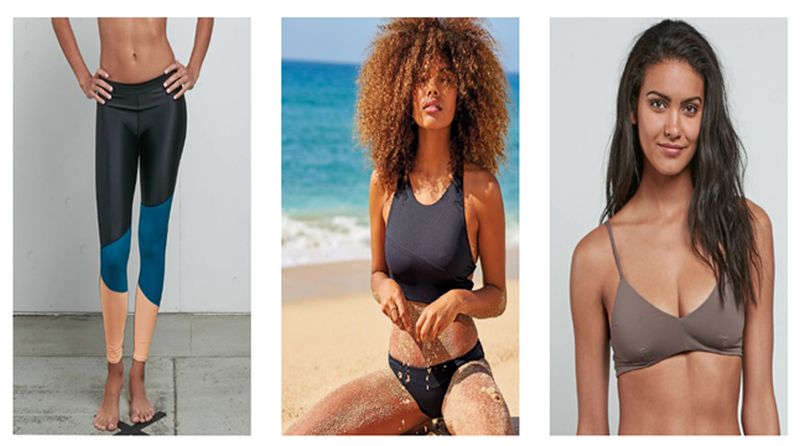 Here's another big name brand! Volcom has created Simply Solid, a line that supports marine life and uses econyl in their material.
Simply Solids aims to make swimsuits that are green with the Earth in mind. It's mostly a younger crowd buying Volcom products, so it's a great message to let the kids know how important marine life is for our planet (Volcom promo codes here and here).
14. Summerlove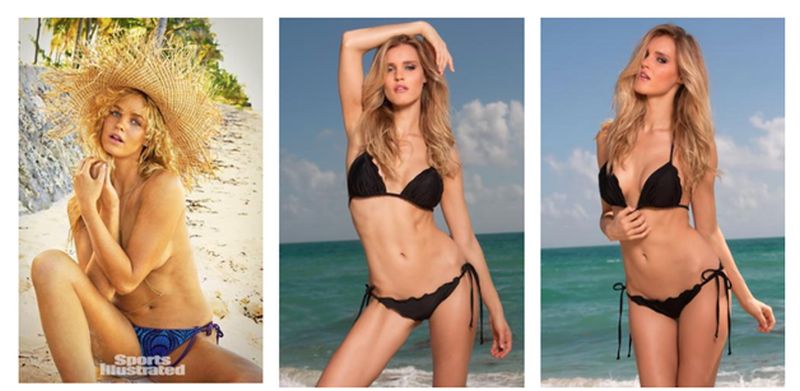 Summerlove is a brand that's been featured on models in Sports Illustrated and is becoming more and more popular with beach lovers everywhere. While the bikinis are cute, they're eco-friendly because they support organizations like 1% For the Planet. They also support Healthy Seas, an organization that helps clean the oceans to protect marine animals.
This brand creates their swimsuits and bikinis from econyl as well.
15. Greenlee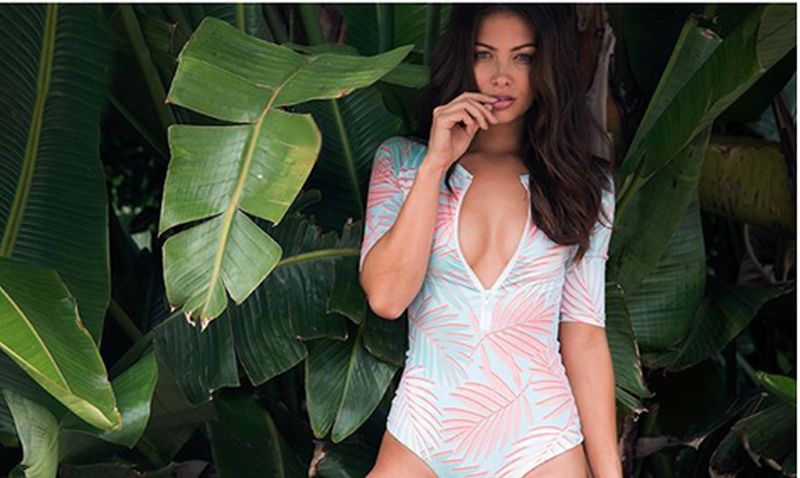 The name says it all. Greenlee is an eco-friendly swimsuit brand created for those "young at heart" and inspired by the California lifestyle.
Greenlee swimsuits and made using recycled materials. The brand also supports organizations like Global Green USA and The Rainforest Partnership.
Go Green
It's easy to look cute in eco-friendly swimwear if you make it a priority. With so many adorable options available, they make it easy.
Article Submitted By Community Writer