Coats racks are an easy way to up the style quotient of your entryway. Instead of buying a new one, you can make one by using old wooden pieces or pallets lying around in your backyard or home. Coats are incredibly easy to make – show off your style by crafting unique, functional and elegant coat racks. DIY coat rack ideas can help you make something which suits the space and interior décor scheme of your home at a very nominal cost. Check out these coat rack ideas for standing as well as wall mounted coat racks:
23 great diy coat rack ideas
Repurposed pallet coat rack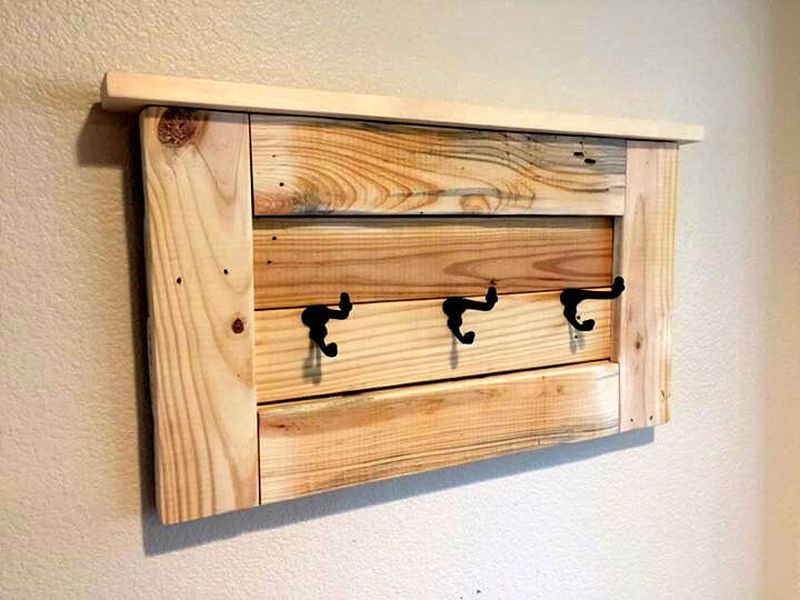 Image Source : 101palletfurniture.com
Using repurposed wood from pallets is one of the best diy coat rack ideas. This idea is budget friendly and gives a warm vibe to the home. You can paint or polish the pallets, according to your choice. Arrange the pallets horizontally or vertically to create either horizontal or vertical repurposed pallet coat rack.
Your pallet wood diy coat rack ideas can be extended to make a beautiful abstract design rack with lots of hooks. This is perfect for a home with many family members. 
Insulator rack
Vintage insulators are great décor accessories. Transform them into hooks to make a colorful wall coat rack for your home.
Shutter rack
Reuse a beaten up old shutter to create a rustic, vintage design coat rack. This diy coat rack ideas is a wonderful idea, and not at all complicated to make. You can go for the shabby chic look or freshen up the shutter with a new coat of paint.
Reused ruler coat rack
If you can get hold of a thick, wooden vintage ruler, you can convert it into a coat rack. Some coat hooks have to be attached on it and then you can mount it on the wall.
Rainbow rack
Make this colorful wall mounted coat rack with some reclaimed wood. Just paint it in the colors of the rainbow and break the monotony of the entryway. It's a very simple project with great results.
Natural coat rack with branches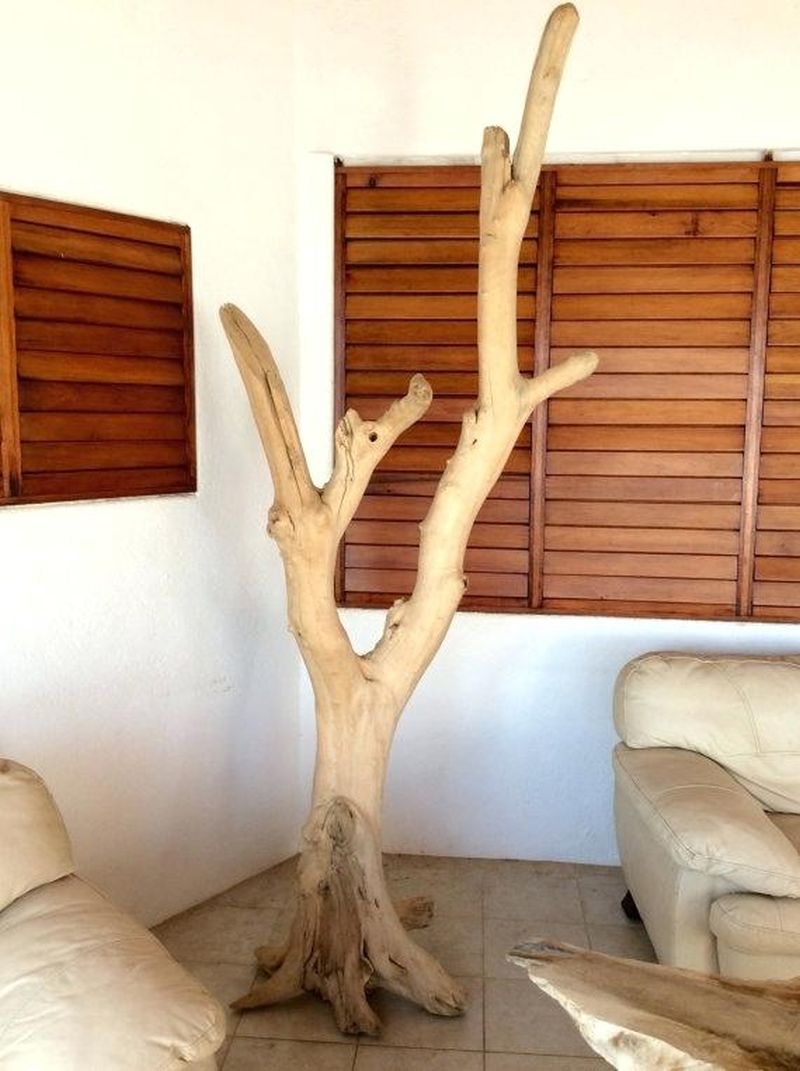 Image Source : 3dobox.me
You just have to find some sturdy branches and attach them to the piece of wood. Paint or polish the wooden panel to have a nice contrast of natural tones, while the branches will retain their natural look. 
Coat rack made from a real tree
Talking of diy coat tree style coat racks, this one is fantastic. All you have to do is find the right tree for your home from a nearby park, or maybe you already have one in your backyard. It looks incredible, especially after you paint it.
Scrap wood coat rack and storage
A super cool coat rack which can be used as storage for magazines as well. Paint in beautiful colors to suit your color scheme.
Zebra rack
Dig out your kids' old toy animals from the attic and reuse them to make this wonderful coat rack. Color the wooden board in a bright canary yellow which can be a lovely contrast to toy animals like zebras.
Headboard wall mounted coat rack
Repurposing an old headboard into a beautiful coat rack will make your doorway elegant. This idea will also salvage the headboard or else it will just rot away in a landfill. 
Standing rack for coats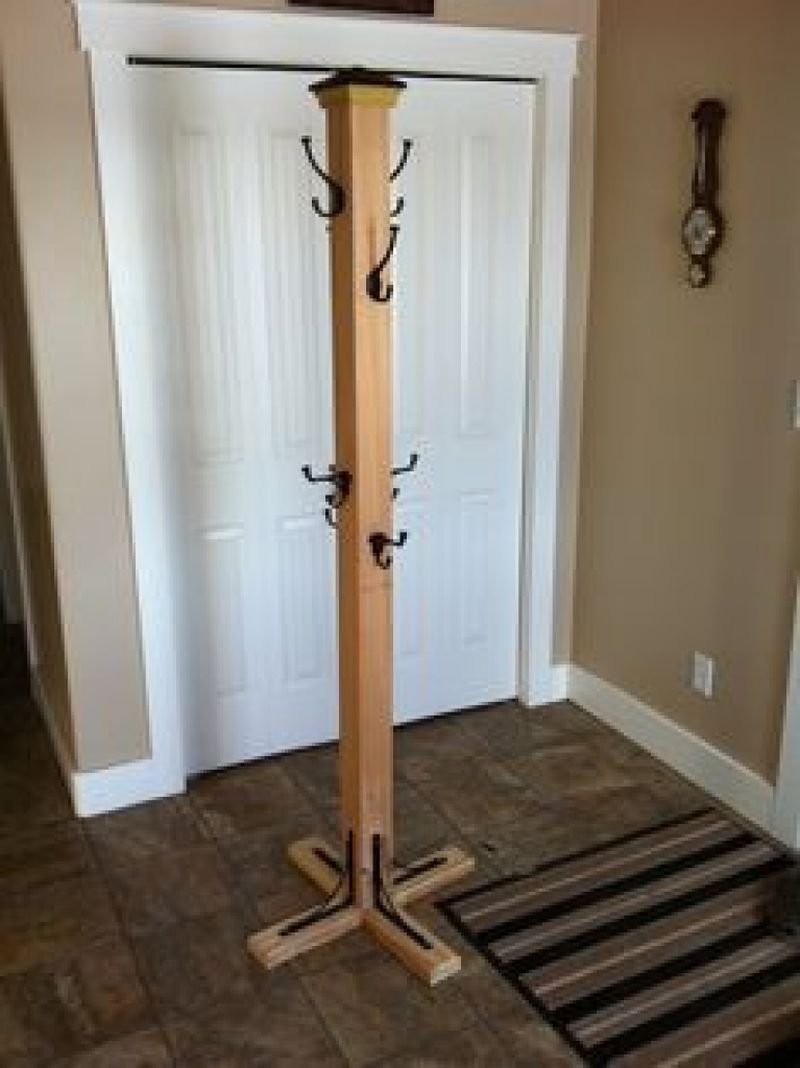 Image Source : market-pass.com
Use up the scrap wood in your backyard to make a nice diy standing coat rack. It's fairly easy to make too. 
Shabby chic repurposed ski board
You'll love this vintage shabby-chic repurposed ski board coat rack! The textures and the colors are quite eye-catching. You can write messages on it, or just paint it in any color or pattern you want.
Door frame rack
Use your old doorframe to make a coat rack which is functional but gorgeous too. The place for the panels can be used to frame your lovely pictures. Just by using various diy coat rack ideas, you can create a pretty and inviting entryway décor.
Mixed hook rack
Select a beautiful piece of wood and use hooks of different styles to create unique look. Hunt for some elegant antique hooks to create an elegant coat rack. 
Industrial pipes
Do you have any pipe pieces that are no longer useful? Use them to make a coat rack in the industrial style with hardly any effort!
Animal themed coat rack
Image Source : cdn.notonthehighstreet.com
One of the best diy coat rack ideas is this animal themed one. Paint some animals on the wooden board in bright colors. Attach the hooks where their tails would be – your kids would love this cute and adorable coat rack. 
Pegboard rack
It's one of the best ideas for a rack that we have compiled. It allows you to change the pegs on the board to customize the rack to suit your exact needs. 
Chalkboard rack
One of the cleverest ideas is to incorporate a chalkboard into your coat rack. Write reminders for your family or leave messages for them. Use the board to write inspirational quotes your family can carry with them as they through the day.
Wooden dowel standing coat rack
This diy standing coat rack is simply amazing! It's a super stylish rack for coats to hang your lovely coats from. Form a tee-pee by tying the dowels with a strong cord or rope. Paint the dowels with wonderful colors to form this amazing coat rack.
Zig zag design
This diy coat rack ideas will use up all the small leftover wooden scraps from other projects. Just cut them up into the same size and mount them on the wall in a zig zag pattern. A minimalistic design, which has the advantage that it can be extended anytime, you want to!
Rustic rack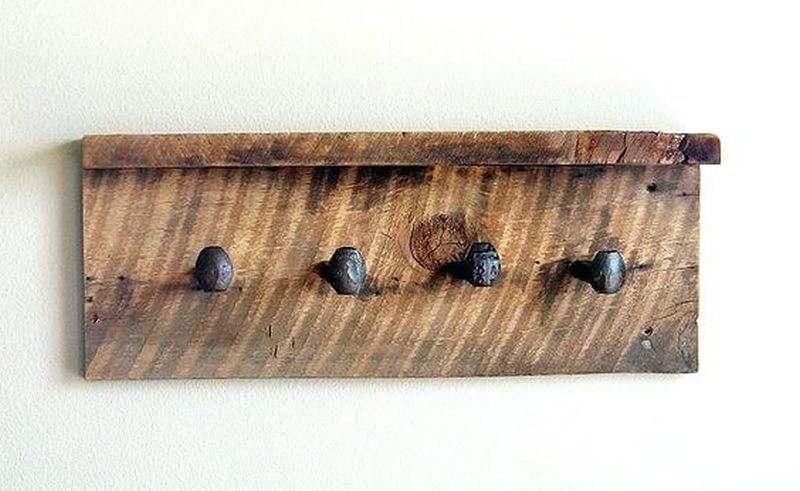 Image Source : 22arcana.club
Convert scrap wood into a wall mounted coat rack by just screwing some hooks in rustic style on it. You'll have an eye-catching coat rack for the front door in a jiffy.
Broom handle coat rack
Repurposed broom handles never looked so chic! One of the most creative diy coat rack ideas!
Farmhouse style coat rack
Craft this farmhouse styled coat rack to fit the space in your home.
All you need to create an original and unique coat rack is a piece of old or scrap wood or pallets. If you're not good at painting cover the wood with some pretty wall paper or wrapping paper! Making your own, exclusive coat rack with repurposed materials could not be simpler!