Recent research by NGO Sphyrna Odyssey 2019 that uses marine drones to examine the impact of noise on the marine ecosystem reveals the significant benefits of silence to marine animals. These findings coincide with the latest yacht innovation we are seeing in hybrid superyachts, which cruise silently, and also minimise impacts on the marine environment.
Combining art and science, hybrid yachts are the wave of the future, offering greater efficiency, reduced emissions and less noise and vibration.
M/Y ARTEFACT – A hybrid superyacht with a unique design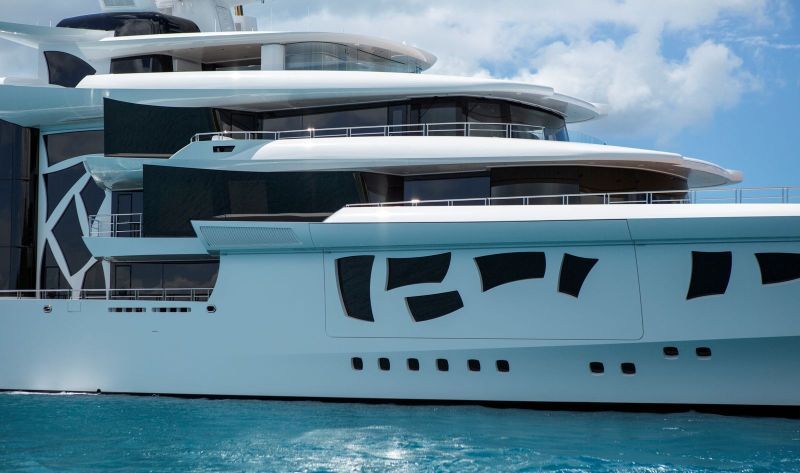 Image Source : nobiskrug.com
A superb example of this new wave of hybrid superyachts is the 80-metre M/Y ARTEFACT, built by German shipyard Nobiskrug, with exterior design by Gregory C. Marshall and interior by Reymond Langton Design. The environmentally conscious diesel-electric superyacht features an innovative steel hull and composite superstructure coupled with state-of-the-art green credentials.
M/Y ARTEFACT is the first hybrid electric superyacht to have a DC-bus and a variable speed diesel-electric Azipod propulsion system and dynamic positioning system that holds the ship in place without dropping anchor and potentially harming fragile marine life on the seafloor. The electric superyacht propulsion system saves fuel and helps reduce the vessel's carbon dioxide footprint. The diesel-electric superyacht also has a large battery storage system that allows it to run quietly in short bursts without combustion engines.
Eco-friendly advantages of M/Y ARTEFACT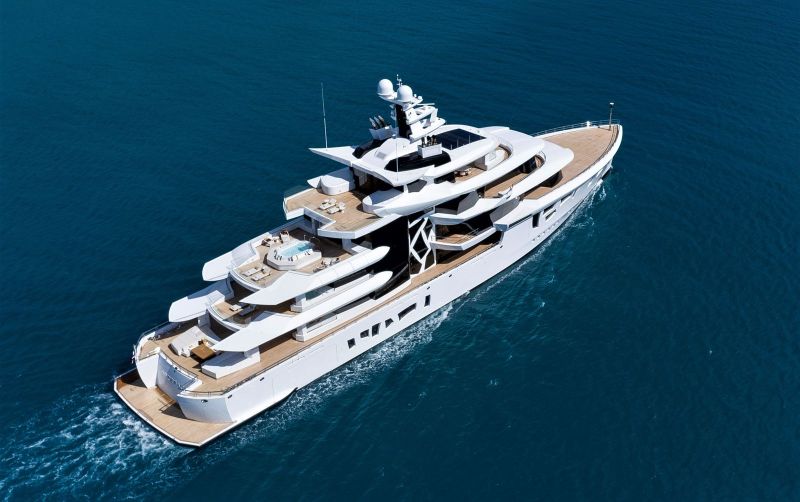 Image Source : nobiskrug.com
Among its most notable green credentials, M/Y ARTEFACT is one of the first hybrid electric superyachts to meet the International Maritime Organizations' Tier III emissions standards.
The new breed of hybrid superyachts features wastewater recycling systems, waste-to-heat recovery systems and on-deck solar panels. M/Y ARTEFACT, for example, has 23 square metres of solar panels mounted on its sundeck.
Today's hybrid yachts also seamlessly marry hi-tech sustainability with a focus on guest comfort. For example, the extensive and unique curved glass work on M/Y ARTEFACT provides enhanced viewing pleasure and marks its striking architectural design. Also, its master stateroom is situated in the aft rather than the bow, a unique aspect, and all guest entertainment areas are situated in low-acceleration zones.
Hybrid superyachts are being designed for a smoother ride. They also combine elegance with an environmentally sensitive experience. Some feature interiors are constructed of forest-certified wood and use a composite on the deck rather than classic teak. Other environmentally friendly details include depending on the owner's wishes, biodegradable golf balls that become fish food once they hit the ocean, onboard gardens for fresh organic produce, locally sourced foods, and the use of green-friendly items for everything from cleaning products to toiletries.
In all aspects, this new wave of hybrid electric superyachts are taking their role seriously in the silencing of the seas and the sustainability of ocean life, while affording guests a more comfortable and eco-conscious experience.
Article Submitted By Community Writer