Do your children have an interest in art and craft? If yes, then maybe it is the time to divert their interest in a greener direction. By helping your children design a robot from recycled materials you are doing them a great favor. This would not only unlock their creativity, in addition, it would also help them contribute towards the environment. Follow this creation with some simple facts about the environment and you can be certain that you are contributing towards raising an eco-conscious child. Here is a step by step guide on how to make a robot using things otherwise labeled as waste.
How to make a robot from recycled materials
40 Years ago, having a computer at home was just a Hollywood stuff, but now it is possible to see a robot in every home in near future. Here in this article, we guide you step by step on how to make your own robot from recycled materials , all from the material you can get from your junkyard.
Difficulty Level:
Moderately Challenging
Time Required:
40 to 60 minutes
Resources required
A Matchbox
Cardboard and wood pieces
Four batteries (pencil sized AA) 1.5 volts each
Rubber band, glue bottle
A Motor, Preferably a Vibrot one
LED lights
Hard copper or aluminum wires
Thin wires for connections
Soldering iron
A tiny switch
Bolts and screwdriver
Instructions
Creating the body
1. At very first we have to make the battery unit, for this you can fix batteries in the matchbox and connect the wires according to the polarity, considering the (-) and (+) terminals and flung the thin wires out. use the soldering iron to connect the wires firmly.
2. Now it's the time to make the robot body, you can use the cardboard pieces to make a chassis, use the glue or other adhesive to make the frames for the motor and the battery, and make a lightweight cover for the whole unit. Be watchful for the overall size, weight and balance of the whole unit.
3. Now you must pick up those thick wires and connect them to the motor, but not to the electric terminal, but to the functional points, making an arc with the rotating axis. These copper wires will be the legs of your dancing spider.
Making the robot function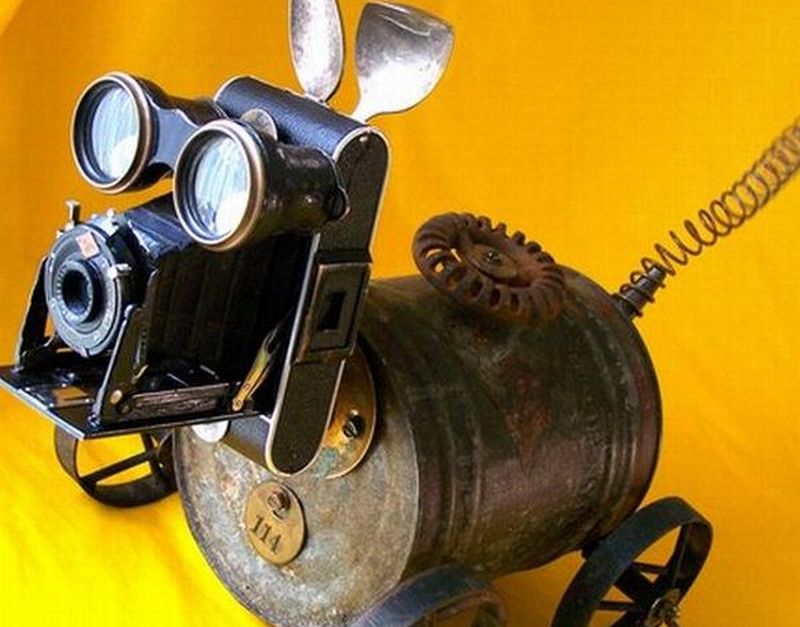 4. Connect the battery unit to the motor through the wires, once again carefully regarding the positive and negative terminals, now connect the switch, completing the circuit , and turn it on, you may now see the motor in action, and the thick wires you connected now shuffle with the movement of the motor.
5. Now turn the switch off, and try to reshape the thick copper wires to make some reasonable design for the robot leg, maybe it a square or a curling shape as your creativity demands, additionally you may cut them short enough for balance. If you feel like, you can rearrange the thick wires to where they connect with the motor, so the movements of the robot, would be more synchronized and visibly attractive.
6. When you are about satisfied with the functions, its time to put it all together. fix the battery unit and the motor with the copper wire "legs" to their frames, using the bolts and screwdriver. fit the switch and check the wires again by turning it on. Make holes or space in the base cardboard for the legs. finally fix the wires to the base so they do not make a mess later. Do not fix the cover now.
Final Touches
7. Heartbeat moment, its the first time you are going to see your robot in action, carefully put it on the table , balancing it on its legs, hold it while you turn the switch on, and then watch it dancing on the table before your eyes. Be careful for the robot, for it doesn't fall off the table, but more importantly for you, don't fall off your seat at surprise lol !
8. Finally place the LED light in parallel with the circuit, test again for the light and the motor to work simultaneously, now pick the cover and make windows on it for the LED and the switch, and then finally fix the cover with nuts and bolts, in a manner you can open it later for a battery change, or a minor repair. you can paint the cover to look it like a spider, or a bug of your choice. It's your own pet after all !
Frequently asked questions
The robot legs move when i hold it in hands, but not on the ground, why ?Try to use batteries with more voltage, alternatively you can lose more weight for the whole system.
How to make my spider lighter in weight ?
Obviously, dieting won't help.but yes, you can choose lighter material for the board and cover, such as aluminium foil for cover and plywood pieces for the board.
Quick tips
Try to keep the legs of robot as short as possible, this will make the movements more firm and reduce the torque so you can work with a less powerful motor and battery voltage.
Center of gravity, or simply speaking, the point of balance for the robot must be considered for the robot to move properly.
Things to watch out for

The robot is not so robust, and must be handled carefully.
Connecting the wires is tricky, you can ask some friend to do it for you if you stumble upon it.
Some examples of robots created from Junk
1. Eli the Elephant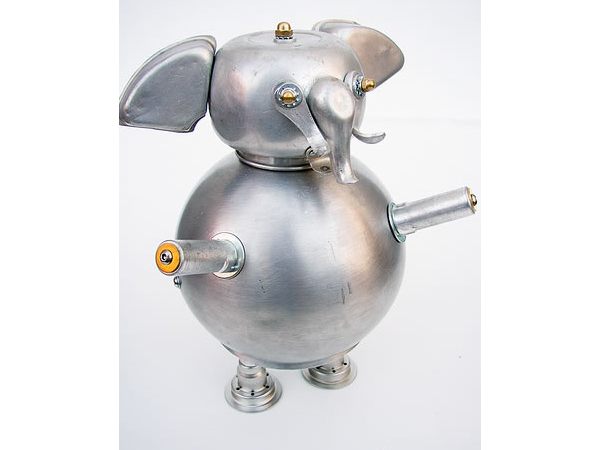 This robot made from recycled materials has a tea pothead. The ears are created from poached egg trays and bicycle breaks have been attached to form the tusks.
2. Stereo Dog and Ernestine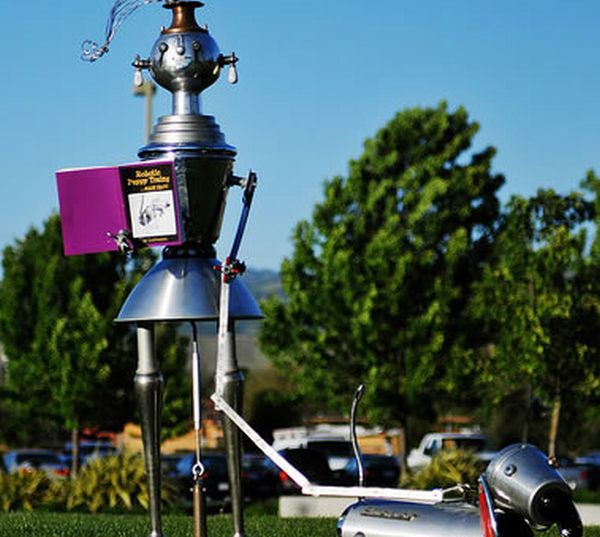 A beautiful creation with a variety of antiques and interesting odds and ends assembled together, Ernestine has been created with aluminum ground wire hair, an antique light fixture head, aluminum water carafes and antique faucet knobs, big coffee grounds basket, coffee urn, fender supports of Harley Davidson, industrial light reflectors, candle stick holders, turn buckles and go kart hubs. Her dog, meanwhile, has been made out of old stereo parts.
3. BR2D2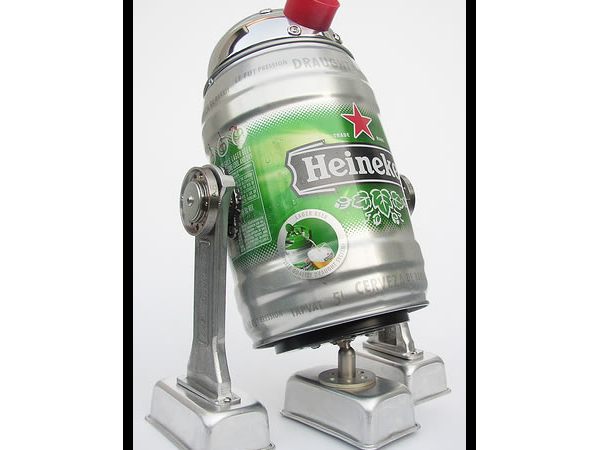 BR2D2 has a 4.7-kilo body with a chrome tractor dome, legs made of vintage shoe polisher, feet that are created with bread loaf pans and a beer can body.
4. Bull Dog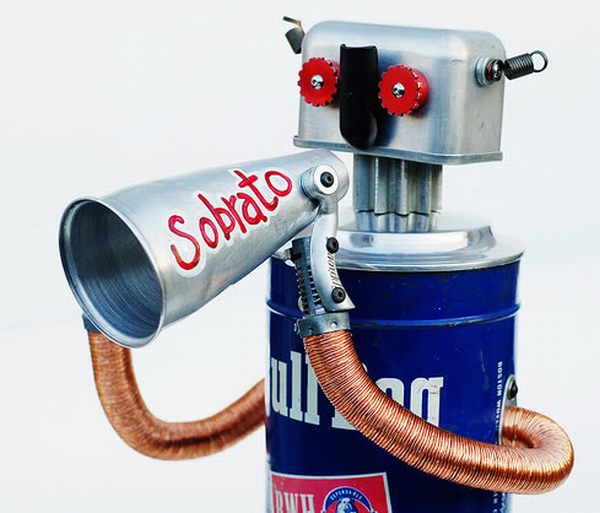 This robot made from recycled materials and an electrical tape can from the vintage days, Bull dog has a mini bread pan, BBQ hoses made of copper, coffee pot lids, fishing bait box, horn mutes in aluminum and an array of bolts and springs.
5. Sir Lube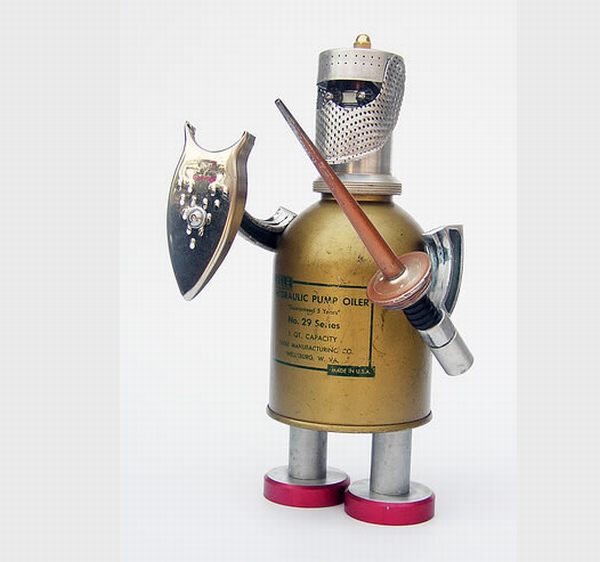 Made from the oil can lance and a vegetable grater as a shield, Sir Lube looks too good to be true. He comes complete with a helmet and a face guard. The glorified days of knights are back!
6. Paperbot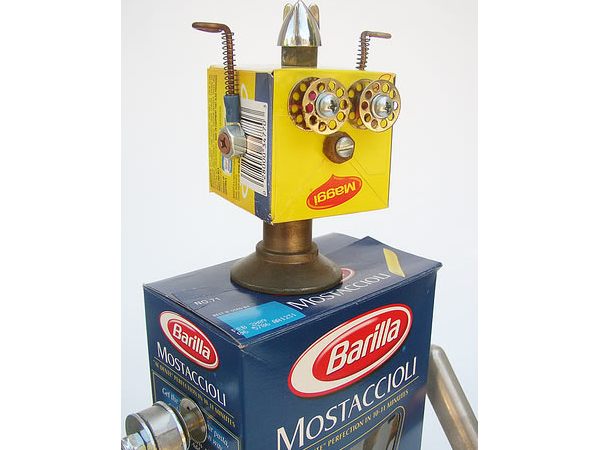 A recycled product made from paper cartons, this colorful robot looks every bit like a sophisticated bot who can even ape expressions like what is seen on his Maggie mouth. Complete the look with a few screws and bolts and he's ready for some action.
7. Sandy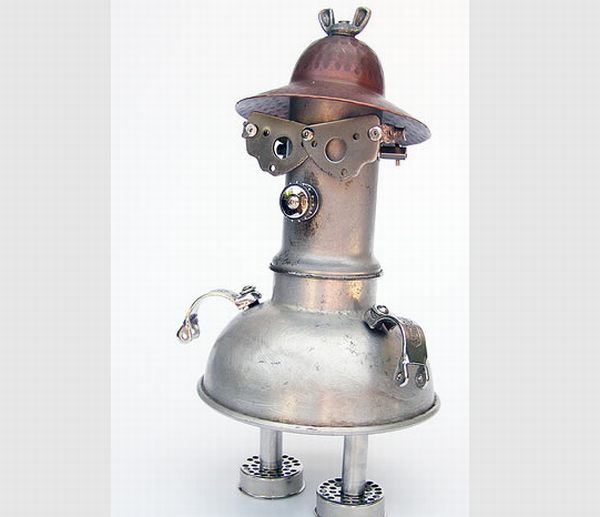 This aluminum robot made from recycled materials with a copper hat and sunglasses has enough protection from ultraviolet rays and so can dance and have fun in the sun for as long as he pleases with his handle shaped hands and filter legs.
8. Troubleshooter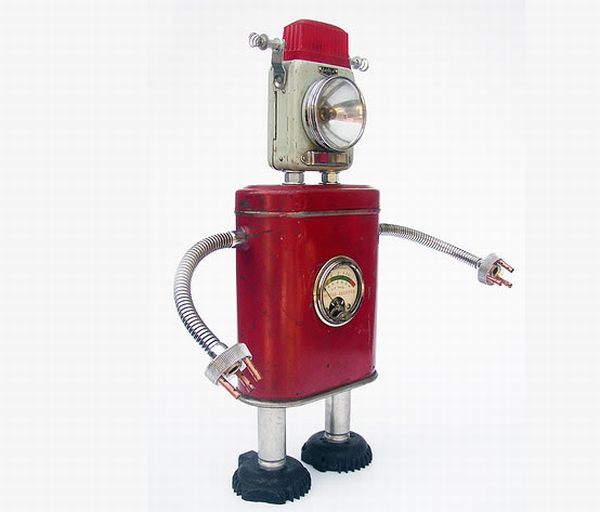 The red Troubleshooter robot is crafted from tow vintage flashlights and looks every bit the scout in action, ready to tackle emergencies. With a height of 15 inches and legs of steel, he also has a flexible hand to spring into action when duty calls.
9. Schauer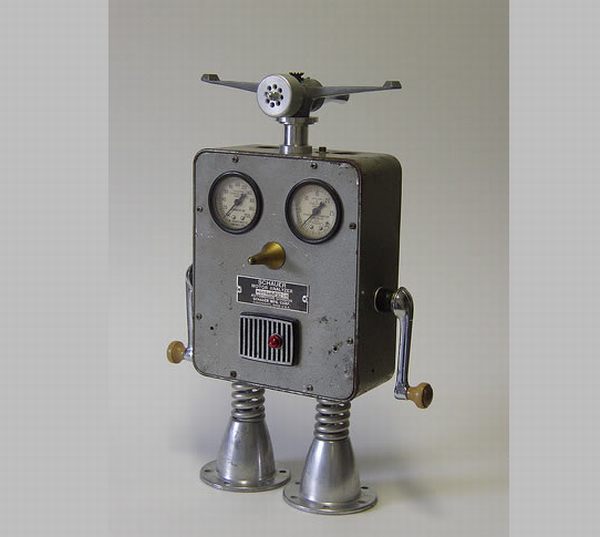 The radar headgear is what catches your attention first. Made of a lawn sprinkler and window cranks as arms, the body, which is a vintage motor analyzer case, comes complete with two wide open eyes, a brass nose, gritting teeth and sturdy legs. Perfect dimensions for a robot!
10. Buzz Robot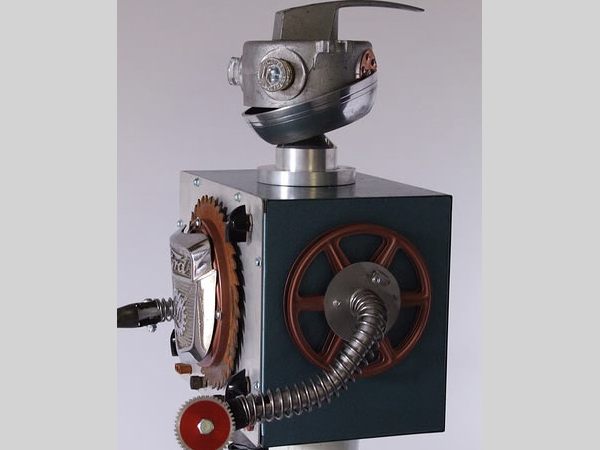 Buzz can cut you into pieces with its sharp edges! Assembled from vintage test boxes, an old emblem from a truck, a door handle, junction box made of aluminum, glass fuses, saw blade and valve knobs of movie reels, it stands perfectly poised.
11. Starflex
A truly efficient robot who can click a picture of you, pack food and drinks for a day out, provide a lighting solution if you are in the dark and even do a bit of ironing with his iron box legs if you're in need of removing some annoying creases from your clothes. He's got bicycle gears, toy irons, car handles, a lunch bucket, camera and a flashlight as his body parts.
12. Scotty Robo Dog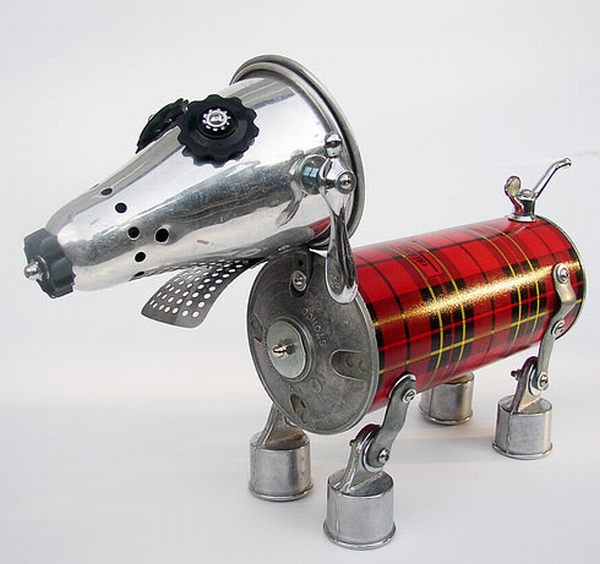 This futuristic looking robot dog has a classic red checkered body, faucet taps for the tail and a lamp shade body. Add to it the tiny details like the eyes, legs and mouth and you have the perfect Scotty Robo Dog which will be the envy of the town.
13. Cyclops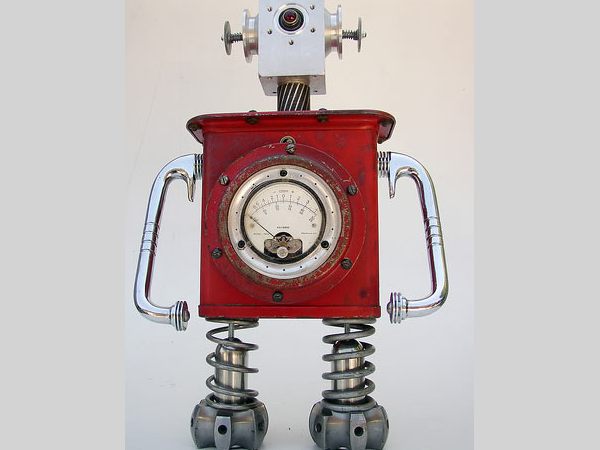 Created from a navy-powered lantern which is heavy duty stuff, the arms that are left akimbo are made of the handles of a wheel trailer of the 1950s. The springy legs are wound around stainless steel test tubes and gears from a car.
14. Mix Master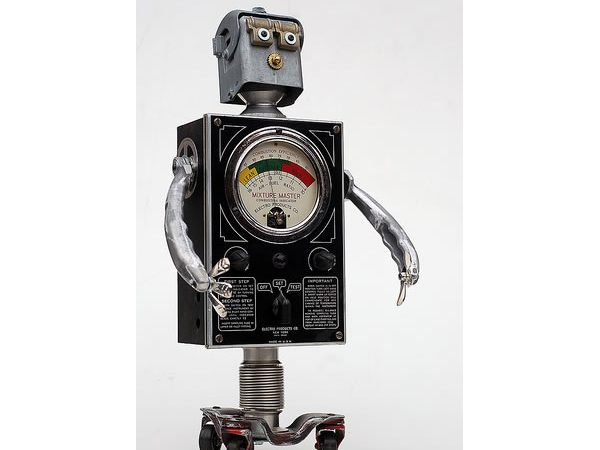 An old vintage automotive fuel ratio meter, Mix Master's body is a combination of an ice crusher, garden tools and bellows coupler all fixed on a furniture dolly which has three wheels. He looks every bit an accomplished robot with his sturdy body parts.
15. Ice-O-Matic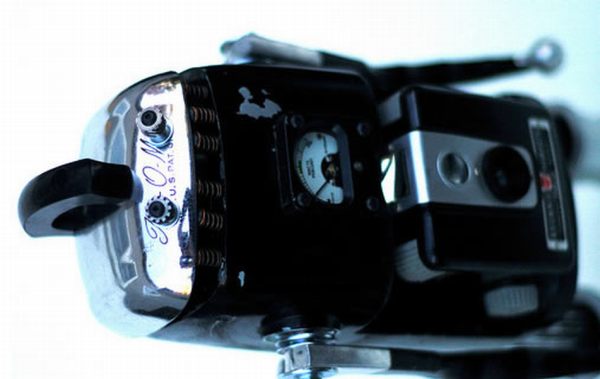 The Ice-O-Matic has an ice crusher as his body and watt gauge, coffee pot handles, control levers of a motorcycle, candle holder, aluminum stock and a Hawkeye camera to complete the look.
16. Walter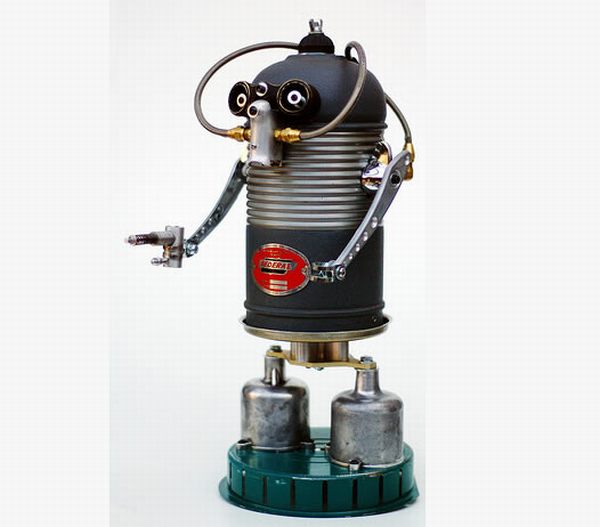 With a green base that comes straight off the motor of a vacuum cleaner, Walter has feet that are shaped from the covers of a carburetor and a cylindrical-shaped body which makes him look very much the conventional robot, ever ready for some action.
17. Chef Julia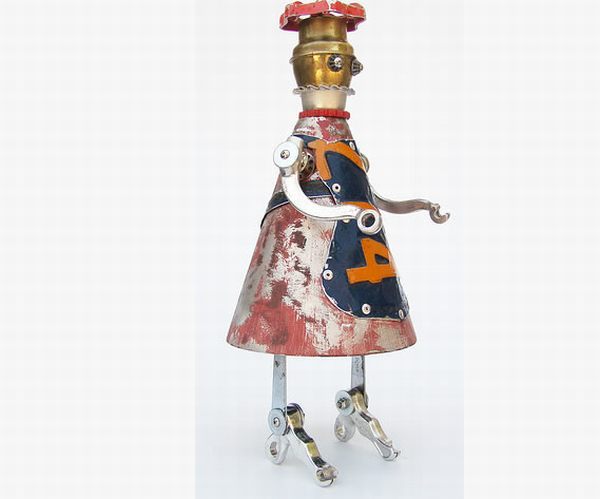 Scrap aluminum, arms made of bike brakes, antique lamp shade, light fixtures of the vintage era, car license plate and a host of bolts put together create Julia the chef who appears to be able to cook your favorite delicacies to perfection.
18. Pearl, the Glamour Robot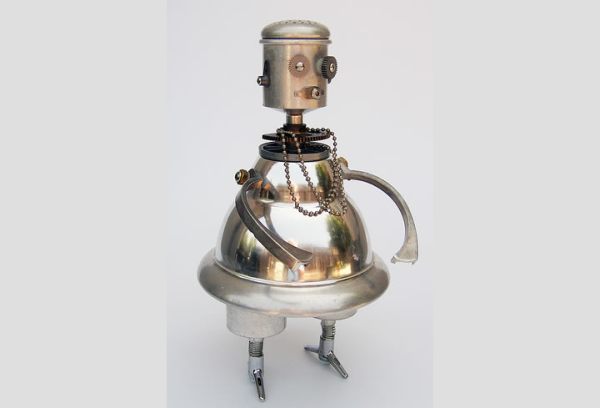 Pearl is the perfect example of all the glitz and glamor of high society with her shiny necklace, glittering aluminum gown, pointy stilettos and svelte arms. She is made from gas flex line hands, flashlight legs, rpm tester and a pressure regulator.
19. 1932 Boardtrack Racer
Here's a prototype of the most popular spectator sport that gripped America in the 1930s. Cheater brakes and valve spring compressor tools that are taken from a 10-speed old bike give the front look of the speeder bike. The saddle is shaped from a woman's bag while the brass tank was a vintage torch. The aluminum espresso maker and black color heat sink power complete the get up.
20. Robot Dog Yellowtail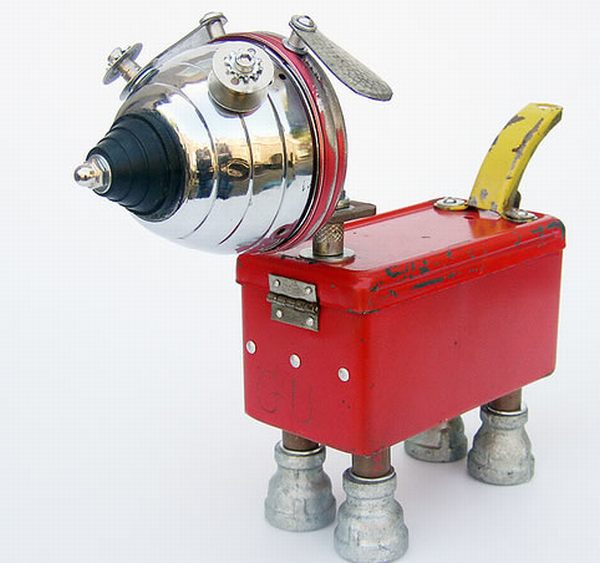 A camp flashlight has been shaped as the body of the Yellowtail and the eyes are bobbins of a sewing machine. With tong ears and a friendly yellow tail that wags to dance to your tunes, the Robot Dog Yellow tail is a cute little bot that melts your heart.