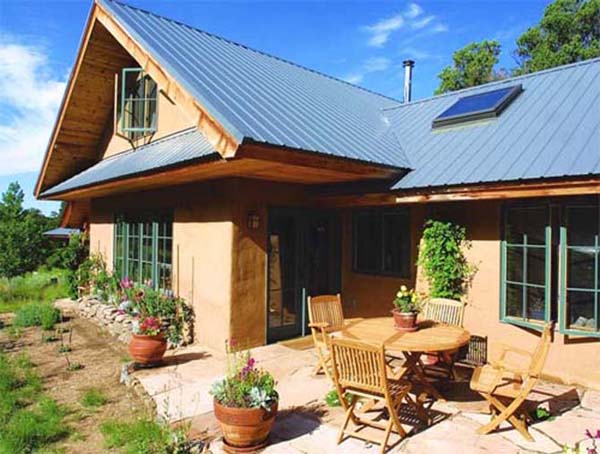 The home is a sacred haven that nurtures our body, intelligence and character. However, with the development, human beings have converted this nurturing place into a complex material structure with little regard for health or the environment. Going back to the basic format for sustainability the concerned and conscious individuals have come up with clay eco-houses that meets all modern needs yet conserve resources and reduce waste. Here noted below are ten such unique houses made with a desire to build a safe, hygienic and efficient homes.
1. Pun Pun Clay home Thailand:
About 50 km to the north of Chiang Mai Thailand is Pun-Pun that was set up in 2003 as an experiment for a more independent lifestyle. It is built more as a learning center to encourage organic farming and among other things, building clay homes in natural set ups with limited materials but unlimited scope for efficiency.
2. Straw clay Yurt at Granville, Vermont
This is a pair of straw huts built by integrating three conscious decisions to use local building materials, to stay away from fossil fuel and to avoid too much technological reliance. Heavily inspired by green builder Lanto Evans, this villa was built with earth, clay, sand, straw, and water to be naturally sustainable yet dependable. The wood framework of the house was covered with a thick layer of clay with straw combination to form a cob hut design fully functional and safely habitable.
3. The Hobbit house Farmstead:
This building on the south facing mountainside was made to promote agricultural lifestyle laced with a sustainable way of life. Without disturbing its forested neighborhood the 400 sq ft home was made with clay and straw supported with natural spring water and powered with solar energy. Made from perfectly natural substances it demonstrates an effortless home, built with limited capital investment yet sustain simple livelihood of farmers, workers or temporary employed individuals. The house was constructed over a two year period with tree trunks and bamboo forming the basic framework and then layered with clay and sand pressed adobe bricks.
4. Eco-nest in Riverstone Retreat Centre Ontario by Paula Baker-Laporte and Robert Laporte
Two naturally inclined house designers Robert Laporte and Paula Baker-Laporte got together to build this clay straw and timber home in Riverstone Retreat Centre, Ontario for Ernie and Edith Martin. They used natural building materials like timber for framing, straw-clay mixture for walls with earth plastering for a natural and non-toxic finish both inside and out.
5. Thom Wheelers' adobe house and studio in Taos, New Mexico
Made with locally-sourced materials Thom's amazing home looks like a castle with large entry halls, giant fire place, spacious porches and tall structures. It heavily relies on 3600 adobe bricks made with compressed straw and clay for its palatial presence and a sculptural look. Built in 1985 this two-storied home has used locally bought wood for its strong basic structure and has been designed to last 1,000 years.
6. The Lama Foundation
Built in the 1960s the Lama Foundation inspires people to advocate for green building as along with being environmentally friendly it also ensures a safe long lasting haven saving money and reducing wastes. Situated on the steep hillside of the Sangre de Cristo Mountains north of Taos the Lama Foundation was made of straw bales combined with clay. However on 5th May 1996 a fire destroyed the majority of the site, leaving rather miraculously the central dome and the old wooden octagonal kitchen. However the other Straw bale house at the Lama Foundation remains a major activity hub.
7. Musgum clay house
Musgum is an ethnic group in the north province of Cameroon. The Musgum clay house is fashioned from compressed sun-dried clay. Shaped like an overturned conical shell it spells simplicity and houses boundless functionality. The walls along with security promote green living and sustainability as its best.
8. Clay House of Gaza
As a protest against Israeli oppression, Palestinians living in the strip on Gaza has managed to make houses out of ingenuous materials of clay and rubble. The organizations like Palestinian Mercy Association for children are making homes, mosques and a center for disabled children out of clay, rubber , straw and rubble freely available around the area. The clay is got from construction sites and are mixed with water and straw to be cast into a mould to form the basic structure.
9. Panya Project in North Thailand
Built by an American Christian Shearer, the Panya project experiments with earthy solutions to current ecological disbalances by building homes with local ingredients and promoting a green lifestyle with sustainability and responsibility.
10. Clay House in Pereira:
The residential building near Pereira in Spain is structured of Guadua timber, then done up with clay. It is made by German carpenter Jörg Stamm