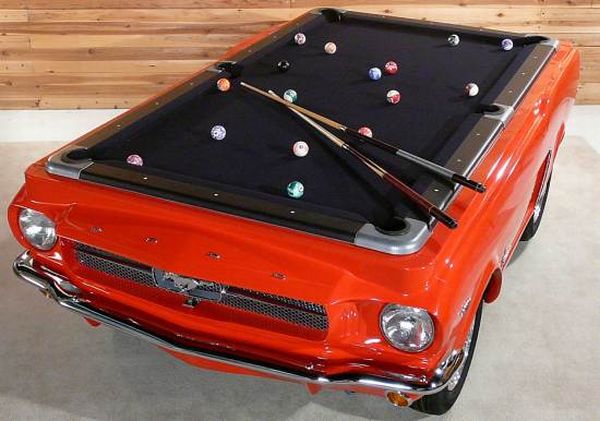 A car can be more than just a car for many of us. Studded with happy reminiscences and joyful experiences they form a part of our lives. Just the feel of it sometimes works like a time machine, sending us back to days when Grandpa used to take us on a ride in it. These cars might have retired and are lying around in some neglected corner for you to realize its capabilities and maneuver it back into your living room. Here are options that although bizarre and innovative, can help you save these antique beauties from neglect and despair into adorable memoirs. Apart from rescuing the environment from one of the most hazardous dumps of machine-garbage, such moves also establish your responsibility towards society and global health.
If you are an avid auto-buff and desire your home decor to match your personality, here are a few pick-ups that not only will retrieve clunker-wastes from adding to the already overwhelming junkyards of rejected cars, bikes, trucks, and other heavy vehicles. Designed with passion and desire, when these vehicles make an entry back into our lives, it's more an achievement for a greater cause. Celebrating this accountability we look into a few such adaptations that have entered our lives.
1. Citroen DS Couch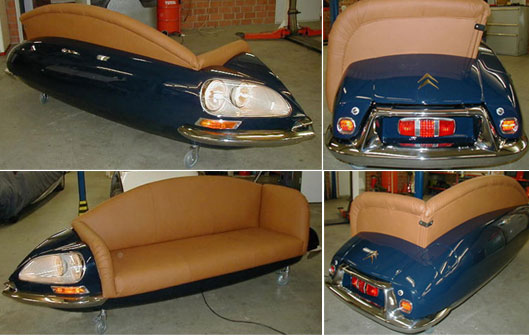 Instead of leaving a junk-car sitting in your backyard, you can get it converted into an swanky aesthetic accessory to welcome your guests and help them relax. Here is one exclusive couch made from a Citroen DS. This couch feels much more comfortable whenever you remember its value, in terms of sustainability and the auto-junk saved from corrupting environmental situation. The Citroen DS customized car couch, has been designed not only to express the user's passion for automobile but also will add a racy dimension to your otherwise plain entertaining zone.
2. Craftline Gmbh Auto Furniture


Sometimes through careful salvage and factory reconditioning, you can discover ways of recycling and re-manufacturing used auto parts and turn them out into quite an eye catching piece of furniture or accessory. Craftline Gmbh Auto Furniture is one such design studio that can breathe life back to rare unusable clunker and reinvent it a la mode. For example, the illustrated Car Bar designed by Craftline Gmbh, has been remodeled out of a Mazda RX-8. Encapsulated with a 100 Watt Sony music system, this modified room accessory can turn into a vivacious eye candy and center of activity for your next home-party.
3. Convertible-car Coffee Table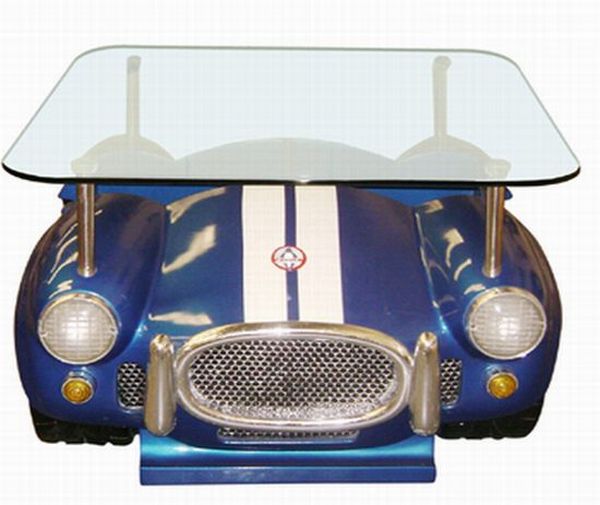 The Shelby Cobra coffee table priced at $1,124.24 comes with detailed re-worked package of headlights, grille, cobra emblem, hood along with a glass shelf from a Cobra. The hand-crafted customized game room adornment can turn any area into a happening zone and set the pulse racing of the auto nerds. The table is 36 inch long, 32 inches wide and23 inches high and thus, can fit into any home bar with comfortable ease.
4. Car Furniture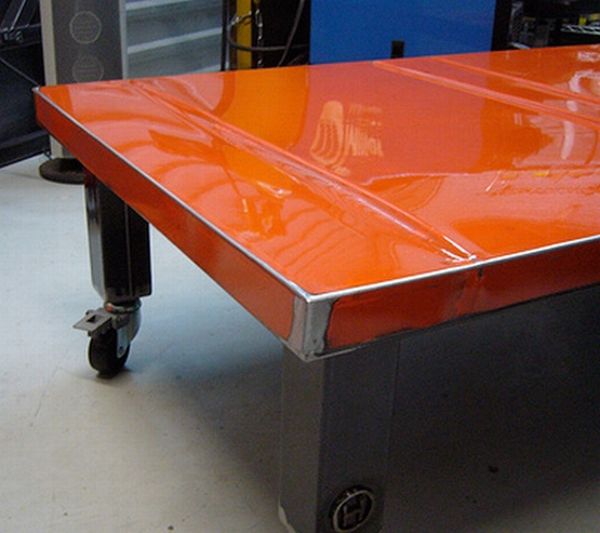 Auto designer Joel Hester has salvaged car carcasses and turned them into visually appealing furniture items that not only spells creative magic but also protects the ecology by saving energy and junk-landfill. Welder by profession, Hester creates furniture from rejected car parts reclaimed from junkyards. This red table illustrated above, was structured from the top of a Chevy truck. His design studio known as Weld House based in Dallas, Texas is known for its detailed craftsmanship in recreating creative and practical use for rejected machinery.
5. Mini Cooper Chair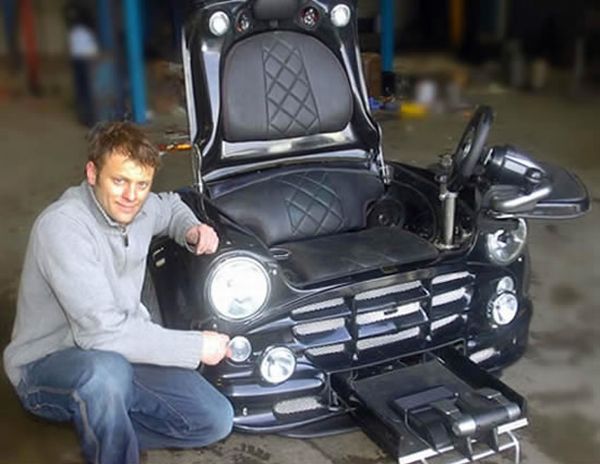 Lower Hopton, West Yorkshire based Auto-Designer David Gawthorpe's Mini Cooper gaming chair is a recycled use for a chair off a Mini Cooper. To hold on to its importance and precedence it has been highlighted into a gaming zone. You can lift its bonnet to peek into its gaming arena well decorated with an Xbox, a 500-watt amplifier, strobe and laser lights, stereo sound, and also houses a mini-fridge at its rear and a remote-controlled smoke machine. . The Mini Cooper chair is dolled up in a high glossy black finish with gleaming chrome parts to safeguard its classic look.
6. GTB Chair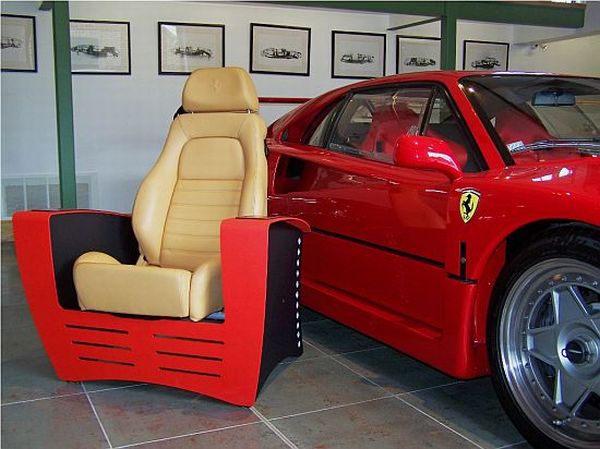 This Ferrari GTB inspired ergonomic Chair guarantees comfort with added auto-furor. Carved out of Dave Clark Design studio, these chairs are available from $950 onward. It comes in a wide range of colors of red, black, yellow with silver powder-coated finishes. It has been made from 4 mm aluminum side panels and rear tubes.
7. Mustang Pool Table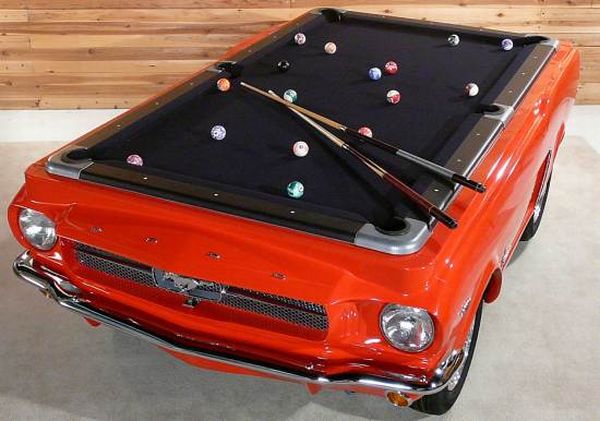 The journey from a Mustang to an unyielding wooden pool table frame was not easy. Looked close through junk-enclosures for the perfect foundation and paired with creative designing and ingenuity, the pool table brings alive your sporty style with appropriate flair. It is built from a toughened fiberglass carcass cast from a real 1965 classic Ford Mustang. The pool-table is carved from a dense wooden framework with hard-edged levelers and a 4 x 8 inch game top. The body has been done up in authentic working lights, bumpers, hardware and real alloy rims and matching tires to create the perfect atmosphere. Priced at $14,995, this table is a sure winner for theme designing or as gifts to Mustang fanatics.
8. Seat 600 Sofa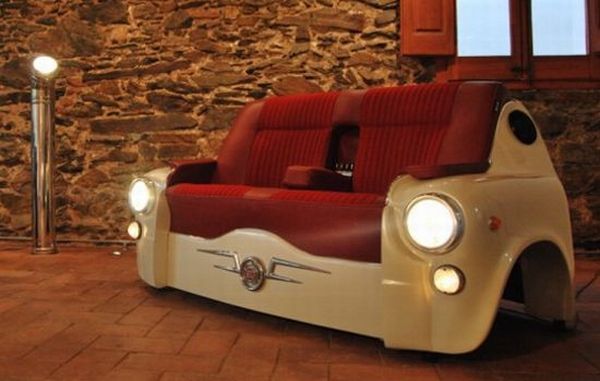 Designed by Spanish Bel & Bel design studio, the SEAT 600 Sofa is unique in its design and functionality. Geared up from the remains of classic Spanish cars, the frame and the couch are made from sustainable materials and the backside has been converted into a mini bar. It also can be over-timed as your music station with its 160-watt amp embedded speakers and a jack for your iPod. Nevertheless, the sofa also has headlamps in working condition that too with directional signals.
9. VW Beetle Sofa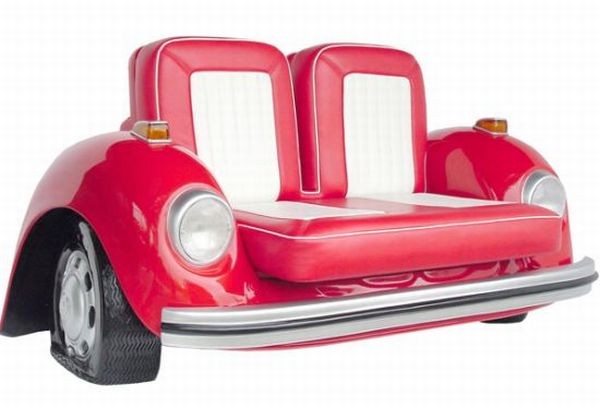 This Volkswagen themed sofa is an ideal option for Beetle fans. The padded Faux-leather seat with resin cast body establishes your enthusiasm for cars as well as the sensitivity for futuristic application. Priced at £1550, this sofa takes on the complete facade of the real thing and welcomes your guest to a cozy back seat with length of 1170mm, 1970 mm wide and weighing 121 kg.
10. Jake Chop Shop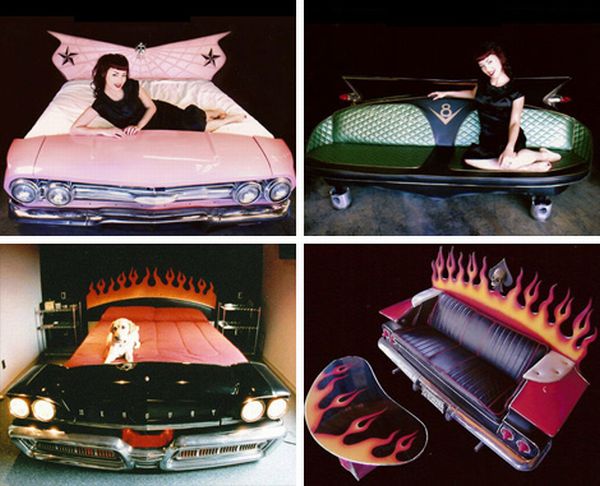 If you want to look for authentic hot rod furniture, Jake Chop Shop is the perfect destination. Deep-rooted in clunker reinvention their retro-auto furniture collection of sofas, beds, tables, chairs and others, is an amalgamation of style, comfort and practicality. They have re-constructed a 1960's Chevy into a pink diva-bed with spacious hidden compartments and working headlamps. There are further bizarre experimental furniture strewn all over the shop for you to discover.