Green houses are in. People not only want to to make their houses carbon-positive, but they also want them to consist of eco-friendly or recycled building materials.  In a world that is buckling under environmental degradation, sustainability might be our last hope. Nevertheless, it isn't as if we are doing sacrifice by opting for such houses. When you look at how elegant these eco-friendly homes can be, you know that it is just a choice, and that too a good one.
The growing concern to safeguard the environment from degradation has prompted many of us to adopt an eco-friendly way of living. The eco-conscious individuals are trying hard to send the message that it is important to go green to keep the environment neat and clean. These days many eco-friendly homes have come up across the world. These homes are made using recycled materials. Here is a list of 11 eco-friendly homes made from recycled materials:
1. Shipping container house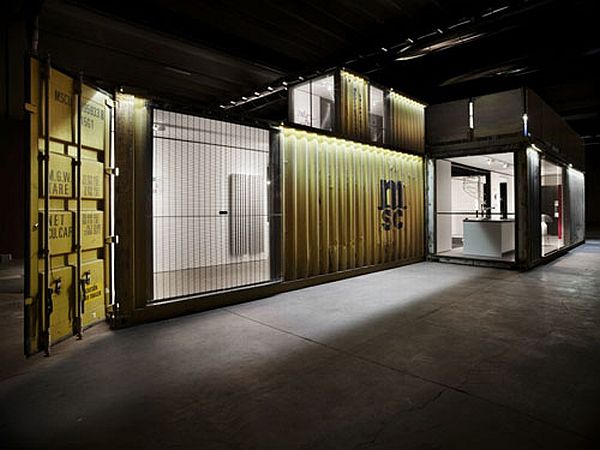 Green Design house is an eco-friendly home built using a shipping container. This environmentally sustainable house is built using the discarded shipping container. This house was built as a part of Green Frame House project conceived by Art AstoriDePontiAssociati Containers. The concept was presented in 2010 at Abitare il Tempo in Verona. The total area of this two-floor house is 145 sqm. The house is built using six shipping containers and it has terrace and patio as well. This house has real kitchen.
2. Little Trump recycled aircraft house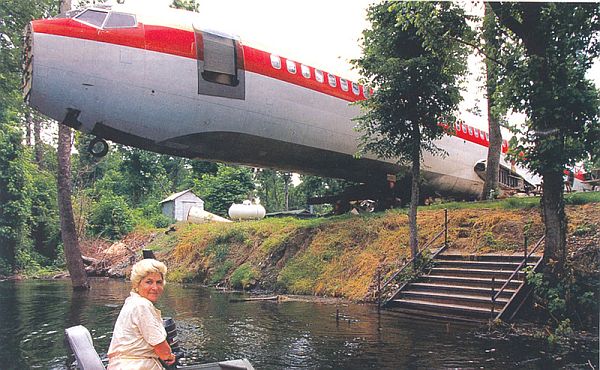 This eco-friendly house is owned by Jo Ann Ussery. The Little Trump is built using the useless parts of a Continental Airline 727. Ussery decided to build this house after a storm destroyed her home. The lady has fixed the 18 inches long tail of this aircraft using concrete to make the house stable. The house looks attractive and unique. The cabin of this house is 11 foot wide. The cabin is spacious because Ussery has removed all the seats.
3. Big Dig house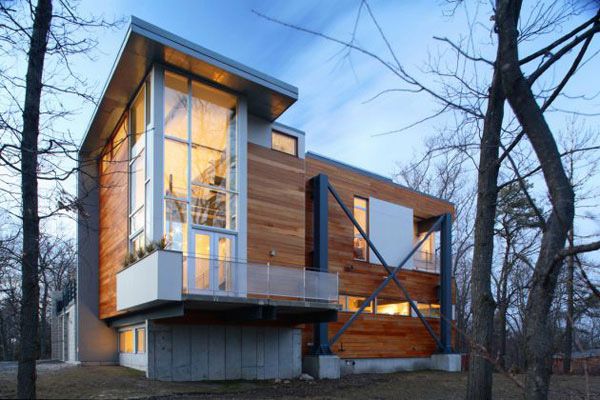 Built by Boston-based firm Big Dig, this eco-friendly house is constructed using around 600,000lbs of recycled materials. Engineer Paul Pedini worked together with Massachusetts-based designer John Hong to build this house. Per square foot price of this house is $150 per square foot. The materials used in the house are heavy but this house is very airy. This house has a roof garden designed by Hong.
4. Recycled beer bottles house
Located in the Argentinean town of Quilmes, the recycled beer bottle house is the brainchild of Tito Ingenieri. Tito has used 6 million empty beer bottles to build this house, which is completely eco-friendly and inexpensive as well. Tito has used the bottles which he collected from the town to make this house. He also received bottles from the people of the town. Tito spent nearly 19 years to complete the construction of his dream home. You can also checkout this how to ship wine when you're planning to deliver alcoholic beverages.
5. Infiniski manifesto house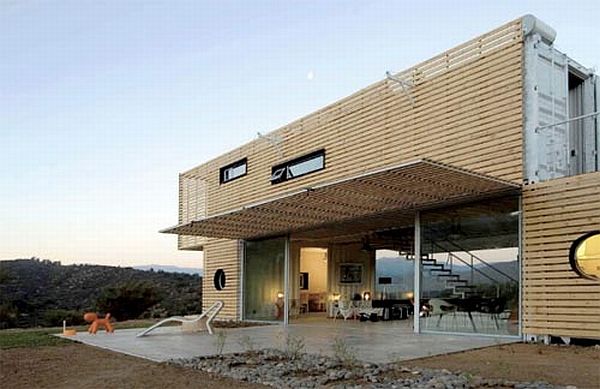 Designed by James & Mau Architecture, the Infiniski Manifesto House is an eco-friendly house located in Curacavi, Chile. This house is made of recycled materials. Two 40-foot containers are used together with two 20-foot containers to build this house, which is well-lighted and airy. The first floor of the house has kitchen and bathroom, while the upper floor has three bedrooms and a bathroom. This house features geothermal heat pumps for cooling and heating.
6. Beverly Skyline House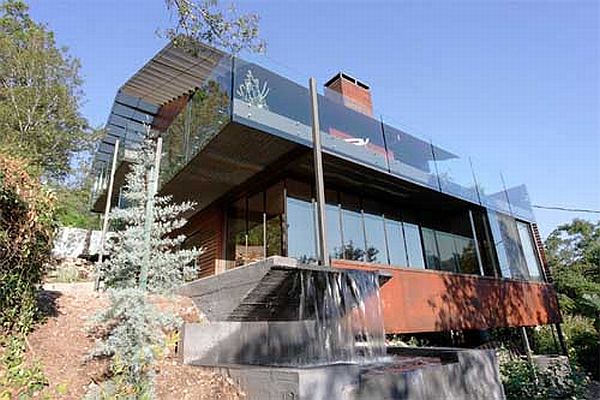 This eco-friendly house is created by Bercy Chen Studio LLP. The interior and exterior of this house has a superb design and a modern feel. This house was completed in 2006. This house with glass railings is made of using reused and recycled materials. The front of this house is made of wood. The Beverly Skyline House has rainwater harvesting system.
7. Minimalist prefab house design made from recycled material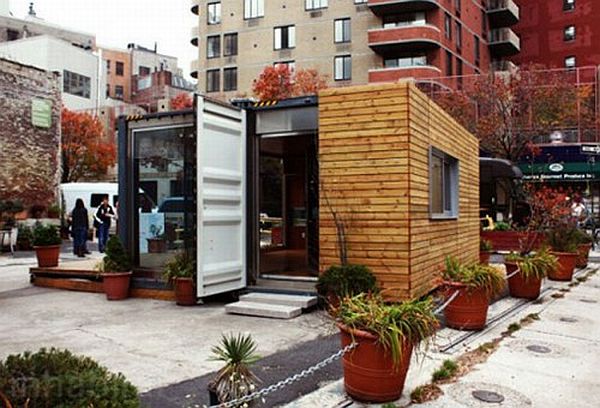 This eco-friendly house is made of recycled materials. The house has an attractive and pleasing design. The interior of the house well decorated. This completely green home is the brainchild of designer Michael de Jong. He claims that this house will attract many buyers because it is cheaper than the conventional homes but it has a nice look. Jong has also used rejected shipping containers to build the structure of this house.
8. Plastic bottle house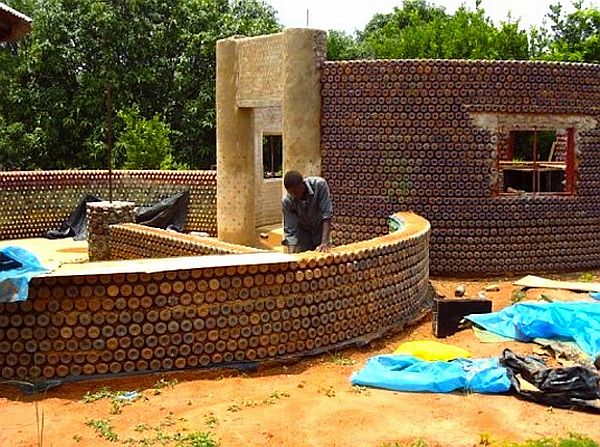 Nigeria-based NGO Development Association for Renewable Energies (DARE) has designed and built the plastic bottle house using recycled plastic bottles. DARE built this two-bedroom house in Kaduna. This home is fire and bulletproof. It is earthquake resistant as well. The internal temperature of this house remains around 64 degrees Fahrenheit. The plastic bottles used in this house were filled with sand and then string was used to link them together.
9. Recycled paper house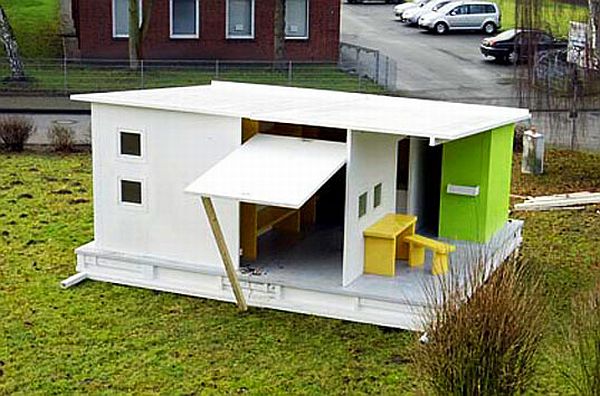 The Wall AG has created an eco-friendly house using recycled paper. The house named Universal World House has been created using less than $5000. This lightweight house is well-insulated and it is strong and sturdy. This house can prove a useful asset for people living disaster-prone regions. Gerd Niemöller deserves credit for building the Universal World House.
10. Recycled eco house by Chilean architects
Designed by Chilean firm Infiniski, the Manifesto House is an eco-friendly house located in Chile. Premade materials are used to build this house. This eco-home was built after spending 79,000€. The exterior of the home is covered by recycled wooden pallets. This house has spacious bedrooms and bathroom.
11. Plastic Bottle Homes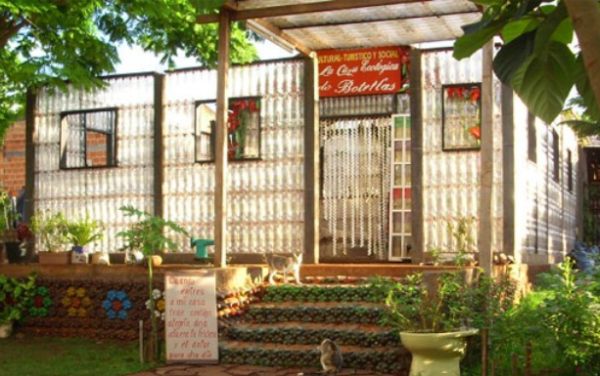 Think about a home made with plastic bottles. These are the same bottles which we use regularly and throw into the trash without giving a second thought about how effectively these could be recycled and used in a better way. There is no limit to creativity and that's what the architects of the bottle house have proved. They have used approximately 1300 wine and milk containers in the roof, 140 disk boxes in doors and windows and Pet plastic bottles for beds and couches. It is remarkably a unique design and an example productivity in the very true sense.
12. Green Home made by Recycled Materials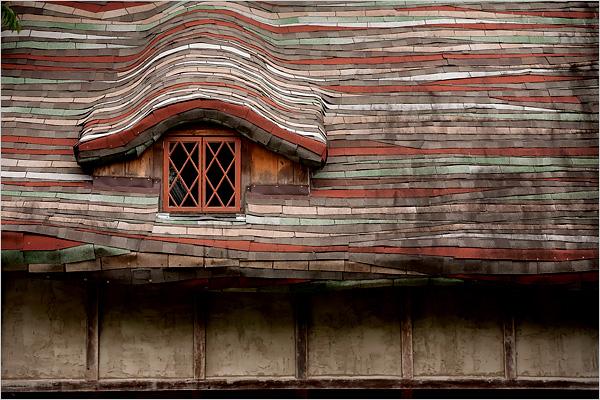 One of the finest examples where you can find anything and everything that is usually regarded as waste can be used creatively. Made with completely recycled materials, this house is a beautiful blend of aesthetics and economics. Materials of our daily use are used which are inexpensive and at the same time beautiful enough to create a perfect ambiance at your dwelling. Glass pieces, broken iron rods and other things find themselves in perfect places inside and outside this unique house.
13. Swiss estate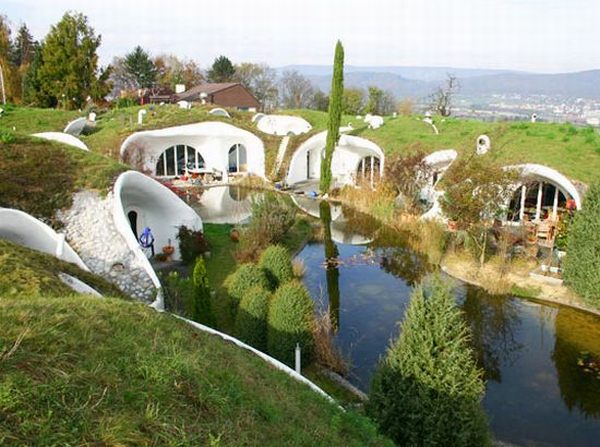 Not one single but a cluster of houses covered with lush green roofs, and made with recycled materials which encircles a small beautiful lake- a house to envy in all possible ways. Situated in the Swiss highlands, these houses are naturally ventilated and are resistant to rain, low temperature and other natural phenomena which saves lot of energy and resources. Despite of having green roof, the perfect design enables the house to get enough sunlight through the day and at the same time the night time is breezy enough to give a comfortable stay. Made with completely recycled materials, a dwelling to droll on anytime.
14. Eco home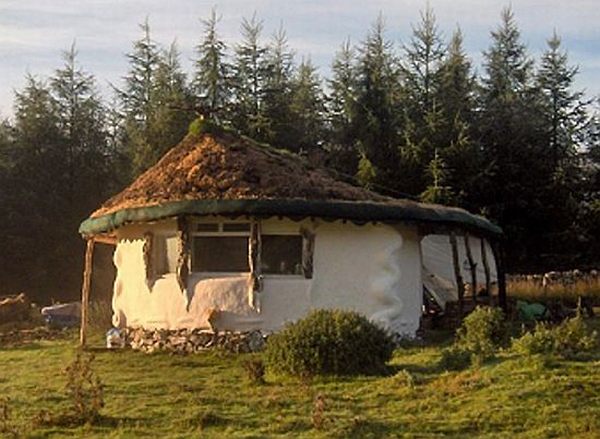 Conceived and completed in just 10 months , this unique eco house is the brain child of an engineer called Steve James. Made with completely eco-friendly and recycled materials, this house is a perfect example of DIY housing along with sustainability and eco-friendly approach. The straw bales are used to make the walls erect and strong. And the roofs are decorated with turf surface with fruits and flowers growing on it. The house is fixed with rainwater drainage and collection along with a composting toilet.The kitchen is also fitted with wood burning stove. Well, do we need anything more natural?
15. Nautilus Earthship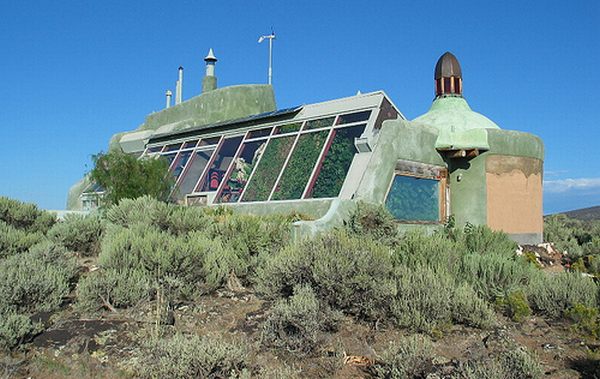 Based on the Fibonacci sequence this is the most unique house one must have come across. Named as the The Nautilus Earthship, is the most exclusive housing one can look for. Made with predominantly secondary and recycled objects, this house vouches to be a fairytale on one hand and a strange thing on the other. Th Earthship can be taken and placed anyplace around the globe as it has the capacity to adapt to any sort of climatic change.
At the same time, this house collects the rain water that can be used 4 times. The energy of this house is powered by solar panels and wind turbines. And the waste product is recycled and reused for the production of food. The architects of Earthship call it " direct living". Even after so many essential ingredients, this house provides one of the most inexpensive living. Made with cheap recycled goods and completely in rhythm with the nature, the Earthship is close to the earth in every sense.