All organisms produce trash. However, this trash is a part of the food web. It decomposes quickly and provides food to many organisms. Human trash, on the other hand, consists of materials that do not decompose easily. These, when accumulating in the landfill, can create hazardous chemicals. Furthermore, these chemicals also pollute air, soil, and water resources. However, that is not all. As we are bringing forth new technological innovations, we are also bringing more e-waste. With new inventions every passing day, more waste will be collected into our waste streams and landfills contaminating the environment and the wildlife as well. This is a terrifying situation. Making robots from recycled materials is just one of the solutions to it.
11 – Robots made from recycled materials
To get rid of the junk problem, many designers are attempting to reuse these scrap electronic components in their artwork. The pieces created by them are so magnificent and extraordinary that a person who adores art would definitely love to have it in his house. Here is a description of the robots made from recycled materials by some eco-artists.
1. Computer parts robot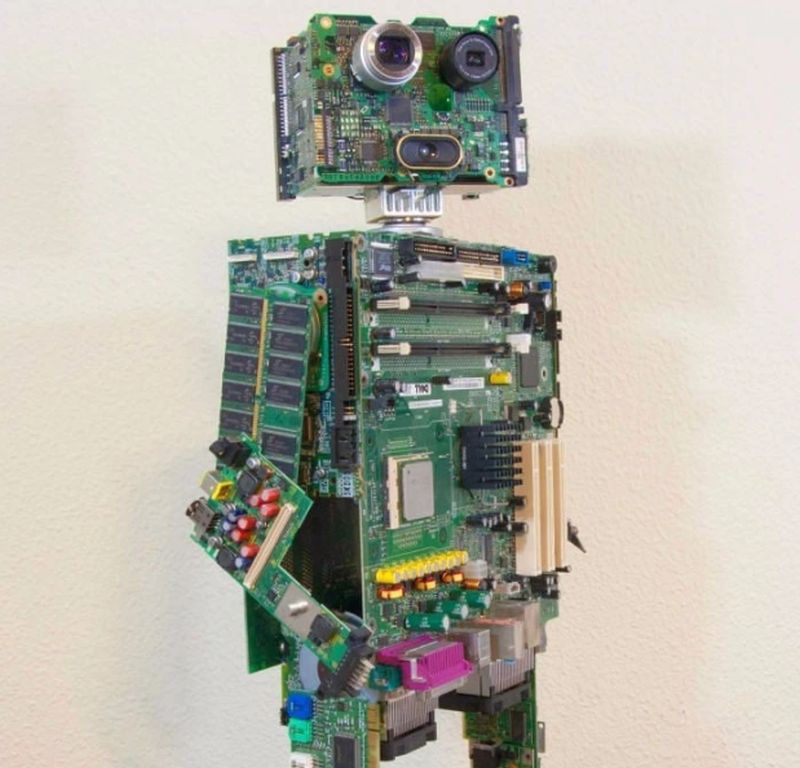 Eco-artist Mike Schropp took various discarded parts of a computer that included wires, circuit boards, memory chips, CPU's, floppy drives, CD-drives, etc to create beautiful life-like robotic sculpture. The e-waste, which would otherwise have been thrown away and added to pollute the environment, was reused to create this beautiful figure.
The robotic structure is an artifact made out of junk which has a new life now in homes, where it can be kept as an item of decor. With all those electronic junk, it also requires a fair amount of patience and hard work for creating this marvelous piece of modern art.
2. Automated junk robot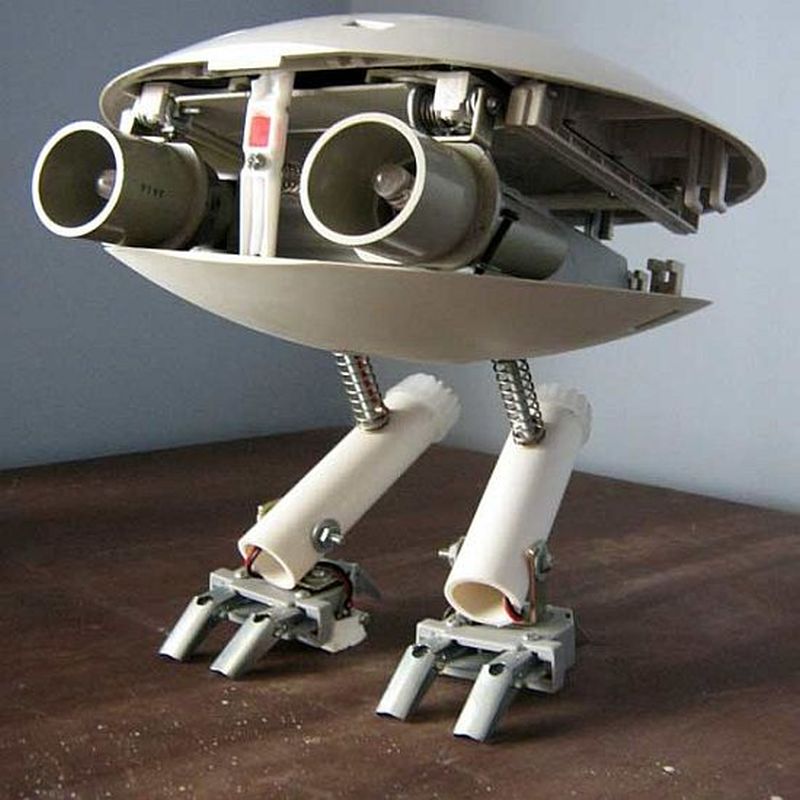 Eco-artist Mario Caicedo based in Columbia has implied his engineering skill on trash like old food processors, used computer parts, old mobile phones, broken wiper blades etc. and converted them into automated robotic sculptures. With kinetic body parts and sparkling light eyes, the cute robot will definitely amaze young children.
3. Great robotic elephant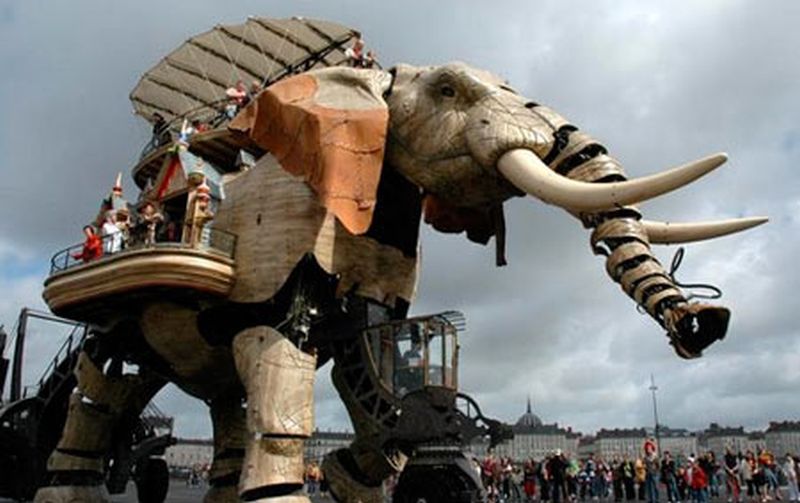 Image Source : mbandf.com
The Great elephant is a robotic sculpture was designed by London based artist Francois Delaroziere. He made use of junk and recycled stuff to create this 12-meter high and 8 meters wide elephant sculpture that weighs 45 tons. This mobile sculpture made use of hydraulic levers and buttons. Furthermore, it is controlled by twenty-two people to move in London streets, and sprays water from his mechanical trunk just like a real elephant.
4. Robotic elephant made from junk
China based Kong, a 58 year old waste collector, has created a robotic non-ruminant hoofed mammal, an elephant to say, out of the rubbish that he collected for 6 months. The robotic structure is 1.5 meters high and 2 meters long. It is mobile, with legs and wheels built of steel tubes and powered by a second hand motorbike engine. His creation is not yet fully complete and he looks forward for further improvements.
5. Benette robot works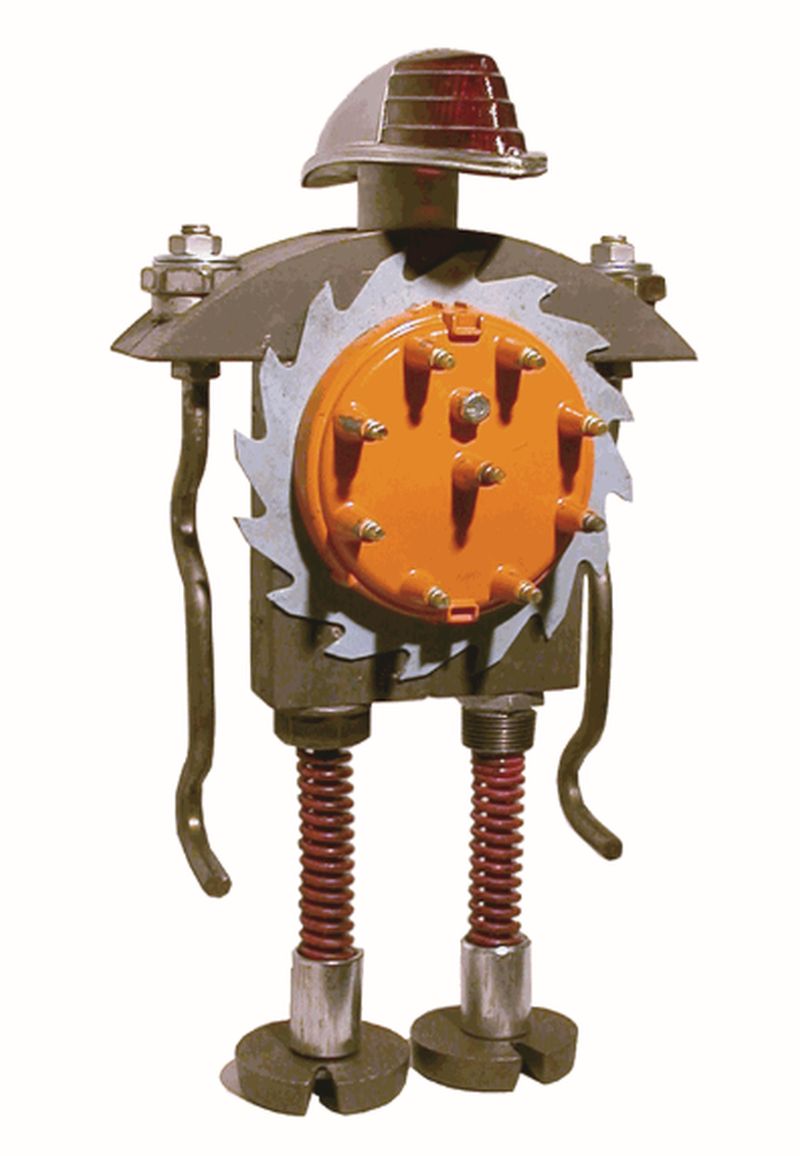 Image Source : sep.yimg.com
Gordon Bennett of Brooklyn, New York has made a collection of toy robots. He made these sculptures out of trash, materials from basements and garage sales and recycled objects like garbage dumps etc. These materials includes glass, rubber, paint, Bakelite, metal, wood, etc.
6. Japanese fish robots
Japan based Masamichi Hayashi, a marine ecologist and educator, has assembled recycled items like raincoats, windscreen wipers etc. to create a set of vital robots. He has used his robotic skills and his knowledge regarding aquatic life to create these fish robots. These remote control operated motored robotic fishes are created to enhance the knowledge of school kids about aquatic creatures.
7. Transformers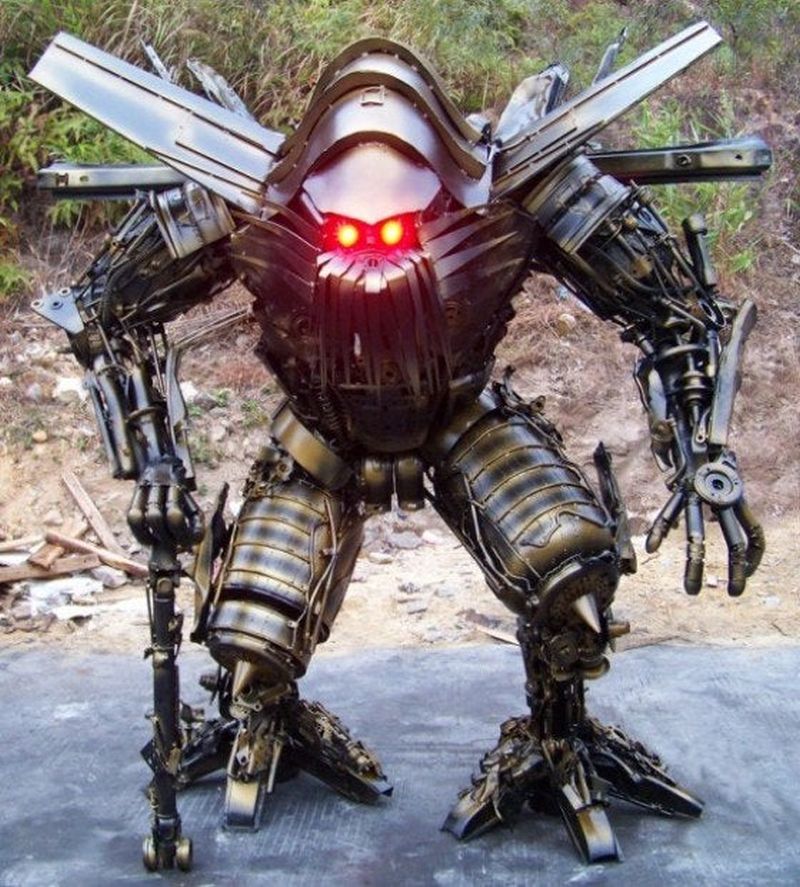 Image Source : external-preview.redd.it
Chinese artist, Yang Junlin, has a troupe of robots all created from thrown away materials. He displays and sells his sculptures in his factory, "Legend of Irons". He has blown a new life in the junk like old and dumped metal pieces, unwanted auto parts, etc to make his transformer robots.
8. Steampunk Robocop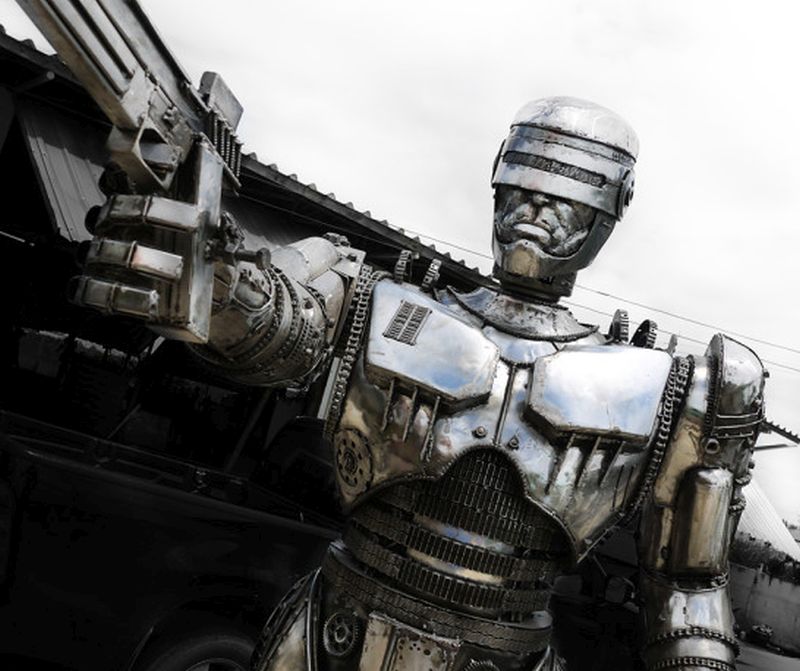 Kreatworks based in Bangkok, Thailand, has created this steampunk Robocop from recycled metal parts, and used old machinery parts. The sculpture was quoted with lacquer. This gives it a shiny appearance and makes it rust-free. The artist takes inspiration from Robocop movies to create this 300kg sculpture.
9. WEEE Man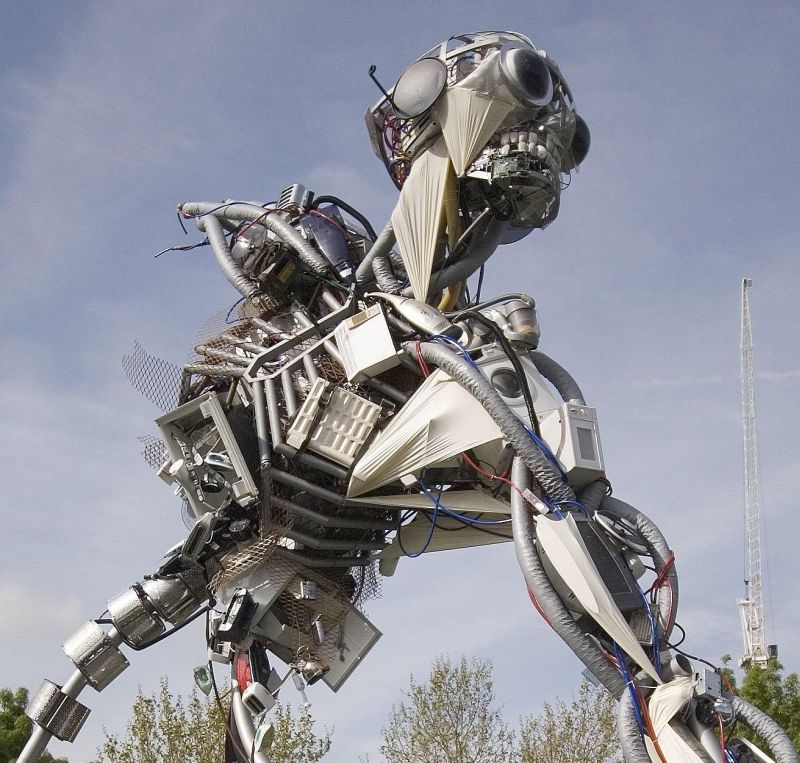 Image Source : sculptors.org.uk
Designed by Paul Bonomini, the Royal Society for the Encouragement of Arts, Manufactures, and Commerce, created this 23ft high robotic sculpture from discarded electrical and electronic equipments. Fridges, vacuum cleaners, mobile phones, sandwich toasters compile the robot parts and therefore it weighs 3.3 tonnes. This sculpture stands at the city hall that makes people aware about the electronic waste they dump during their life.
10. Wall-E robot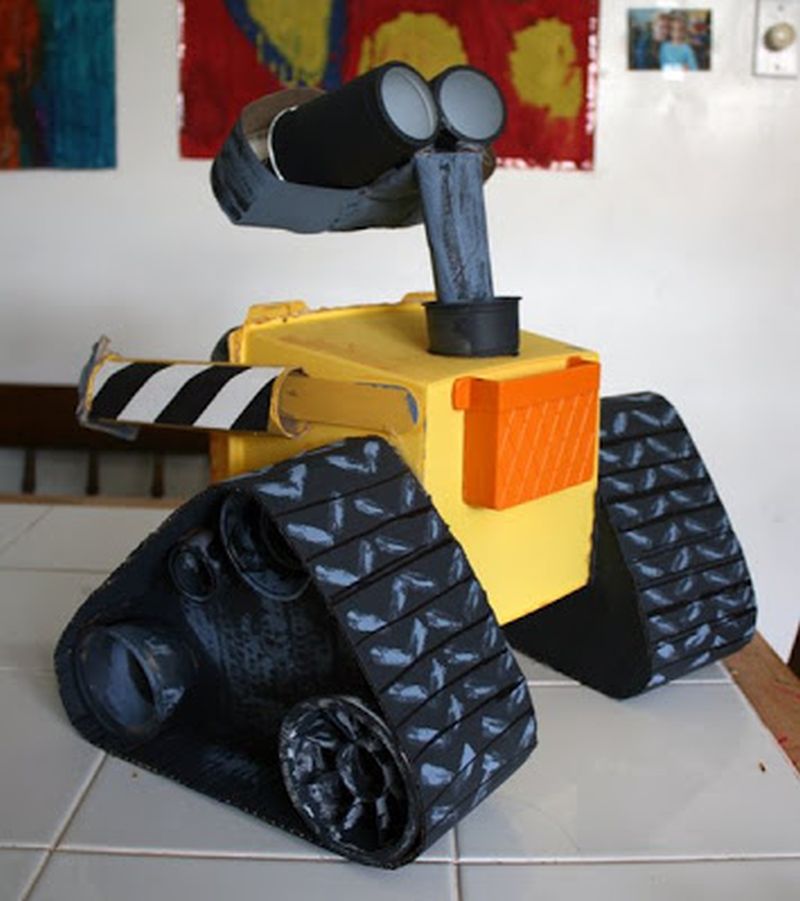 Image Source : 3.bp.blogspot.com
The Wall-E robot has been made by Filth Wizardry by making use of kitchen trash. Furthermore, he made use of empty yogurt cups, plastic drink holder, cereal boxes, a bucket empty tape dispensers, wrapping paper tubes to create this cute, eco-friendly robotic sculpture. The little ones would love to play with this green toy.
11. Robot out of aluminum waste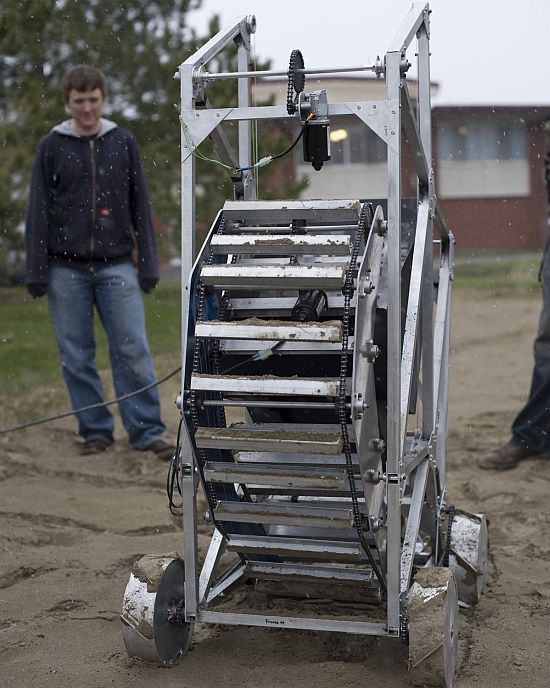 Complying with NASA's guidelines on creating a dirt-digging robot for its first Regolith Excavator Student Competition, an eight-member team from Montana State University has constructed a five-foot, 120-pound robot. Mostly made with recycled aluminum, the mechanical excavator, dubbed as Montana Mule, is hoped to dig the most dirt to win $5,000 award for the students. Moreover, a win means a chance to see the robot launched from the Kennedy Space Center.
The Montana Mule utilizes wireless technology to roll on its four wheels and for internal, electronic communication. A highly developed electronics system controls a motor. It turns a chain to move small buckets below the level of its wheels. While the buckets dig the soil, the robot dumps it into the hopper.
Summary
Recycling electronics is indispensable for sustainability. E-waste comprises of all discarded surplus, obsolete or broken electrical or electronic items, from TVs, stereos, cell phones, computers or cameras. People often throw these items in the trash. However, they do not know the harmful effects of this e-waste on their health as well as the environment. Harmful toxins and carcinogens come out of the e-waste which contaminates the entire community soil or water supply.
Our landfills choke due to the plastic with which these waste electronic parts generally consist of. These robots made from recycled materials inspire people to go green. The make people realize that instead of throwing away their once a high tech electronic equipment, they can re-purpose them to make such cute pieces of artwork.