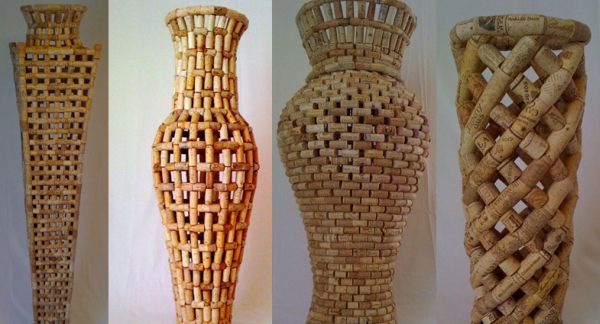 Have you ever thought that your thrown away bottles, corks, plastic bags and all such things that you have considered useless so far could become priceless? Exactly such a thing is happening at present. The creative geniuses of some of the world's most talented designers are in the process of transforming unthinkably beautiful works of art by recycling all these thrown away articles. You have also buy one or two of these art works as your precious and most appreciable possession. Here is a list of ten such things that got transformed to creative art works from recycled materials:
1. Cork Truck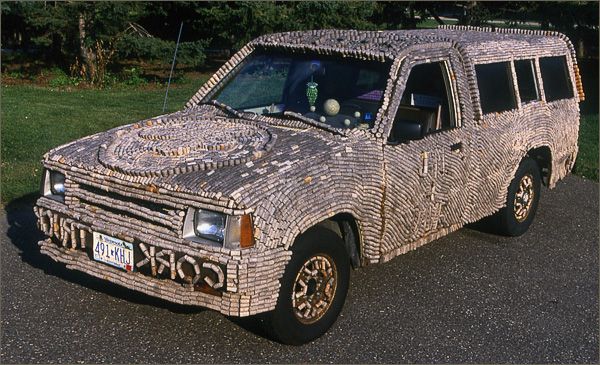 Jan Elftman, who is regarded as the Queen of corks, made a truck out of thrown away corks! Can you imagine 10,000 wine corks went into the making of a truck? The designer, who previously worked in a hotel, gathered so many corks to stick them onto a truck. Thus, the resultant is a stunning creation. The corks also make the truck serve some practical purposes like resistant to water, impermeability and increased buoyancy.
2. Coat made from Corks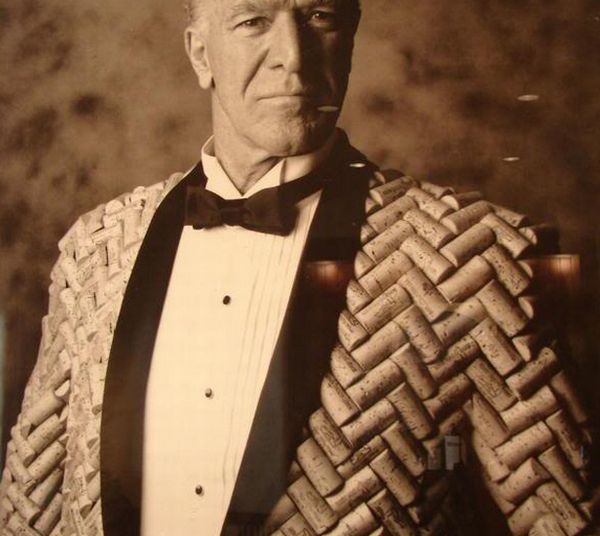 The story begins with the late Robert Mondavi, the visionary and the owner of a famous winery in Oakville in California. He was an entrepreneur, who had to sell off his wine business and the office at Napa in California at a period of financial crisis, in exchange of $1.3 billion. But later in his life he regained back his position and business. Thus, a coat made of the corks of wine bottles, brewed at his winery was gifted to him by a friend of him as homage to his confidence and courage.
3. Artistic Cork Chairs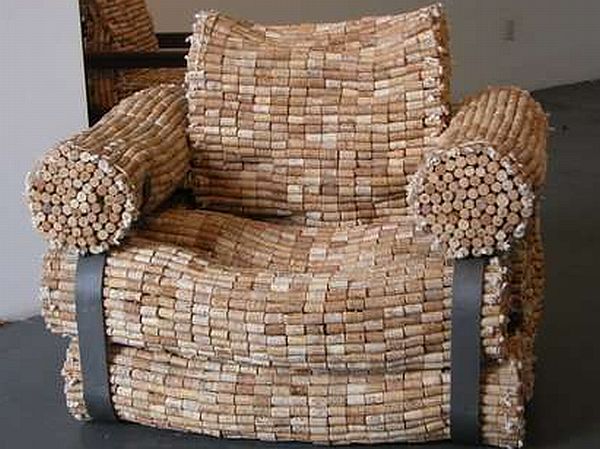 The genius of the German designer Gabriel Wiese went into the making of a chair made from corks. He fixed corks onto the body of existing furniture and combined these artworks further with steel bars and veneers. The bottle stoppers made him think that the simplest of things could even transform to creative forms.
4. Wine cork art by Albanian Saimir Strati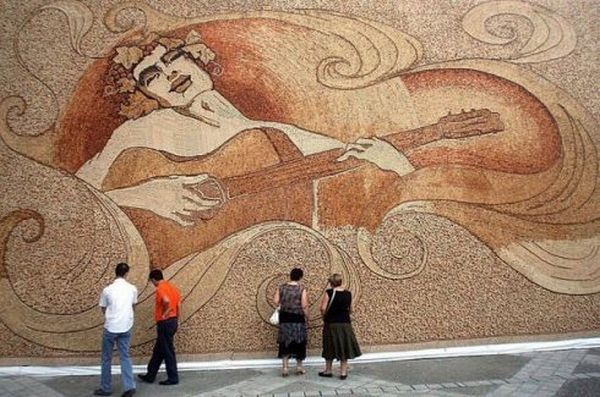 Albanian designer Saimir Strati chose a different medium than the conventional ones to create large and stunning works of art. He gathered around 230,000 fresh wine corks as a medium to create a fresco. This artwork has become a tourist attraction in Albania.
5. Portraits Made from Cork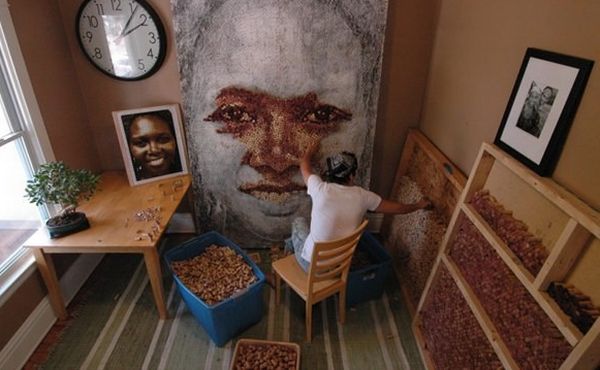 Conventional paintings are made using brush and colors. But the designer Scott Gundersen created a revolution in portrait painting by replacing colors and the use of painting brush with that of thousands of cork bottle stoppers. He fills up a large artwork by different corks as their respective places in order to give an amazing portrait. His latest creations 'Grace', a 66inches x 96 inches portrait made from 9217 wine corks, which took about 50 hours to get created.
6. Corks Art for Wedding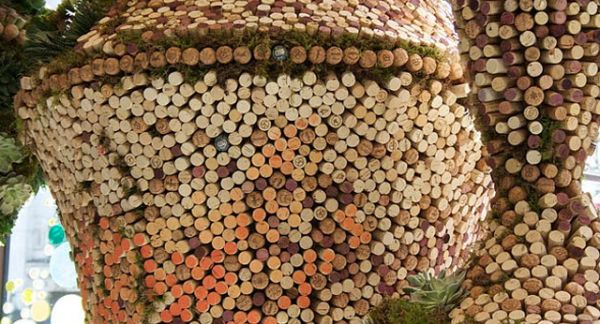 Get glamour added to a wedding party by voting for decors that are unconventional. 'Anthropologie', an organization working towards building green planet, is creating artworks made from corks, which are cent percent biodegradable, natural and recyclable. Visit their store once to explore the world of cork artworks. They will be excellent art pieces in a wedding.
7. Cork Frame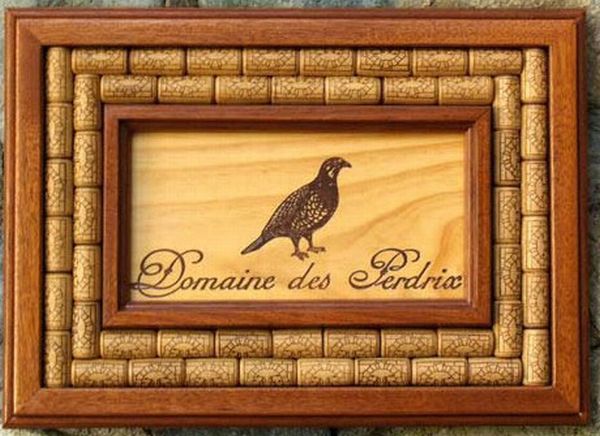 There have been quite a lot of experiments with photo frames. This time it is with that of wine corks. These square structures made from corks and bound by either mahogany wood, maple, or wine crates are excellent wall pieces. Some are solid pieces while others have mirrors or picture or models mounted in the center. They are available in different dimensions and in price ranges from $ 70.00 to $ 130.00 as per the dimensions.
8. Cork In The Road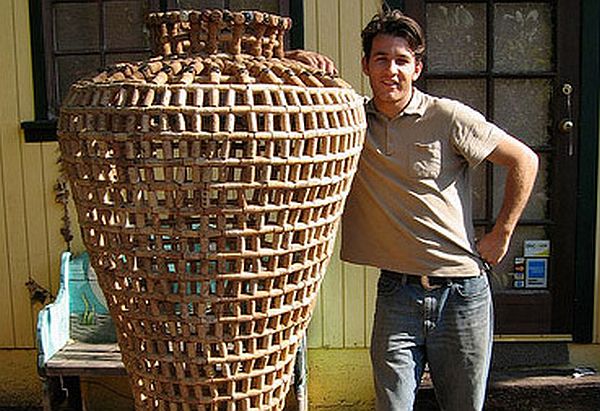 A designer's masterpiece, this is a moderately huge structure that can be mounted at the central crossing of a road or inside your lawn. These biodegradable, natural materials also state that they are better alternatives to plastic corks used in wine bottles as they are health friendly. This cork in the wall memento is made from 3,500 corks and has a height of 72 inches and width of 34 inches.
9. Chinese Cork art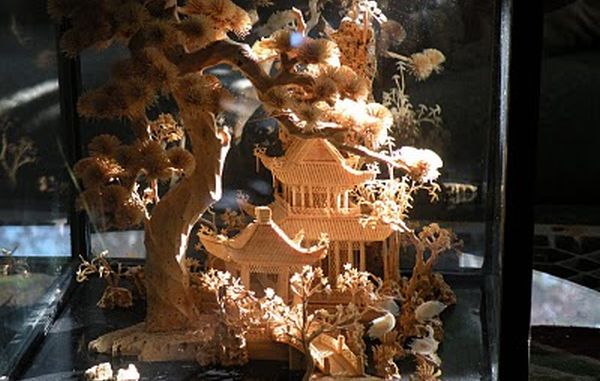 These intricate art works made from cork bottle stoppers of wines are delicate in their craftsmanship and workmanship. These Chinese artworks have a predominant Chinese flavor in their antique look, design and combination.
10. Butterfly-Shape Cork Art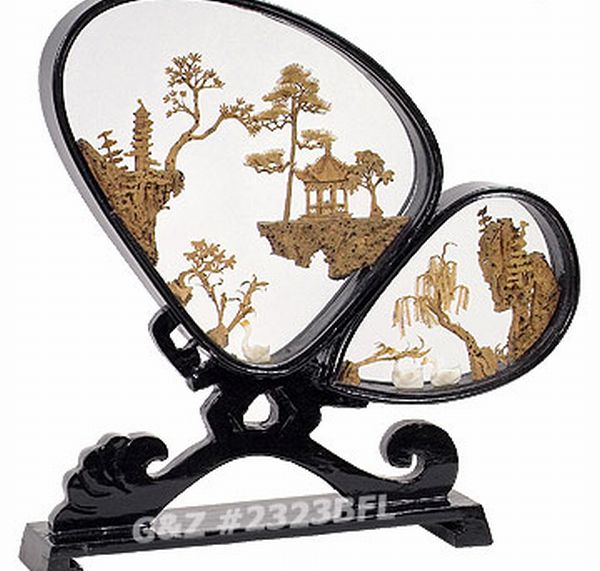 This cork artwork is another reflection of creative genius. Small structures of cork are created and mounted together inside frames that look like the wings of butterfly. These small structures sit in combination to present beautiful sceneries. The offer price of the artwork is $5.00 and is available in a size of 9 inches x 9 inches x 2 inches.