The existence of other national parks in Canada has been overshadowed by the famous Banff national park. Very few are aware of many underrated national parks in Canada which are no less arresting. These parks are a favorite getaway to both the local Canadians and tourists from abroad. Apart from these there are tons of wellness opportunities as well.
These parks are spread across 39 national regions under 46 preserved areas and are home to a wonderful combination of plant and animal life.  Pristine lakes, majestic mountains and stunning landscapes would mesmerize the tourists as would the amazing distribution of fauna that inhabits the terrains.
Being less crowded is not an indication that they lack in tourist appeal. On the contrary, their unspoiled charm is yet to be explored and cherished by vacationers to give them an experience of a lifetime.
Underrated national parks in Canada likely to draw more tourists:
Here we go with some of the most remarkable nature parks in the country with reasons strong enough for you to visit. Underrated national parks in Canada have enough potential to rise to the status of prime tourist attraction.
1.  Gwaii Haanas National Park Reserve, British Columbia: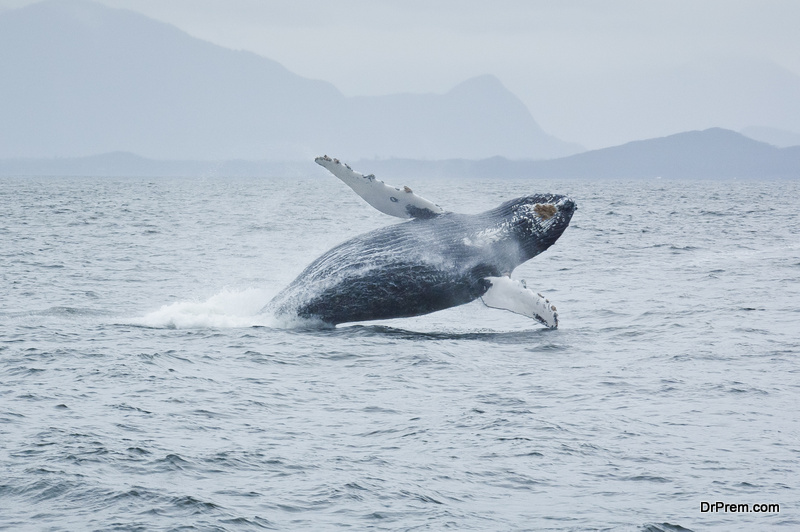 The name Gwaii Haanas literally means the islands of beauty and there are reasons to support the claim.  This chain of quaint disjoint landmass is formed by an archipelago of 138 islands just off the coast of British Columbia. From 1985, this place has earned the title of Haida Heritage and is a favorite haunt for kayakers.
Its inaccessibility has made it lesser known to public with a count of only 2000 tourists dropping by annually. You can approach this archipelago with motor boats and floatplanes only making it infrequent with human contact.  Waters abound with humpback whales and the waves break into shores having a backdrop of temperate rainforests.
Beaches, tidal pools, bays and inlets would take your breath away. A million dollar tourist spot is the Anthony Island where ruins of Haida hamlets still exists featuring erect totem poles and longhouses hewn from cedar wood!
2. Wood Buffalo National Park, North West Territories:
This is one of the most underrated national parks in Canada noted for its size and supposed to be heavily protected woodlands ever under the sun.  Here you have an exciting experience of encountering herds of grazing Bison and hence the name Wood Buffalo.
However, annual tourist visit is limited to just 3000 and yet there is much to explore delving deep into the mysteries of nature sprawling over an area of 44807 square kilometers. Wonders of nature would make you stop before a vast bed of salt evolved from a prehistoric sea frozen in time, supposedly 390 million years back into history.
Sinkholes are ubiquitous. The park itself is less crowded owing to a thin tourist density making it further look small compared to the immense size of the park. At Pine Lake, turquoise water filled huge volcanic craters offers you an opportunity to swim. It includes two nesting beds for whooping cranes and the largest beaver dam in the world which could even be sighted from space.
3. Pukaskwa National Park, Ontario: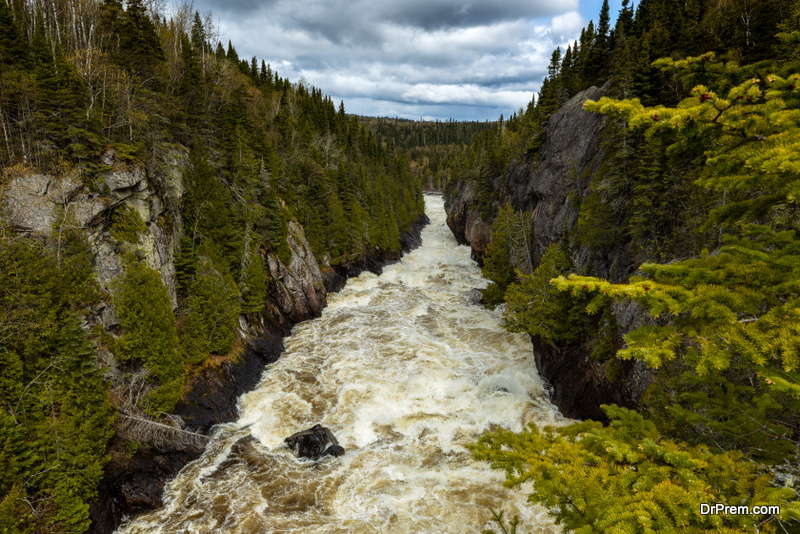 This is believed to be one of the best national parks in Ontario. However, annual tourist visit hardly touches 10000 headcounts. Lake Superior would enchant you as would the boreal forests surrounding the park fringes. Situated close to Thunder Bay, the park has a rich faunal distribution.  An occasional lynx or a woodland Caribou could be a pleasing sight.
Moose and grey wolves move in numbers and it is quite likely your paths may cross. Enigmatic rock structures crafted by our prehistoric forefathers reveal the human artistic side. They stand in a row along the boulder beaches. Lots of fun activities and dares are on offer. Paddling, hiking and crossing over a hanging bridge overlooking the Chigamiwinigum Falls over a sheer drop of 23 meters is enough for the adrenaline rush.
4. Gros Morne National Park, Newfoundland:
This staggering and yet one of the underrated national parks in Canada has got some geological significance.  Its tallest mountain summit has a deep connotation attesting to the tectonic plates shift theory.  Made up of a chain of mountains culminating in the Appalachians down South, the scenic beauty of the park is a feast for your aesthetic sense.
Packed with great opportunities for keeping yourself active, cross country skiing, kayaking and hiking the steep terrain comes as a bonus. Thundering waterfalls, breathtaking cliffs and ancient fjords should capture your interest big time.
5. Yoho National Park: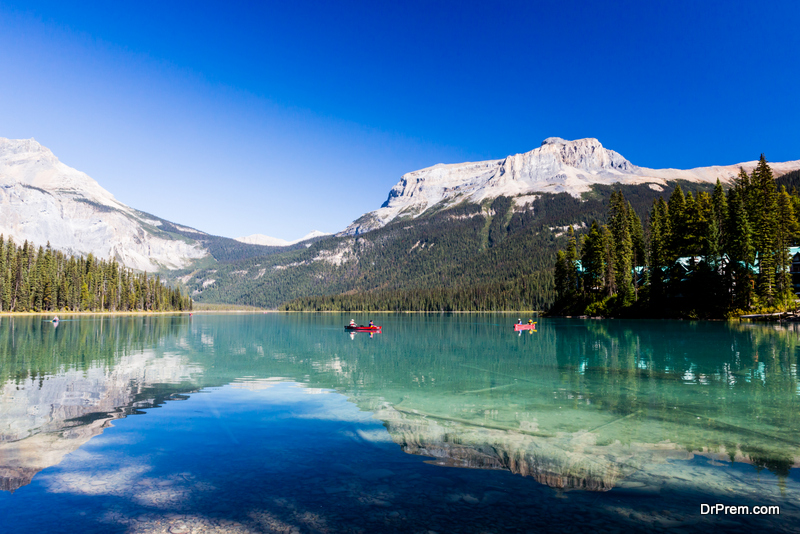 This is another splendid nature park among the underrated national parks in Canada. Banff would beat this park in terms of volume of tourist visit when it comes to pristine beauty this park of British Columbia is as attractive.
Sea green Lake inside the park is a tourist cynosure and the verdant greenery all around would offer a fresh ambience. Only a couple of hours drive from Calgary, the park has a natural bridge over the Takakkaw Falls which is worth a thousand visits.
6. Greenlands National Park, Saskatchewan:
Mostly made up of captivating prairies, this is another underrated national park in Canada.  Vast plains are the major attractions and there is a fair chance of encountering a herd of bison and antelopes and packs of prairie dogs for that matter.
You get an eerie outlandish feeling in the valley of 1000 Devils, desolate and spooky. This national park has been known to have a "Dark sky preserve" which means there is an excellent scope for star gazing! Select a perfect spot to pitch a tent and have a great chit chat with your buddies while staring at the Milky Way.  Few popular star-gazing locations are Two Trees Trail, the Frenchman Valley Campground and the Rock Creek Campground.
7.  Mingan Archipelago National Park, Quebec: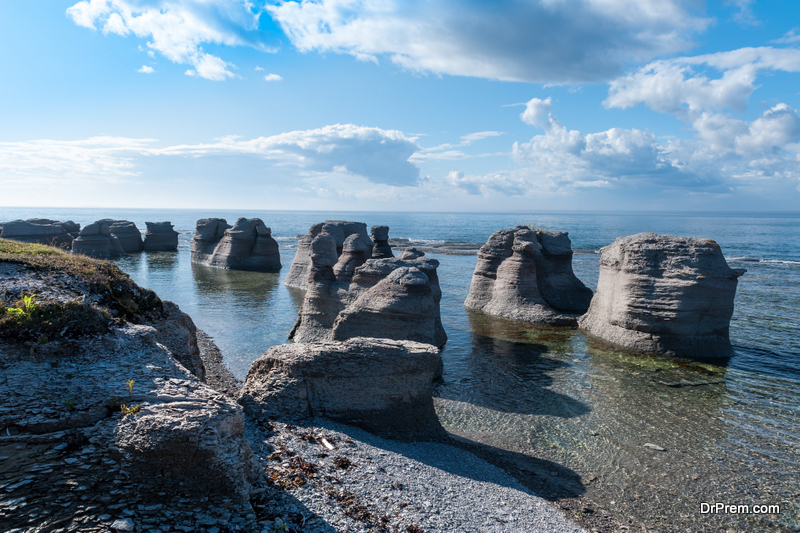 This park certainly breaks the myth that archipelagos exist in the tropics alone.  Located in the northern coast of Gulf of St Lawrence, this is not only one of the underrated national parks in Canada, but also features unique marine features like coral reefs,  limestone barriers and plenty of islets. And yet it is lesser known to the tourists! Seabirds, whales, dolphins and seals abound the waters and keep tourists charged with excitement.
8. Cape Breton Highlands National Park, Nova Scotia:
Steep cliffs, dense forests, rolling valleys, splendid ocean views and the much famed Cabot Trail offers you one of the most stunning views in the world. Cape Breton Island is already in the must-visit list among the top attractions in Canada.
The park located in the northern tip of the island offers a unique mix of flora and fauna along with the fantastic maritime climate, the only place in Canada where you can view a mix of northern and southern species.
Nearly one-third of the Cabot trail passing through this park has added to its attractiveness. 26 hiking trails lead to a number of scenic spots of canyons, coasts and highlands. You have a high chance of spotting a lynx, a whale or a bald eagle.