Right now, our condition is the exact opposite of how it was in earlier times. Back in the days, we suffered from lack, now we suffer from overabundance. The same goes for art too. Artists of the earlier times couldn't find oil, paint and stones for their art. On the other hand, nowadays, artists suffer from an overabundance of materials. Thanks to consumerism, they have so much to choose from that they don't know which material to utilize. Nevertheless, there are certain artists for whom this choice is pretty clear. These are the artists who wish to make a sustainable statement. They don't need oil and paint, they want to create art out of recycled trash.
Art out of recycled trash by Cristins and Gustavo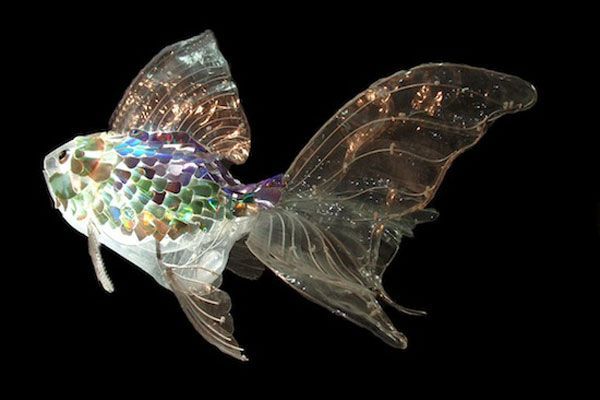 If you are a lover of art and a sucker or recycled stuff, you now have double reason to praise the art still more. Created by artists Cristins and Gustavo from workshop CG recycled art, these art forms are made by recycling and reusing waste materials like CDs, plastic bottles, nails, pins, paper, wood, old furniture, glass etc.
For example, the beautiful fish is made from old CDs, clothing and plastic bottles, the dress made out of plastic bottles, and the woman's figure is designed out of old washers, pins and nails. Now, that's indeed a great way to not just beautify your home with art but also doing some good to nature by reusing the stuff and creating art out of recycled trash, which would have otherwise caused havoc in the environment.
Some more popular artworks out of recycled trash
Read More: Scrap recycled into geeky sculptures
Making art out of old and used things is fast catching on and remarkable sculptures, paintings, and three-dimensional art forms are giving old items a new lease of life. Artists are going green and are increasing awareness of how important it is to recycle by transforming junk into treasure. Here are 15 such inspirational examples of recycled artwork that will make you ponder at their origins.
1. Kirk Gilliam's recycled creations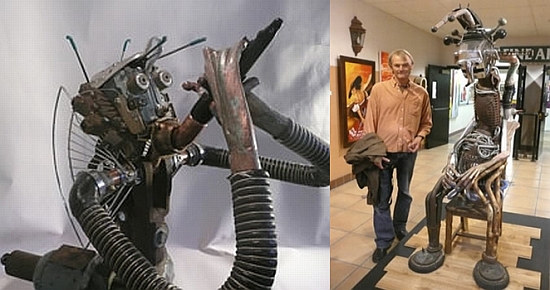 If you are an art enthusiast then you will undoubtedly love the work of Kirk Gilliam. Exhibiting his interesting found-art sculptures at Nature's Express in San Diego, a restaurant known for cutting-edge, plant-based organic food, the artist shows his concern for the environment. The beautiful pieces of art are made by assembling together things like assembled plumbing gizmos, conduit, rollerblade wheels, nozzles and wood.
Dubbed as "3D Rorschach Tests," his creations truly depict the green revolution that the artist is trying to bring from his work. His humanoid sculpture placed at a corner in the restaurant would certainly be the first thing you would notice when you walk in. The Visitor from Planet Toast also participated at the San Diego Fair for recycled art this year, where it won the first prize. The H. pylori, another Gilliam creation for which he derived inspiration from his own dog, is designed from hand-carved wood and recycled materials that include plumbing parts, electrical materials, and various found objects. Our planet needs a few more artists like him who can create art out of recycled trash.
2. Recycled art form with a mechanical hint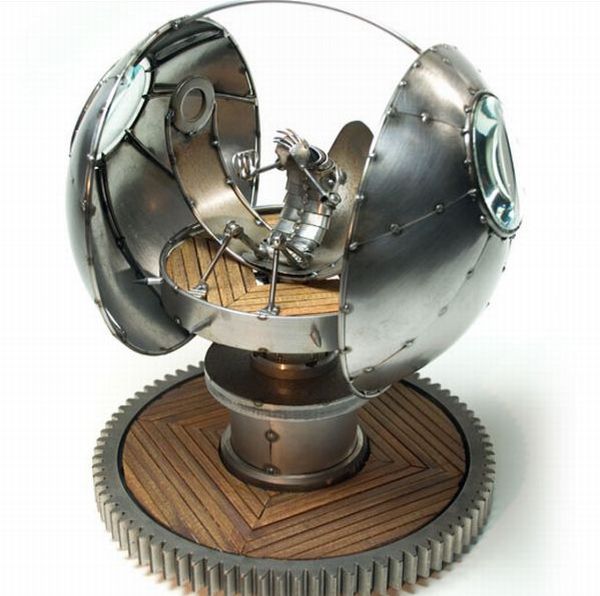 Carving one-of-its-kind sculptures from wood, steel, concrete, etc. is Greg, a qualified graphic designer from Colorado Academy of Art. Converting everyday items into incredible organic figures, his work has a hint of his subconscious mechanistic state. His sculptures are made by upcycling found objects like vacuum cleaners, mixers steel, machine parts, glass, wood etc.
Greg Brotherton from San Diego, CA has carved a niche for himself as a designer, illustrator, sculptor and CG animator. Having created a flourishing career, Greg has been featured in international art magazines for his uniqueness. HE was the featured artist at the Technology, Entertainment and Design (TED) Conference in Monterey, California, in the year 2007. Having exhibited his work all through the USA, he has received international appreciation as well. His passion for design has made him one of the most hunted man from feature film animation to product design.
3. Camera made out of used Coke cans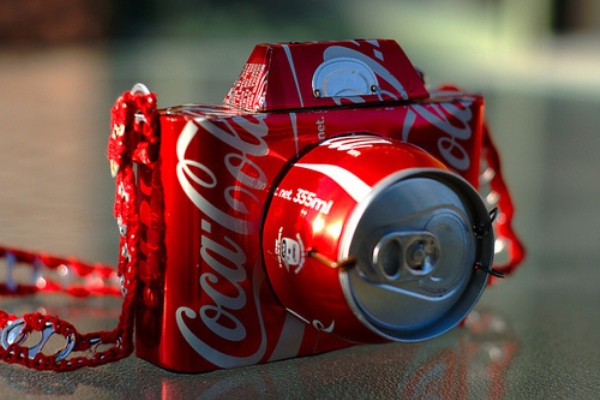 This amazing and simple looking piece has been meticulously crafted out of used Coke cans that have been twisted and shaped to give the perfect detailing of a camera with a lens.
4. Old bikes used for making an arch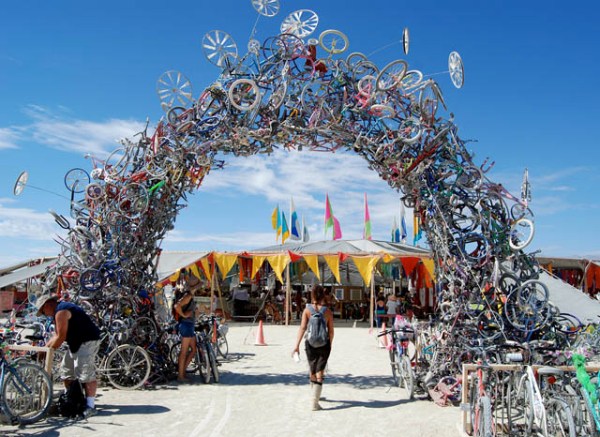 This arch is made out of scrapped bikes and their parts to form a sturdy structure that can turn into the gateway of any event.
5. Used batteries forming a Dead Star
Called the 'Dead Star', this piece is crafted out of hundreds of old residual batteries and is symbolical of a dead star as the once active batteries have cooled with zero activity similar to a star when it dies.
6. Astro Boy made out of used train tickets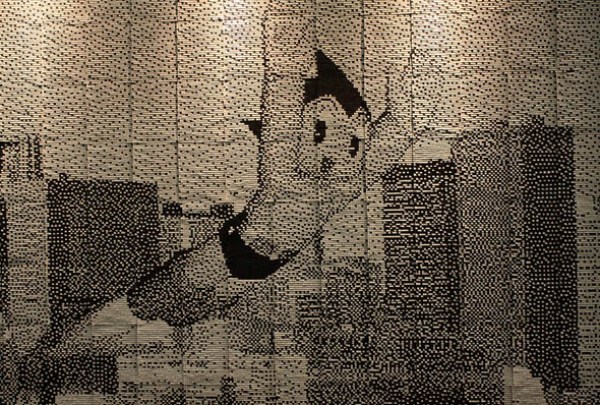 Used train tickets from the Tokyo metro – amounting to 138,000 – have been meticulously put together to create a 10×7 ft pixel art work of Astro Boy that is on display at a department store in Takashimaya, Japan. It was made by Shinjuku business people and volunteers from Takashimaya.
7. Beast made from old tires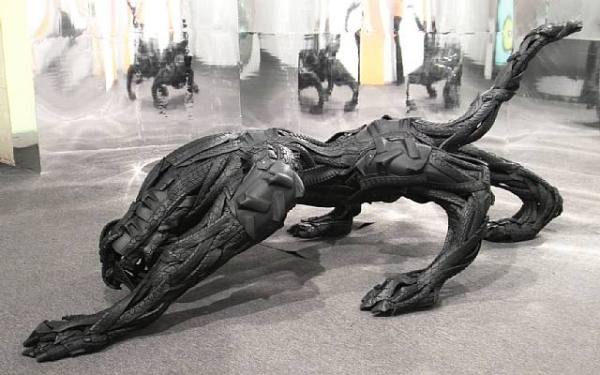 This amazing life-like black beast sculpture is the work of Yong Ho Ji, an artist from Korea who crafted it out of old tires.
8. Old plastic bottles joined to make a wall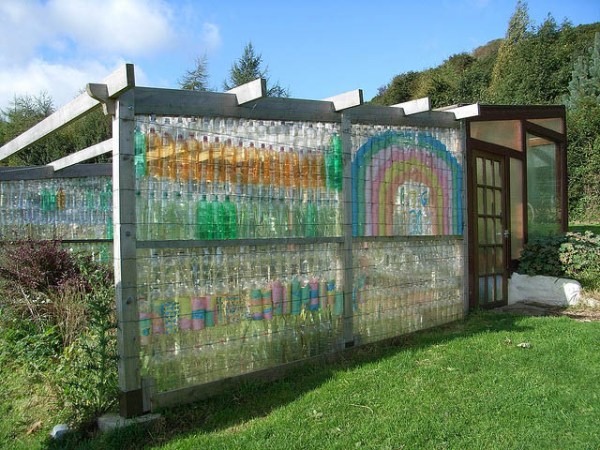 The colorful wall was built in Burntisland in Scotland to screen off a sewage treatment site. The structure has various hints of colors that give it more form and make it very appealing.
9. Ghost in the Machine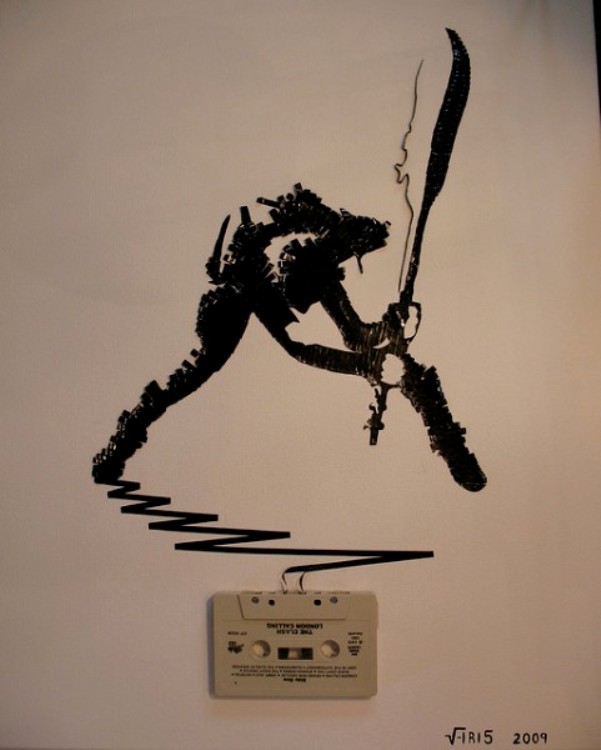 Ghost in the Machine is a canvas art piece that makes use of old cassette tapes on canvas, very symbolic of the 70s and 80s era.
10. Algorithm blues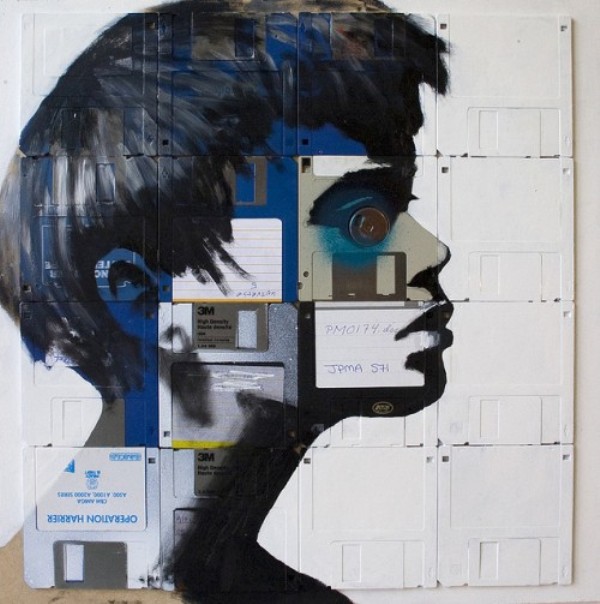 This painting was made by joining together old floppies to create a portrait.
11. Table cover made out of used teabags
Made out of used tea bags that have been stitched together to give it a patchwork-like pattern, the varying earthy hues lend it an exquisite look.
12. Hard drive components transformed into a motorbike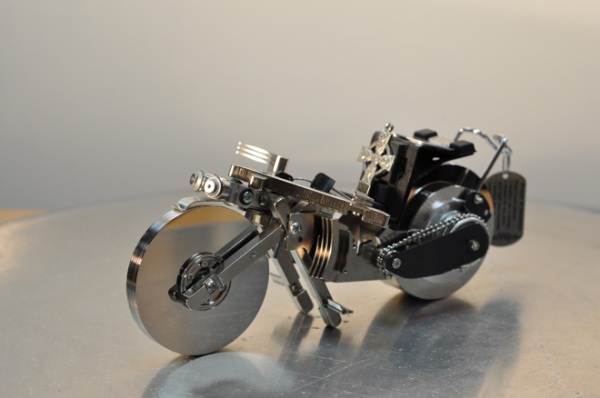 Hard drives normally end up in landfills but Miguel Rivera has turned them into amazing sculptures.
13. Recycled Gundam Robot made out of old Styrofoam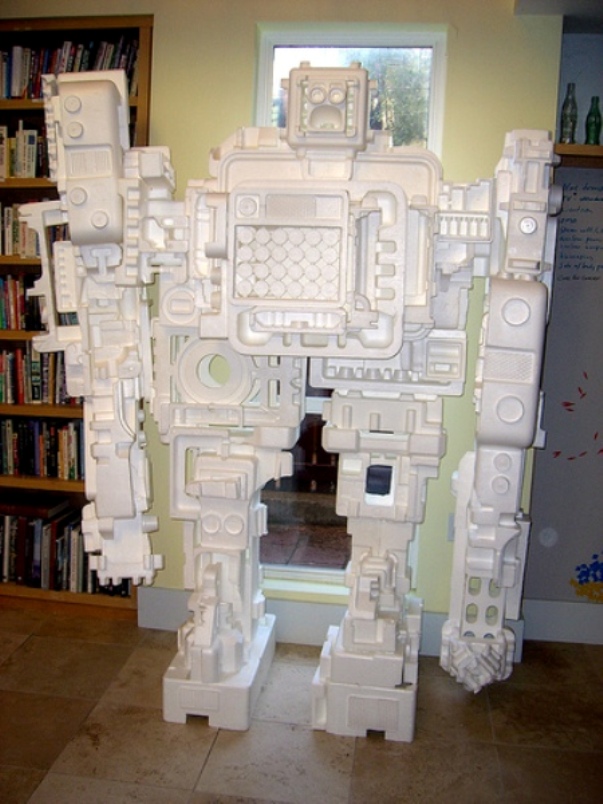 Mark Frauenfelder and Mr. Jalopy's Gundam Robot creation is an amazing way to turn Styrofoam junk into a lightweight robot.
14. Amazing cellphone art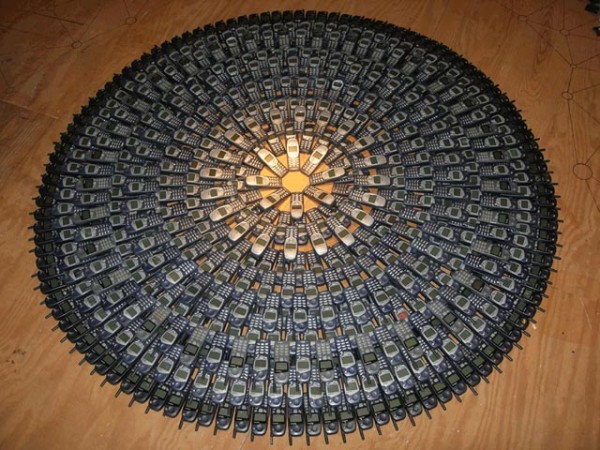 Cell phones are disposed off by the millions each year. But this circular creation from hundreds of used cell phones is a very appealing work of art.
15. Old keyboard turned into a notebook
Keyboards turning into the cover of a notebook is a techno geek's dream. Now, it has been transformed into reality with 62 keyboard keys carefully cut up to create the cover of the Recycled Keyboard Notebook that contains 88 pages.
16. An atom bomb created out of old clothing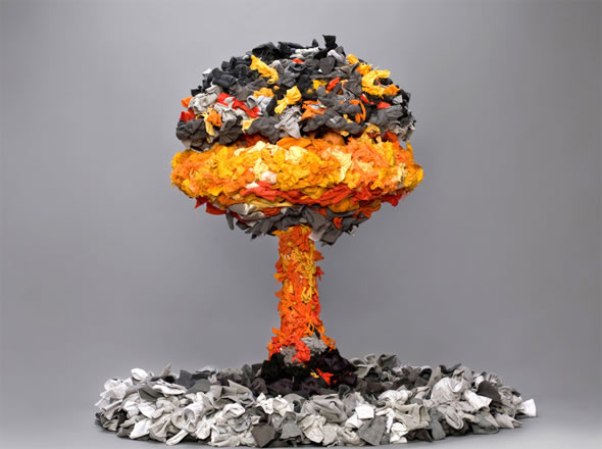 The members from Guerra de la Paz of Cuba have played with various fabrics and colors to produce a grand work of art that depicts an atom bomb explosion with a fusion and blend of various electrifying colors.
17. Alien made out of car parts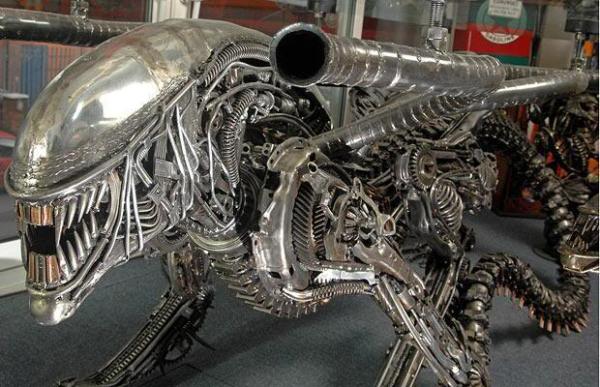 Terrence Willment in collaboration with Thai manufacturers has produced various alien creatures by making use of old car parts.