Are you looking for some decorative and unique birdhouses for your fine-feathered friends? How about building them yourself? A birdhouse provides shelter for birds to rest in. You usually create them using wood and concrete. But it's about time that the nest boxes send a green message as well. Don't worry, you don't need too much money for that. All you need is some useful trash. How can trash be useful you might ask? Well, when you are creative enough, anything can be useful. Building these recycled birdhouses yourself from the scrap materials available at home will not only be Eco-friendly but will also give you a chance to provide a cozy shelter to different kinds of birds that will entertain you with their sweet notes.
10 DIY recycled birdhouses you can build to show you care
If DIY is your thing, a self-made birdhouse seems to be a great way to invite the enchanting wildlife into your backyard. Below are 10 amazing DIY birdhouses that are made from scrap and discarded objects.
1. Apple Juice Bottle Birdhouse by Marcel Wanders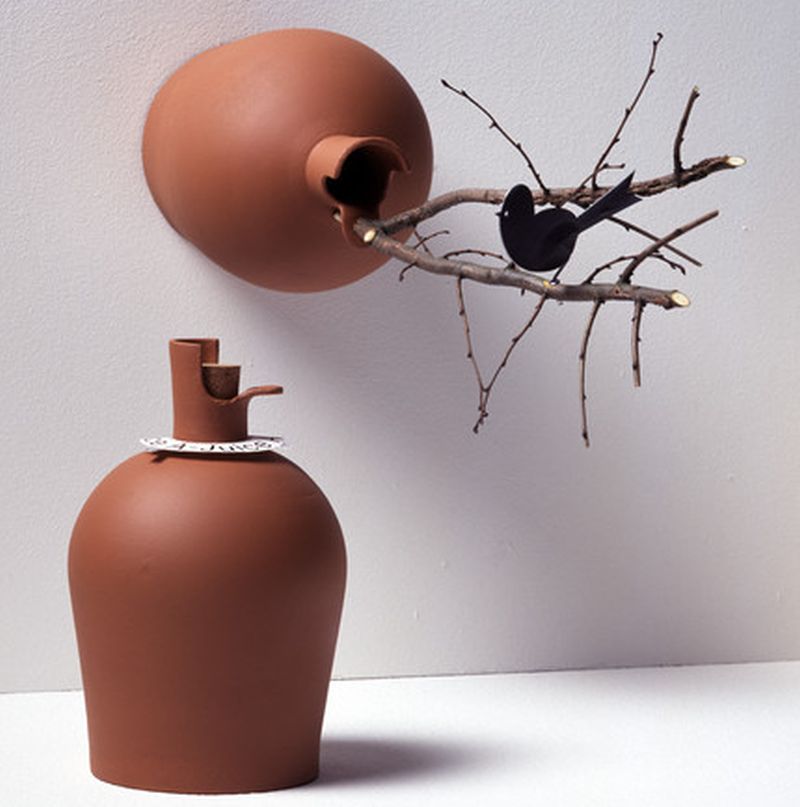 The famous industrial product designer Marcel Wanders, who is also an interior decorator, has designed this strong and long-lasting Eco-friendly birdhouse. By creating this birdhouse out of previously used ceramic apple juice bottle, he has given a new purpose to the discarded bottles. It provides a big shelter to you little bird, and the base of this birdhouse can be attached to any tree or any other surface.
2. Coffee-Can Birdhouse
What can be a more creative way of reusing an empty coffee can and converting it into a living space for your birds. This beautiful and nature-friendly birdhouse is made out of a 11- ounce coffee can, which we often throw away after sipping the coffee in it, and scrap wood. Some hooks and chain are also required to suspend the cute little birdhouse from a tree branch.
3. The Plant Pot Bird House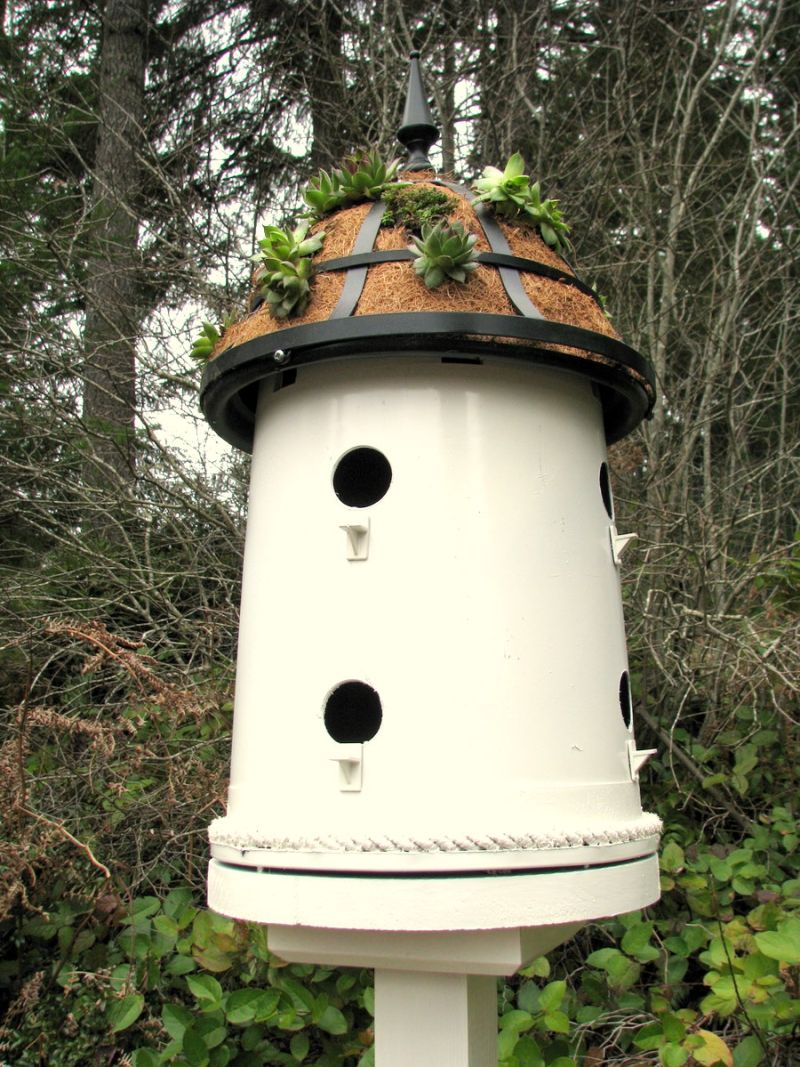 Washington-based Mimi, who works as a blogger, loves to paint, build and create something new and unique out of old castoffs. She has created a birdhouse from an old plastic bucket, to shelter her little feathered friends. This bird condo has 8 rooms and the roof is planted with succulent plants that she had in her garden. Many birds would enjoy living in this Eco-friendly bird condo with ample space.
4. Build a Bird House
You can yourself build a cute little birdhouse from the waste stuff lying at your house. This will not only give shelter to the birds but also decorate your garden in an Eco-friendly way. All you require is a fruit can, old fence pickets and a tree branch clipping that will serve as a perch for your bird. You just require a single hour to create this green birdhouse.
5. Bird House, Helping Mother Nature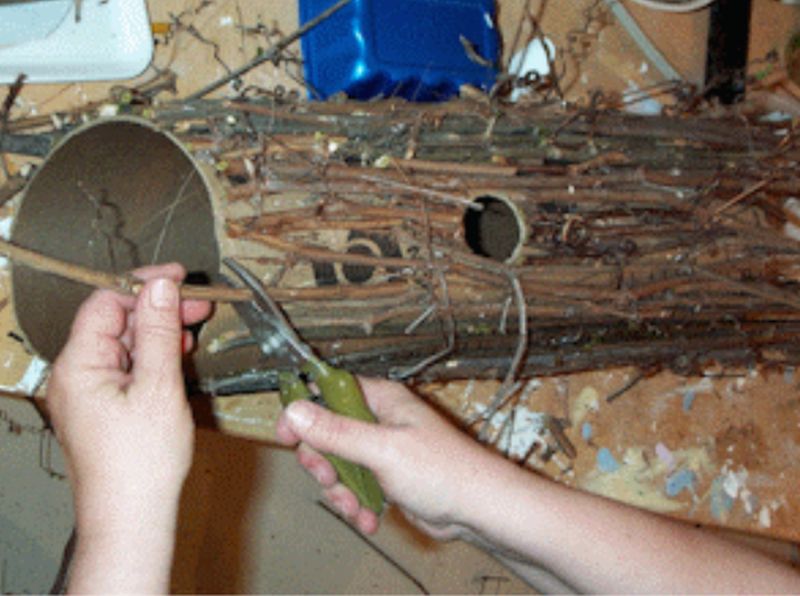 Image Source : folkartlife.com
Canada-based Jantje Blokhuis-Mulder is a freelance writer and a folk artist and loves art more than anything else. She has made a birdhouse out of the abandoned objects that are not of any use. She has repurposed these waste objects like some unused cardboard platters, twigs lying on the ground, old coat hangers, etc. and transformed them into an Eco-friendly birdhouse.
6. Gourd Birdhouse
Gourds grow in a variety of shapes and sizes. You can make use of a large sized gourd and build a pleasing house for your little bird. In the dry gourd that will serve as a ling space for your bird, you just need to drill holes for ventilation and drainage. It can be easily cleaned with a steel wool to remove any dirt or debris. Insert a hanging wire, inside the gourd for the bird to rest on. You can also paint the dry gourd to make the birdhouse more colorful.
7. Make a Birdhouse Out of Old Wine Corks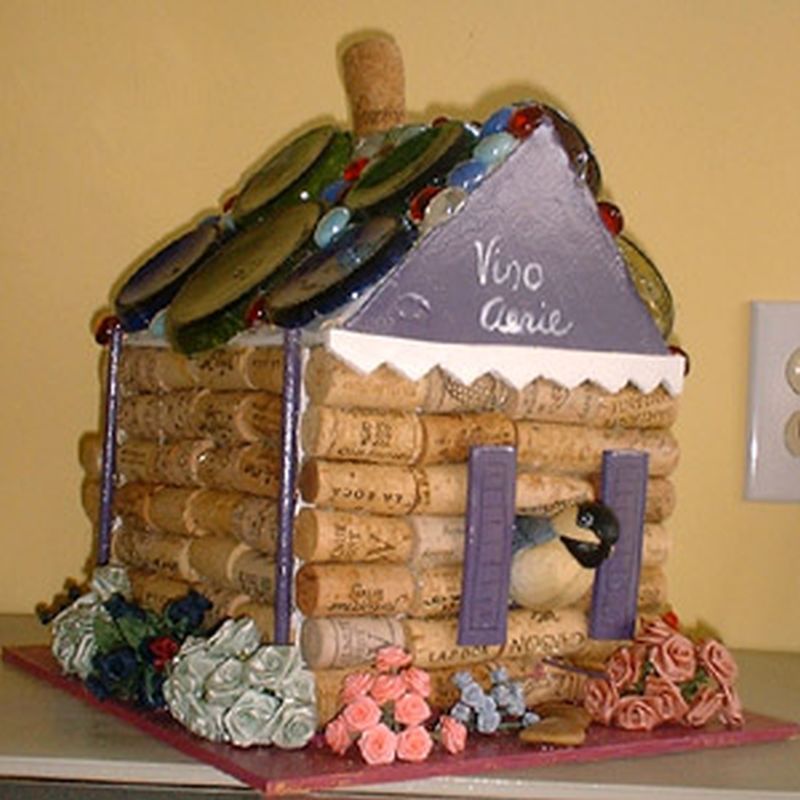 Image Source : learn-america.com
Arlene Wright-Correll who is a writer has converted 112 old wine corks and a single champagne cork into a beautiful recycled birdhouse. She made use of these wine corks, which she has been saving for a year and other discarded objects like old foam boards and the left over materials from her art studio. She collected some wine corks from a liquor shop to complete her Eco-friendly birdhouse.
8. ECO Spring Bird House
This unique and outstanding birdhouse is one of its kinds. It is handcrafted from old shoes which would have otherwise been thrown away in trash. The ECO Spring bird house is made out of boots that vary in size from toddlers to adult and the roof of this Eco-friendly green house is made by scrap metal. The bird would get a clean and cozy home to nest.
9. Recycled Paper Birdhouse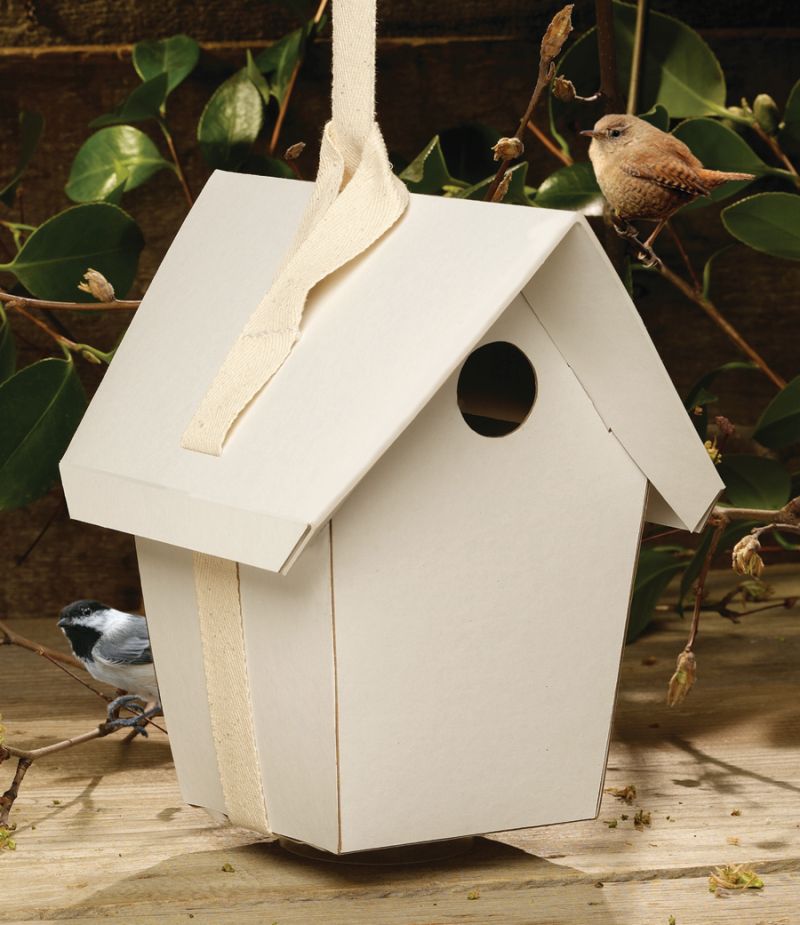 Image Source : artworkscincinnati.org
Packaging designer Dave Allen, who works for an ad agency in Ohio, came up with idea of designing bird house out of the paper that we throw away. Allen thought that this idea would help in saving trees that are cut for paper and will provide a green, recycled and healthy home for birds. To make the birdhouses look more colorful, she has made use of Eco-friendly paints.
10. License Plate Birdhouse
This cute little birdhouse measuring 6"x 4"x 4" is actually made out of a USA license plate. The roof of the recycled birdhouse is made of scrap wood. It consists of an eyehook on the top of the roof so that it can be easily hung on a tree branch or be simply kept on a shelf. This Eco-friendly birdhouse, when placed in your backyard, will be delight for both the birds and the bird lovers.
11. White Porcelain Metal Barn Heater Birdhouse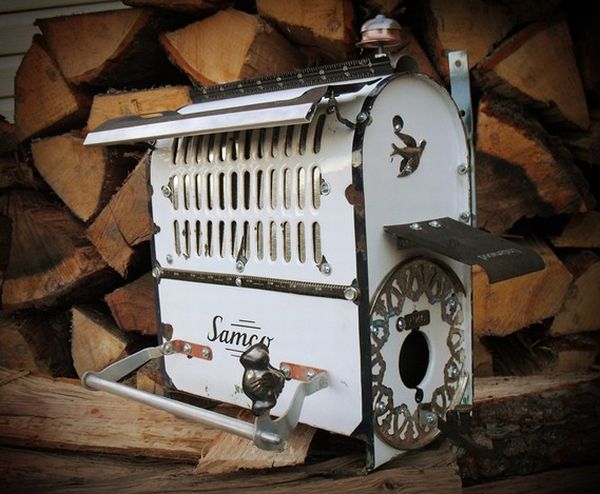 White Porcelain Metal Barn Heater Birdhouse had been fashioned from found objects and hence, adheres to the go green slogan.
These customized birdhouses will provide all the basic dwelling conditions and are perfect to be kept both indoors and outdoors. A well-built birdhouse should be durable, rainproof, cool and readily accessible for cleaning. By using some imagination, the builder has added an attractive eco-friendly touch to the birdhouse. How each piece will turn out depends on the found objects. So, don't expect all the birdhouses to look alike.
The artist has ingeniously used a white-colored enamel/porcelain metal gas space heater shell. The holes of this antique case were further caked with metal flashing. Everything wedged on this birdhouse was thrown away. People thought that these are as good as dead and won't solve any purpose. This nest house has a bell fixed on the top, which has come from a copper bell hanger and also from typewriter's silver bell. The front plate of an old typewriter was exploited further to craft the awning, which looks just so rugged.