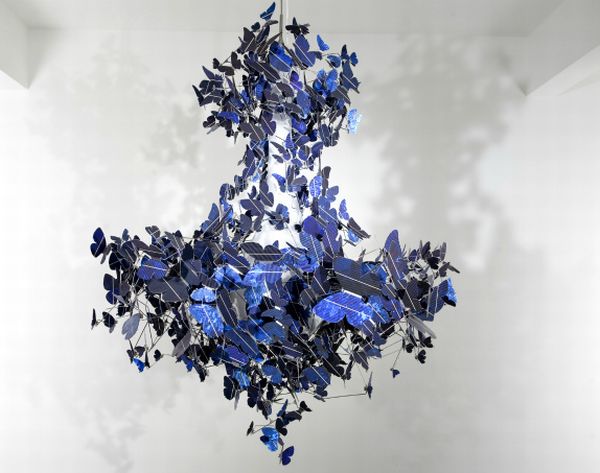 Butterflies have always been a source of mystery and beauty to the human race. With the colorful wings to the sleek body, they exude a sense of cheerfulness all around them. The fluttering of their small petite wings in the morning light makes you tend to forget all your worries and just wish that you could keep them with you forever. Your wish has been granted in the most exquisite way. The credit for the same goes to Dutch designer, Jeroen Verhoeven, who has created a blue chandelier not with bulbs, but with solar powered butterflies effused with a hand blown glass bulb. Interesting, isn't it?
Christened as the Virtue of Blue, the butterflies have been made with solar cells which capture solar energy in the morning, and they, later, reconvert the same into electricity at night. The chandelier measures about 144x144x162 in size and comprises of cesium solar cells along with one hand blown glass bulb and of course lots of different butterflies. Just to let you know, you can enjoy the magnificence of 4 species of butterflies as they flutter around the bulb, diffused in the glow.
The artist's creation has been displayed in London's Blain|Southern and can be found in the artist's solo exhibit along with his other work. The chandelier is a sheer piece of beauty and elegance coupled with the electronic elements of art and fabrication.
Via: Inhabitat